Filing ERIE Insurance Claims Doesn't Have To Be Eerie
ERIE Insurance is one of the best-rated insurance companies. It operates in 12 states and DC through independent agents. The company's insurance products include life, auto, home, and business insurance.
Having to file ERIE insurance claims with agents over the phone can be taxing. Luckily, there's a better way with DoNotPay!
Use DoNotPay To Submit Your
ERIE Insurance Claim
the Eerily Easy Way
DoNotPay can deal with any ERIE insurance type and streamline the claiming process!
All you have to do is open our app in a , and our AI-powered Insurance Claim feature will do most of the heavy lifting.
Here's how it works:
Enter

your insurance type

Submit a few details, including your policy number and contact info

Follow the prompts and finish up
You can relax now! We'll make sure ERIE receives your insurance claim as soon as possible. Your insurance agent will reach out to you with further instructions.
If you also have insurance coverage from another company or you're thinking of jumping ship, we can assist you! No insurer is immune to DoNotPay, and no issue is too much to handle.
You can count on us even if you want to file unemployment insurance claims or those involving: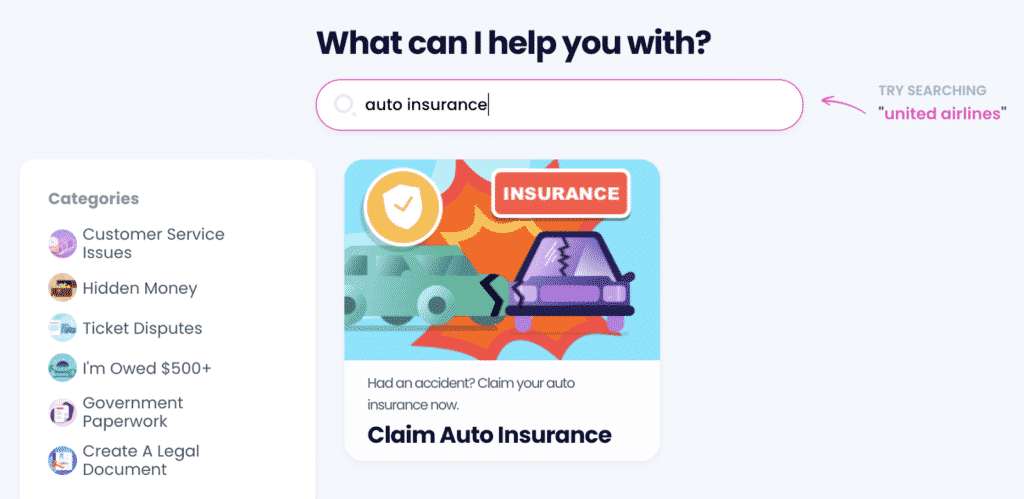 ERIE Insurance
—How To
File a Claim
on Your Own
If you want to file insurance claims with ERIE by yourself, you should do so over the phone. You have two options:
Call your local ERIE agent

Contact ERIE customer service
Phoning an ERIE Agent
ERIE recommends calling your agent instead of reaching out to a customer support rep. It should be easier to talk to your agent because you know them, and they are familiar with your insurance and the claims process.
Here's how to find the contact info of ERIE agents:
Go to the ERIE website

Click on

Find an Agent

in the top right corner

Enter your ZIP code

Navigate the map to find the closest agent (if you don't already have one)

Tap on the arrow next to

Hours

to see when you can call your selected agent
Contacting ERIE Customer Service
If you cannot contact your agent, you should talk to an ERIE customer support rep about filing your insurance claim.
You can reach customer service 24/7 by dialing (800) 367-3743. Once you do, choose the suitable option:
1—Reporting a windshield or auto glass claim

2—Asking for roadside assistance

3—Filing workers' compensation claims

4—Initiating a claim for the first time

5—Speaking to a rep about a filed claim
In case you need to submit a life insurance claim, you should call (800) 458-0811 and select option 3.
ERIE Auto Insurance Claims
Explained
One of the most popular ERIE insurance products is its auto insurance.
When you file your auto insurance claim, an ERIE adjuster will contact you and go over all the details with you. Here's the info you need to give your assigned adjuster:
Full name

Insurance policy number

Your claim number (given when you file your claim)

Name and contact details of your agent

Estimates of the cost, damage, and repairs
If your vehicle needs repairs, you can either choose your own repair shop or pick one from the ERIE repair shop selection.
How Do Other
ERIE Insurance Company Claims
Work?
The ERIE claiming process is almost the same regardless of your insurance type, but there are certain intricacies you should pay attention to. Familiarizing yourself with the claims process will help speed it along.
Check out some of the most important steps each insurance type entails:
Home Insurance
Workers' Compensation Insurance
Business Insurance
Life Insurance

Call the police to report the incident if you experienced theft or burglary

Protect your home from additional damage, but don't do any unauthorized repairs

Make a list of the damage

Take pictures or videos

Jot down details such as the damaged items' prices, brand names, and serial numbers

Submit the details about:

Employer

Injured employee

Incident info

Provide the following:

Date and time when the loss occurred

Damage info

Police report

Pre-loss inventory info

Names and contact details of people involved

Prepare these documents:

The original insurance policy or annuity contract

Certified copy of the insured's death certificate
Checking Your
ERIE Insurance Claim Status
You can check the status of your insurance claim online or over the phone.
If you log in to your account, you'll be able to view the status in the Claims section.
Another option is to call ERIE customer service and ask about your claim.
ERIE Insurance Claims Department
Denied Your Claim? You Can Appeal It!
No matter how prepared you are and how many details and documents you collect, ERIE might reject your insurance claim.
In case this happens, you can use DoNotPay to strike back with an appeal! Our well-argued and error-free appeal letter will boost your chances of getting what ERIE owes you.
Here's all you need to do:
Open DoNotPay in your

Select your insurance type

Hit

Appeal Denied Insurance Claim

Answer several questions about your claim
After our app does all the work, we'll send your appeal letter to ERIE.
Fighting Administration Is Easier With DoNotPay
Bureaucracy is a disease of the modern world, and we finally have a cure. Thanks to artificial intelligence, DoNotPay knows how to handle numerous rules and regulations and make your life so much easier.
Our bots ask you a few questions, gather the necessary info, and off they go! Filing warranty and insurance claims, requesting property tax reductions, getting access to public records, or claiming unclaimed funds under your name—you can deal with these bothersome tasks from the comfort of your home and within minutes!
If you need to get in touch with customer service representatives to ask for refunds or contact airline companies regarding compensation, our platform will make the process painless and care-free.
Don't hesitate to put our app into service if you need to contest parking tickets or avoid long lines at your local DMV!
How Else Can We Help?
Not only does DoNotPay handle bureaucracy, but it also saves you money in the process. Whether you're looking for the best learning materials for government tests or planning to comb through and cancel streaming subscriptions you don't use, DoNotPay can give a helping hand.
Our platform grows every day and comes with user-friendly features that will help you manage unpaid bills, stop copyright violation, or solve problems with credit cards faster than ever!