Should You Sign an Equipment Rental Agreement?
If you need some equipment for your company and purchasing it is too expensive, you could be considering entering into an equipment rental agreement. Instead of investing lots of money upfront, you can stretch your budget for a longer period by leasing the necessary equipment.
DoNotPay will show you how to create a contract, choose useful templates, and prepare the legal documents you need to secure your business. 
What Is an Equipment Rental Agreement?
An equipment rental agreement, also known as an equipment lease agreement, is a contract between two parties concerning the use of equipment.
The two parties involved are the:
The lessee rents the equipment from the lessor for a fixed period defined in the equipment rental contract. The contract also states the compensation that the lessor will receive for providing this service.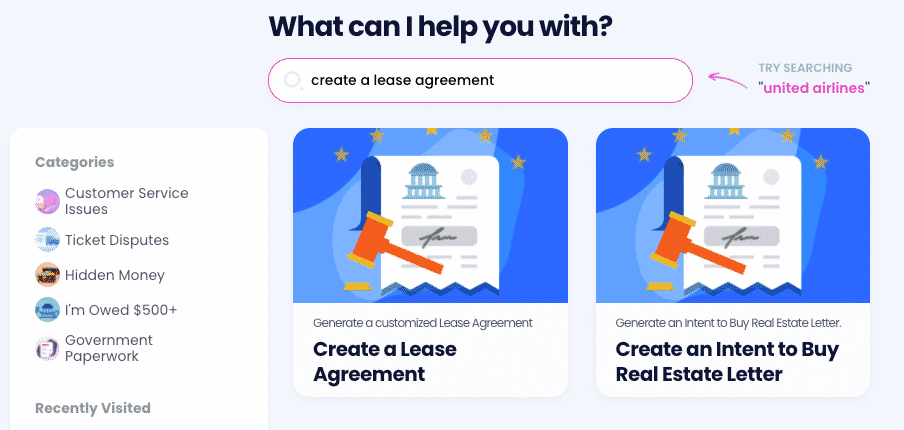 With a short-term equipment rental agreement, it is customary that the lessor offers the lessee an option to:
Renew the agreement

Terminate the equipment rental contract 

Purchase the rented equipment
These options depend on the terms and conditions of the original equipment lease agreement that both parties agreed on.
If you would like to secure your business operations further, DoNotPay can assist in drafting a lease or operating agreement and a bill of sale. 
What To Include in an Equipment Rental Agreement
An equipment lease agreement is an important business and legal document since it consists of the terms and conditions defined and set between the lessor and the lessee.
Every equipment rental agreement should include the following parts:
The duration of the lease

Financial terms

Compensation to the lessor

The market value of the equipment

Tax responsibilities

Cancellation provisions

Renewal options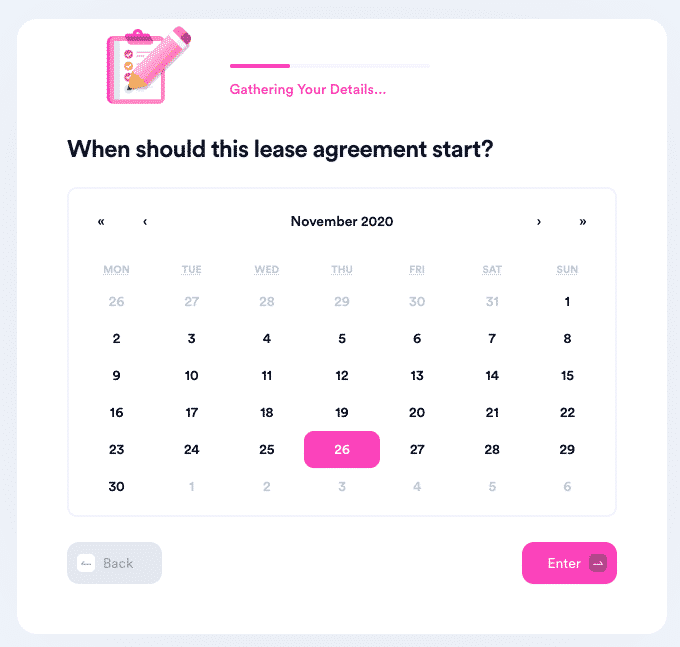 The usual practice is for the lessor to draft an equipment rental agreement, making sure to include all relevant data and sections. The lessee should review the agreement and negotiate any modifications. When both parties agree on the stated terms, they sign the contract and keep it in their records. 
Should Your Company Get an Equipment Lease Contract?
More than 9,600 U.S. companies rent industrial equipment to other legal entities. It means that lots of businesses choose to rent their equipment instead of purchasing it. 
Signing an equipment rental contract can bring the following benefits to your business:
It improves your working capital

Your company can save some money

This arrangement might lead to tax benefits

You need to make monthly payments instead of paying the whole amount upfront

Your business can use the latest technologies at a more affordable cost
How To Secure Funds for Your Equipment Lease
If you own a start-up or small company and lack financial resources, you can choose a few options to secure the necessary funds for an equipment lease:
Banks

—Some banks offer good credit terms to SMEs. Review various offers online, go to branches, and talk to loan officers to choose the most suitable offer 

Leasing companies

—You should turn to a few leasing companies to check the terms, conditions, and quality of service they provide. Doing research, checking online reviews, and getting in touch with their clients will help you choose

Equipment distributors or dealers

—Some corporations that sell equipment have  subsidiary companies providing equipment leases
Equipment Rental Agreement Types 
There are two common types of equipment lease agreements:
Type
What Is It?

Capital lease

This type is a long-term equipment rental agreement that you choose if you would like to:

Use an item of equipment for a longer period 

Buy this equipment at the end of the contract

Operating lease

This is a short-term equipment lease agreement that companies can terminate before the lease period expires. You opt for this type of agreement if you would like to:

Use the equipment for a limited amount of time

Have an opportunity to cancel the agreement at any time without paying penalties
For the capital lease agreement, the lessee needs to keep records of all assets and liabilities of the equipment in a balance sheet throughout the lease period. Plenty of companies choose this type of agreement when they need expensive equipment they cannot afford to buy right away.
There are other types of equipment rental agreements that combine the two above-mentioned types. You need to take into account your specific business needs and create a contract that best suits your needs.
DoNotPay Generates Custom-Made Contracts 
Our AI-powered app can power up and secure your business activities by providing contracts to address your issues and fulfill your requirements.
You need to acquaint us with some basics about you, and here is how:
Open DoNotPay in a

web browser

Provide the name of the document you would like our help with, e.g., a

custody agreement

Give the necessary details to the chatbot (names, addresses, and additional relevant info)
You are but a few clicks away from getting a document tailored to your needs.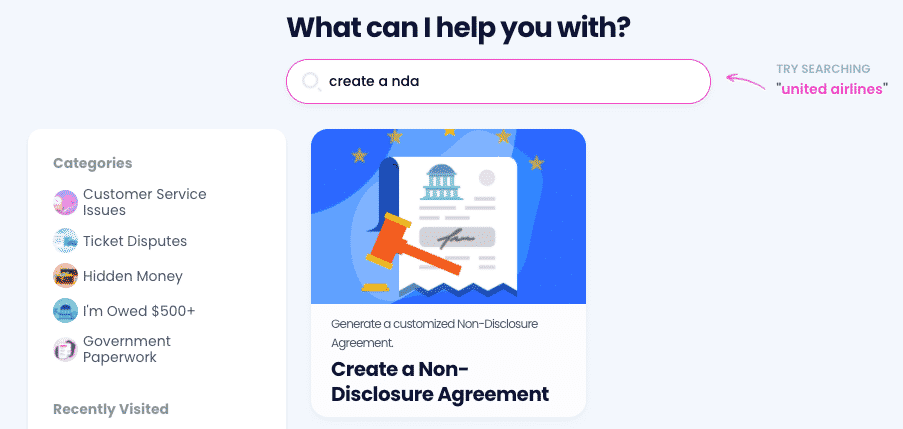 Go through the above-explained simple steps and receive your independent contractor, non-compete, NDA, or even prenuptial agreement.
DoNotPay Is Your Shortcut Through Bureaucracy
With our app, you don't have to spend hours figuring out how to request a refund, cancel a service, or book a DMV appointment. 
We take over all the hard work! Forget about waiting in a phone queue for hours in hopes of reaching a customer service rep. Our AI-powered app will call any company for you and ping you when a human appears on the other end of the line. 
DoNotPay also speeds up the process of filing insurance claims, claiming warranties, reducing property tax, and drafting various legal docs. 
Keep the Communication Lines Clear With DoNotPay
Do you know how powerful DoNotPay's virtual credit card is?
This super-smart feature can not only sign you up for no-risk free trials but can provide you with an alternative email address. You can test any service without giving out your real email, which will keep your inbox clean from spam!
If you have family or friends within the U.S. prison system, our app helps you get in touch with them quickly. 
We can also make sure you don't become a target of text and robocall scammers! Keep your phone number private and avoid this type of harassment by using our Burner Phone feature!
In case you need to fax a document, there is no need to search for the instruction manual on how to operate a fax machine. DoNotPay makes it simple to send online faxes anywhere!