Upgrade Your Infrastructure With an
Equipment Purchase Agreement
You rely on the equipment you use for your organization's success.
Buying new equipment for your company is fraught with danger, particularly in the case of second-hand items. You run the risk of being landed with faulty equipment that doesn't perform as expected or breaks down after a week.
We know that legal documents can be a minefield and that not everybody feels comfortable drafting contracts. DoNotPay can help you avoid this by showing you how to write a watertight equipment purchase agreement.
When Do I Need an Equipment Purchase Agreement?
If you are buying equipment from a dealer or a shop, you are automatically entering into a contract with the seller. This contract is governed by laws administered by the Consumer Protection Bureau and offers you protection against unfair or illegal trading practices.
If you buy equipment from a private seller, though, you need an equipment purchase agreement to put the deal in a legal framework and give you recourse in case things go wrong.
This is even more valid if the equipment you are buying is pre-owned—an equipment purchase agreement is essential to protect you.
What Are The Risks of Buying Equipment From a Private Seller?
Buying from a private seller is often a way to get sought-after equipment cheaper than through a retailer or dealer.
There are risks, though, particularly in regards to the condition and longevity of the product you are buying. The risks include:
The equipment doesn't work as advertised

The equipment breaks down

Spares are unavailable

The seller takes your money and fails to deliver the product

Damage is not disclosed before the sale
An equipment purchase agreement can mitigate most of these risks if it is well-written and comprehensive.
What Needs To Be in an Equipment Purchase Agreement?
You need to include these points in your equipment purchase agreement:
Names and details of the parties

Description of the equipment

Payment

Delivery terms

Warranties or guarantees

Governing law
Names and Details of the Parties
You should include the full names, addresses, and contact details of all the parties to the contract. If you are financing the equipment purchase through a third party, their details should also be included.
Description of the Equipment
You should describe the equipment fully, including:
Name of the manufacturer

Model name or number

Serial number

Visual description
Payment
The total purchase price should be inserted here, as well as any payment terms you have agreed on with the seller.
If you have negotiated a series of part payments, you should include a schedule for when these will be made and a note to confirm that ownership will only be transferred to you once the final payment has been made.
Delivery Terms
Any arrangement you have made to have the equipment delivered should be captured in the agreement.
You can also note that the equipment remains the responsibility of the seller until it has been delivered, meaning that the seller is responsible for rectifying any damage that occurs in transit.
Warranties or Guarantees
Your equipment purchase agreement should include the following general warranties and guarantees:
The seller warrants that they are the rightful owner of the equipment and are entitled legally to transfer ownership to the buyer

The buyer agrees to accept the equipment as seen unless otherwise stipulated by any warranties the seller has offered

The buyer is responsible for paying any taxes, licenses, or fees upon completing the purchase

The buyer indemnifies the seller against claims for any loss or damage and holds the seller harmless

If the buyer is financing the purchase via a third party, the seller agrees to transfer ownership to that third party
Governing Law
You should include the names of the state laws under which the agreement falls.
Can DoNotPay Help Me With an Equipment Purchase Agreement?
Using the above guidelines, you should be able to draft your own equipment purchase agreement, bearing in mind that you should make sure it is signed by both parties and notarized to give it legal weight.
DoNotPay can help you set up many different agreements, legal documents, and contracts.
We have a range of contract templates that you can customize to your requirements. Getting your tailor-made document is easy and quick—here's what to do:
Navigate to DoNotPay in your web browser and

sign up

Use the search function to find the document you need

Give us the details you want included

Wait while we create your customized document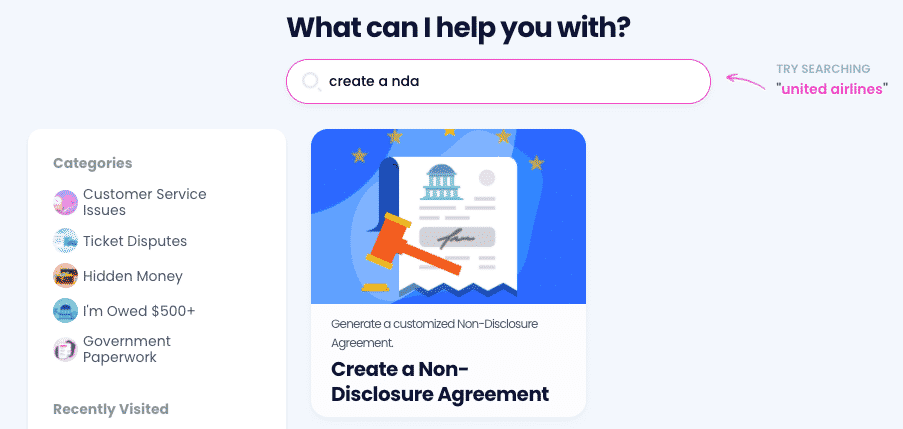 What Legal Documents Does DoNotPay Have?
We are constantly expanding our range, and here are a few examples of what we can offer:
Business
Property
Personal

General business contract

Estoppel certificate

Quitclaim deed

Intent to purchase real estate

General affidavit

Promissory note
Shortcuts and Solutions at Your Fingertips
DoNotPay provides both the easy way out and the easy way in. Use our app to get rid of spam emails, text spam, unwanted services, and unpaid parking tickets. We can also assist you in signing up for services without revealing your real number and getting free trials using our virtual credit card.
Our app is all about saving you time and money. Forget about the obsolete fax machine and post office—you can use DoNotPay to send faxes, mail letters, and connect with your incarcerated loved one.
DoNotPay Goes Above and Beyond To Help
We understand how bureaucratic hurdles get too much to handle. This is why so many of our products deal with these types of issues. From getting a document notarized, filing a warranty claim, and skipping the phone line when calling customer service to requesting a refund, booking a DMV appointment, and drawing up legal documents—there's not much we can't do for you.
Dealing with the never-ending paperwork is a thing of the past for DoNotPay users! Our app makes it easy to: