What Are Equipment Loans for a Startup Business and How To Apply for One
Are you looking into equipment loans for your startup business? Gathering information about these loans is essential if you want your application to be approved by a lender. To explain how equipment loans work and how you can apply for this loan type, DoNotPay has prepared this thorough guide.
What Is an Equipment Loan?
An equipment loan is a type of small business loan that provides capital solely for purchasing equipment (new or used), whether that is:
Machinery
Technology
Vehicles
You can get a loan of up to 100% value of the equipment you want to purchase, which you can repay over time (depending on the loan terms) with interest.
A major benefit of these loans is that they do not require you to provide any property or asset to secure the loan. Instead, the equipment serves as collateral in case you fail with the repayment.
What Are the Pros and Cons of Equipment Loans for a Startup Business?
Cannot decide whether or not you should get a loan to purchase equipment for your startup business? Consult the table below to see the benefits and disadvantages of equipment loans:
Pros
Cons

Quick funding—Unlike typical small business loans from banks and the Small Business Administration (SBA), which can take weeks and months to be approved, you can get an equipment loan much faster
Easy qualification—Because the equipment serves as collateral, lenders often do not require a solid credit score for this type of loan, which makes it easier to qualify
Affordable interest rates—Unlike other loan types, equipment loans have a low interest rate that ranges from 4% to 40%

Equipment could become obsolete—By the time you have repaid the loan, your equipment might become outdated, which is why some business owners rather opt for standard small business loans
The loan may require a downpayment—Some lenders may ask you to pay 10% to 25% of the value of the equipment upfront
Only available if you want to purchase equipment—As equipment loans serve a specific purpose, you might want to look at other options if you need a budget to cover other startup costs
Equipment Loan Qualifications You Have To Meet
Qualifications are not the same for every equipment loan but instead vary from lender to lender. Usually, you will need to:
Have $50,000 in annual revenue
Be in business for at least 12 months
Have a credit score of 650 or higher
If you do not meet the credit score requirements, you should not worry. In most cases, you will likely be able to show proof of solid cash flow and revenue for the past few months and qualify.
How To Get Financing for Your Equipment or Other Business Needs
Getting an equipment or small business loan to cover your expenses is not an easy task. The application process can be demanding as you need to prepare plenty of documents and submit an error-free request letter. Here is what you have to do:
Check whether you qualify—Before taking any further steps, make sure you are eligible for the desired loan. Check the required credit score, the annual revenue criteria, etc.
Make a list of the equipment you need—As many lenders will require you to give them details about the equipment, you should make a list of everything you intend to buy with the borrowed money
Complete the application process—To complete the process, you will need to fill out the application carefully and gather some of the following documents:

Driver's license
ID
Credit reports
Business tax returns
Equipment quote
Loan request letter
Lending institutions review these documents to decide whether you qualify for a loan. Many business owners fail to get a loan because they do not write a proper request letter.
If you want to get this important document tailored to your needs, subscribe to DoNotPay! Our app will generate the request letter for you and guide you through the application process to ensure you do not leave out important documents or information.
DoNotPay Helps You Draw Up a Loan Request Letter Effortlessly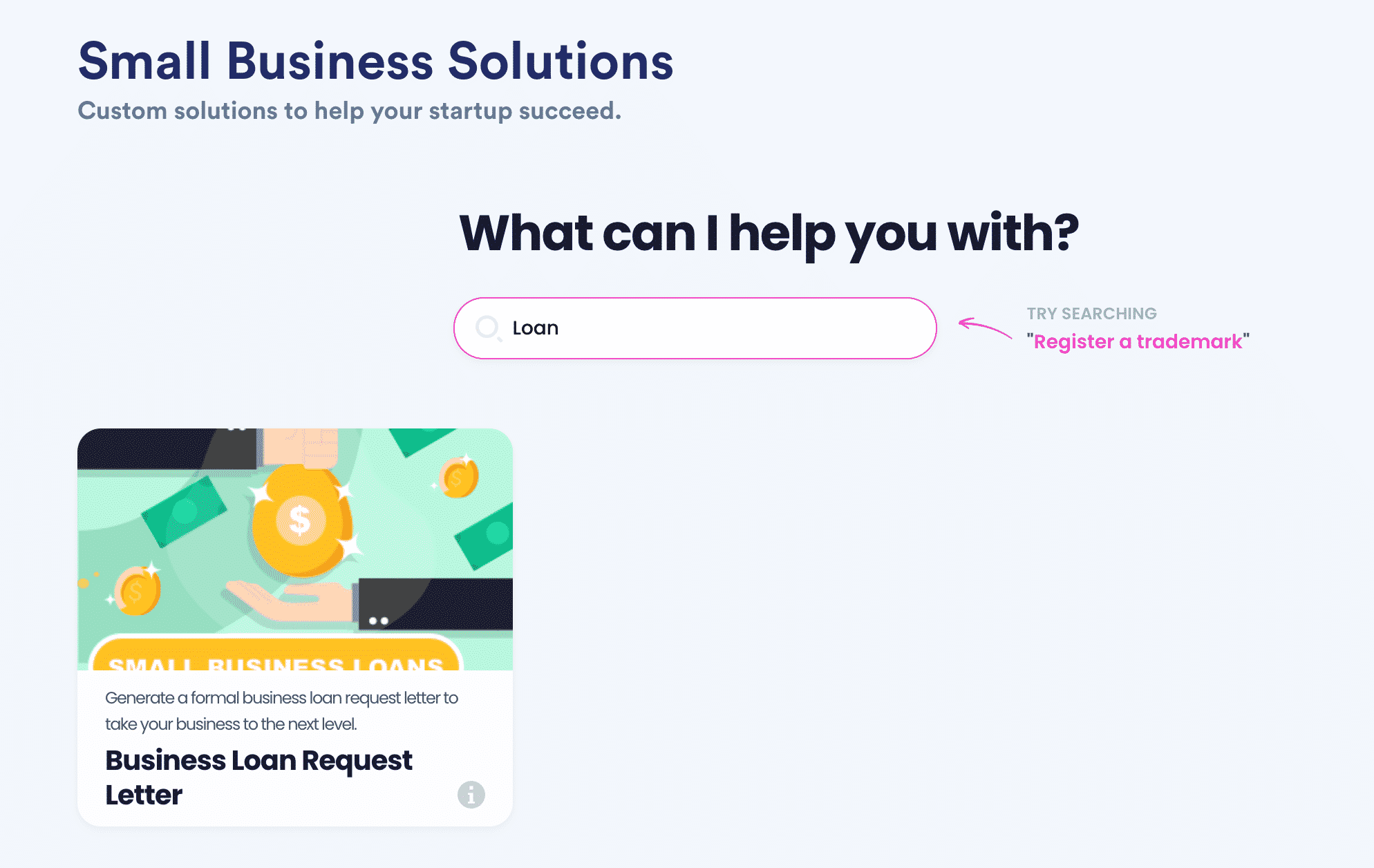 If you need a budget for buying or replacing equipment and want to secure the best loan for your startup, you should sign up for DoNotPay.
Here is how our AI-powered app works:
Select the Business Loan Request Letter tool
Prepare your personal and business credit scores
Give us details about your business and the amount you wish to borrow
Upload the necessary paperwork
We will process the provided information and generate a tailor-made loan request letter in no time.
If you need help finding a lender, DoNotPay has got your back. Use our integrated Find Online Business Loan Lender tool and get a list of the lenders that would best suit your needs.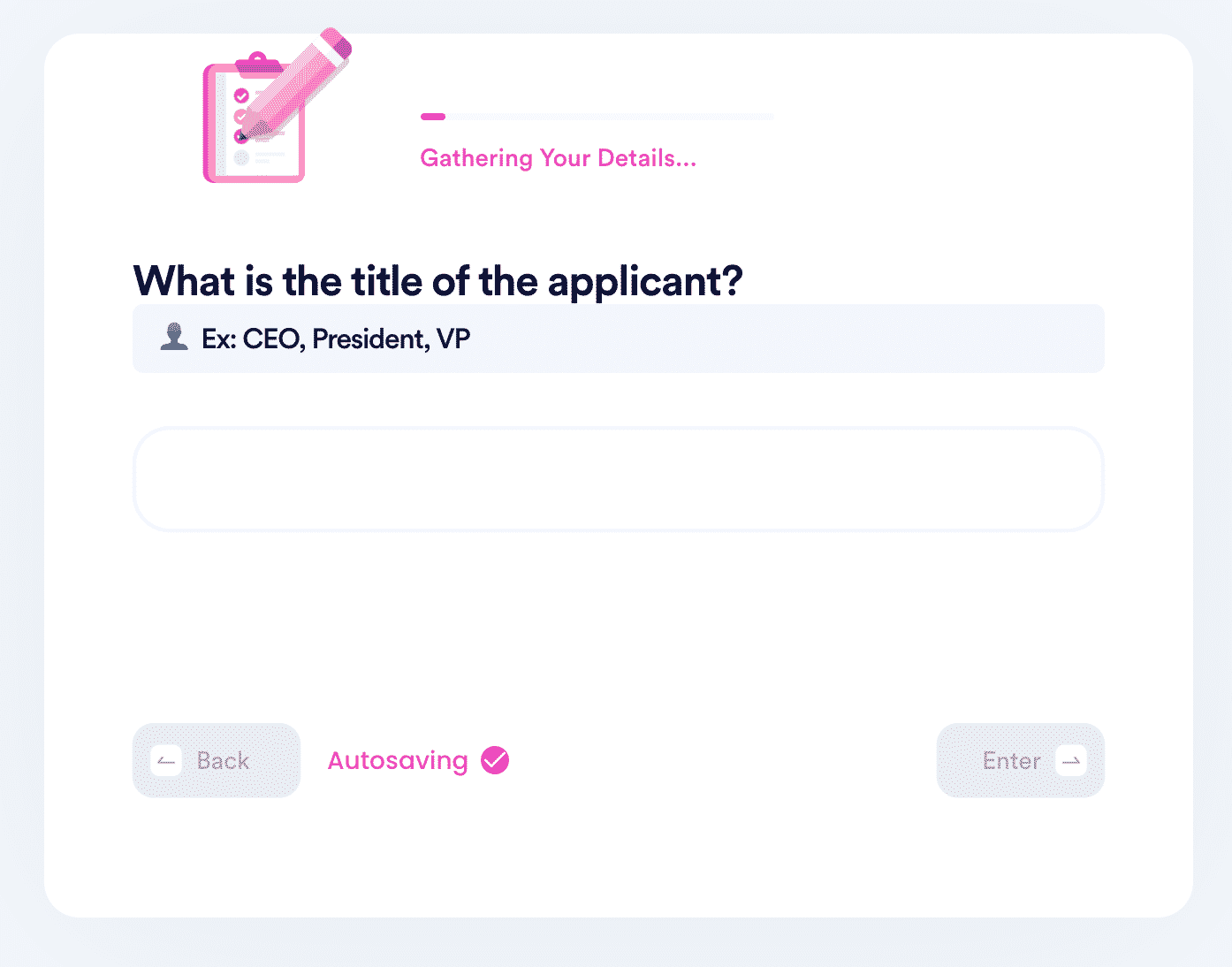 Resolve Various Business Problems With the Help of DoNotPay
Handling annoying administrative issues is the last thing you want to worry about while trying to build a business empire. The good news is that you do not have to! DoNotPay has developed many nifty products that make various pesky tasks easy to complete.
Some of the small-business-related matters we can help you with are:
Taking out business loans
Obtaining an Employer Identification Number (EIN)
Automating the filing of 83(b) election forms
Requesting your money from customers who won't pay
Registering a DMCA agent
DoNotPay can also make communication with your clients or business partners easier as we enable you to fax and mail your letters, forms, and other important documents without leaving your office.
Maintain a Good Business Reputation
It is no secret that building a trusting relationship with clients takes time and effort, so why have all that hard work ruined by negative online reviews that are fake? DoNotPay is here to help you remove illegitimate, fake reviews in a matter of clicks!
Want to dispute unfair chargeback requests but are not sure how to go about it? By using our Fight Chargebacks feature, you can have DoNotPay create a customized chargeback rebuttal document in a few minutes.
With our app, you can also protect your trademark from people trying to use it, file the self-certification request with the Privacy Shield program, and handle many other aspects of your business hassle-free!