How To File a Perfect EPA FOIA Request
In case you'd like to access the United States Environmental Protection Agency (EPA) records, you can file an EPA FOIA request. The Freedom of Information Act of 1966 was established to offer insight into federal records to the public (unless the requested info falls under one of the nine FOIA exemptions).
The process of filing a FOIA request can be complicated, but there is an easy way of dealing with it—.
How To File an
EPA FOIA Request
by Yourself
You need to make a request directly to EPA because there is no central government office that can deal with all FOIA requests. EPA doesn't have a specific form for filing a request either. The request has to be in writing—either typed or hand-written. These are your options for submitting an EPA FOIA request:
| | |
| --- | --- |
| Can You File an EPA FOIA Request Via? | Yes/No |
| DoNotPay | Yes |
| Mail and Overnight Mail | Yes |
| FOIAonline | Yes |
| Phone | No |
| Email | No |
| In Person | No |
How To Send an EPA FOIA Request via Mail and Overnight Mail
EPA allows people who are seeking access to public records to send their requests via mail. This is not the best way since we all know how complicated the mailing process is and how long you need to wait for it to be finalized. If you decide to go with this option, follow these steps:
Compose a formal request letter

Include your contact info

Explain in detail what records you are looking for and why

Provide other necessary documentation

State a limit you're willing to pay for processing fees

Send the request to:

National FOIA Office, U.S. Environmental Protection Agency, 1200, Pennsylvania Avenue, NW (2310A), Washington, DC 20460

(regular mail)

National FOIA Office, U.S. Environmental Protection Agency, 120, Pennsylvania NW, Room 5315, Washington, DC 20460

(overnight delivery)
How To Send an EPA FOIA Request via FOIAonline
EPA is one of the agencies that allows interested individuals to send their requests via the FOIAonline platform. This is also a poor choice of submitting FOIA requests since the process is time-consuming due to the number of questions you have to answer.
Here are the steps you would need to take:
Go to FOIAonline

Select the agency

Choose the type of your request

Enter personal info, such as your full name and address, phone number, email address, etc.

State how much you're willing to pay in fees

Write a detailed description of the records you wish to access

State whether you want expedited processing

Say whether you need a fee waiver

Attach required files

Submit the form
If you are filing a request for information on yourself, you have to provide either a notarized statement or one signed under penalty of perjury to prove who you are and protect your privacy.
Submit a
FOIA
Request to
EPA
With DoNotPay
Whenever there is an opportunity to avoid complications, you should take it. That is exactly what DoNotPay offers—a simple way of sending FOIA requests to any agency. There are only five simple steps you ought to follow:
Open DoNotPay in your

Find and select the

FOIA

feature

Indicate that you are dealing with a federal agency

Type in

EPA

Inform us if you need a fee waiver or

expedited processing
DoNotPay will handle the rest of the process and send the request letter to EPA on your behalf. We can also tell you the best way to check the status of your FOIA request.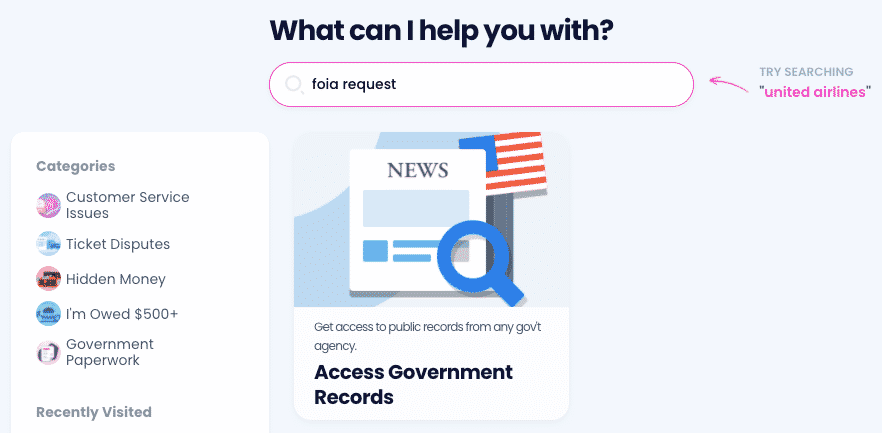 DoNotPay Can Send Your FOIA Request to Any Agency
EPA is not the only agency we can help you send a FOIA request to. DoNotPay can lodge requests with any other federal agency of your choice. Here are some examples of institutions we can help you access records from:
With DoNotPay's assistance, you can find police and military records across U.S. states, such as Indiana, Florida, and Massachusetts.
How To Appeal a Rejected FOIA Request From EPA
You may file an appeal to EPA regarding your denied FOIA request if:
You believe that some records are unjustifiably withheld

The agency has not dealt with the request within the set time limits

EPA denied your request for expedited processing or a fee waiver

You think that there are more records relevant to your request in addition to those processed by EPA
You may send the appeal by mail to the National FOIA Office, U.S. Environmental Protection Agency, 1200, Pennsylvania Avenue, NW (2310A), Washington, DC 20460 or via email to hq.foia@epa.gov.
EPA FOIA Request Fees
Sending a FOIA request to EPA doesn't cost anything, but there might be some additional fees later on. You'll need to pay for the photocopying after the first 100 pages and the record research that takes more than two hours.
EPA will charge you $0.15 per page for single-sided black and white photocopying. You will have to include the specific amount you are willing to pay in your request. If you don't, EPA will assume that a $25 charge for fees is alright with you.
DoNotPay Is the Champion of Customer Advocacy
If you've never experienced an issue with a purchased item, you should consider yourself extremely lucky. When shopping goes wrong, you usually have to brace yourself for unpleasant and annoying exchanges with customer support centers.
DoNotPay is here to make exercising your consumer rights easy. Long holds when calling customer service reps and incessant marketing spam emails can stay in the past. We will help you avoid irritating text messages from online retailers by teaching you how to bypass phone verification when signing up.
Ask for refunds, claim warranties, fix credit card issues, or sue retailers in small claims court—these are just some of the services our platform provides.
With DoNotPay, you can start free trials for new services risk-free. If you want to get out existing subscriptions, canceling them has never been easier!
Wait, There's More!
Our full portfolio includes features as diverse as contacting inmates and requesting college application fee waivers for students from low-income families.
If you have a problem with bureaucracy, the chances are DoNotPay knows how to fix it with your minimal involvement.
Leave the grunt work and unnecessary expenses behind. We will help you pass various government tests with flying colors, find unclaimed money in all states, or get out of parking tickets before you know it!