Learn All About Engineering Scholarships
Even though an engineering degree might pave your way to high earnings, it comes with a hefty price. Luckily, many engineering organizations and associations offer financial aid to academically accomplished students in hopes of helping them afford education. If you take the right course of action, you can become one of the recipients of engineering college scholarships!
DoNotPay explains what it takes to get engineering scholarships, including:
What You Should Know Before You Dive Into Engineering Scholarships
Considering the importance of engineering, it's no wonder that some scholarship and grant awards in that field reach up to $20,000 per student.
Engineering scholarships are available for students of any level of study, often rewarding and putting a spotlight on overlooked groups of students in that field, such as:
Engineering schools and organizations are looking to award academically brilliant students who demonstrate a passion for the industry. Unfortunately, for engineering scholarship applicants, this means that they usually have to submit several letters of recommendation and a scholarship essay with their applications.
Engineering Scholarships—How To Earn Them
The first step towards receiving engineering scholarships is to enroll in an engineering school. Since engineering and tech schools tend to be highly competitive, you will have to go above and beyond to maintain the required academic progress.
If you get the chance to work at a part-time engineering job during your study, you should do it. Not only will you earn extra money to afford the often sky-high attendance costs, but you will also gain valuable knowledge you can use in your career later on.
Another option to keep in mind is participating in field-related extracurricular activities and research projects in your school. That way, you can earn academic credits and have more experience to add to your resume.
Institutional Engineering Scholarships
Before you start looking for external funding opportunities, contact your school's financial aid office to inquire about available engineering scholarships. The benefit of consulting a financial aid advisor is that they can help you understand the scholarship requirements and submit a rock-solid application.
Engineering Scholarships—Where To Look for Them
The following table displays resources you can check out to find engineering scholarships:
Engineering Scholarship Resource
Eligible Applicants
The National Council for Minorities in Engineering (NACME)

High school seniors who are applying for an engineering or computer science program at a NACME partner institution
Matriculates of an engineering or computer science program at a NACME partner institution
Applicants who belong to one of the following minorities:

The Society of Women Engineers (SWE)
Women pursuing an ABET-accredited bachelor or graduate student program
The National Society of Professional Engineers
High school seniors, undergraduates, and graduate students pursuing a career in engineering
The National Aeronautics and Space Administration (NASA)
Academically accomplished students seeking specialization in aeronautical engineering
Engineer Girl
Female engineering students of all levels of study
These are only some of the many resources for engineering scholarships that are available online. Students can always resort to established scholarship search tools and websites to look for more opportunities.
If you're tired of browsing through dozens of different scholarship resources to find what you're looking for, try DoNotPay! After answering a few short questions to our chatbot, you will receive a list of all engineering scholarships you can apply for! Our app can even apply you for no-essay ones automatically!
How To Apply for Engineering Scholarships
The application process for engineering scholarships differs from one program to another, but the following steps occur in many of them:
Complete your Free Application for Federal Student Aid (FAFSA)
Submit your College Scholarship Service (CSS) Profile application if your school participates in the program
Write a compelling scholarship essay
Ask your mentors to write a letter of recommendation for you
Complete the scholarship application
Attach your resume to your application
The Easiest Way To Apply for Engineering Scholarships Is With DoNotPay!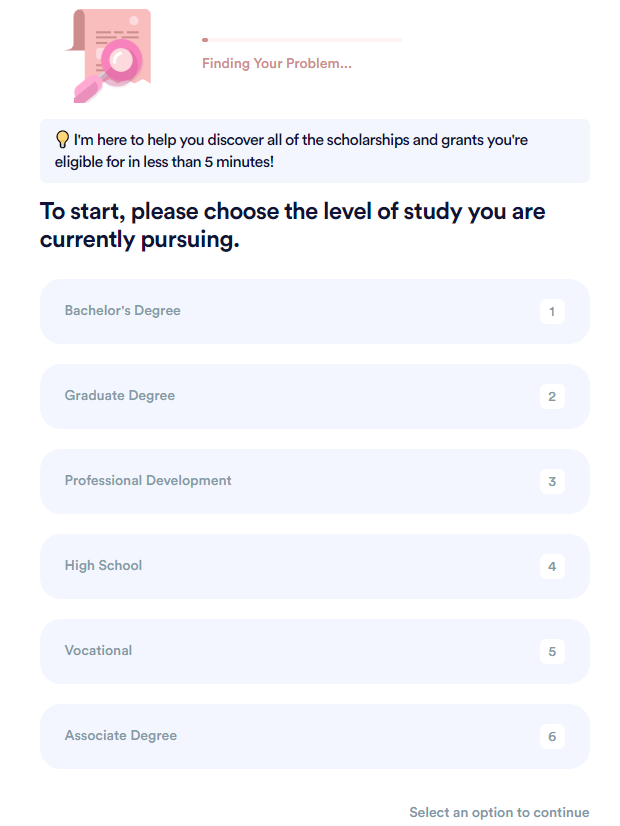 With DoNotPay, applying for scholarships, including field-specific ones, is a breeze! All you need to do is provide basic information about your level and field of study. After that, our app will go through all available scholarships and show you the ones you qualify for, along with their awards.
To start looking for extra funding for your education, all you need to do is:
Navigate to our Apply for Scholarships product
Tell us about:

Your level and field of study
Your special qualifications, for example, veteran status
We offer you the option to automatically apply for scholarships that don't require essays. If you want to pick the scholarships that work for you by yourself, you can do so by browsing a list which we update constantly.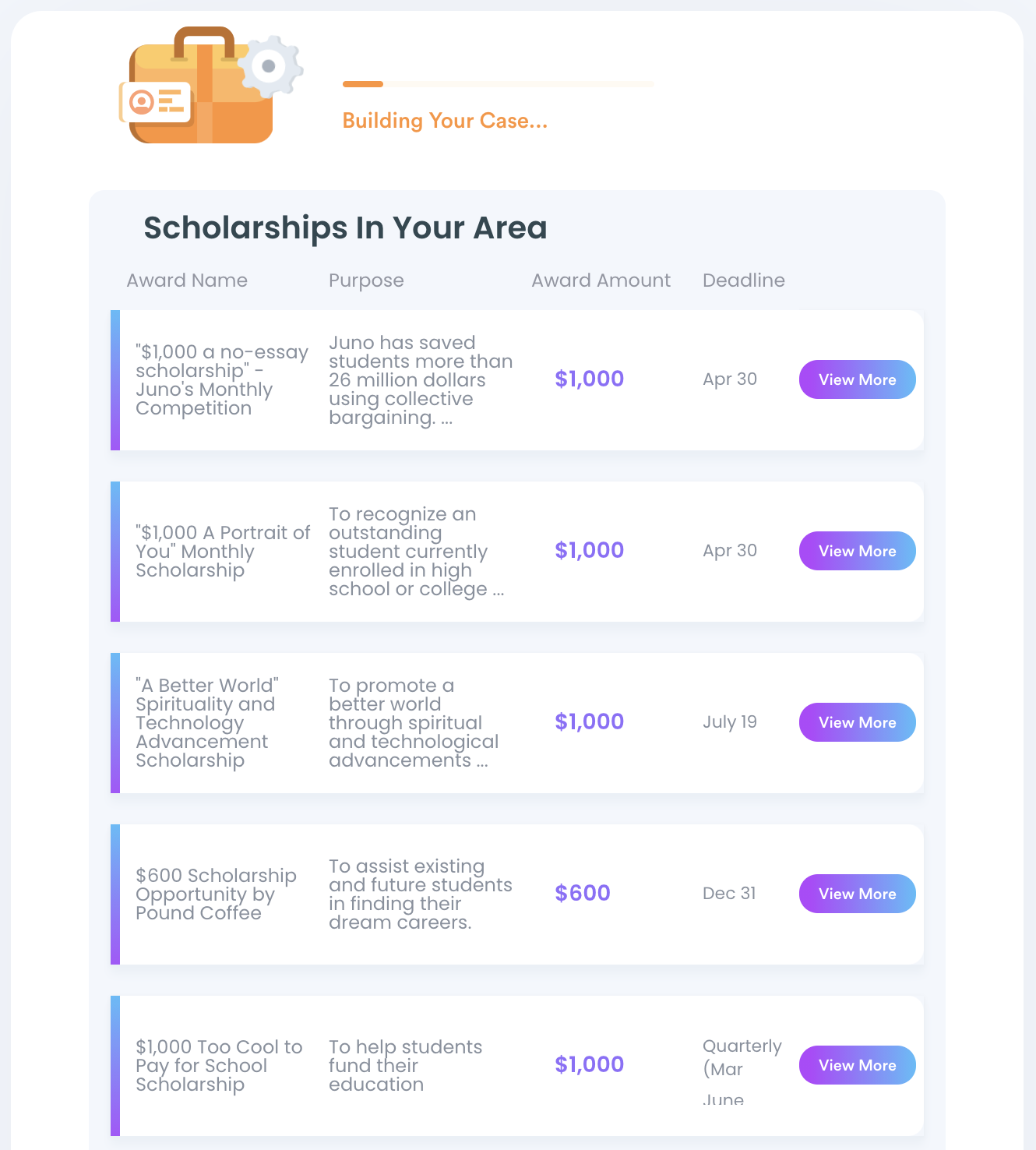 DoNotPay Helps You Run Errands Without Leaving the Comfort of Your Home!
If you're on a tight schedule and you can't afford to spend hours running errands, DoNotPay steps in with a perfect solution! You can skip going to the post office to request an item return or visiting a notary public to get your documents notarized—Our app will help you get it all done without going anywhere!
Visiting your local Walmart to have your passport photo taken is unnecessary since DoNotPay can help you get it at home!
Consult the list below to see what other tasks you can complete using our app:
Unsubscribe From Unwanted Services at Any Time
Companies tend to keep charging their clients monthly subscription fees automatically if they don't end their subscriptions. Stop wasting money on forgotten memberships—DoNotPay will show you how to terminate your subscription in a few clicks!
You can also learn how to sign up for a free trial without getting charged, create a burner phone number or a virtual credit card hassle-free!