A Detailed Guide to Creating an End-User License Agreement

Are you a developer or a software company that would like to earn income by allowing others to use your product without jeopardizing your intellectual property? The smartest solution for you is to create an end-user license agreement to ensure others don't sell your product as their own.
Since creating any legal document without a law education is challenging, you'll find this guide useful. We will teach you how to write an end-user license contract and provide the best way to create other agreements in a few clicks.
What Is an End-User License Agreement?
An end-user license agreement (EULA) is a legally binding contract between a vendor (licensor) who created a software and a user (licensee) who wants to use it. Vendors are usually SaaS, mobile, and software developers.
By paying a fee, the licensee has the right to use, download, and install the software. The licensor continues to own the product while the user only buys a license to use the software and never assumes ownership. This means that the vendor can sell the license for the same software to multiple users.
The end-user license agreement has many other names. The most common ones are:
EULA

License Agreement

Licensed Application End-User Agreement

Software License Agreement
You can include the EULA link in:
Your website's footer

The initial installation screen

The download screen

The

Settings

,

Menu

, or

Legal

section of your software program or mobile app
How Can You Benefit From an End-User Agreement?
After long hours of developing the software, the last thing you want is for someone to make money by reselling your product. If you're worried about copyright when selling your software, you should create an end-user agreement as it prevents the licensees from:
Selling the product as their own

Copying the source code

Transferring the product to non-paying users
The contract protects your intellectual property and ensures you don't lose money. By creating an agreement, you specifically define the following:
Your liability

How your product can or can't be used

The rights that the buyer has or doesn't have

What happens if the user violates the rules of the agreement
This will prevent any misunderstanding and ensure you're the only one who earns money from the sale.
What Happens if You Don't Write the End-User Agreement?
If you don't create the EULA, your software will be open-source. This means that a user has the right to distribute the product for free—or charge a fee instead of you—without consequences. By failing to create the end-user agreement, you also allow the user to adapt, enhance, improve, modify, and translate your code.
Is an End-User License Agreement the Same as a Terms and Conditions Agreement?
Even though they are similar, the EULA and the Terms and Conditions agreement aren't the same. The end-user license agreement is used only if you or your company grant licenses. It outlines the terms of license use.
The Terms and Conditions agreement addresses a wider range of issues, such as:
Payment processing

Use of a website

User-generated content

General copyrights
Are you wondering which agreement to create? The answer depends on whether or not you grant a license. If you don't, the Terms and Conditions agreement is enough. If you do grant a license, you can either have one or both agreements. Whichever option you choose, make sure both agreements are clear and complete.
How To Make an End-User Agreement by Yourself
Large software companies hire lawyers to take care of legal documents, including the end-user license agreement. If you're an independent developer or a smaller company that can't afford a professional, you're probably looking for a more affordable solution. The best option you have is to take a look at a few end-user contract templates online.
Even though templates aren't an ideal solution, they can at least give you an idea of how to structure the agreement and what info to cover. Most license agreements include the following information:
Names and addresses of the vendor and the user

The name and type of the software program in question

Which state's laws apply in case one of the parties violates the agreement

Disclaimer of warranties

Limitations of the license

Whether the vendor offers maintenance and support

If the vendor has the right to end the user's license
Since most templates are general, make sure to adjust any contract you find online to your situation and product. If you can, you should consult a lawyer once you create the agreement. Faulty contracts can't protect you or your product as they can be voided easily.
DoNotPay Will Help You Create a Myriad of Legal Documents Stress-Free
's easy-to-use feature can help you draw up various legal contracts, such as:
Business Contracts

General Business Contract

Real Estate

Estoppel Certificate

Intent to Purchase Real Estate

Quitclaim Deed

Other

Promissory Note

General Affidavit

Child Care Authorization Form
If you'd like to save money and still get a professional and complete contract, DoNotPay is the best and most affordable solution. Here's how you can use our feature:
Sign in to

Enter the name of the document you need to draw up

Respond to required questions

Download and sign the document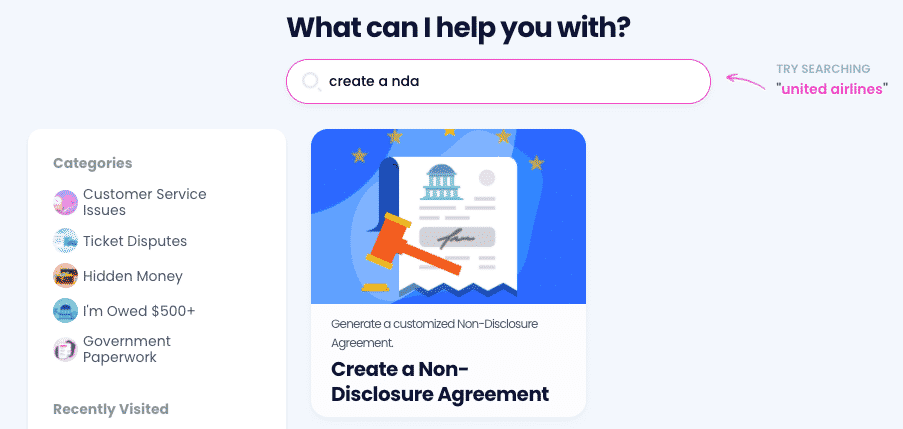 Clear Your Schedule With the Help of DoNotPay
DoNotPay is renowned for making our users' lives infinitely easier. Not only can we root out unwanted subscriptions for you—you don't need to do it manually one by one any longer—but we can unsubscribe you from unwanted email and snail mail lists.
Fire up our app and let it navigate the phone tree instead of you or use it to make a DMV appointment at your earliest convenience. Forget about googling clinical trials near you—DoNotPay can sort them out according to your needs and their individual eligibility criteria.
We can fill out the paperwork that you need to file at your local small claims court to initiate a dispute. You can work around the U.S. penal system and have DoNotPay locate an imprisoned loved one instead of you trying to reach individual prisons attempting to do it yourself.
You don't need to go to great lengths to get in touch with a counselor to sign your college fee waiver either—DoNotPay does it for you and then forwards the necessary documents on your behalf.
DoNotPay Never Ceases To Amaze
Where there's one useful feature, there are nifty features galore!
Use our Virtual Credit Card to sign up for free trials and stop robocalls and spam text messages from reaching your phone. If you feel a free trial unrightfully turned into an expensive paid membership, we can help you request a refund or chargeback for the inconvenience.
We can further assist you in exercising your consumer rights by making a warranty claim in your place and verifying your online accounts with temporary phone numbers.
We can also break down the Freedom of Information Act for you and introduce you to online fax options and property tax reductions.