Should You Sign Employment Separation Agreements or Ignore Them?
When people decide to leave their jobs for any reason, their employers might suggest signing employment separation agreements.
The question is whether you should do it. If you believe there are any unsettled matters, you might want to postpone the signing-off process and seek advice from an attorney.
DoNotPay can assist with the legal documents you need for your personal or business activities. We can show you how to create contracts and provide numerous contract templates.
What Are Employment Separation Agreements?
Some companies use employment separation agreements when they decide to terminate an employee. Employers do this because they would like to protect their businesses from a potential binding claim.
An employment separation agreement is a document showing both the employee and employer have reached an amicable termination of the employment contract.
What you should know is that employment separation agreements are:
Not legally required

Used to protect:

Business information

Companies from lawsuits
It means that if you sign an employment separation agreement, you will no longer be able to sue your employer for:
Severance pay

—An amount you get from your employer when your employment ends

Wrongful dismissal

—If your employer fired you illegally or wrongfully
Employment Separation Agreement Terms and Conditions
Employment separation agreements define the terms and conditions both parties agree to. Here are some common provisions:
Provisions
Details

Details of the employment separation

This section:

Identifies the parties

Sets employment and termination date

It can:

Provide a specific reason for leaving, e.g., termination, resignation, or layoff

State simply the employee is leaving the company

Severance pay

This part can determine a monetary payout but is not obligatory as, according to U.S. laws, an employee needs to receive only:

Accrued vacation

Salaries due on the final working day

Before you agree to the offered severance pay, consult :

The employee handbook—termination rules and procedures

Your employment agreement—conditions regarding severance packages

Amount and delivery method

This section exists in case your employer provides wages and other payouts. It has to define the:

Exact amount

Nature of the compensation

The payout can be a lump sum or a structured plan, and this part needs to set the:

Date(s)

Duration

Delivery method

Payment structure

Tax and insurance

This part of the agreement sets tax deductions and payment policy in case your company continues to pay your health insurance plan, e.g., if you are part of a group health insurance program
Additional Provisions
Other standard terms of employment separation agreements include the following:
Non-compete provisions

—This part will prevent you from taking a job in your field for a specified time or in a certain location. In other words, you will not be able to work for the competition

Non-disclosure

—Your company might require you to keep the employment separation agreement conditions confidential. Make sure to check the

non-disclosure agreement

outlining what exactly remains private and the exceptions to the non-disclosure clause

Non-disparagement

—This part of the agreement defines and limits what you can or cannot disclose about the employer
You should be aware that the conditions of this contract supersede any other contracts you have, such as your employment agreement.
Protect Your Rights With an Employment Separation Agreement
Make sure you review the proposed employment separation agreement carefully before signing it as most of the set terms determine your:
Financial situation, e.g., the severance package part

Future job prospects, e.g., the non-compete section
You should be aware that your company will propose a separation agreement to protect their rights and interests. That is why you should analyze all the terms and conditions carefully and consult the labor laws of your state or an attorney.
Make sure you protect your rights, and do not forget that a fair employment separation agreement protects the interests of both parties. You should ask for advice if your employer presents an overly complicated agreement and you do not understand the terms.
Prepare a Contract To Protect Your Interests With DoNotPay's Assistance
can help you create a contract to address your needs and safeguard your rights. Our app collects relevant information that provide solutions to your problems.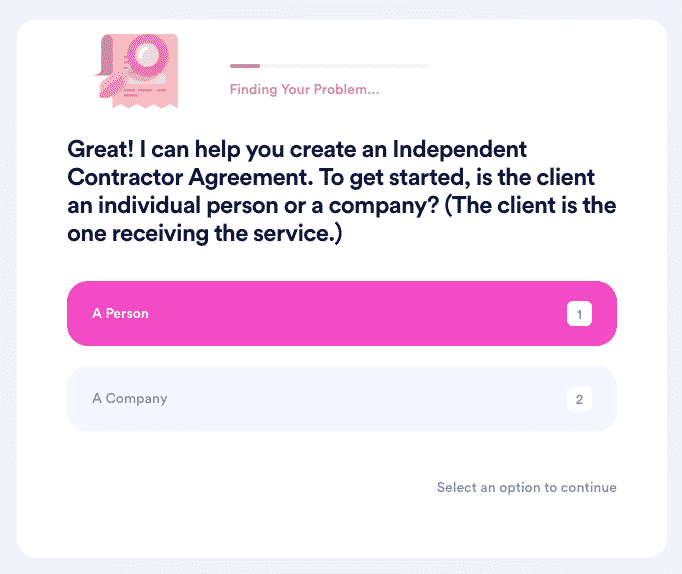 For your business activities, we can offer a bill of sale to protect the transfer of ownership, a lease agreement to help you rent a residential or commercial property, an operating agreement to regulate rules of your LLC, or an independent contractor agreement if you would like to hire an expert on your project.
Here is how you can receive your customized contract:
Open DoNotPay in your

Enter the name of the document

Provide the necessary details to the chatbot, including names, addresses, and other necessary information
After this straightforward process, DoNotPay will generate a contract that will meet your needs.
We can also protect your personal and family interests by providing a prenuptial and custody agreement. DoNotPay keeps upgrading the Standardized Legal Documents feature. Our app will soon be able to offer more legal documents to suit your needs and ongoing projects. Check from time to time and generate contracts with us efficiently.
DoNotPay Is Your Shortcut Through Bureaucracy
With our app, you don't have to spend hours figuring out how to request a refund, cancel a service, or book a DMV appointment.
We take over all the hard work! Forget about waiting in a phone queue for hours in hopes of reaching a customer service rep. Our AI-powered app will call any company for you and ping you when a human appears on the other end of the line.
DoNotPay also speeds up the process of filing insurance claims, claiming warranties, reducing property tax, and drafting various legal docs.
Keep the Communication Lines Clear With DoNotPay
Do you know how powerful DoNotPay's virtual credit card is?
This super-smart feature can not only sign you up for no-risk free trials but can provide you with an alternative email address. You can test any service without giving out your real email, which will keep your inbox clean from spam!
If you have family or friends within the U.S. prison system, our app helps you get in touch with them quickly.
We can also make sure you don't become a target of text and robocall scammers! Keep your phone number private and avoid this type of harassment by using our Burner Phone feature!
In case you need to fax a document, there is no need to search for the instruction manual on how to operate a fax machine. DoNotPay makes it simple to send online faxes anywhere!