Learn the Ropes—Writing an Employment Loan Agreement
While the employer typically drafts an employment loan agreement, it should be a joint effort as both the employer and the employee will need to sign this legal document and agree to its terms.
Regardless of your position, we will help you understand the intricacies of an employment loan agreement and how it's different from a regular loan agreement. This article will also assist you in weighing the pros and cons of entering into an employee loan agreement.
What Is an Employee's Loan Agreement?
An employee's loan agreement is a document between an employer and an employee stipulating the terms of a loan from the employer (lender) to the employee (borrower). When an employee is in debt, struggling to pay bills, or buying a house, they may ask their employer for a loan. Both parties will agree on the amount of money and payment terms, but the employer gets the final say as they are the lender.
How Is an Employee Loan Agreement Different From a Loan Agreement?
The essential terms of an employee loan agreement are the same as in the loan agreement—for example, stating the amount that is lent, a promise to repay the debt, etc.
Employers and employees who intend to enter into an employment loan agreement need to abide by certain state laws. In some states, such as Alabama and Florida, employers can deduct the employee's salary as a debt payment. If this is the case, the deduction shouldn't reduce the wage below the federal minimum. Typically, an employee will need to sign an authorization for this type of repayment.
What To Consider Before Drafting an Employment Loan Agreement
Before granting/accepting an employment loan and signing the contract, you should contemplate the pros and cons of doing so:
Advantages
Disadvantages

Alleviating financial strain for an employee

Building loyalty in the company

Increasing productivity by solving a major problem

Risking the company's funds

Creating workplace friction if any issues arise

Creating pressure for the employer to keep lending money
If you are the employer, you may decide to establish a lending policy before entering into an employment loan agreement to protect yourself and the company. You can consider determining the following:
Minimum time period someone needs to be in employment to ask for a loan

Limit on the number of times you can grant a loan

Limit on the amount of money that you can lend compared to the employee's salary

Time frame for repaying the loan

Remedies in case the employee borrowing the money leaves the company
What Should an Employee Loan Agreement Cover?
While you should customize an employee loan agreement to fit the terms both parties agree on, there are certain clauses you need to include in almost every agreement, such as:
Lender and borrower

—full names and addresses of both parties

Dates

—the date of signing, the date when you carry out the loan, and any dates or time frames for repayments

Loan

—details of the loan, such as the amount and interest rates, if any

Payment schedule and methods

—e.g., monthly payments or a lump sum

Promissory note

—a promise in writing that the employee will repay the employer

Default and late fees

—e.g., automatic deduction from the salary or legal action in case the employee quits or refuses to pay

Signatures

—check your state laws for signature regulations (e.g., if one or both parties should sign the agreement and whether any witnesses need to be present and sign too)
Let DoNotPay Generate Different Legal Documents for You
Whether you're an employer or an employee, you're bound to write contracts aside from the employment loan agreement. They could also be connected to business or real estate and personal matters. Rather than hire a lawyer or download a contract template, you can use our app to create many legal documents, including:
Residential

lease agreement

General affidavit

Promissory note

Intent to purchase real estate

Estoppel certificate

Quitclaim deed

General business agreement
Using DoNotPay to draft documents comes with nifty perks! You'll be able to create a contract in a matter of minutes, e-sign and fax it, and generate the same type of document as many times as you want.
How Do I Create a Document With DoNotPay?
Follow these instructions to get a legal document of your choice:
Access our app from any

web browser

Search for the document you want to create

Answer our chatbot's questions regarding your legal document
The info you provide us with will help us personalize your contract and tailor it to your situation.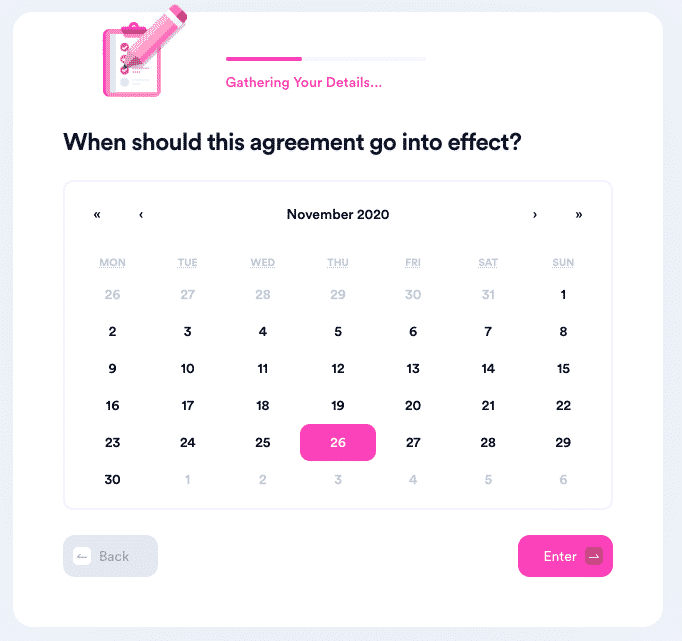 Learn About Other Agreements and Legal Documents With DoNotPay
If you need guidance on creating certain legal documents, you can turn to us for help. Check our learning center for tips and hacks that will assist you in drafting your document. These and many more guides are at your disposal:
Fighting Administration Is Easier With DoNotPay
Bureaucracy is a disease of the modern world, and we finally have a cure. Thanks to artificial intelligence, DoNotPay knows how to handle numerous rules and regulations and make your life so much easier. 
Our bots ask you a few questions, gather the necessary info, and off they go! Filing warranty and insurance claims, requesting property tax reductions, getting access to public records, or claiming unclaimed funds under your name—you can deal with these bothersome tasks from the comfort of your home and within minutes!
If you need to get in touch with customer service representatives to ask for refunds or contact airline companies regarding compensation, our platform will make the process painless and care-free.
Don't hesitate to put our app into service if you need to contest parking tickets or avoid long lines at your local DMV!
How Else Can We Help?
Not only does DoNotPay handle bureaucracy, but it also saves you money in the process. Whether you're looking for the best learning materials for government tests or planning to comb through and cancel streaming subscriptions you don't use, DoNotPay can give a helping hand.
Our platform grows every day and comes with user-friendly features that will help you manage unpaid bills, stop copyright violation, or solve problems with credit cards faster than ever!