The Easiest Way To Make an
Employment Agreement

Drafting an employment agreement may be a demanding task, especially if you don't have any experience with legal documents. Having a lawyer draw up a contract in your stead seems like the best choice, but their service will undoubtedly cost you a pretty penny.
You can stop searching for employment contract templates online—DoNotPay can show you how to write a contract in a flash!
What Is an
Employment Agreement
?
An employment agreement, or a work contract, is a binding legal document signed by the employee and employer upon agreeing on the conditions.
The employment agreement should set the rules, rights, and responsibilities of both parties and include any specific items regarding unique hiring situations.
What Does the
Standard Employment Agreement
Cover?
A work contract is enforceable during the entire tenure of the employee. If you're drawing up an agreement on your own, you should double-check what it must cover.
Take a look at the following table to see what clauses a standard employment agreement should include:
| | |
| --- | --- |
| Employment Agreement Clauses | What Does It Include? |
| Salary | The starting salary, potential bonuses, and payment methods |
| Working hours | Description of the working hours, breaks, and overtime policy |
| Benefits | Benefits granted by the employer, including health care insurance, retirement plan, paid vacations, and other benefits regarding the specific job. This section should also include sick leave and maternity leave policies |
| Probation period | Probationary employment usually lasts for three months, during which period each party has the right to terminate the contract without consequences |
| Work responsibilities | Description of the employee's tasks, responsibilities, due dates, and other important information the employee should focus on |
| Protection of confidential information | The employee is prohibited from sharing the company's confidential information outside the workplace. The contract can also include a provision that prohibits the employee from switching jobs while under contract or working for a competitor firm for at least a year |
| Performance evaluation | Information about performance reviews—how frequent they are (once a month, every three months, or other) and what they entail |
| Termination | Details of employment termination, including how and when it can be done  |
Types of
Work Contract Agreements
There are different types of employment contracts, and the employer decides which type is the most suitable for the situation.
The most common employment agreements include:
At-will contracts

—the most often used employment agreements. This type of contract gives the employer the right to terminate the contract whenever they deem it necessary, while the employee holds the right to quit the job for any reason

Written contracts

—the most comprehensive contract types. They list all the information regarding the employee-employer relation, including rules, rights, regulations, and obligations. The contract allows termination in case the employee violates any of the terms

Oral contracts

—similar to at-will contracts, but they are not formally filed. Because of that, oral contracts are difficult to enforce
Why Are
Employee Agreements
Necessary?
The workplace is not the most laid-back environment, and it requires a set of rules to function properly. The employment agreement helps establish those rules and create a stable professional relationship between the employer and the employee.
To protect both parties, an employment agreement has to:
Set up boundaries

Regulate terms and conditions

Leave space for terms negotiation

Settle disputes

Provide stability
Draw Up Legal Documents Like a Pro With DoNotPay
It is understandable if you don't want to spend an unreasonable amount of money on lawyers. With DoNotPay, you don't have to! Our practical feature enables you to create as many legal documents as you want for an economical monthly fee.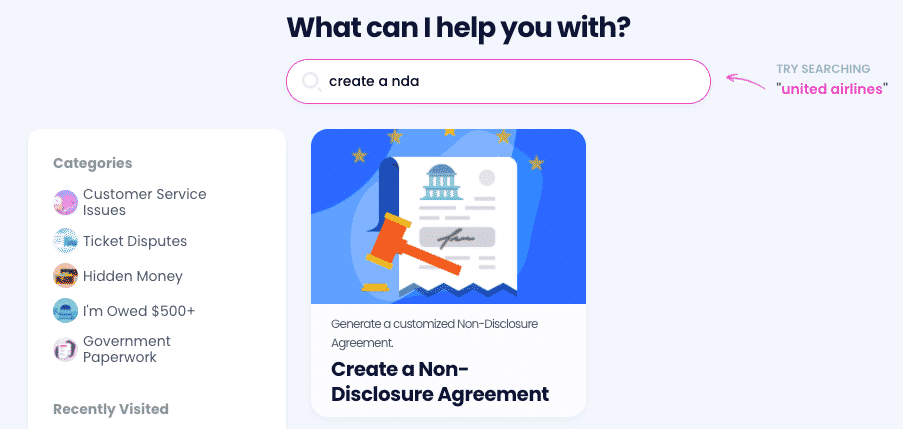 Because of our comprehensive database, we can use every state's rules and regulations to create the most suitable contract for you. Here's how to use DoNotPay for generating legal documents:
Open DoNotPay in a

web browser

Enter the name of the document you want to create in the search box

Answer a couple of our chatbot's questions
We will make sure that the contract we create is the best for your situation.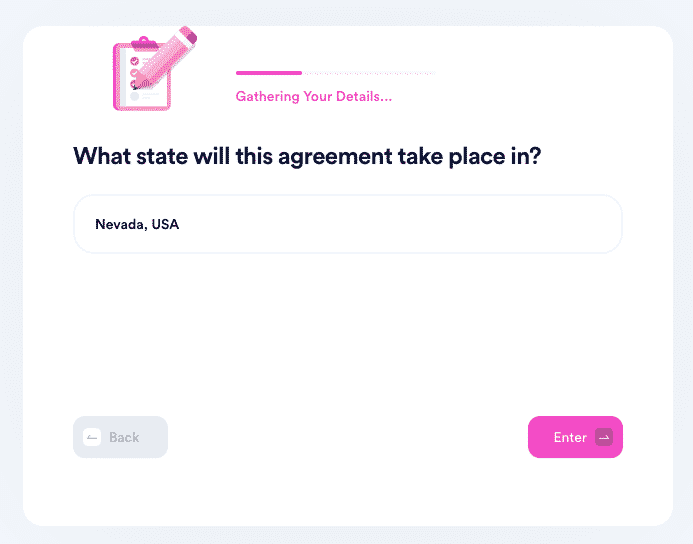 What Other Legal Documents Can DoNotPay Make?
You can rely on DoNotPay if you need assistance in creating various legal documents, including:
General Affidavit

Child Care Authorization Form

Intent to Purchase Real Estate

Quitclaim Deed

General Business Contract

Estoppel Certificate
The Consequences of Breaching Your
Employee Agreement
An employment agreement is a legally binding agreement between the employer and their employee. A contract breach happens if one of the parties that signed the contract breaks one of the terms—e.g., the employer doesn't pay the wages, or the employee doesn't work the hours agreed upon in the contract.
Regardless of the reason, when a breach of the employment agreement happens, the affected party should deal with the situation by:
Involving a third party, like the

Department of Labour

Taking legal action by making a breach of contract claim in small claims court using DoNotPay
Diversity Is Our Middle Name
DoNotPay doesn't stop at online safety. Do you need to set up an appointment at the local DMV, but keep procrastinating because you know how awful the lines are? Are you a prospective college student trying to save on application fees? Have you lost track of all unnecessary subscriptions and memberships that keep draining your bank account?
If the answer is yes, DoNotPay is the right platform for you. Whether you're preparing for government-issued tests or looking for ways to lower your bills, our app will be of assistance.
Your Online Safety Is Our Priority
The benefits of the internet are numerous, but so are the opportunities for scams of all kinds. DoNotPay can help you fight scammers left and right with easy-to-use features, highly customizable to match your needs. 
Our app can provide invaluable resources for fighting:
If you're an avid online shopper, we have your back. In case something goes wrong, we will help you contact customer service without holding, request a refund, or even sue the company in small claims court.