Top Tips on Drafting an
Employment Agreement in California
If you have ever been stuck in administrative hell or couldn't figure out the right way to write a legal document, you're not alone. Drafting contracts isn't an easy task, but we provide you with a step-by-step guide on how to create an employment agreement in California stress-free! for the most simplified instructions on drafting contracts, and let us draw up various agreements in your stead!
The
Employment Contract in California
—How It Works
An employment agreement is a written contract between an employer and an employee.
The contract sets out all the terms and conditions regarding the employment.
In California, you can make an employment agreement in either written or verbal form. Having a written agreement is a safer option because it works better as proof in case of a claim or dispute.
In the Golden State, the Employment agreement is a legally binding contract. This means that a breach of the agreement could lead to a pursuit of legal actions.
A Guide to Writing an
Employment Contract in California
This guide presents you with the easiest way to write your employment agreement. When drafting this contract, as with any other legal document, you will have to include certain crucial sections. Follow this checklist of mandatory sections of the employment agreement to make sure you don't skip on anything:
Names

—State the employer's and employee's names. Follow up with their addresses, contact information, locations, and any other relevant info about the parties

Dates

—Write the start and end date of the agreement

Job description

—Explain all the duties and responsibilities regarding the scope of work. Mention how the tasks will be carried out and everything that's expected from both parties

Probation

—Include specifics about the probation period, such as how long it will last and what obligations the parties will have during that time

Working hours

—Specify the policy of working hours. Make sure to include the rules covering business hours during the probation period as well

Salary

—State how and when the payments will be made, the amount, and whether there will be any bonuses. Incorporate any additional info about the salary you find important

Benefits

—Explain the benefits of the employment, like health insurance plans, pension arrangements, paid vacations, and days off

Confidentiality

—Make sure to state that no confidential information can be shared outside of the agreement

Termination

—Elaborate on the specifics regarding the early termination of the agreement. Say how and when the contract can be terminated
How Can an Employment Agreement Be Beneficial?
Employment agreements are beneficial for several reasons. Here are some of the most common ones:
Mutual understanding

Security
Mutual Understanding
One of the biggest benefits you gain from the employment contract is a clear understanding of the obligations of everyone involved. The best way to avoid any miscommunication and confusion is by having the rules spelled out in writing.
In case anyone is having trouble remembering a certain obligation, they can always go back to the contract and read what was agreed upon.
Security
The employment agreement offers a sense of security because it states how long the employment arrangement will last. It also determines the exact salary, which leaves little room for misunderstandings between the employer and employee.
Confidentiality
Employers usually have to share confidential information about the company with their employees. Having a confidentiality clause in the agreement helps prevent the risk of that information being leaked.
DoNotPay Helps You Draft Contracts in Minutes!
If you don't have time to write contracts by yourself and spending money on lawyers seems like a waste, we have the perfect solution—DoNotPay! With our app, you will create your document in only a few clicks! All you need to do is:
Type in the

name of the document

you want us to create

Answer a few simple questions
We'll draft your contract in a couple of minutes, and all you have to do is sign it!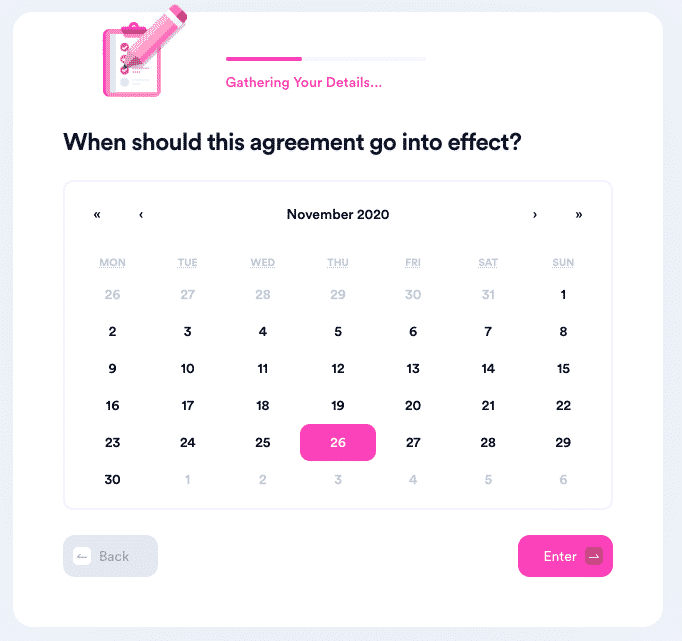 Depending on the document in question, you may need to get it notarized. In such cases, DoNotPay will provide you with additional assistance!
We'll help you make an appointment with a remote notary online, and you can have your documents notarized without breaking a sweat.
What Documents Can I Draft With DoNotPay?
You can use our app to draw up numerous documents. From business to real estate—we got you covered! Check out the available ones in the table below:
Business Documents
Real Estate Documents

Other Documents

General Business Contract

Intent To Purchase Real Estate

Estoppel Certificate

Quitclaim Deed

Promissory Note

General Affidavit
Get Back at Greedy Corporations With DoNotPay
How many times have you tried reaching out to an airline regarding your canceled flight? Did you ever spend hours trying to contact customer service reps only to be refused your refund request?
Big companies tend to make certain processes complicated for their customer in hopes they would give up on pursuing their goals.
This is why your warranty claims often get denied the first time or why canceling a gym membership can be an administrative hell.
Our AI-powered app is here to help you sort these problems out.
Whether you're trying to file an insurance claim, schedule your driving test, start a free trial without disclosing your payment info or a phone number, or get access to public records, we've got you covered.
DoNotPay Is the Virtual Assistant You Need
DoNotPay is the first robot lawyer in the world created to simplify complex tasks. We can help you with anything from appealing your parking citations to filing lawsuits in small claims court.
In case you need to save up some money, our app will show you how to get an extension on your bill payments, sign up for paid clinical trials, or avoid paying your college application fees.
DoNotPay can also report robocallers, text spammers, and email phishing attempts, and real-life stalkers with a few clicks.