Filing an Employer's First Report of Injury for Workers' Compensation
Have you been injured at work? Well, you should know that employers and insurance carriers are legally bound to provide compensation when an employee has a valid work-related accident. 
The deadline to file a first report of injury varies by state, but it is always the first course of action that employees must take to get any sort of compensation. Report details must include the employee and employer's information, the employee's medical insurance carrier, and the events that led to the accident or injury.
Injuries to Be Reported on an Employer's First Report of Injury
Only "no-fault" injuries can be reported on an Employer's First Report of Injury form. No-fault injuries are purely accidental and thus both the employee and employer are not held liable. However, if the investigation discovers that the employee intentionally put themselves in harm's way, it's quite possible that he or she will not receive any compensation for that injury.
Some no-fault accidents that could be present in an Employer's First Report of Injury form are:
An accidental slip and fall

Getting hurt by an object falling from above

Getting hurt by faulty equipment

Getting crushed by a heavy object

Falling from a certain height

Accidental contact with unsafe chemicals

Needle stick accidents
Workers may also develop conditions or injuries over a long period of time. Some examples of these include:
Carpal Tunnel Syndrome 

Back pain from lifting heavy objects

Loss of hearing due to constant exposure to loud noises
What Happens When a First Injury Report Form Is Not Filed?
It's important for employees to ensure that their Employer's First Report of Injury form is filed immediately after the injury occurs. Once the employer is notified, a HR representative can begin the process of filing a report. Even if the injuries do not appear to be serious, they should be reported to the employer immediately so a written report can be filed and kept in hand if you develop symptoms down the road. There are potential disadvantages to the employee when a first injury report is not filed:
| | |
| --- | --- |
| Advantages to filing a report | Disadvantages to not filing |
| An employee's first report of injury creates a written documentation of the incident and thus preserves evidence for any future symptoms developed as a result of the injury. | State workers' compensation commissions require the first report of injury to be filed within a specific time frame after the accident for a compensation claim to be processed. After a deadline has passed, an employee cannot receive benefits. |
| The employer is legally obligated to cover medical treatment for the injury once the report is accepted by the state's compensation commission. | The employer has no obligation to pay for medical treatment, and they may refuse when an employee asks. Because there is no official report of the incident, the employer can deny responsibility. |
| A first injury report may also allow an employee to take time off to recover from their injuries. They will be paid a restructured wage during their time away and may even be given monetary compensation depending on the extent of their injuries. | The employee will not receive paid time off due to their injuries and cannot receive financial compensation. |
Getting Compensation Through a Employer First Report of Injury
After a work-related injury, these are the steps to take when filing an Employer's First Report of Injury:
First, the employee must

report

the injury to the employer within 30 days of the incident, or within the timeframe required by state law.

The employer investigates the employee's claim to ensure that it was a no-fault accident. 

Then a first report of injury form is filled out either by the employee or by a representative of the employer along with the employee. 

The form is submitted by the employer to their workers' compensation commission carrier.

The process of the workers' compensation claim begins. The carrier conducts a further investigation to determine the validity of the claim.

If the employee's claim is approved, his or her compensation benefits are delivered as scheduled. During this period, the employer will need to update the carrier on the employee's recovery process so that payments can be stopped when no longer necessary.
DoNotPay Anonymous HR Complaints for
Workplace Reports
If you suspect that your workplace provides unsafe working conditions or would like to submit a first report of injury, you can submit an anonymous complaint to HR with DoNotPay! With the DoNotPay app, you can address various workplace issues like a bad boss, workplace discrimination and harassment, difficult managers and coworkers, and other HR complaints. Here's how you can file a report and protect your rights at work:
1. Log-in to DoNotPay and open the Anonymous HR Complaints product.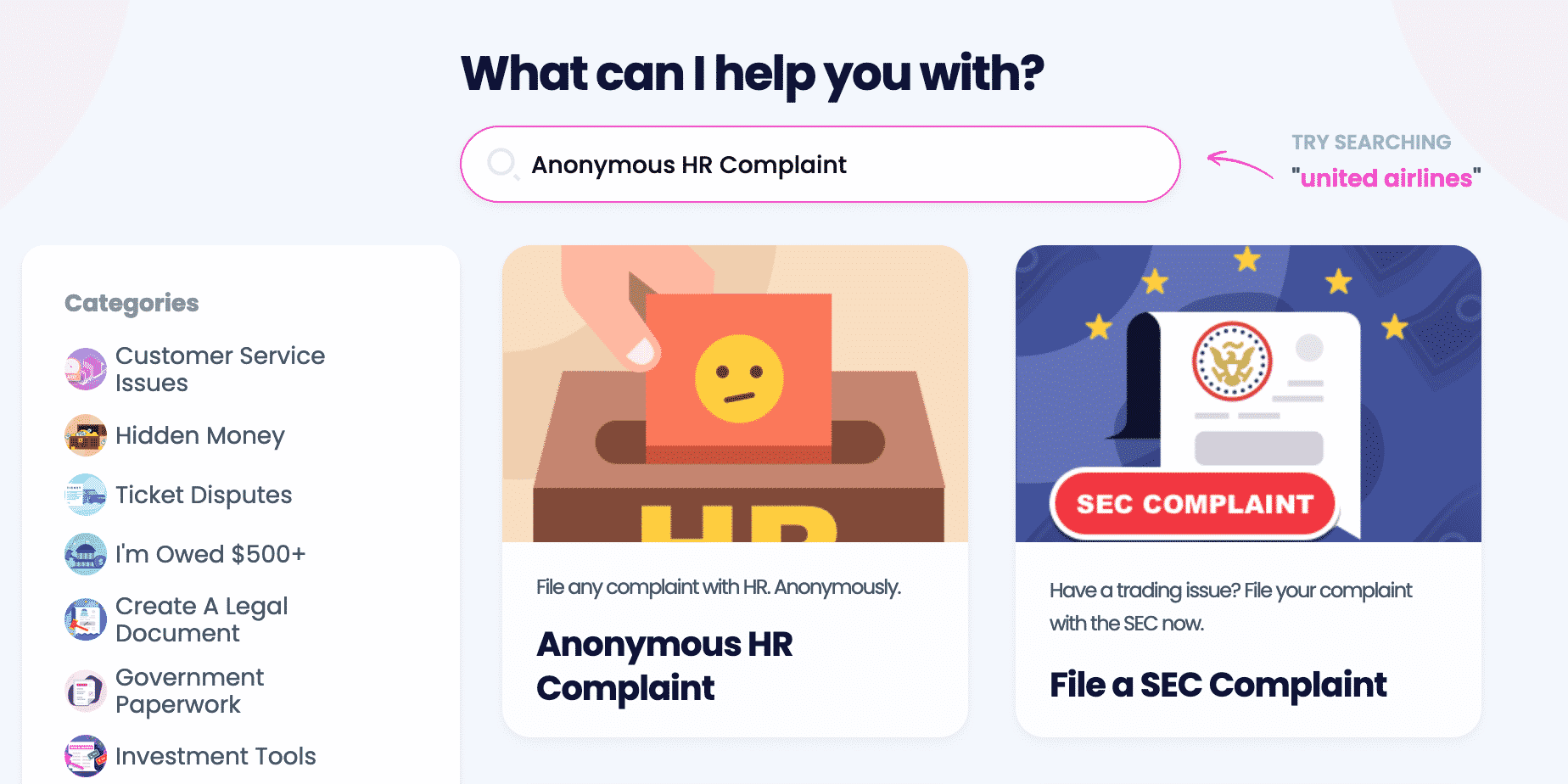 2. Enter your employer's name and your HR department's address.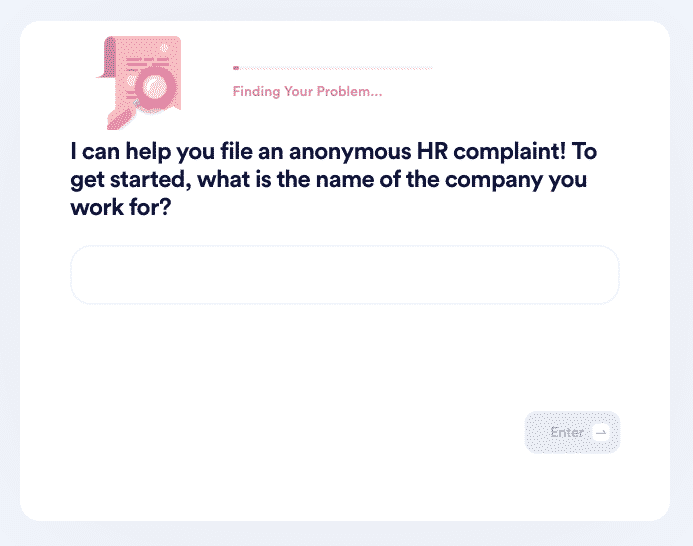 3. Explain what incident you're reporting and how you want it resolved.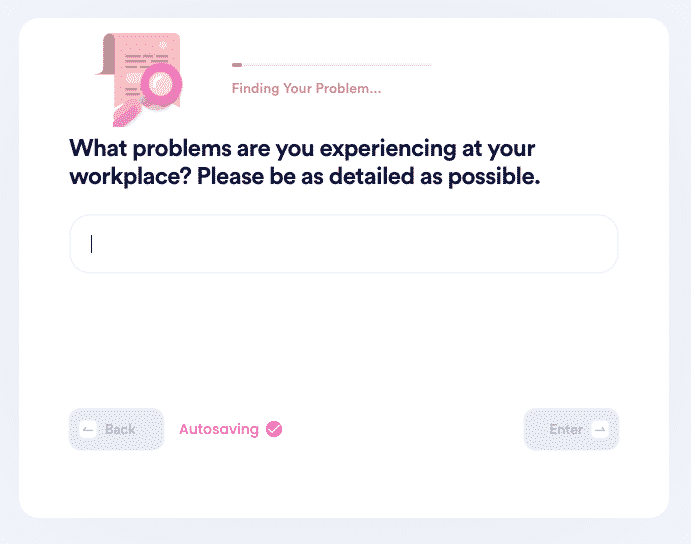 Let DoNotPay automatically mail your report to HR without including any of your personal information!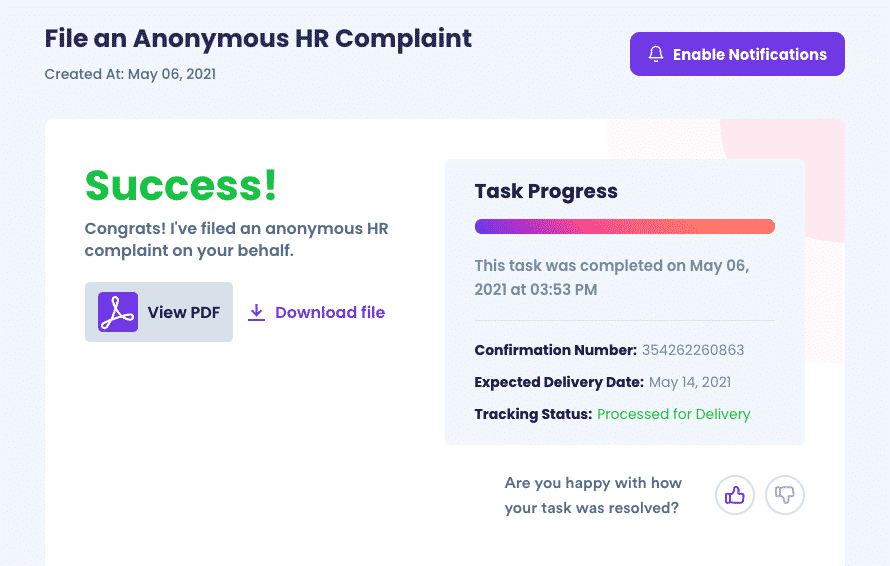 Other Services Offered by DoNotPay
Apart from HR complaints and employee reports, DoNotPay offers a wide range of other services that get your issues resolved! Feel free to check these out: