Employer Breach of Contract—Efficient Solutions
A breach of contract is not to be taken lightly no matter the type of contract, but it doesn't have to be a disaster if you take appropriate action. If you are dealing with an employer breach of contract, DoNotPay can explain how to resolve the issue efficiently. We also help you create a breach-of-contract demand letter and file a lawsuit if necessary.
What Is an Employment Breach of Contract?
An employment agreement is a contract made between an employer and an employee. It includes the following terms and conditions of employment:
Pay rate
Job procedures
Duties
Benefits
Overtime requirements
Duration of the employment term
Termination requirements
Hours
Vacation and leave rules
Confidentiality
Non-compete or non-disclosure agreements
The breach of an employment contract happens when one party fails to fulfill their duties in accordance with the contract terms for whatever reason. Both the employee and the employer may be held liable for a breach of contract.
When Does an Employee Breach of Contract Occur?
A common employee breach of contract occurs when they seek employment elsewhere before their contract term is up.
In What Situation Does an Employer Breach of Contract Occur?
An employer can breach the contract in numerous ways, but the most common ones involve:
Failing to pay wages as stated in the contract
Denying the employee benefits they are entitled to
Firing the employee in a way that violates the agreement
Types of Employment Contract Breaches
Depending on the situation and the violated terms, there are several types of employment contract breaches. Additional details are available in the table below:
| Type of Breach of Contract | Brief Explanation |
| --- | --- |
| Material breach of contract | Results in significant harm for the non-breaching party |
| Non-material breach of contract | Implies that a partial violation occurred that may not cause major losses to the non-breaching party |
| Anticipatory breach of contract | Occurs when it is clear one of the parties will not be able to fulfill their end of the deal |
When Should You Send a Demand Letter to the Breaching Party?
When the breach-of-contract occurs, you will need to prove the breach-of-contract elements and the effects the violation had on you. You should also contact the breaching party by sending a demand letter and let them know that they have violated the contract terms.
This legal document should also contain information on how you intend to solve the dispute. It is a sensitive legal document you must draft with care. Although hiring a lawyer to draw it up is your safest bet, the costs can be enormous. The easiest way to get a properly written breach-of-contract demand letter without spending a fortune is with DoNotPay!
Create a Demand Letter Fast by Using DoNotPay
Using DoNotPay is the most efficient way of creating a demand letter. Our app will draw up a legal document tailored to your specific case, unlike generic demand letter templates that are often too vague and consequently unreliable. We will include all the relevant information, and you only need to:
Select our Client Breach of Contract product
Give us requisite details about the client and the contract you made
Include a payment deadline for the client
Upload photographic evidence (if you have it)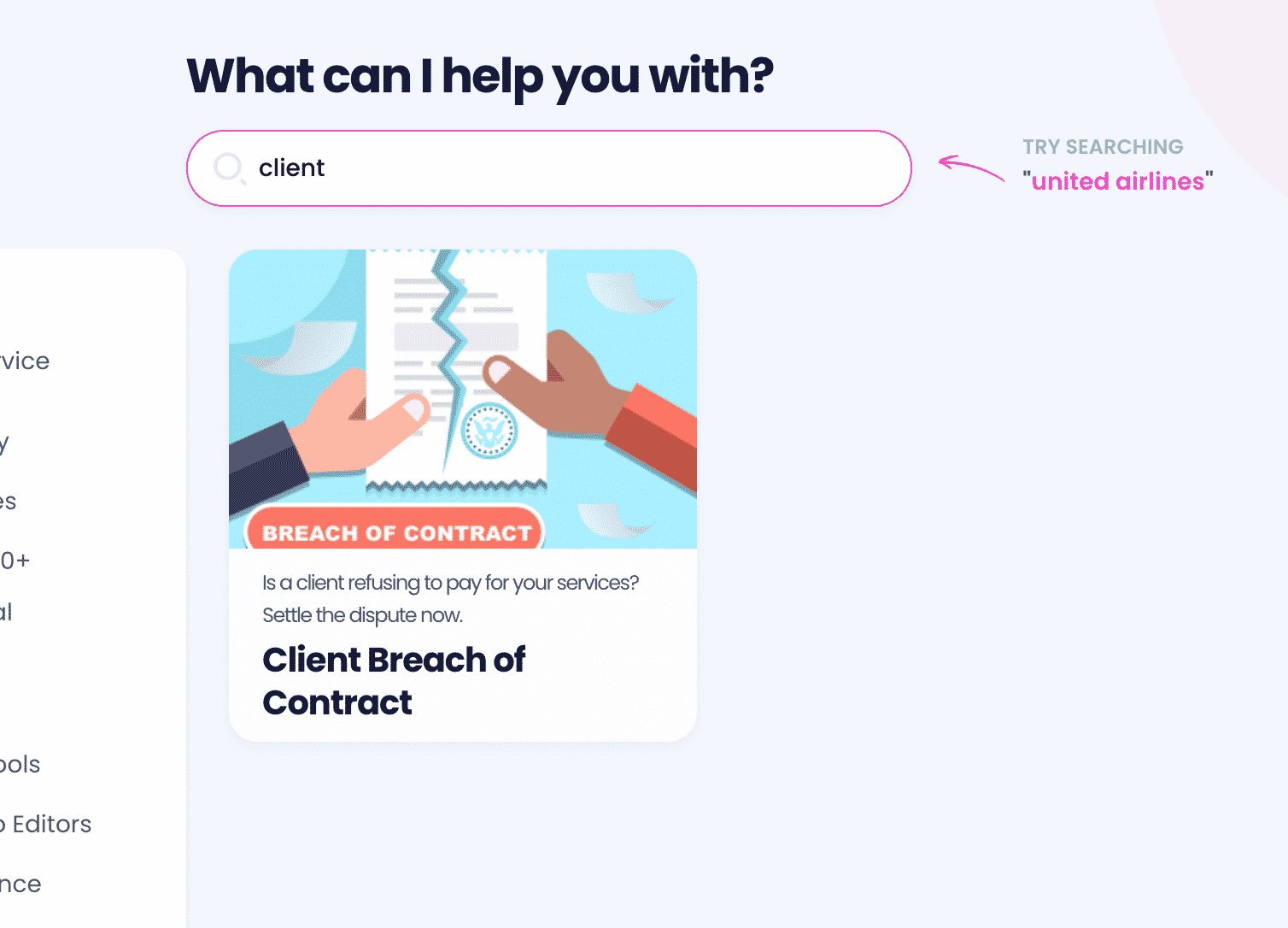 Check out our state-specific demand letter guides in the following table:
Employer Breach of Contract Remedies
Available remedies for the employer contract violations depend on the agreement type and the nature of the breach. Considering your particular case, the court is most likely to grant the following monetary damages:
Liquidated damages—They state a specific amount of money that one party must pay if a breach occurs. Liquidated damages are used when the losses are hard to determine
Expectation damages—This type of compensation should cover what the employee was expected to receive if the contract had not been breached
Attorney fees—They can only be awarded if the contract states that the employer must pay these fees in the case of violation
Requirements for a Breach of Contract Lawsuit
You can sue the employer for breach of contract if you meet the requirements. The judge will look for the following:
Whether the contract is valid
What requirements are listed in the contract
If the breach was material
If any changes were made
What losses the violation caused
Sue the Employer for Breach of Contract With DoNotPay's Help
If the employer does not respond to your demand letter appropriately, you have the right to sue them. DoNotPay, honored with the Louis M. Brown Award for Legal Access in 2020, can help you take the violating party to small claims court.
We assist in:
Creating a script for you to use during the court hearing
Collecting all the necessary papers for you
Completing all the forms
Filing the complaint on your behalf
The employer will do everything in their power to fight you, but we have the necessary information, so you can get ready for their defenses and prepare counterarguments.
DoNotPay Has Everything You Need for Your Small Business
Navigating numerous business procedures can be overwhelming, especially if you don't have much experience. DoNotPay strives to make the situation easier for business owners, which is why we offer a number of simple-to-use products that can help you take care of various processes, including DMCA agent and Employer Identification Number registration, Privacy Shield program self-certification, and trademark registration and protection.
If you are not sure how to manage the filing of 83(b) election forms, DoNotPay has a solution that will automate the entire process and help you save time. Our app can even generate a convincing small business loan request letter for you. Don't feel like walking or driving to the post office to send the letter? Use DoNotPay to fax or mail any document in a matter of clicks!
DoNotPay Helps You Deal With Bad Clients
If you need help handling unpleasant situations with your clients, you can rely on DoNotPay. We have created various products to assist you in:
Making sure your business is free of negative, illegitimate online reviews—DoNotPay will analyze the review in question, estimate the best reason for reporting it, and report the review until it is deleted
Dealing with clients who breach the contract and refuse to pay—We will generate and send a demand letter requesting what's rightfully yours
Fighting unjustified chargebacks—Our app will create a personalized chargeback rebuttal document to help you keep your revenue
Resolve various business issues without wasting time or money—DoNotPay has got your back!