Employees Who Report Unethical or Illegal Actions of Their Employers Are Referred to As...
In the workplace, employees who report unethical or illegal actions of their employers are referred to as whistleblowers. Although the Whistleblower Protection Act ensures protection for whistleblowers, these employees are often met with resistance and backlash as a result of them coming forth. This should not be the case - employees who speak up against unethical actions by their employers or co-workers should be able to do so without the fear of retaliation.
This article will go over the types of whistleblowing, the pros and cons of choosing to become a whistleblower, and a safer way to report illegal activity by using DoNotPay.
Types of Whistleblowing
Thanks to the Occupational Safety and Health Administration's (OSHA) Whistleblower Protection Program, employees who report illegal activities are protected if they face retaliation. But before you report your employer's unethical or illegal actions, it's important to be aware of the different scenarios in which whistleblowing would be an appropriate course of action. The following instances would be solid grounds for whistleblowing:
The 

abuse of power

or the miscarriage of justice in the work place

Deliberate actions that cause damage to the environment

Disregard for health and safety regulations; placing employee or client lives at risk

An act of a criminal offense or non-compliance to the law

A deliberate attempt to hide any of the above-mentioned offenses
Steps on Reporting Unethical or Illegal Actions
Whistleblowing is considered dangerous, as it exposes an employee to possible retaliatory action. The employee reporting their employer must ensure that their case will not be dismissed upon submission. There are 4 main steps a whistleblower should take to ensure that their employer's violations are properly accounted for:
Get evidence

. Make sure you have all the evidence you need to support your claim. Examples of evidence are email exchanges, expenditure reports, and other official documents. Witnessing misconduct first hand could strengthen the case, but cases rely heavily on factual evidence.

Submit your evidence. The next step is

 

submitting evidence to the relevant authorities

. Here, the whistleblower will be interviewed to confirm the validity of the case.

Leave it to the authorities. At this point, there's not much you can do. It's important to keep in mind that even the whistleblower's

records

may be inspected by authorities.

Wait for a decision. After the investigation has concluded, the relevant authorities will make a decision on how to move forward with the case. Depending on the organization, if the whistleblower does not feel like the appropriate measures have been taken, they can request that the case be looked into further.
The Pros and Cons of Whistleblowing
It can be easy to assume that whistleblowing is risk-free. There could be significant disadvantages to employees who report the unethical or illegal actions of their employers:
Pros of Whistleblowing
Cons of Whistleblowing

Misconduct, unethical, and illegal activities are best exposed by whistleblowers.

Workplace relationships might suffer a great deal. The whistleblower might be ostracized by their 

co-workers

.

Whistleblowers are protected by the

Whistleblower Protection Act

and legally cannot be targeted for exposing unethical actions.

Significantly drops employment prospects for the whistleblower. If a whistleblower is not kept anonymous, his or her career might suffer. Identified whistleblowers can have a hard time finding future employment.

Whistleblowers might be eligible for an

award

if they provide the Securities and Exchange Commission (SEC) with credible information and factual evidence that can be used to enforce the law.

Although whistleblowers are legally protected in the US, whistleblowers might face a

hostile

work environment that may eventually force them to leave their job.
How DoNotPay Makes Whistleblowing Safer
There are clear risks that come with being a whistleblower. But this should not discourage an employee from doing the right thing. With the Anonymous HR Complaints product by DoNotPay, whistleblowing can be done effectively without the risk of the cons mentioned above. It's easy to report unethical behavior with DoNotPay:
1. Log in to the DoNotPay app and select the Anonymous HR Complaints product.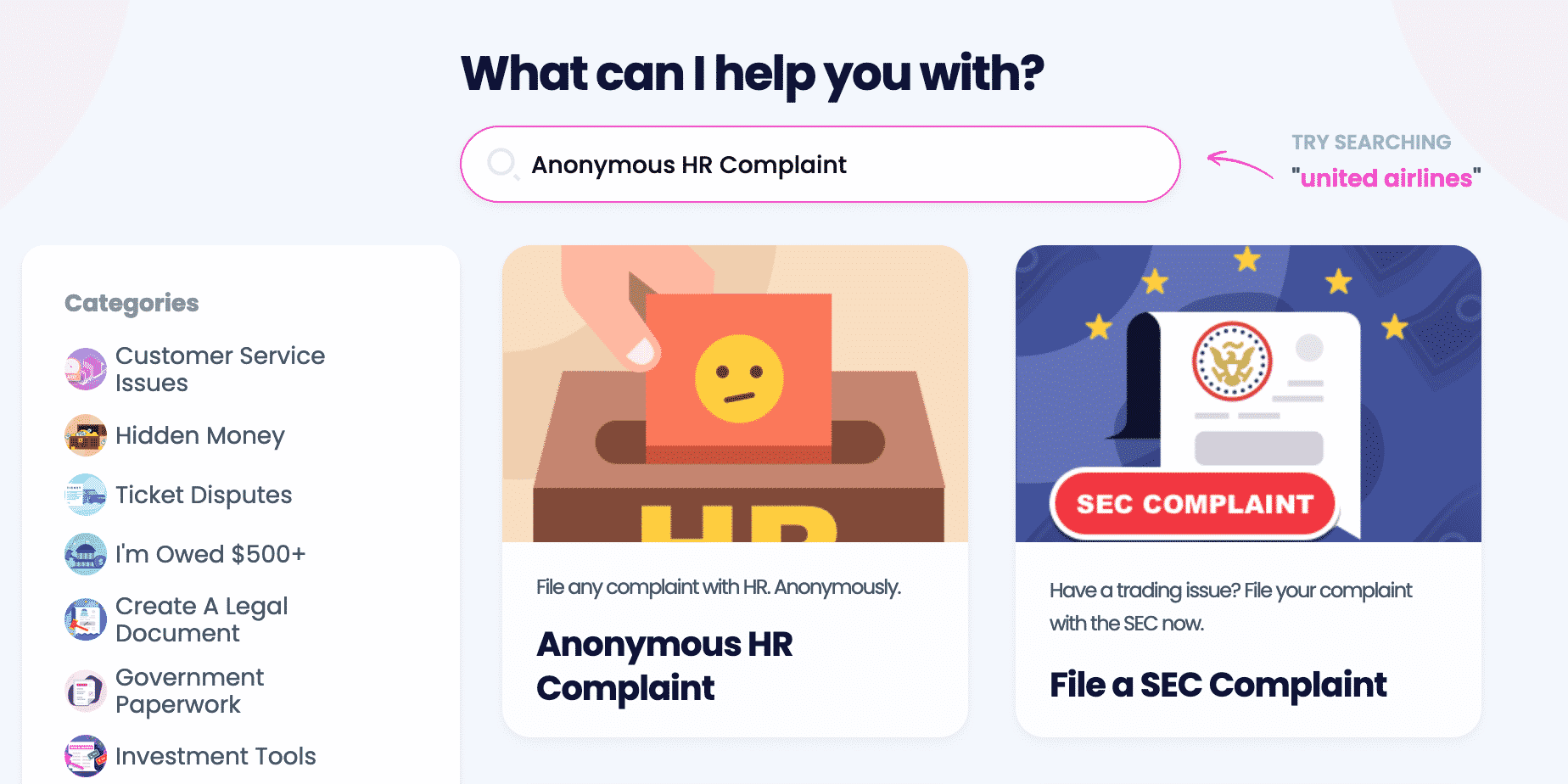 2. Enter the name of your employer and the mailing address of your employer's HR department.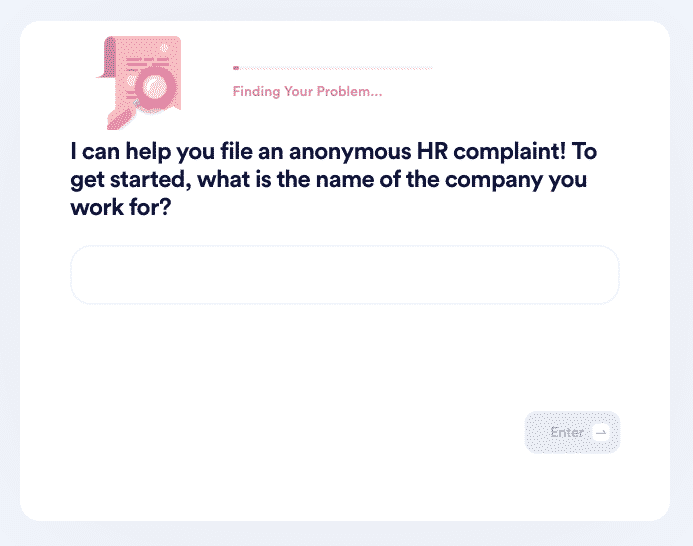 3. Explain what the issue is and offer a solution you would like to see implemented.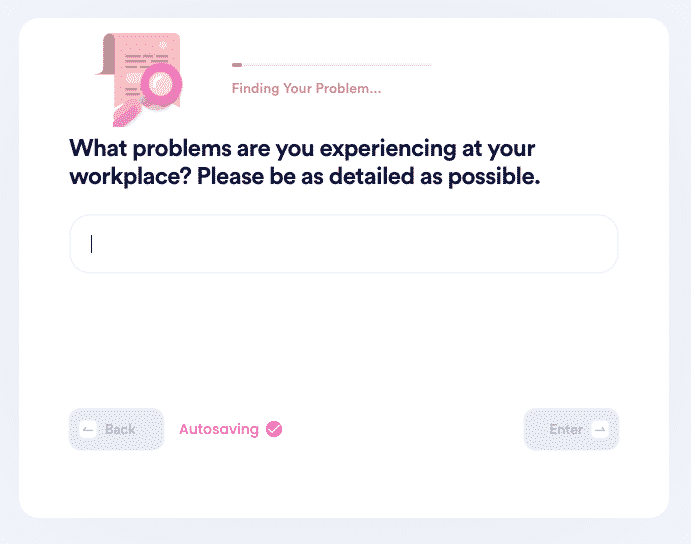 That's it! DoNotPay will automatically send your complaint to HR without including your personal information. You can expose workplace misconduct in total anonymity - none of your personal details will be shared in the process. 
How Else Can DoNotPay Help You?
DoNotPay not only helps you get your work complaints anonymously delivered, it offers 250+ services including:
Get your daily to-do list tackled with DoNotPay's trusty robot lawyer on your side!