Employees' Complaints: A Complete Guide
The ability to manage employees' complaints correctly is important for every company. However, this is something HR professionals and business owners can find hard to navigate. On the other hand, employees may be hesitant or scared to file HR complaints because they're just not sure what to expect.
In this article, we'll show you how to deal with employee complaints as an HR professional. If you're an employee, we'll guide you through the process of filing a complaint. We'll also introduce an option for employees to file reports anonymously with !
Common Reasons for Employee Complaints
Never consider any employee complaint to be insignificant, as some may be serious enough to get authorities involved. Specifically, complaints that violate EEOC protections may place your company in jeopardy. Every company has its own way of categorizing these complaints. Here's a list of some common ones:
Sexual

harassment

– This can come in the form of lewd jokes, sexually suggestive gestures and comments, or unwanted advances.

Discrimination

– Treating someone differently because of their gender, race, age, religious beliefs, or disability.

Bullying – This can be done by alienating, belittling, humiliating, or intimidating another colleague.

Mismanagement – Dissatisfaction in the manager's leadership style shown through micromanagement or favoritism.

Hygiene – Uncleanliness in the workplace or lack of personal hygiene.

Theft – Taking one's property without prior permission.
For HR Professionals: Dealing With Employee Complaints
As an HR professional, handling an employee complaint can be a complicated task. Depending on the severity of the situation, you may be able to address the report immediately or you may have to escalate it. Regardless of whether the complaint is against a co-worker or the manager, here are some guidelines to keep in mind:
Do
Don't

Find out what's going on by asking questions.

Display unprofessional behavior such as joking about the

incident

, taking sides, using social networking platforms or public forums to discuss a workplace situation, or ignoring the complainant at work.

Talk with the management team and get to know their management style. Some conflicts arise from personality clashes or managers with low EQ.

Make a bad situation worse with retaliatory behavior such as threatening action against the complainant, treating the employee differently, or discussing the complaint with those who do not need to be involved.

Differentiate those who are simply venting from those who need help with a problem. This will help you decide whether you need to escalate the complaint or offer a safe space for the complainant.

Refuse to acknowledge their valid concerns by interrupting, looking agitated, or suggesting that it's simply a misunderstanding.

Keep an open-door policy. Provide an environment for employees that allows them to come forward and voice their concerns.

Decide and move too quickly because you're too busy. This can result in the lack of a thorough investigation or a poorly handled complaint.

Use your best judgment whether to notify the manager or not. If you are going to, it helps to let the employee know.

Direct the employee to a grievance procedure so that they can handle the issue on their own.
For Employees: How to File an Employee Complaint
As an employee, you are entitled to the right to work in a non-discriminatory and harassment-free environment. If you believe your rights are being violated in the workplace, here's a guideline on how to file an employee complaint:
If there's an issue that affects your productivity at work or makes you feel unsafe, then you should proceed on filing a complaint.

Review the employee handbook and go through the proper channels and procedures. Make sure to follow up if you think that the issue was not resolved or has become worse.

Feel free to escalate your complaint to a government agency if the HR department did not take any action. Any issues regarding discrimination, safety, or wages need to be taken seriously.

Be professional. Do not gossip or post about your work issues on social media.
A word of caution: do not expect the HR department to always be on your side, especially if you are filing a complaint against your boss. This may have repercussions on your employment with the company and you could be exposing yourself to the risk of retaliation. An even better alternative is to file complaints anonymously - that's where DoNotPay can help.
How To File an Anonymous HR Complaint With DoNotPay?
DoNotPay's new Anonymous HR Complaints product lets you file a complaint without revealing your identity. Our app is easy to use and lets you report an issue with a co-worker or file a complaint without making it awkward for everybody. All you have to do is:
1. Log in to and choose the Anonymous HR Complaints product.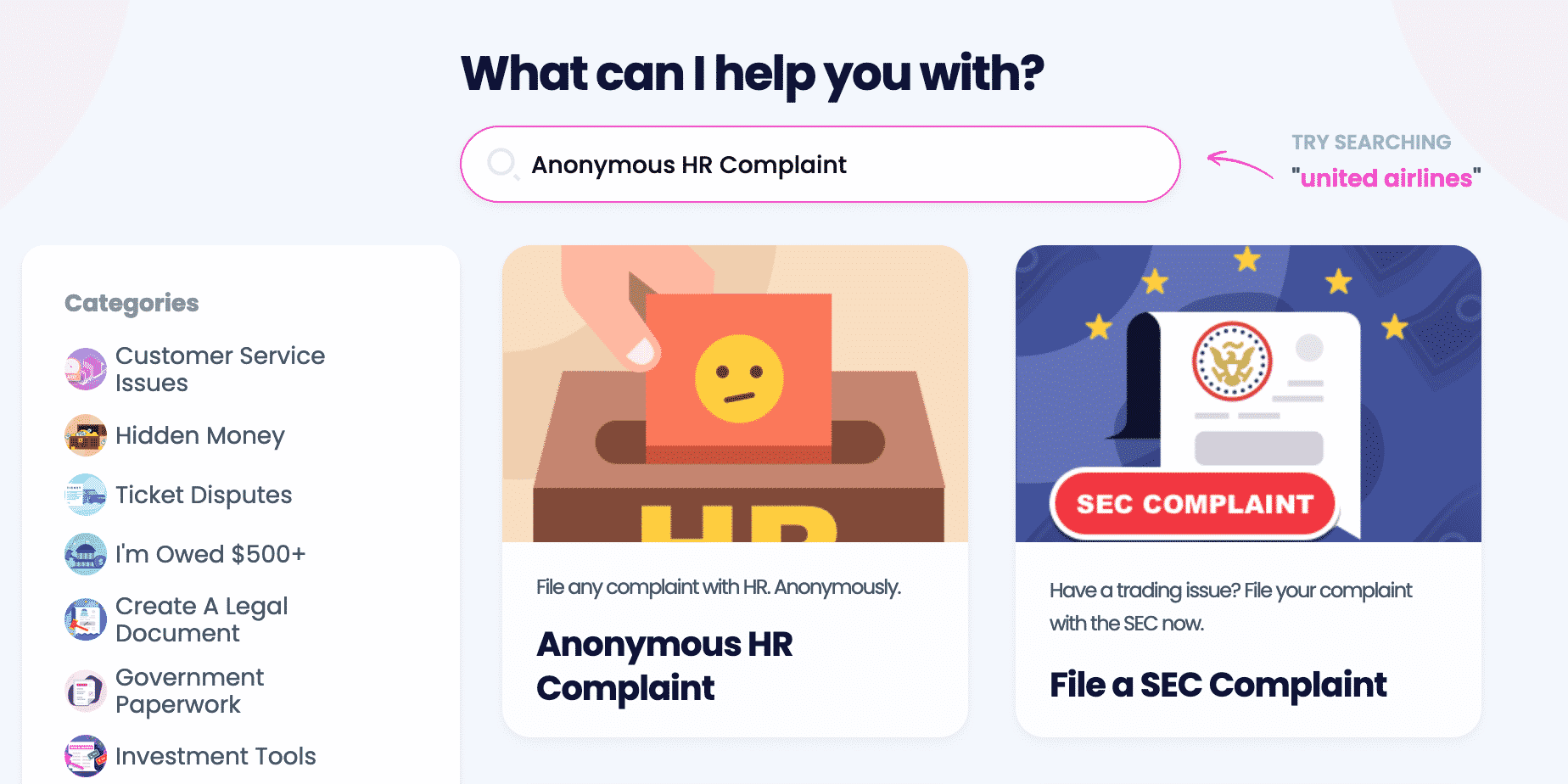 2. Enter the employer's name and the HR department's mailing address.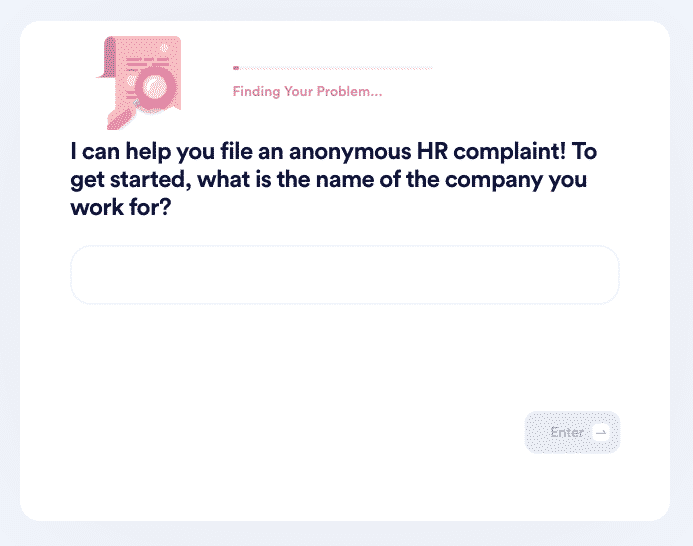 3. Explain the issues you are having and what action you need to be taken.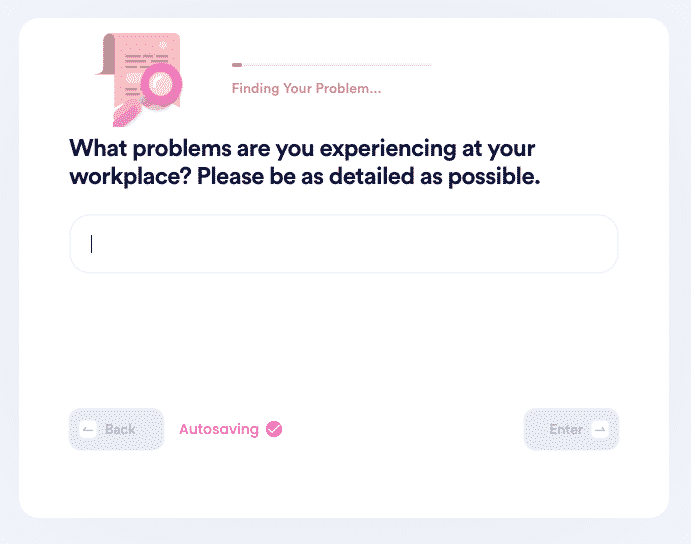 That's it! DoNotPay will automatically mail the report anonymously!
What Else Can DoNotPay Do?
Filing an anonymous HR report is just one of the many things that DoNotPay can help with. There's a lot more that can do, including:
Skip the line and get your daily concerns resolved at the comfort of your home! Check out what else DoNotPay has to offer here.