A Step-By-Step Guide to Writing an
Employee Confidentiality Agreement
Sharing confidential information with the personnel is part of the employer-employee relationship. How can you prevent your business secrets from leaking out then? Easily! Ask your employees to sign an employee confidentiality agreement.
If writing contracts is not your expertise, this article will explain all the ins and outs of drafting a perfect employee confidentiality agreement.
Understanding an
Employee Confidentiality Agreement
An employee confidentiality agreement, or an employee non-disclosure agreement, is a legal document that prevents employees from disclosing the company's classified information.
The contract goes into effect when the employee signs it and lasts during the employment and some time after the relationship ends, usually one to three years.
While the confidentiality agreement prevents employees from leaking trade secrets, it can't prevent them from revealing illegal and unethical affairs.
Employee non-disclosure agreements usually protect:
Innovative ideas

Financial records

Intellectual property

Prospective customers lists

Actual customers lists

Marketing plans and business strategies

Products, both existing and in development

Client and customer data, like identity and transaction history

Client's products and intellectual property created while working with you
Types of Confidentiality Agreements
Depending on who signs them, there are different types of confidentiality agreements other than the employee-employer ones. You can find a brief overview in the table below:
Type of Confidentiality Agreement

Explanation

Basic

It's a confidentiality agreement between two parties sharing sensitive information. Parties that sign this type of contract are usually investors, contractors, and businesses

Job Interview

Applicants for management and senior-level job positions are often required to sign a confidentiality agreement before the interview starts

HIPAA Employee

People working in the healthcare industry must sign a confidentiality agreement to protect the sensitive medical information of patients 

Financial Information

Every business should have a financial information confidentiality agreement to prevent the disclosure of financial information, such as bank statements, credit card information, payment transactions, and other finance-related

business documents

 

Patent

The purpose of a patent confidentiality agreement is to keep the patent or invention safe from anyone trying to claim the idea as theirs 

Vendor

The agreement should prevent the disclosure of any product-related information

Film

Actors, producers, and directors sign a movie non-disclosure agreement to keep the script safe from the public

Intern and Volunteer

People that volunteer or work as interns in a company can get in contact with sensitive information, so they need to sign a confidentiality agreement
A confidentiality agreement can be:
Mutual

—If both parties reveal sensitive and confidential information

Unilateral

—When one party discloses classified information to another
Employee confidentiality agreements are unilateral most of the time.
What Should an
Employee Non-Disclosure Agreement
Include?
Keep in mind that an employment agreement covers other aspects of the employer-employee relationship, so the confidentiality agreement doesn't have to be too extensive. Here's what an employee non-disclosure agreement should include:
Signing parties

—Contact information of the employee and the company

Considerations

—The agreement should affect both parties to be considered valid and enforceable, so it must state how it protects the employee as well as the employer

Protected information

—This is the most important clause of the agreement. It should list every document and piece of information that the contract should protect from disclosure

Ongoing obligations

—This provision should specify that the employee is obligated to maintain confidentiality even if they leave the company. It should also state the exact duration of the agreement

Exceptions

—It should include all potential scenarios in which the employee would be allowed to disclose protected information

Return of property

—The agreement should include a detailed list of the property that the employee must return after they leave the company, including files, notes, records, and work products

Remedies

—This clause should define what happens if the employee violates the contract

Governing law

—This section specifies the law that will govern all the potential disputes and legal pursuits
What Are the Consequences of Violating an
Employee Confidentiality Agreement
?
A breach of an employee confidentiality agreement can have serious ramifications, such as:
Lawsuit

Criminal charges

Monetary damages

Termination of employment

Loss of business clients and relationships
Draw Up Legal Documents Effortlessly With DoNotPay
Making contracts is tricky if you're a layman. Using samples and templates won't do much if you're writing a detailed legal document such as an employee confidentiality agreement.
DoNotPay is well aware of that, and that's why we created the Standardized Legal Documents feature—a budget-friendly service for drafting legal documents hassle-free!
Here's how to benefit from our convenient service:
Log in to your DoNotPay account from your

web browser

Enter the name of the legal document you want to draw up

Answer several questions to help us customize the contract
Once you get your hand-crafted legal document, you can e-sign it and fax it to other parties with the one-of-a-kind robot lawyer!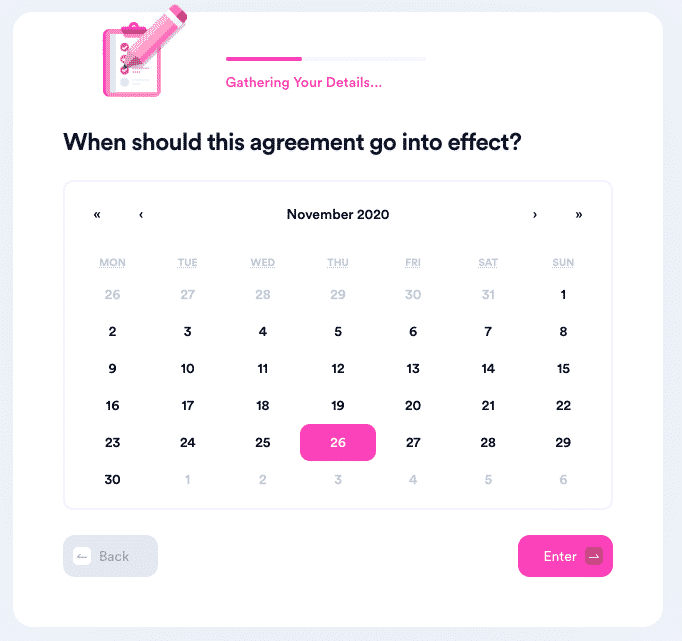 DoNotPay can generate different types of legal paperwork, such as:
Real estate documents

—Quitclaim deeds, estoppel certificates,

lease agreements

, or intents to purchase real estate 

Family-related documents

—

Prenuptial agreements

,

custody agreements

, and child care authorization forms

Business contracts

—

Bills of sale

,

non-compete agreements

,

independent contractor agreements

,

operating agreements

, and general business contracts

Other documents

—General affidavits, promissory notes, and much more
Keep Your Money Safe With DoNotPay
Don't let greedy companies threaten your consumer rights by holding back refunds, refusing to cancel your subscriptions, or charging you after your free trial ends.
DoNotPay helps you try out different services without providing your credit card info or phone number—you will never again have to deal with unexpected post free trial charges!
Our app also helps you avoid paying unnecessary parking tickets, delay challenging bills, or waive your college application fees. 
If any company refuses to issue you a refund or an airline won't compensate for canceled flights, we can help you sue them in small claims court.
DoNotPay Is a Time-Saving App
How many customer service reps do you have to deal with only to file an insurance claim or book your DMV appointment?
DoNotPay helps you sort out these tasks and much more in only a few clicks. 
Get your revenge on robocallers, report text scammers, find validated clinical trials, claim your warranties, get in touch with your loved ones in prison, and protect your creative content—all in less than five minutes. 
No more hours-long phone calls, emails, or in-person visits. 
We cover everything from freeing your inbox from spam to providing excellent prep tests for government exams! Save time with your all-in-one app!