The Employee Complaint Procedure Explained
Addressing employee complaints promptly and effectively should be a priority for many companies. It allows management to improve workplace processes, boost employee morale, and avoid legal action. But what should you do if a company does not have an employee complaint procedure in place?
In this article, we'll explain what an employee complaint procedure is, how your company can develop one, and how employees can file complaints easily and anonymously with .
Possible Reasons for Employee Complaints
Dissatisfaction, complaints, and grievances are used interchangeably, but let's distinguish one from the other. Employee complaints usually start with a feeling of dissatisfaction. A complaint is spoken or written dissatisfaction and reported to a supervisor or manager. It becomes a grievance when it is brought to the attention of the employer or labor representative and the complainant has an active and disturbing feeling of injustice.
With that differentiation out of the way, we can proceed to look at the most common reasons why employees file complaint forms:
Category
Complaint Examples

Wages and Benefits

Promotions, benefits, salaries, healthcare insurance coverage, or unequal pay

Working Environment

Unsanitary working conditions, malfunctioning office equipment or tools, lack of first aid kits, or dirty pantries

Supervisors

Boss

's attitude or perceived favoritism, nepotism, or biases

Co-workers

Incompatibility with co-workers, bullying, neglect, ostracism, victimization,

harassment

, or

discrimination

Work Organization

Unfair rules, unequal workload, lack of work recognition, or inflexible scheduling and shifts
Step-by-Step Guide to an Employee Complaint Procedure
Some companies have employee complaints procedures outlined in employee handbooks, while others don't even offer a handbook. When you have been wronged at work, you can file a complaint with the HR department or with an appropriate person in your company. No two companies have the same procedure, but below lists the steps that generally take place:
First, put the formal complaint in writing – Your company may have a standardized

report

form for you to fill out. If there is none, you may have to write a formal complaint letter on your own. Be sure to include important details such as what happened, dates, places, and witnesses if there are any.

Second, Your HR or supervisor will investigate – How this will play out will depend on the complaint. If it's about wages and benefits, the Accounting and Payroll department will be called in. Some investigations can be completed internally while others may require a third-party expert — especially complaints regarding serious allegations such as sexual harassment or verbal abuse.

Third, the investigation will conclude – Depending on the severity of the complaint, most cases can be resolved at this step. For example, inaccurate paychecks can be easily resolved by checking time cards and absences. However, complaints with legal grounds such as those violating

anti-discrimination laws

or

unequal pay acts

will have to be dealt with at the federal level.

Fourth, file an appeal if you are not satisfied with the conclusionA Guide to the Employee Complaint Procedure – If you are not satisfied by the conclusion, you can file a grievance at federal offices or take it to court.
Employers: How to Address an Employee Complaint
If you are the employer, it's crucial to take note that complaints, regardless of severity, should be carefully, properly, and promptly dealt with. In some states, companies are required by law to have a grievance policy. The employee handbook should direct employees where to file their complaints, when they should file the complaint, and how to do it. Here is a general guideline on how employers can address employee complaints:
Develop a system on how complaints should be handled. This ensures that complaints are resolved timely and no issue remains pending for a long time.

Listen more, talk less. Acknowledging employee complaints will provide you with insights into their working conditions and also lets them know that they are valued members of the organization.

Gather relevant information. Investigate fully and inquire about incidents. Get both sides of the story by letting the accused explain themselves.

Keep details confidential. Some issues will have to be resolved privately and involve the least amount of people possible.
Many employees prefer to file their complaints anonymously. This protects them from retaliation and going through awkward situations at work. If your company does not offer an anonymous complaints hotline or something similar, can help.
DoNotPay Can File Your Anonymous HR Complaint
With DoNotPay's Anonymous HR Complaints service, you can file an employee complaint without having to reveal your identity. All you have to do is:
1. Log in to and click the Anonymous HR Complaint product.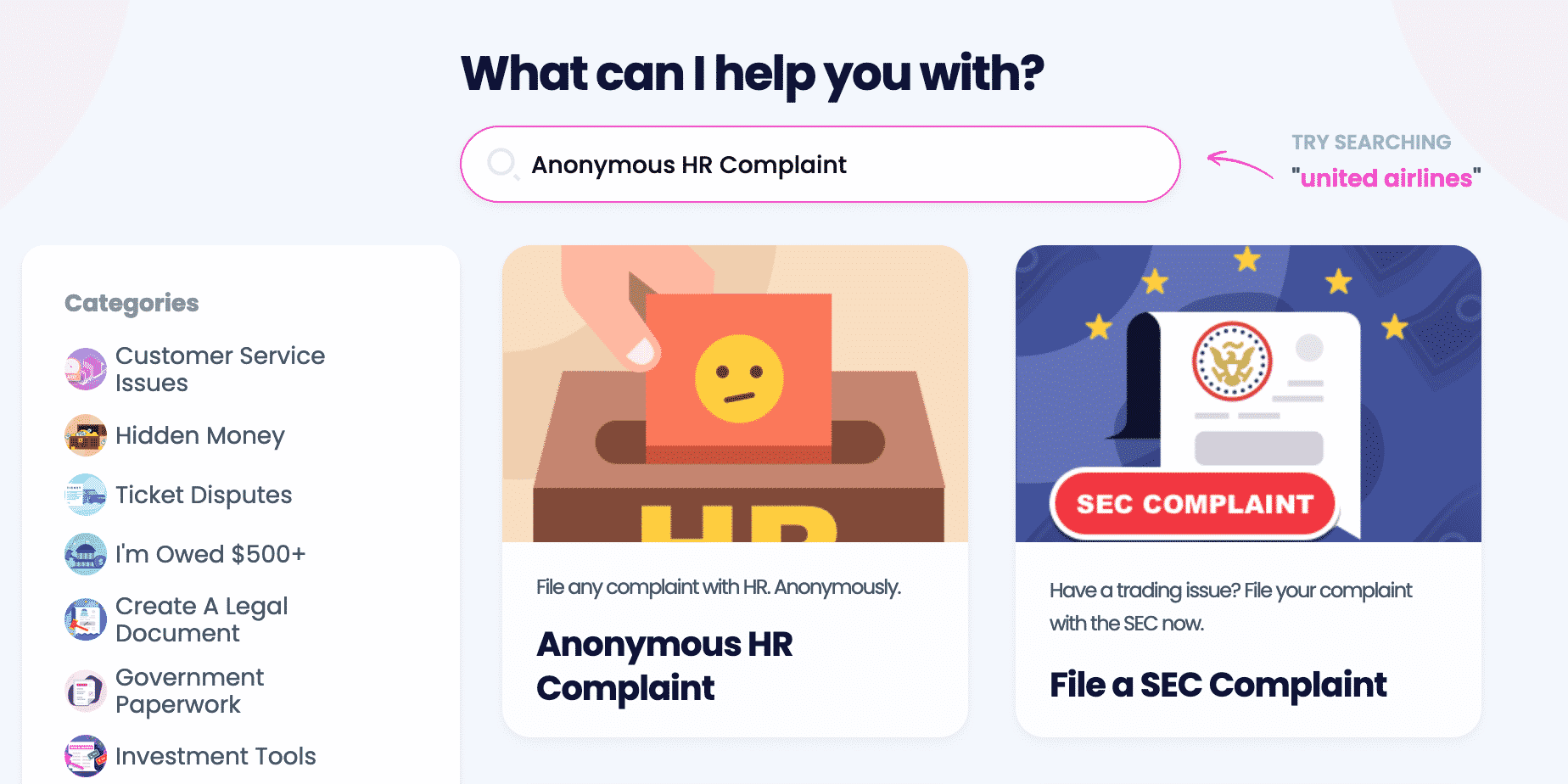 2. Enter your employer's name and HR department's mailing address.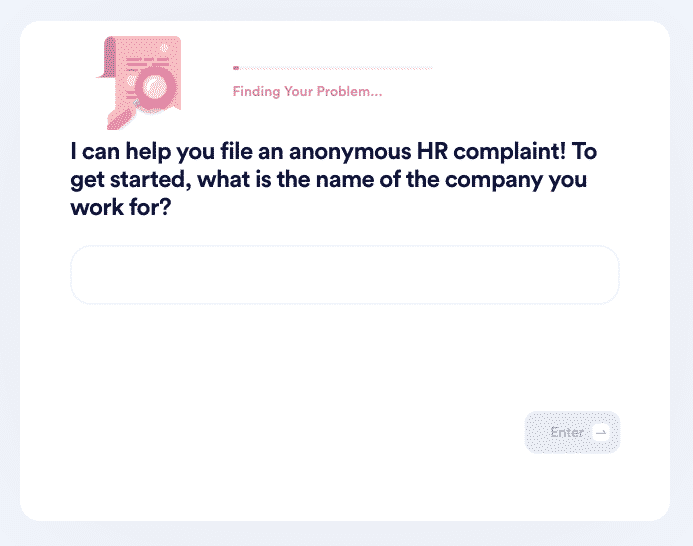 3. Describe the issues you're experiencing and how you want them to be resolved.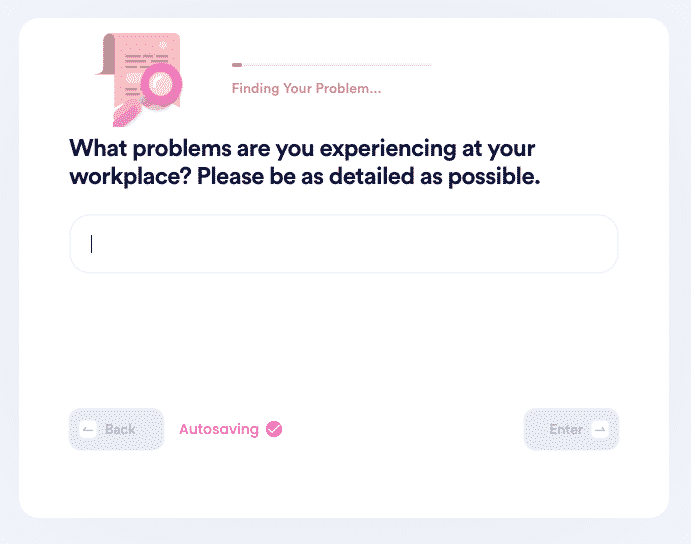 DoNotPay will mail the report anonymously!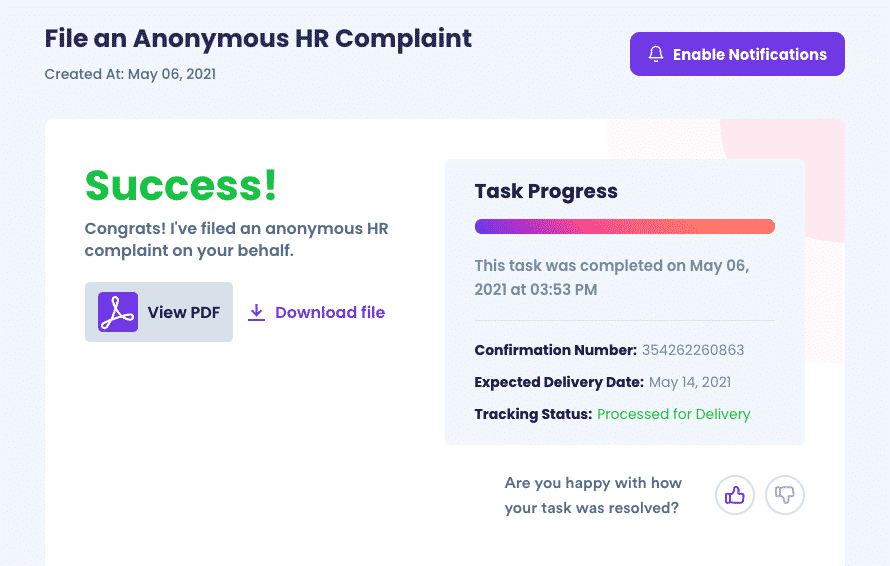 There are many different types of workplace complaints that you can submit through DoNotPay. Here are a few resources to get you started:
DoNotPay Gets Things Done
Do you ever wish for a personal assistant to take care of your daily to-do list? has got your back! Get your customer service and legal issues solved by your very own AI assistant in a matter of seconds! Here are more things DoNotPay can help you with: