What's an Employee Complaint Form?
An employee complaint form should be available in every workplace. Like an employee incident report, employee complaint forms allow issues to be easily organized and addressed. Employee complaints are critical to the drafting of HR reports, which highlight staffing related matters.
An employee complaint form enables employees to report their grievances about inappropriate or illegal acts witnessed in the workplace. Some companies may not have an employee complaint form available - that's where DoNotPay comes in handy.
Employee Complaint Form Template
HR complaint forms are structured to allow employers and human resource managers to quickly and systematically process the complaint. They usually contain:
Employee's name

Company name

Complaint date

Supervisor's name

The person the complaint is toward and details of the complaint

Any witnesses

Impact of the incident on the affected employee's productivity
Types of Employee Complaint Forms
Here are three different types of employee complaint forms for a workplace:
Complaint Form

Use

Complaint letter about workplace behavior

An employee wants to

complain about manager behavior

or any work issue.

Employee Incident Reports

An employee wants to file a report on an incident that occurred in the workplace.

HR Reports

An analytical method used to display HR-related metrics with the purpose of improving workforce performance.
Employee complaint forms are advantageous to employees as they constitute an effective avenue for them to communicate their grievances. You can file an employee complaint anonymously using DoNotPay and still maintain the status quo at work while your issues are being examined. 
Reasons for Filing an Employee Complaint Form
Since workplace incidents are unavoidable, there are always numerous reasons for employees to file a complaint form. Some common reasons include:
Discrimination

: You can file a

formal discrimination complaint letter

for being treated differently based on religion, race, disability, sexual orientation, and age.

Personal and physical harassment

: Personal harassment could involve offensive comments and jokes, ostracizing behaviors, and intimidation. Physical harassment could include hostile behavior, property destruction, the threat of physical harm, and physical attacks. These acts are not only inappropriate, but also punishable by law. See how to write a workplace harassment letter

here

.

Power abuse

: This usually occurs between a person of higher authority and his or her subordinates. Power abuse may involve intrusion into the employee's personal life, excessive harassment, and delegation of demeaning tasks. 

Psychological harassment

: This is a form of harassment that can affect the employee's confidence and willingness to work. Psychological harassment can involve spreading rumors, belittling, and trivializing the affected employee's situation. You can file a

formal complaint against a coworker

if this applies.

Sexual harassment

: This form of harassment involves physical and verbal attacks that is also a punishable crime by law.

Third-party harassment

: Violations from other employees and employers is not the only reason to file a complaint form. You can file a complaint when a client or distributor is harassing you. 

Non-payment of salary

: Every employee is entitled to fair pay. This could include an outright non-payment or even a partial payment.

Other unwarranted activities

: These include but are not limited to: cyberbullying, retaliation, fraudulent activities, or theft. 
Steps on Filing a Workplace Complaint Form
Filing a complaint and getting your concerns addressed is ideal. However, if done incorrectly, this may result in the complaint getting dismissed. The following steps will help you file a complaint. 
Inform the manager of the incident

: Before filing a complaint, try to resolve the issue with the manager and human resource team. They may be able to take appropriate action to resolve the incident and avoid possible escalation. 

Obtain an HR complaint form

: If the attempt to resolve was unsuccessful, you should get the employee's complaint form. 

Provide specific details

: The detail of the incident should be reported precisely on the form. Any other useful evidence can be attached to the complaint form.

Submit the form

: This should be to the appropriate party. 
If the employer is the cause of the complaint and you are uncertain that a complaint form will be adequate to get the issue addressed, contact a different entity to report. For example, the employee can report the case to an internal ethics department or a formal third-party organization like the EEOC. You can use DoNotPay to learn how to complain about your boss without the risk of being fired. 
File an Anonymous HR Complaint with DoNotPay
Employees are vital to the effective operation of any organization. An organization without a safe space for complaints (using employee complaint form) will crumble because of dissatisfied employees. As an employee, you should never adapt to any form of harassment. DoNotPay's Anonymous HR Complaints service provides a way for employees to file complaints without revealing their identity. If you're an employee looking to make a complaint to HR, all you have to do is:
1. Sign in to DoNotPay and click the Anonymous HR Complaints product.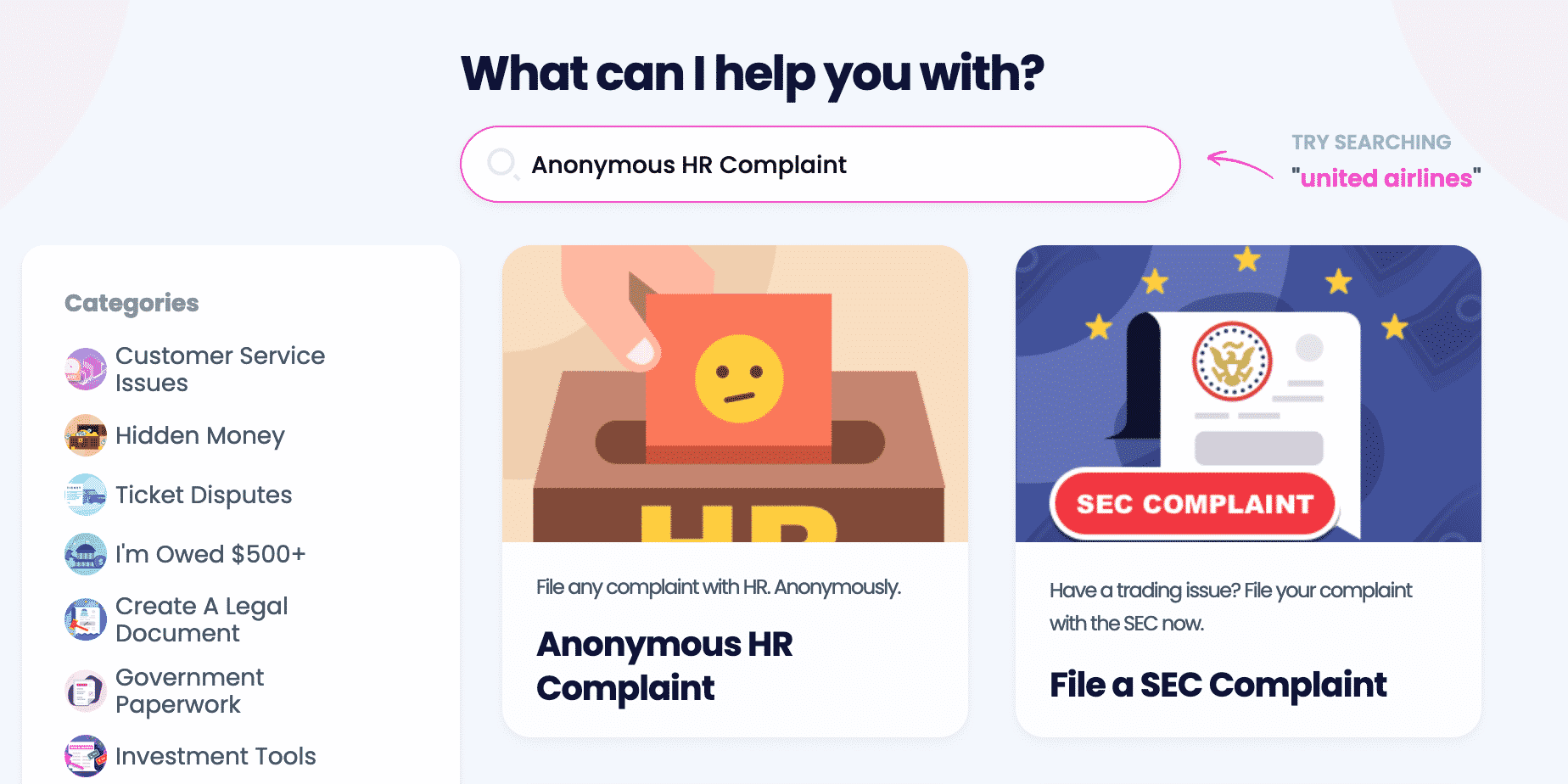 2. Enter your employer's name and your HR department's mailing address.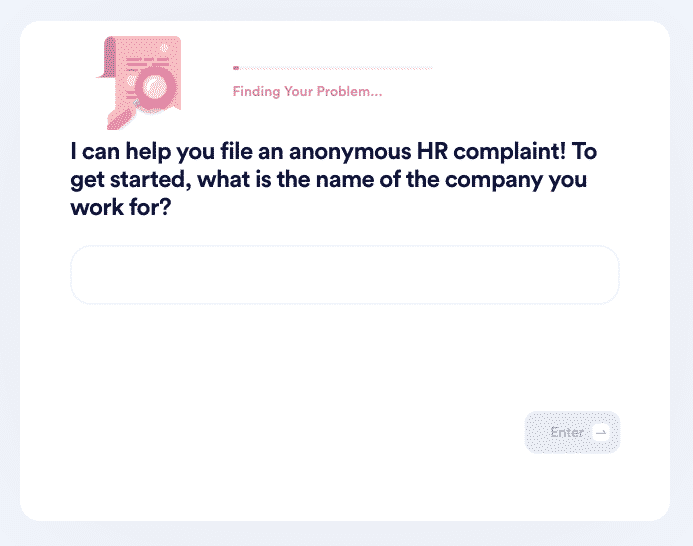 3. Describe your complaint and suggest a solution or action that you would like implemented.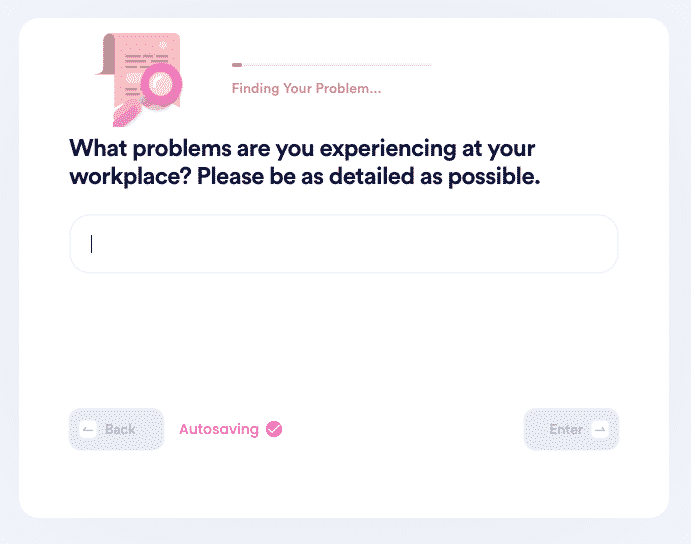 That's it! DoNotPay will automatically mail the report anonymously on your behalf.
What Else Can DoNotPay Do?
DoNotPay fully strives to ensure employees always get a fair hearing on any complaints they have. Check out our other articles about workplace complaints:
Additionally, DoNotPay can help you with day-to-day issues such as canceling subscriptions, finding tax exemptions, appealing parking tickets, and so much more! Take a look at what else we can offer: