The Specifics of an Emergency Power of Attorney
Contemplating the consequences of getting older is never easy. We have to be prepared for many unpleasant possibilities—including becoming mentally or physically incapacitated.
Luckily, an emergency power of attorney can help a person protect their interests if they become incapable of taking care of themselves.
What is an emergency power of attorney, and how can I create one? Those are the questions DoNotPay will address in this article. We will present a practical and affordable way to draw up any durable power of attorney!
What Is an Emergency Power of Attorney?
An emergency or springing power of attorney (POA) is a legal document granting an individual right to make financial, medical, or other decisions on behalf of someone mentally or otherwise incapacitated.
The person getting the authorization is known as the agent, and the individual granting the power of attorney is called a principal.
The emergency POA must be triggered by a specific event (sometimes an accident or an emergency) to become effective. Before the triggering event, the agent typically has no authorization to make any decisions on behalf of the principal.
The event that puts the emergency POA into effect should be clearly defined in the document.
Can I Get a Power of Attorney When Someone Is Incapacitated?
A person can create a power of attorney as long as they're mentally fit, regardless of their physical condition. They are considered legally incapacitated when their decision-making capabilities are temporarily or permanently impaired due to:
Injury
Illness
Disability
Once the person becomes mentally incapacitated, they can't grant a power of attorney to anyone, and nobody can:
Take power of attorney over them
Apply to become their agent
If a person becomes mentally unfit and doesn't have a POA set, a family member or an interested party can file a petition to the court to obtain legal guardianship. The court will typically hold a hearing to determine whether appointing the petitioner as a legal guardian would be in the incapacitated person's best interest.
The person appointed as the guardian can act on behalf of the incapacitated individual within a specific scope authorized by the court. The guardianship can be over the incapacitated person, their property, or both.
Bear in mind that going through a legal procedure to become a guardian is time-consuming and expensive. The best course of action would be to have a power of attorney prepared in advance.
How To Get an Emergency Power of Attorney in Advance
You can get the emergency POA in one of four ways presented in the table below:
| | |
| --- | --- |
| Method | Details |
| Hiring a lawyer | One of the safest methods is to ask for legal assistance. Since every POA is different, an attorney can handle the nuances and ensure the document is created according to the principal's needs and state laws. The only downside is the price—legal services are quite expensive |
| Writing a POA yourself | You can research your state laws and POA requirements and write the document yourself. It's a more affordable but less recommendable option since any mistake can cause issues in the future |
| Downloading a POA template | There are many online POA letter templates you can download for free. Bear in mind that they contain general terms—you will have to spend a fair amount of time customizing them to fit your specific situation |
| Subscribing to DoNotPay | If you sign up for DoNotPay, you will get a professional, personalized, durable POA in minutes |
No Need To Ring the Alarm! DoNotPay Can Create an Emergency Power of Attorney
Emergency power of attorney should be created with great caution, so writing it without legal experience is risky. Luckily, you don't have to waste money on lawyers—DoNotPay can draw up and help execute this complex legal document in a few clicks!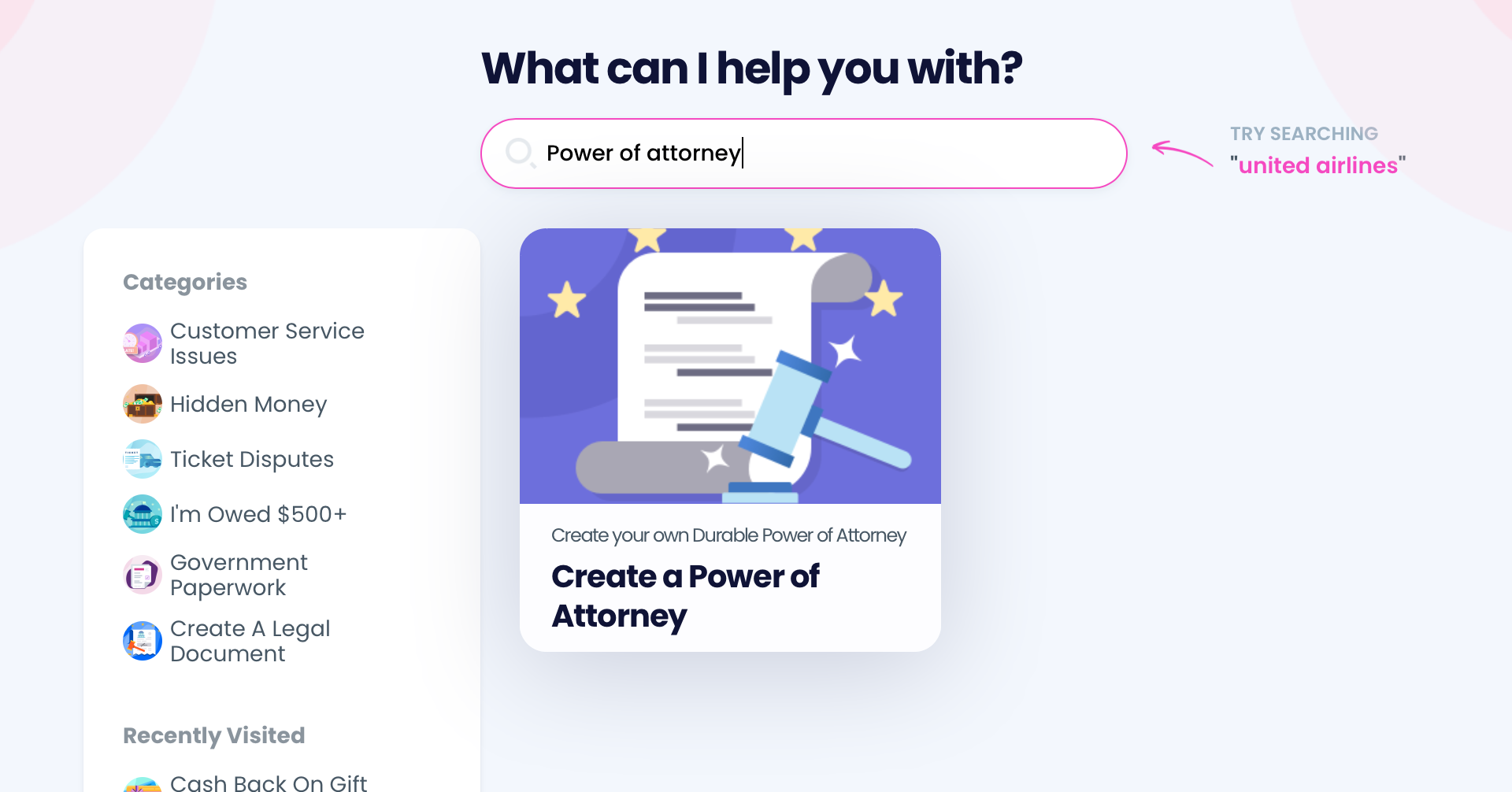 To get your tailor-made emergency POA, you need to open DoNotPay in a web browser and take the following steps:
Go to our Power of Attorney product
Answer our chatbot's questions regarding:

Your agent
Powers you're granting
Your state of residence

Indicate whether you want to have the POA notarized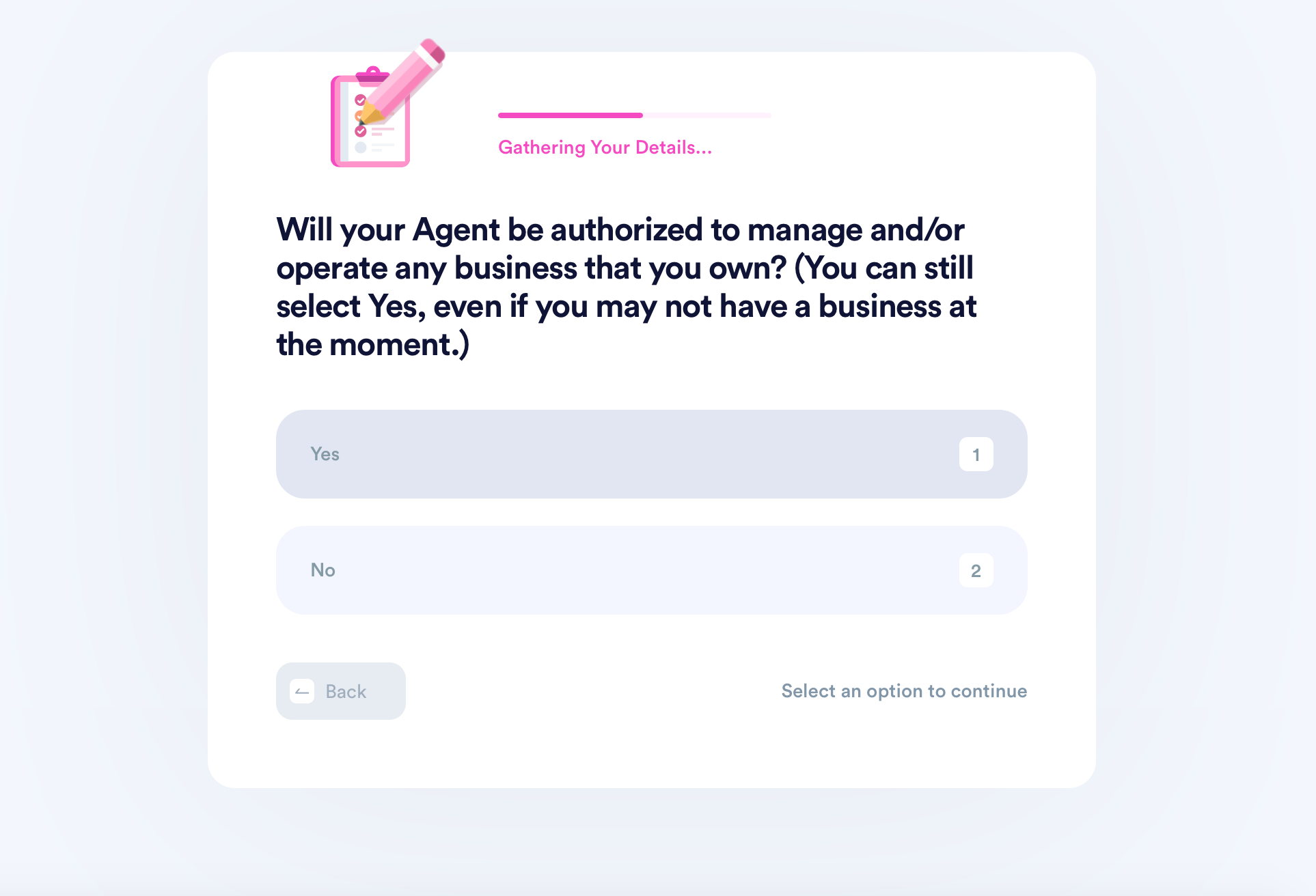 DoNotPay will immediately create a POA based on the provided information. We will send you the document along with two notices you and the agent need to read before signing.
Since most states require a power of attorney to be notarized, we can help out with that as well! If you select the option to have the document notarized, we will connect you to an online notary. You can complete the whole procedure from your computer, laptop, or even your phone!
DoNotPay Knows All About Powers of Attorney!
A power of attorney is a legal document anyone can benefit from at some point in their life. Our learning center can provide information on all POA types— including general, limited, and financial POAs—and help you decide which one fits your needs the best.
Read our articles and get clarification on some common POA-related topics, such as:
DoNotPay Covers All the Bases
From getting you ready for various government tests to helping you reduce your property taxes, DoNotPay offers valuable assistance with the tasks that make most people at least roll their eyes. Dealing with bureaucracy isn't fun, but it also doesn't have to be as difficult as it is.
Every product in DoNotPay's portfolio is designed to efficiently deal with a specific issue within a few minutes and without sacrificing your comfort. Take a look at the tasks our app can make much more simple:
A Little More Money Never Hurt Anybody
Hardly anyone would turn down a chance to earn some more cash. That's why DoNotPay not only protects your rights and interests but also offers great opportunities to improve your financial situation.
With our help, you can find paid clinical trials, locate your missing money in any state, get your cash back from used gift cards, or enter various raffles and win great prizes.