Create an Emergency Medical Power of Attorney Right Now
No one likes thinking about health problems and situations that could arise if you cannot speak for yourself. Who will make medical decisions for you in that case?
You should appoint an agent in your emergency medical power of attorney to put your mind at rest. This article provides information on this legal document and its connection to other related forms—a living will and advance health care directive.
Medical Power of Attorney—Different Names for the Same Document
Aside from a medical power of attorney (POA), you might come across the following names for this legal document:
Do You Need an Emergency Power of Attorney for Medical Treatments?
If you have ever been badly injured—e.g., in a car accident—you know that seconds count. Not having a reliable person to make decisions regarding necessary health care procedures could cost you your life.
To avoid complications and medical treatments you would not want to receive, you should take the following steps:
Choose a health care agent
Specify powers granted to the agent
Prepare a medical power of attorney
How To Select an Agent for Your Emergency Medical Power of Attorney
A medical power of attorney is a document that lets you appoint a person to:
Act as your agent
Make decisions about your health care treatment
Since your agent will choose medical procedures in case you are not able to communicate your wishes, you need to choose a person who:
You can trust
Understands your health care preferences
While you should always check your state's legislation, here are some common examples of people who cannot act as health care agents:
A minor
Your physician and health care provider
The owner and staff of the medical facility where you are receiving health care treatment
Indicate What Powers Your Health Care Agent Gains
While your health care agent has to act in your best interest, you should ensure all your health care preferences are specified in your medical power of attorney.
The following table presents what you should do when drawing up a health care POA:
Use a Medical POA To
Examples
List the powers you grant your agent
While you can specify anything you find important, here is what you could allow your agent to decide about:

Health care treatment you get, such as:

Surgery
Medications
Home health care

Medical facilities where you will receive health care
Health care providers and doctors to supervise your medical treatments

Impose restrictions on your agent's authority over your health care
You can limit your agent's ability to:

Give consent for certain health care treatments or services
Discharge your attending physician
Withhold life-sustaining treatments
Deny specific procedures or tests
Make anatomical gifts
How To Draft an Emergency Medical Power of Attorney
If you are not sure how to prepare a medical power of attorney, here are some options:
Get a lawyer to draw up the document—Make sure you are prepared to pay a hefty sum for this service
Do it on your own—You could browse through numerous online templates and choose, inspect, and change the downloaded one to meet legal requirements and fit your needs
—You can use our reliable and affordable robot lawyer to create a living will, emergency medical power of attorney, or advance directive in a matter of minutes
DoNotPay Can Get You a Medical Power of Attorney Without Fuss
Since anyone can face serious health problems unexpectedly, you should state your health care preferences clearly in a medical POA. This way, you ensure your wishes are respected in case you become incapacitated.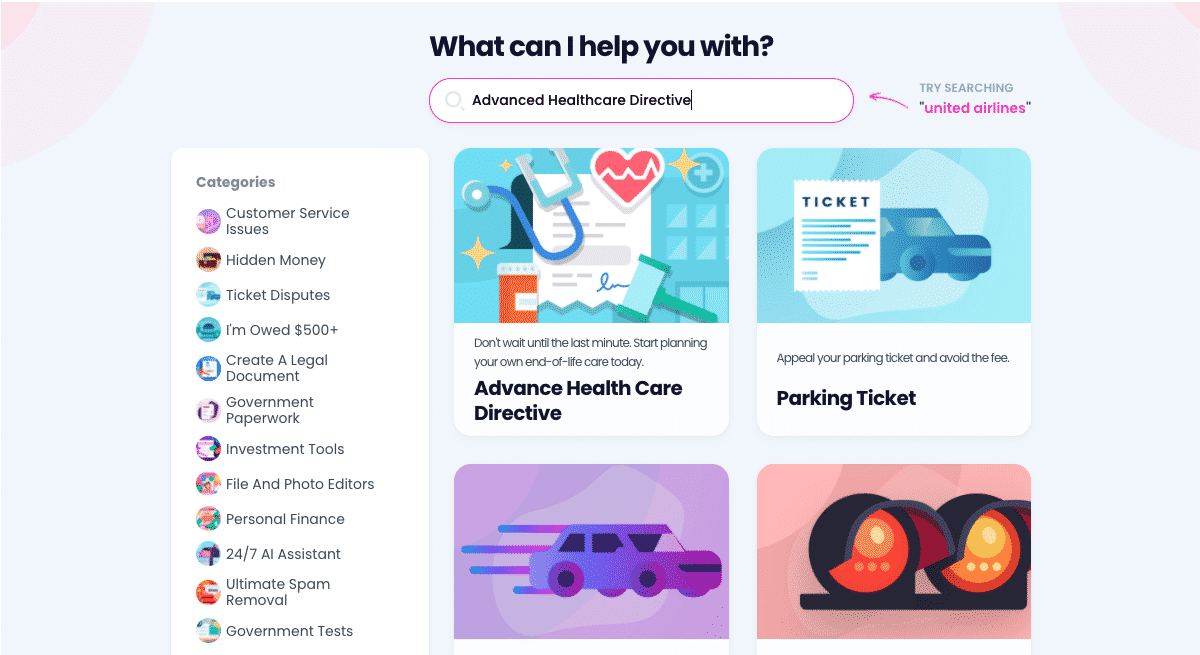 To get an airtight medical power of attorney, and:
Navigate to the Advance Health Care Directive product
Enter your agent's name
Answer some questions regarding desired health care
Provide the names of witnesses or choose to get the document notarized online

Solve Any Problem Within a Few Clicks
DoNotPay keeps adding new features that are designed to help you navigate your tasks and resolve issues. You can rely on your AI-powered app whenever you need to:
Earn and Save Money Using DoNotPay
When money is tight, every penny counts. DoNotPay can help you get what you're owed and also some extra cash.
Here are some of the ways our app can help you get paid:
We can also assist you in searching for your unclaimed funds, demanding a college fee waiver, and joining clinical trials.
If a company refuses to give you what you're owed, don't hesitate to file a complaint and take it to small claims court.