Key Aspects of Emergency Funds for Domestic Violence Victims
Domestic violence victims can't always find the support they need to leave the molester. Those who flee usually seek shelter in safe houses and from nonprofit organizations. Emergency funds for domestic violence victims play an important role in keeping the victims safe and taken care of. 
If you'd like to find out more about the compensation for crime and domestic violence victims, you're in the right place. DoNotPay will help you apply for numerous crime victims compensation programs in a matter of minutes.
What Are Funds for Domestic Violence Victims?
Domestic violence (DV) is a serious issue all around the globe. The Centers for Disease Control and Prevention's 2015 report states that around 12 million men and women experienced sexual and physical violence by a partner in 2014. 
Due to financial challenges, housing instability, and lack of support, victims seldom decide to leave their molesters. That's why America has various federal and regional funds and programs for DV victims. These funds cover the basic costs of living—including housing, food, clothing, and similar—to make the transition easier for the victims.
Who Provides Funding for Domestic Violence Victims?
Many organizations collect significant amounts of money to ensure that DV victims get everything they need for a new start. Three federal agencies provide the highest amount of funds for Domestic Violence Victims Programs all around the U.S.:
Besides receiving funds from federal agencies, DV victims service providers also get their expenses covered by:
Learn About the Federal Domestic Violence Victims Programs 
Each of the above-mentioned federal agencies administers various programs authorized under certain acts.
HHS DV Victims Programs
The HHS programs are authorized under the Family Violence Prevention and Services Act (FVPSA), which focuses on:
Providing shelter and services for DV victims

Supporting children who were exposed to domestic violence
Most of the appropriations are distributed as grants that fund:
States, territories, and tribes for domestic violence organizations that provide shelter to the victims

DV coalitions

Technical assistance

Research and administrative activities
DOJ DV Victims Programs
The programs provided by the Office for Victims of Crime (OVC) and the Office on Violence Against Women (OVW) support the housing needs of domestic violence victims:
VAWA programs focus on victims of stalking, domestic violence, dating violence, and sexual assault. Some of the programs—such as the Transitional Housing Assistance Grants for Victims of Domestic Violence, Dating Violence, Sexual Assault, and Stalking Program—support transitional housing needs of victims.
VOCA programs focus on supporting victims of DV or any other violent crime. The funds usually cover the costs of transitional housing for DV victims and their children.
HDD  DV Victims Programs
HDD funds two programs—The Continuum of Care (CoC) and Emergency Solutions Grants (ESG)—that provide housing to homeless individuals. Victims who want to flee their homes because of DV, stalking, sexual assault, or dating violence can be considered homeless.
What Do Domestic Violence Programs Cover?
While the maximum compensation amount each program dedicated to DV victims gets varies from state to state, most of them cover the following:
Emergency shelters

Food

Rent for a few months (in some cases)

Hygiene and personal products, such as:

Soaps

Shampoos

School supplies

Diapers 

Clothing

Counseling

Employment training

Educational services—for example, the NRCDV offers various educational programs to DV victims, including:

Women's Independence Scholarship Program (WISP)

Jeannette Rankin Women's Scholarship Fund

American Association of University Women's Fellowships
Can Domestic Violence Victims Apply for Other Crime Victims Compensation Programs?
Yes—domestic violence victims can apply for other financial aid programs. Some states don't even have a separate DV program—their funds for violent crime victims also cover the needs of domestic violence victims. 
How To Apply for Any DV Victims Program in a Matter of Minutes With DoNotPay
Dealing with any kind of violence is never easy, and it requires enormous mental strength. Victims should realize that they don't have to go through everything alone. While numerous programs and organizations help victims get back on their feet, the application process can be complex.
If you'd like to apply for any type of crime victims compensation—including the 9/11 Victim Compensation Program—as effortlessly as possible, you can rely on DoNotPay. We have created a product that will make the application process quick and simple. These are the steps you should follow:
Choose the

Compensation for Crime Victims

product

Tell us whether you're the victim or a victim's family member

Answer our chatbot's question regarding the crime and expenses

Verify your signature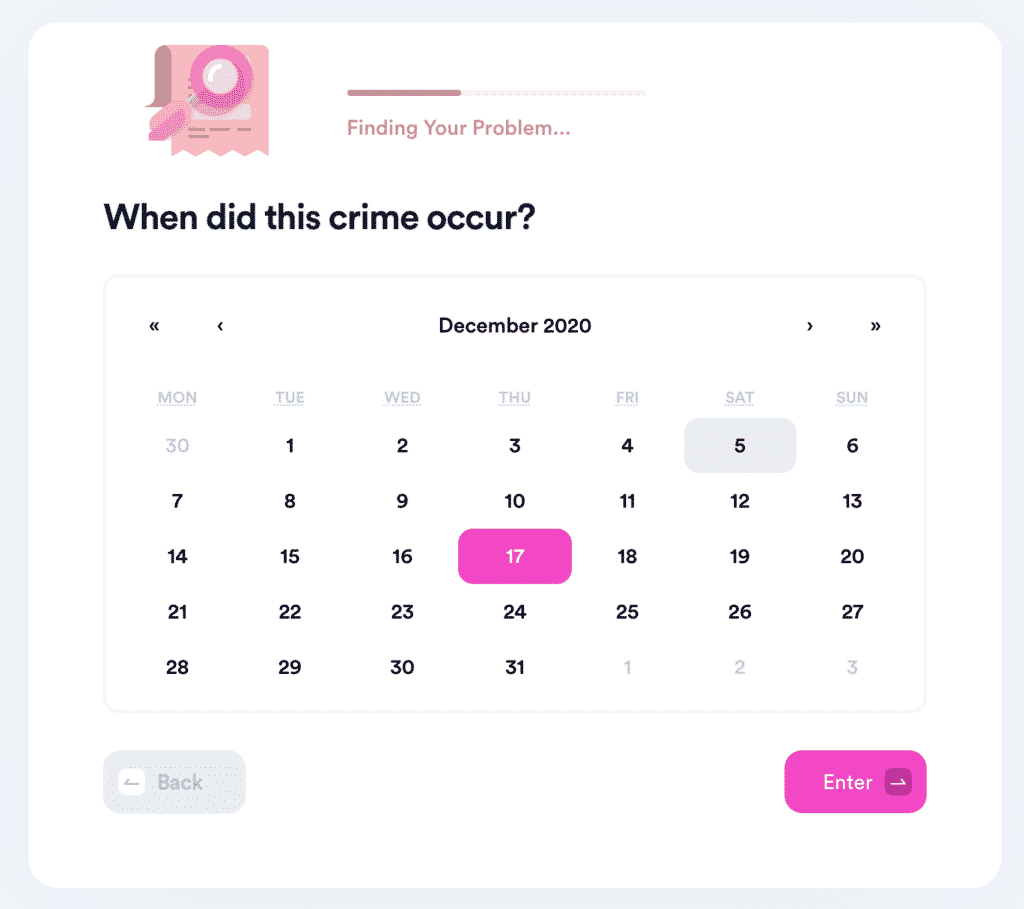 DoNotPay will fill out the application form on your behalf and send it to the office that handles application reviews. Your state's Crime Victims Compensation Board will inform you about their decision.
We will help you apply for crime victims compensation in any state, including:
Clear Your Schedule With the Help of DoNotPay
DoNotPay is renowned for making our users' lives infinitely easier. Not only can we root out unwanted subscriptions for you—you don't need to do it manually one by one any longer—but we can unsubscribe you from unwanted email and snail mail lists.
Fire up our app and let it navigate the phone tree instead of you or use it to make a DMV appointment at your earliest convenience. Forget about googling clinical trials near you—DoNotPay can sort them out according to your needs and their individual eligibility criteria. 
We can fill out the paperwork that you need to file at your local small claims court to initiate a dispute. You can work around the U.S. penal system and have DoNotPay locate an imprisoned loved one instead of you trying to reach individual prisons attempting to do it yourself.
You don't need to go to great lengths to get in touch with a counselor to sign your college fee waiver either—DoNotPay does it for you and then forwards the necessary documents on your behalf. 
DoNotPay Never Ceases To Amaze
Where there's one useful feature, there are nifty features galore!
Use our Virtual Credit Card to sign up for free trials and stop robocalls and spam text messages from reaching your phone. If you feel a free trial unrightfully turned into an expensive paid membership, we can help you request a refund or chargeback for the inconvenience.
We can further assist you in exercising your consumer rights by making a warranty claim in your place and verifying your online accounts with temporary phone numbers.
We can also break down the Freedom of Information Act for you and introduce you to online fax options and property tax reductions.