Find an Elementary Homeschool Curriculum To Fire Your Child Up!
Kids who are successful in high school are—more often than not—the ones who had a good start at the elementary level.
If you are considering homeschooling your child, your choice of elementary homeschool curriculum is crucial in fostering a love of learning and an ability to gain knowledge.
DoNotPay has all the tips, facts, and watch-outs you need to make the best possible choice of elementary homeschool curriculum for your child!
Is Homeschooling Better?
Parents who choose to homeschool their children do so for a variety of reasons, the most common of which are:
While public or private schools offer a traditional, classroom-based education, homeschooling can be more varied in its teaching methods, incorporating approaches such as:
As a homeschool teacher, you also have the freedom to mix and match teaching methods according to your child's learning preferences.
The answer to the question of whether homeschooling or public schooling is better for your child depends largely on:
Is There a Standardized Elementary Home School Program?
Across the U.S., there is no standardized model for elementary school curriculums, and each school district is free to devise programs as it sees fit.
Most states agree on the following fundamentals being taught in each grade in elementary school, though:
Elementary School Grade
Core Subjects and Achievements
First grade

Reading and writing names and simple words
Basic understanding of numbers, addition, and subtraction
Understanding of the concepts of air, weather, liquids, solids, plants, and animals
Knowing how the world is structured in cities, countries, and communities

Second grade

First experiments in writing compositions and reading different book genres
Counting money, telling the time, and learning more complicated addition and subtraction
Earth structure, plant growth and reproduction, different societies and cultures, and the basics of technological understanding

Third grade

Building a wider vocabulary, using reference books to find information, writing structured essays, and reading more complex fiction and non-fiction
Understanding fractions, decimals, weights and measures, and multiplication
Using maps, search engines for research, and experiments to prove something

Fourth grade

Reading various literary genres and writing book reports to further their understanding of synopsis and garnering meaning
Learning advanced multiplication and division, logical thinking, basic algebra, and geometry
Understanding of energy, matter, and electricity, the basics of U.S. history, and the use of charts, graphs, and spreadsheets to present information

Fifth grade

Analyzing the plot and characters in stories, using outlines, drafts, and summaries to prepare structured essays, and writing research papers and reports
Understanding of areas, perimeters, different triangle types, improper fractions, and prime numbers
Understanding the human body, climate and the environment, the basics of the U.S. governmental system, and important figures in the growth of the U.S.
How To Make Sure Your Homeschool Elementary Curriculum Is Acceptable
Each state has its own legislation on homeschooling, with some states being considerably less regulated than others.
You can check your state's homeschooling requirements here:
Depending on the state you live in, you may need to:
Teach certain subjects
Have your child assessed
Keep homeschool records
Teaching Certain Subjects
Some states stipulate that certain subjects need to be taught in elementary school, while others leave the choice up to you.
Having Your Child Assessed
In many states, your child needs to either take standardized tests upon completion of certain grades or be assessed at regular intervals by certified state assessors.
This is designed to ensure that your homeschooled child is not falling behind compared to public schooled children of the same age.
Keeping Homeschool Records
In certain states, keeping records of your homeschooling activities is mandatory, while other states demand no records.
Whatever the law in your state, keeping track of subjects taught, topics covered, achievements made, and awards conferred makes sense to help you monitor your child's educational progress.
Should You Build or Buy a Homeschool Elementary Curriculum?
The perfect curriculum for your child depends on your:
You can choose to:
In making your choice, you should think carefully about how your child learns best—replicating teaching approaches that your child doesn't respond to will make both your lives difficult.
How Do You Get Started With Your Elementary Homeschool?
In many states, you will have to notify your school district of your intent to homeschool before you take your child out of school and start homeschooling them.
This means sending a letter of intent to your school district, and you usually have to do this well in advance. In most states, you can start homeschooling at any time, as long as the letter has been received in good time.
The good news is that you don't need to worry about writing your letter of intent— and even send it automatically on your behalf!
Get Your Elementary Homeschool Started With DoNotPay!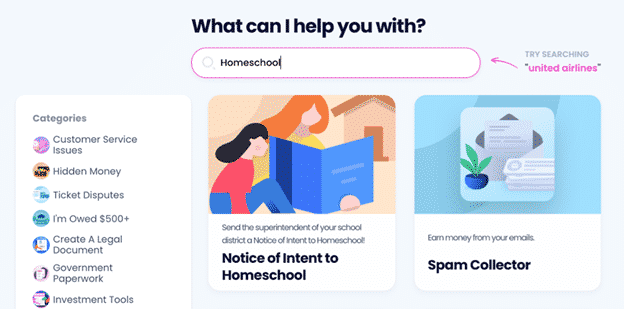 DoNotPay is here to make starting your elementary homeschool journey hassle-free!
We want you to be able to concentrate on the important part of your homeschooling—your teaching!
Our Notice of Intent to Homeschool product takes the administrative burden of notifying your school district of your plans away from you. We can create the letter you need, help you get it notarized, and send it to the correct address without you leaving your home!
Here's what you need to do to set your letter up:
Click on our Notice of Intent to Homeschool feature
Answer a few questions about your child, yourself, and your homeschooling plans
Once you're done, your letter will be ready in an instant—you can choose to have it notarized if necessary and get it sent to your school superintendent.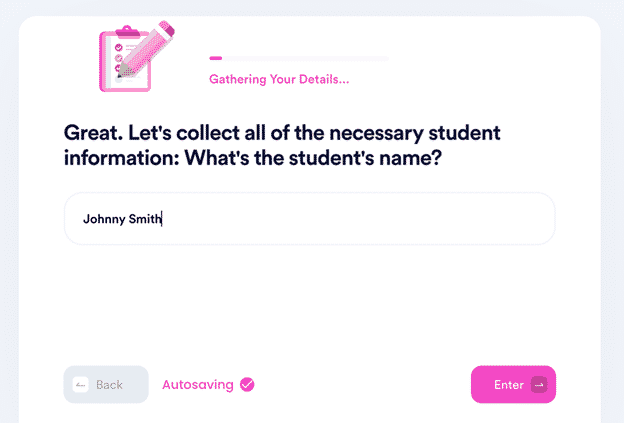 Don't Let Admin or Legal Issues Wear You Down—Hand Them Over to DoNotPay
Do you believe you may have some missing assets? Use DoNotPay's nifty product before the government claims them! Have you ever wanted to enter sweepstakes without purchasing anything? Our app will sign you up for them quickly! Trying to figure out how to reduce your property taxes or utility bills? DoNotPay can show you the way. Want to avoid getting charged for free trials that never fail to auto-renew into paid subscriptions? We'll help you cancel them before they expire.
Anything else you may need? Check out how our app can:
Check Out Our Other Robust Products
It doesn't stop there—DoNotPay can help you send a defamation demand letter, create passport photos, get gift card cash back, get any document notarized, request access to public records, claim insurance and warranty, request a college application fee waiver, appeal parking tickets, and much more.
Sign up now to get access to any of our products for one low monthly fee!