El Salvador Tourist Visa—Do U.S. Citizens Need It?
Thinking about spending some unforgettable time in the Land of Volcanoes? Besides many questions related to the sights you can visit there, another common dilemma is—what requirements do you have to meet to enter the country? Do you need an El Salvador tourist visa, and where can you find all the necessary information?
Luckily, you can use DoNotPay and solve the mystery the easy way! In this guide, you will find out all about getting proper permission for visiting the country and having any tourist visa application process simplified with our app.
Do I Have To Request a Tourist Visa Before Traveling to El Salvador?
If you are planning to visit El Salvador for tourism purposes and stay for less than three months, you won't need a regular visa. Instead of this type of authorization, you will have to purchase a one-entry tourist card once you arrive at the airport. The card price is $12.00, and it's valid for three months after the date of purchase.
One of the greatest advantages of the tourist card is that, besides allowing you to visit El Salvador, it lets you travel to other countries of the CA-4 region for 90 days. These countries include:
Should you decide to stay in the country for longer than three months, you must apply for a 30-day extension by El Salvador immigration authorities.
What Are the Requirements for Entering El Salvador?
Unlike other countries, El Salvador doesn't propose too many entry requirements. You must have a valid passport when entering the country, but there are no limitations regarding its remaining validity beyond the travel date. The government also doesn't specify the number of required blank pages in the passport, but it's recommendable to have at least one for an entry stamp.
You should provide the officials with proof of sufficient funds showing you have enough money to cover the expenses of the entire trip. Besides this, you must disclose a copy of your ongoing plane ticket. The maximum sum you can enter or leave El Salvador with is $10,000.
Are There Any COVID-19 Entry Restrictions in El Salvador?
All U.S. citizens between the ages of two and above traveling to El Salvador must provide a valid vaccination certificate to enter the country. If you haven't been vaccinated, a negative COVID-19 PCR or serology test is mandatory and can't be older than 72 hours. The printed lab report must specify the type of test you have taken.
If all the entry requirements are met and the appropriate proof is provided, you don't need to quarantine upon arrival in El Salvador. There are no active curfews or intercity/interstate travel restrictions at the moment.
I Have a Few Questions About Going to El Salvador—Whom Can I Speak With?
Have additional questions for the officials or doubts about some other aspects of the trip? Whichever issue you are facing, the best way to solve it is to contact one of the authorities of El Salvador in the USA with a specific query.
The Embassy of El Salvador is located in Washington, DC, and you can reach out to its team by:
Phoning them at (202) 265-9671 or (202) 265-9672
Faxing your query to (202) 232-3763
Sending an email to correo@elsalvador.org
Scheduling an in-person meeting with them at:
1400 16th Street
Washington DC, DC 20036
Besides the embassy, you can contact one of the active consulates in:
Dallas, Texas
Houston, Texas
Chicago, Illinois
Tucson, Arizona
Atlanta, Georgia
Las Vegas, Nevada
Woodbridge, Virginia
Boston, Massachusetts
Santa Ana, California
San Francisco, California
New York City, New York
Long Island, New York
Elizabeth, New Jersey
Washington, District of Columbia
How To Submit a Stress-Free Visa Application With DoNotPay's Help
A trip to El Salvador may not require a tourist visa, but you may need one for traveling to other countries. If you want to avoid the risk of being rejected or having any other problems with your visa, we have got your back. DoNotPay offers the best assistance with the application process and doesn't let you make any mistakes!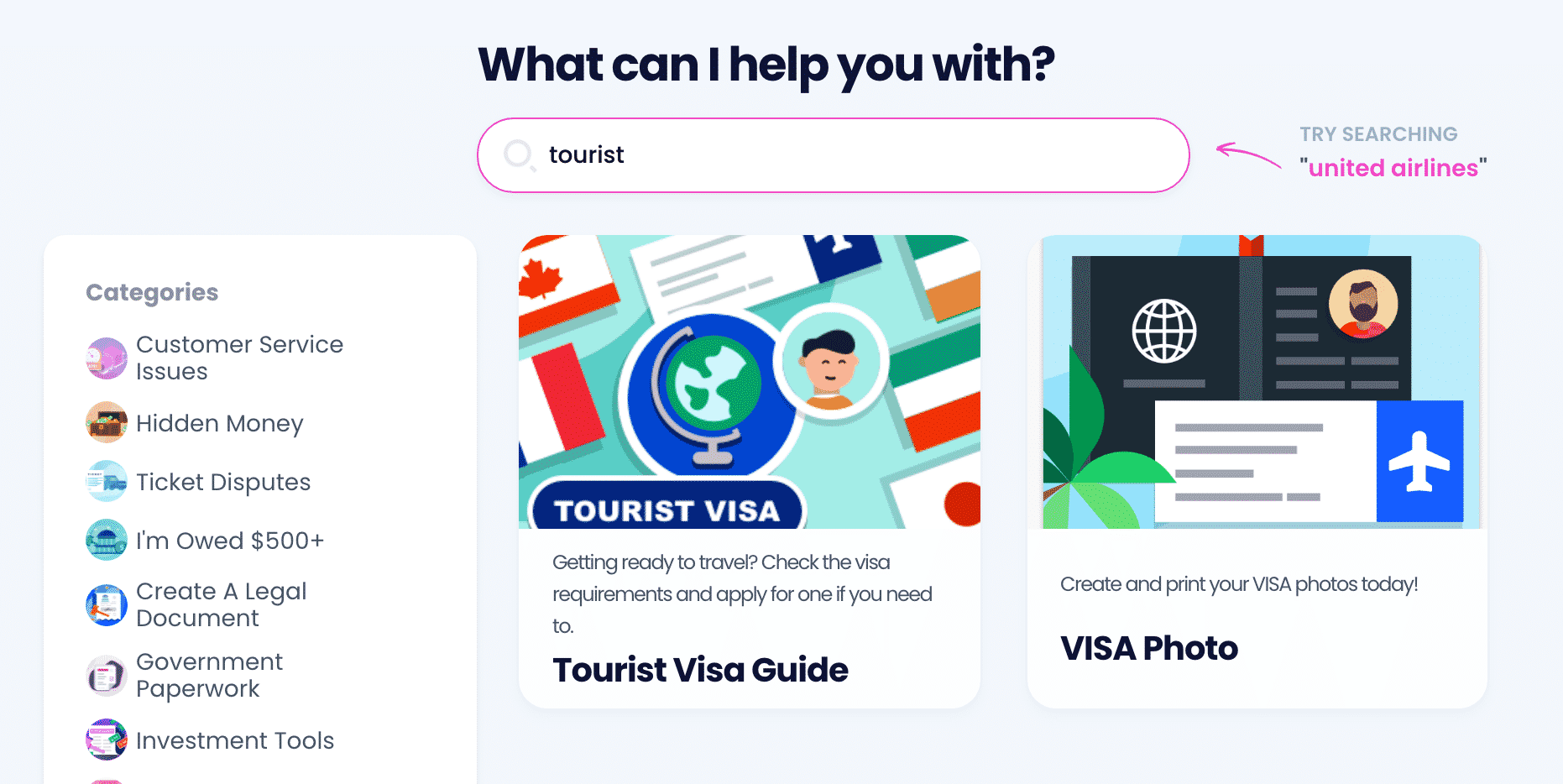 It's simple—here are the instructions you should follow:
Open DoNotPay and log in to your account
Click on Tourist Visa Guide
Confirm that you are a U.S. citizen or passport holder
Tell us where you want to go
In just a few moments, our app will inform you if you should apply for a tourist visa when traveling to the country in question. After that, we will:
Prepare a list containing all the required paperwork you should submit along with your application
Get in touch with the appropriate embassy in your name and check whether it accepts email applications
Offer you a direct link to a suitable online application form or send you a printable version if you want to fill it out manually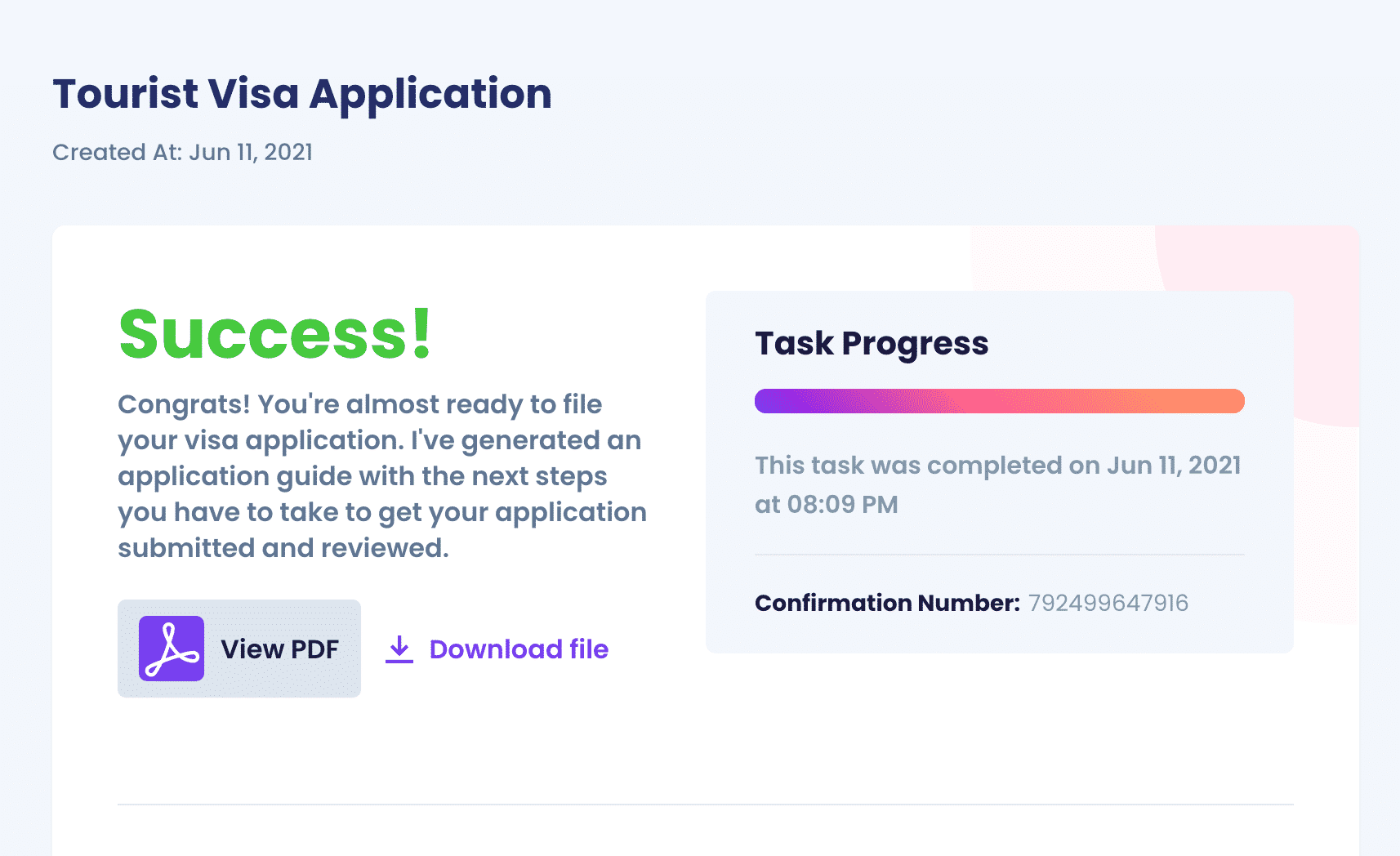 Ready to have fun in other countries from the same area? We can help you file a flawless tourist visa application for any of them, including:
DoNotPay Is the Best Solution for Your Bureaucratic Problems!
A wide range of handy features DoNotPay offers can assist you in resolving administrative issues without breaking a sweat! Our app provides the easiest way to:
Get What You're Owed in a Few Taps!
Shopping is fun, but retailing companies can sometimes be difficult to negotiate with, especially when things go wrong. With DoNotPay, you can reach their customer service without spending hours on hold and get a refund fuss-free! Should the merchant refuse to collaborate, we can help you get justice by suing them in small claims court.
Our app can also file an insurance or warranty claim in your name, request gift card cash back, or initiate returns for dissatisfying products.
If you want to check whether you have any unclaimed money in old bank accounts, using DoNotPay is the easiest way to do it!