All About Egg Donation In Utah
Donating your eggs is not for everyone. There are many qualifications to meet and a lengthy process to go through before the retrieval. If you are interested in egg donation in Utah you can work with DoNotPay for a better experience of doing so. 
DoNotPay vows to find you the best agencies in the state and help you submit your application to each of them promptly to improve your chances. 
What Does It Mean to Donate an Egg?
Most women have hundreds of thousands of eggs in their body waiting for a chance to be fertilized. However, some have a low or nearly non-existent egg count due to various circumstances. Thanks to scientific achievements, women who wish to donate their eggs to help another achieve their goals of being a parent can do so.
Eggs will be retrieved from one person's body so they can be implanted into another for a chance at a viable pregnancy.
Tips to Keep in Mind Before Choosing to Donate
Before you begin the donation process, you need to be aware of a few things. It's important to keep some tips in mind so you understand what to expect and are 100% sure you wish to go through with it.
Be Aware of the Psychological Aspect
You must be aware of the psychological aspect. Understand that you are giving up these eggs. You are being paid to donate them to someone else, and they will now belong to that person, not you. You have no claim over the egg or the baby that develops because of your donation.
Women who wish to donate must undergo a psychological evaluation to ensure they are mentally stable and able to process these facts. You will not be able to donate if you do not pass this part of the evaluation.
Realize That There's a Small Chance of Getting Accepted
You also need to realize that there is a very miniscule chance of actually getting accepted as a donor. There are numerous requirements to meet, from being within a certain age limit, to being a healthy weight, having a solid family medical history, and maintaining the flexibility in your schedule to attend all required appointments that could span the course of several months.
What is the Donation Process Like?
The egg donation process requires several steps:
Application
Screening process
Injections - Requires two separate sessions, 7-14 days for the first and 8-10 days for the second
HCG injection performed by a physician.
Egg removal
Recovery time
Utah Donation Clinics
Various donation clinics exist in Utah. Take a look at the top 5 options and discover if any of them meet your needs.
Clinic
Address
Phone Number
Compensation
Required Donor Age
Utah Fertility Center
1446 Pleasant Grove Blvd, Pleasant Grove, UT 84062
801-785-5100
Disclosed after applying
19-30
U of U Health Utah Center for Reproductive Medicine
675 Arapeen Drive, Suite 205, Salt Lake City, Utah 84108
801-581‑3834
$5,000
21-30
Fairfax EggBank
Sandy, UT (Online service connects you with a local agency)
888-352-5577
-Disclosed after applying

-Receive bonuses after each step

19-30
Reproductive Care Center
1725 East 1450 South, Suite 300, Clearfield, UT 84015
801-784-5484
Disclosed after applying
N/A
Reproductive Care Center
10150 Petunia Way, Sandy, UT 84092
801-878-8888
Disclosed after applying
N/A
More on Compensation
Realize that the pay you receive for donating your eggs varies from one clinic to the next. Many Utah options will have similar pay scales, but some will offer more or less than the average price. Don't settle for less if you find a facility that suits your needs and offers higher compensation.
The average price in the state is $5,000, but many of the facilities do not disclose this on their website. They inform you if you ask or after the application process.
Finding Additional Utah Egg Donation Clinics Yourself
You can also search for additional egg donation clinics. Finding one that is the most suitable for your needs and helps you feel comfortable is key. You can:
Ask others who have been donors for recommendations.
Try an online search.
Look at facility reviews.
Join a support group for donors.
Finding Utah Egg Donation Clinics With DoNotPay
The process for egg donation in Utah that women go through is extensive. Let DoNotPay help take some of the stress off your shoulders. We'll submit your application to several clinics at once for a faster process.
1. Search "become an egg donor" on DoNotPay and confirm that you meet the eligibility requirements.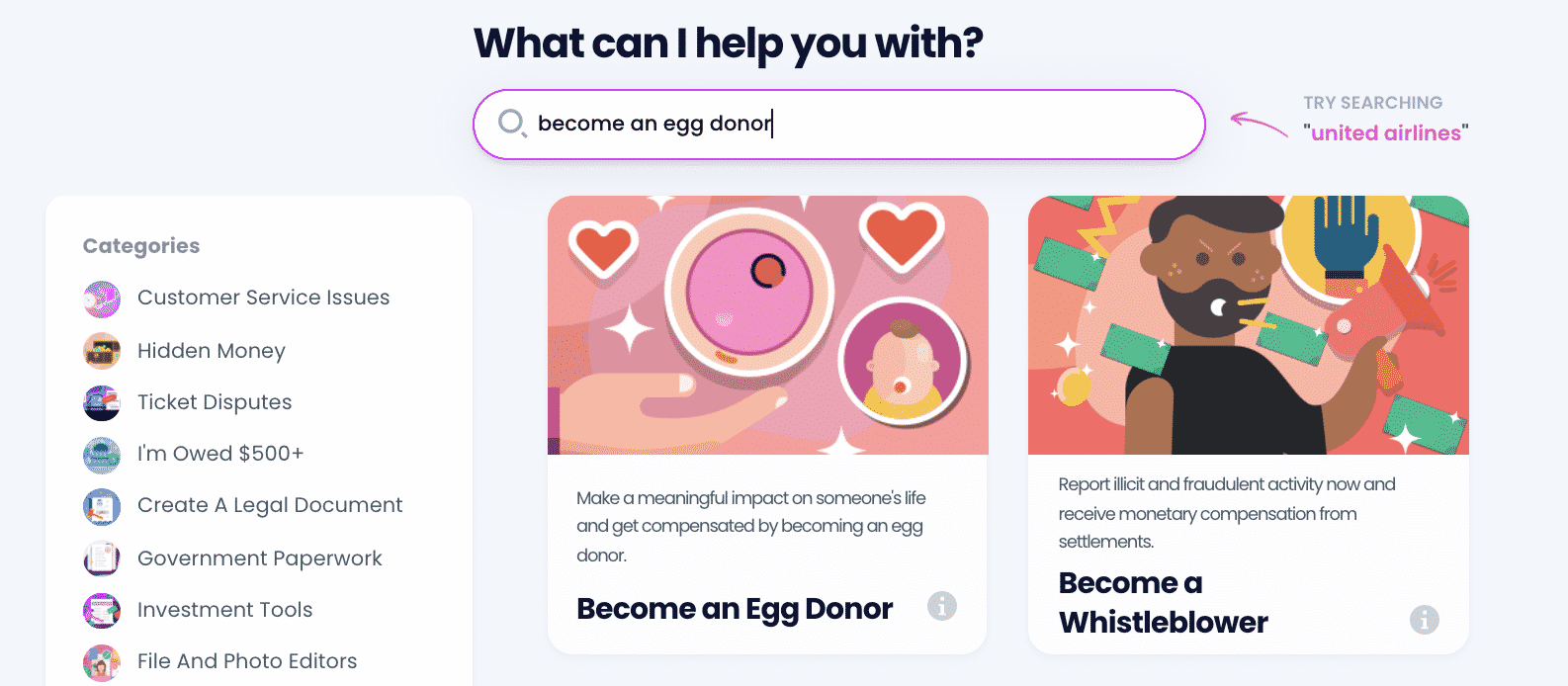 2. Answer a series of eligibility questions about your medical history, so we can determine which donor agencies you can apply for.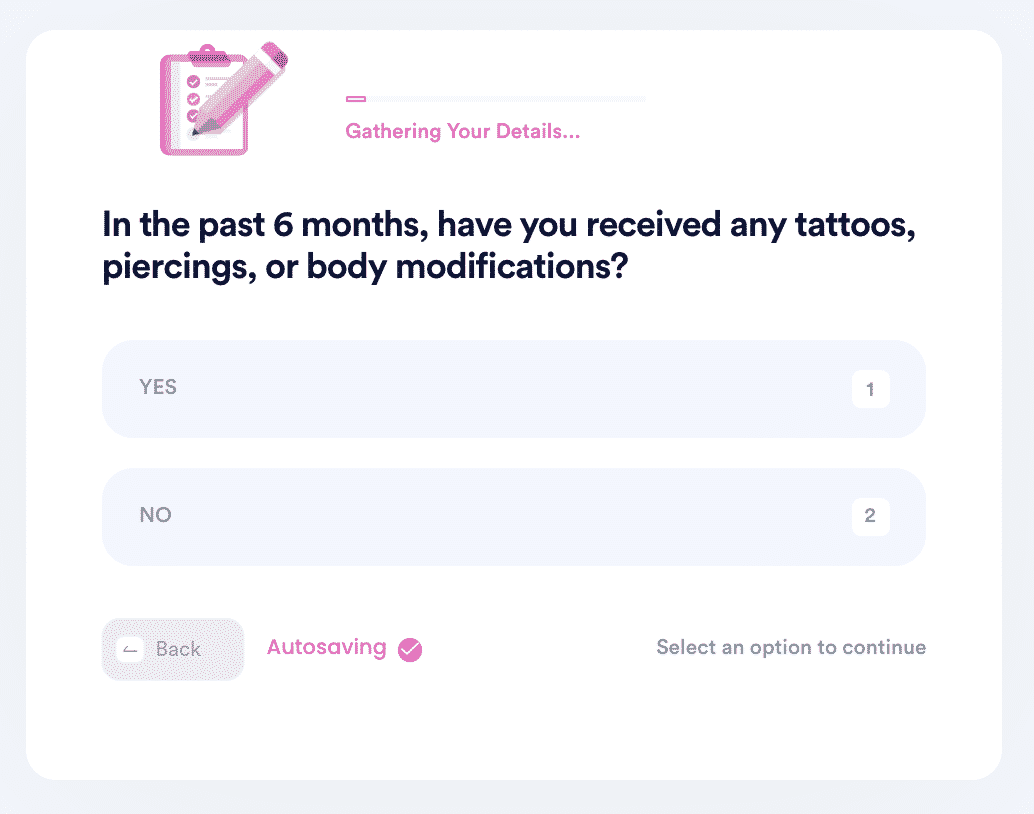 3. Verify your information and submit your single application! DoNotPay will then apply for multiple egg donor agencies near you on your behalf to maximize your chances of being accepted.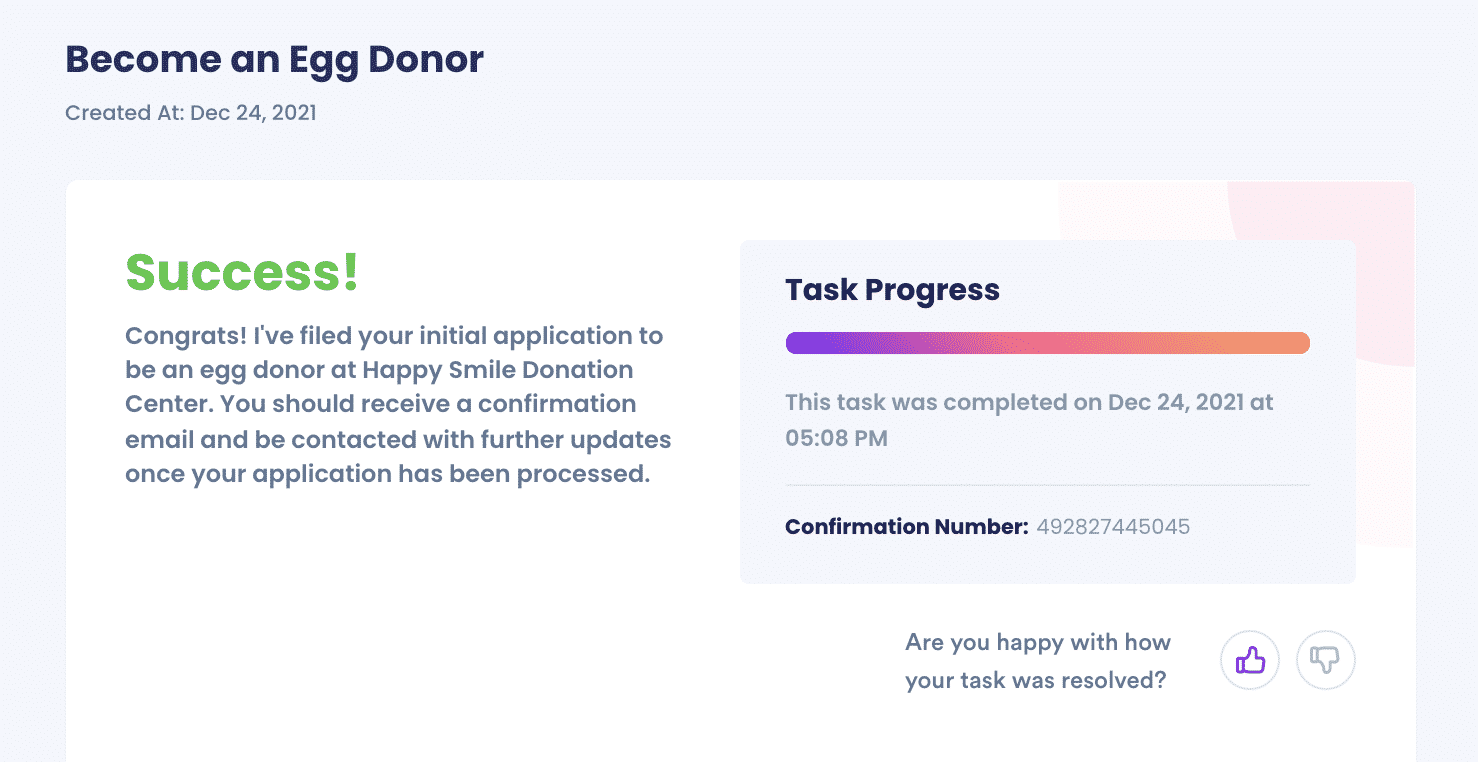 Work With DoNotPay on Other Priorities
DoNotPay assists you with all of your priorities. No matter if you need help with egg donation, bill paying, finding a fishing license, or something else, we're here to help!
Have a problem? DoNotPay will help you handle it quickly and painlessly.