Defend Your Workplace Rights With
EEOC Discrimination
Support
Discrimination in the workplace can leave you feeling isolated, neglected, and vulnerable.
The Equal Employment Opportunities Commission (EEOC) was set up to give you the support you need. If you are a victim of prejudice, harassment, or discriminatory behavior at work, the EEOC's job is to defend your rights and uphold the country's anti-discrimination laws.
DoNotPay has all the info you need to make the most of EEOC discrimination services!
What Does the EEOC Do?
Beginning with the Equal Pay Act (1963) and Title VII of the Civil Rights Act (1964), the U.S. has been steadily introducing legislation to guarantee equality for all employees.
While it would be simple to leave the enforcement of these laws in the hands of discrimination lawyers and HR specialists creating company discrimination policies, Congress quickly realized they needed a dedicated body to enforce the law and offer support to employees suffering under discrimination.
Founded on July 2, 1965, the EEOC is mandated to:
Investigate claims of discrimination

Facilitate mediation between employers and employees

Launch lawsuits against offending employers

Prevent workplace discrimination through training, networking, and outreach programs
The EEOC oversees:
Private companies

Federal, state, and public employers
Private Companies
Any registered company that employs 15 or more staff is covered by the EEOC's mandate and must conform to federal anti-discrimination legislation.
Federal, State, and Public Employers
The EEOC ensures that all public bodies comply with the laws governing discrimination and offers advice and support to federal and state agencies.
How Is the EEOC Structured?
The EEOC is based in Washington, D.C., and works through 53 field offices.
Each regional office employs caseworkers and admin staff, whose job is to receive, process, and finalize discrimination cases, as well as organize training, outreach programs, and support activities for the local business community.
What Is the
EEOC's Definition of Discrimination
?
The EEOC uses the definitions of discrimination as they are set out in federal law, meaning that it is illegal to discriminate against employees based on:
The EEOC will investigate any claim of discrimination in the workplace and determine whether there is a de facto or a de jure case to answer.
How Many Cases Does the EEOC Handle?
In 2020, the EEOC received the following numbers of charges presented by discrimination category:
Discrimination Type
Number of Cases

Race

22,064

Sex

21,398

National origin

6,377

Religion

2,404

Color

3,562

Retaliation—all statutes

37,632

Retaliation—Title VII only

27,997

Age

14,183

Disability

24,324

Equal Pay Act (

wage discrimination

)

980

Genetic information

440

Total charges
67,448
In terms of litigation, in 2020, the EEOC filed 97 new cases, resolved 176 (some from the previous year), and secured $106 million in benefits and compensation payouts.
The EEOC has a strong track record of success, and the payouts secured in 2020 were considerably higher than in previous years. The EEOC is demonstrably a force to be reckoned with!
How Can I Access EEOC Services?
If you feel you are experiencing discrimination at work, your first step is to lodge a complaint—or a charge of discrimination—with your local EEOC office. You need to file your charge within 180 days of the alleged discrimination in most cases.
The EEOC process after you file your charge is as follows:
Employer notification

Mediation

Employer and plaintiff response

Investigation

Subpoena

Litigation or provision of a right-to-sue letter
Employer Notification
An EEOC case officer will contact your employer to notify them of the charge you have submitted.
Mediation
The EEOC may suggest mediation between you and your employer. If this is not an option or if it is unsuccessful, the case officer will commence with an investigation.
Employer and Plaintiff Response
The employer is asked to submit a written response to your charge. You can then respond in writing to the employer's response—both these responses are the statements used to clarify your and your employer's positions.
Investigation
This may be a lengthy process, depending on the complexity of your case and the employer's willingness to cooperate.
Subpoena
If the employer refuses to cooperate with the investigation, the EEOC can issue a subpoena to enforce compliance.
Dismissal, Litigation, or a Letter of Right To Sue
Depending on the results of the investigation, the EEOC will:
Dismiss your charge if it cannot be proved

Decide to commence legal action against the employer

Issue you with a letter giving you the right to launch a

lawsuit
You cannot launch private legal action without permission from the EEOC, but DoNotPay can help you get your complaint lodged as quickly as possible!
How Can DoNotPay Help Me With the EEOC?
We want your dealings with the EEOC to be as easy and quick as possible, so we can help you with filing a discrimination claim—this is what you need to do: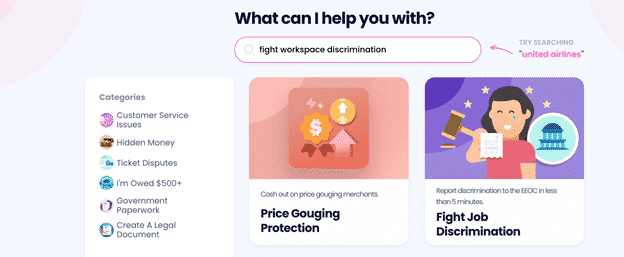 Sign up with DoNotPay

in your web browser

Search for our

Fight Workplace Discrimination

product

Fill in the details of your complaint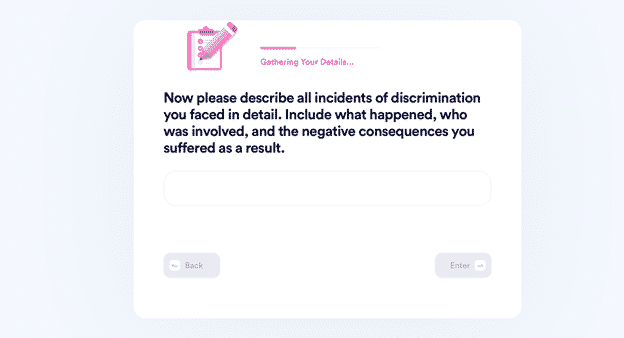 We will take it from there and file your charge with the nearest EEOC office.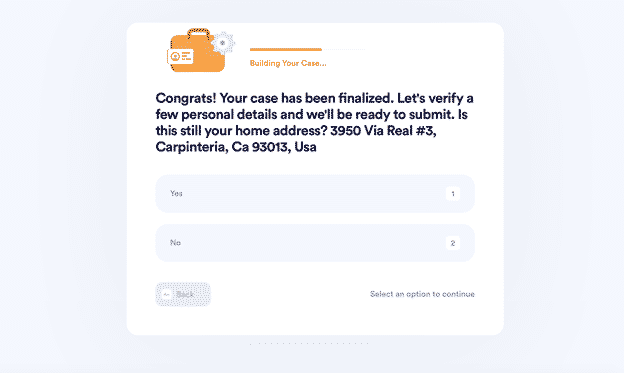 DoNotPay Is on Your Side
Is the discrimination you're facing at work turning into proper harassment or even stalking? Are you considering suing your manager or colleague in small claims court? These unpleasant situations usually require lawyers, but they come with hefty fees.
DoNotPay is a powerful AI-powered app that can lead you through a small claims court case against anyone or serve them with a cease-and-desist letter. If discrimination turns into a hate crime, we can help you file for crime victims compensation or make a claim on your insurance.
Whenever you need to draft, fax, or mail legal paperwork, you can open our platform and use our fast and reliable tools for that. With our help, you can even have your documents notarized by an online notary!
The Multi-Purpose Platform That Makes Your Life Easier
If you've had enough of that toxic atmosphere at work and want to escape somewhere for a week or two, DoNotPay might turn out to be the perfect travel buddy. Our app won't do much when you're drinking cocktails at a beach, but it will do wonders if you run into problems. 
We can help you generate a child travel consent form, get airline compensation for canceled or delayed flights, jump the queue when you must contact customer service as soon as possible, or get a refund for all kinds of unsatisfactory purchases. 
Do you prefer road trips? No problem! DoNotPay can help you prepare for your driving test or schedule a DMV appointment without sweat!
From fighting discrimination to solving travel woes—that's how diverse DoNotPay's portfolio is!