Your Partner in the Fight for Justice—Landmark EEOC Discrimination Cases Won That Influenced the Law
Since 1965, the EEOC has been your partner in fighting to eradicate workplace discrimination.
Over the years, several EEOC-led discrimination lawsuits have made headlines and influenced the way anti-discrimination laws are interpreted and applied.
Here is DoNotPay's definitive list of the most influential EEOC discrimination cases won with explanations of how they may affect you.
What Is the EEOC?
The Equal Employment Opportunities Commission (EEOC) is the government agency tasked with enforcing federal anti-discrimination legislation.
Specifically, the EEOC oversees the application of these laws:
The Pregnancy Discrimination Act
What Kinds of Discrimination Does the EEOC Deal With?
As the protector of your rights in the workplace, the EEOC fights against discrimination based on:
Gender

LGBTQ status

Nation of origin

Color
If you are experiencing discrimination at work, the EEOC is your first port of call for assistance. The commission will investigate your claim and take the necessary steps to resolve valid complaints—including launching legal action if your example of workplace discrimination is serious enough.
The EEOC understands how discrimination manifests itself in the workplace and will fight against:
Type of Discrimination

Explanation

De jure discrimination

De jure discrimination involves policies or procedures intentionally used by companies to discriminate against certain employees or groups—examples are:

Advertising for male-only workers for construction or factory work

Insisting on mandatory maternity leave for pregnant employees

Paying

lower wages

to certain groups or individuals

De facto discrimination

De facto discrimination allows breaking discrimination laws and

anti-discrimination policies

by covert discriminatory practices, such as:

Using profiling or stereotypes in hiring processes

Claiming equal employment rights for disabled workers but not providing wheelchair access to certain areas of the company

Harassment

Harassment ranges from inappropriate jokes to overt aggression—the most common forms of harassment are:

Retaliation

Retaliation is the

most common reason for discrimination complaints

and consists of the victimization of employees when they call out workplace discrimination. Retaliation can involve:

Downgrading an employee's job status or demoting them

Sidelining an employee

Exerting unfair pressure to perform

Bullying
Significant
EEOC Discrimination Cases
The EEOC has fought and won many landmark cases that have set the benchmark for anti-discrimination compensation in the U.S. These high settlement amounts have significantly raised the profile of discrimination in the workplace and persuaded employers to be more rigorous in complying with the law. The defendants in the most high-profile cases were:
Publix Supermarkets (1995)

Texaco (1996)

Nextel (2000)

The Coca-Cola Company (2000)

California Public Employees Retirement System (2003)

Shoney's (2005)

Novartis (2010)

Henry's Turkey Service (2013)
Publix Supermarkets (1995)
The EEOC brokered a settlement of $81.5 million for 150,000 female employees who claimed that women were only given access to the worst jobs.
Texaco (1996)
Texaco paid $115 million in compensation to 1,500 Black employees after the EEOC found that the oil company routinely discriminated against Black and other racial-minority workers.
Nextel (2000)
The EEOC supported 300 employees who claimed that Nextel used systemic age, race, and gender discrimination in its employment practices. The plaintiffs won compensation of $176 million.
The Coca-Cola Company (2000)
Coca-Cola agreed to settle for $192.5 million after it was accused of long-term systemic racial discrimination against Black employees.
California Public Employees Retirement System (2003)
Over 1,700 retired public employees in California received a total of $250 million in compensation after the EEOC proved they had been victims of age discrimination.
Shoney's (2005)
Shoney's management was found guilty of overt racial discrimination in its hiring and job allocation practices. The restaurant chain had to pay $132.5 million to over 20,000 claimants.
Novartis (2010)
The EEOC assisted 5,600 employees to win compensation of $175 million after the pharma company was found to have discriminated against pregnant employees.
Henry's Turkey Service (2013)
The defendant was found guilty of having abused and harassed 32 physically disabled employees over many years. Henry's Turkey Service had to pay $240 million in compensation.
The EEOC was closely involved in negotiating the compensation amount in each of these cases—proof that the Commission is a force to be reckoned with.
How Can the EEOC Help You?
Your first step if you are experiencing discrimination at work is to raise the issue internally.
In many cases, though, your complaints fall on deaf ears—at which point you need to lodge a complaint with the EEOC—known as a charge of discrimination. You need the EEOC's permission to contact a discrimination lawyer and launch legal action against your employer.
Your complaint needs to include all the details of the discrimination you have experienced, including:
Dates and times

Exact details of the incidents

Names of people involved

Names of any witnesses
Filing your charge of discrimination can be complicated if you try it yourself, but DoNotPay has a way to !
How Does DoNotPay's Fight Workplace Discrimination Feature Work?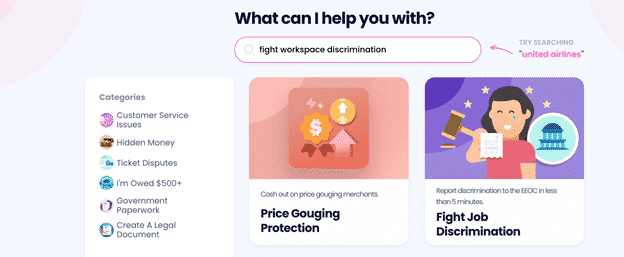 DoNotPay's system of filing an EEOC charge of discrimination couldn't be easier—all you have to do is:
Go to DoNotPay in your web browser and

Look for our

Fight Workplace Discrimination

feature

Fill in the details of your complaint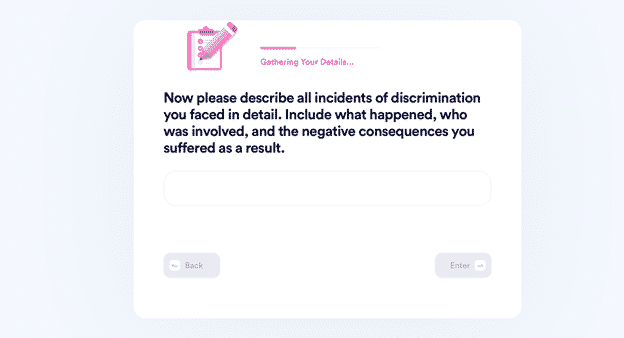 DoNotPay will take it from there—after your charge has been filed, your local EEOC field office will contact you to discuss your next steps.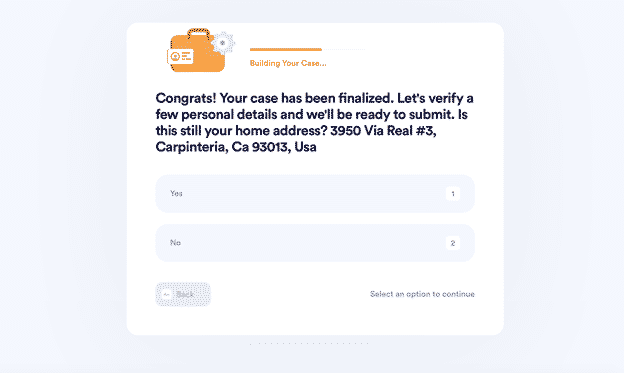 You Can Rely on DoNotPay's Can-Do Attitude
Facing discrimination in the workplace can make you feel drained and depressed, but DoNotPay will be that pick-me-up that you need. Our platform is built around the idea that everyone can and must fight for their rights, so we keep providing you with the most efficient tools and resources to do so.
We've found ways to cut out the middleman in numerous bureaucratic processes and support you by saving your time, energy, and money. DoNotPay can help you:
Accomplish More With DoNotPay
Our platform helps you protect your rights, deal with annoying administration, and increase your overall productivity. We strive to identify complicated procedures that plague everyone's existence and make them as simple as possible.
You can use our app to:
Long story short—DoNotPay does it all, and it's meant for everyone who could use some more help, time, and money!