Start Your Fight Against Discrimination With the EEOC Charge of Discrimination Form
If you are being discriminated against at work and have no hope of fixing the problem internally, it may be time to bring in the heavy artillery.
Your next step is to take the matter to the Equal Employment Opportunities Commission (EEOC) and let them help you.
To do this, you need to file a complaint with them—a process that is easier said than done. DoNotPay can help—here is our explanation of the EEOC Charge of Discrimination form and the way to !
What Is the EEOC?
The EEOC is the federal body responsible for enforcing workplace anti-discrimination laws.
Overseeing any company with 15 employees or more, the EEOC is mandated to:
Investigate complaints of discrimination
Run conciliation and mediation procedures
Start legal action against employers
EEOC investigations focus on any complaints of discrimination based on:
Gender

LGBTQ status

Color
Nation of origin
You cannot use a discrimination lawyer to launch legal action against your employer if you have been discriminated against—you need to go through the EEOC first.
When Should I File a Charge of Discrimination?
The discrimination you are experiencing and should report could take the following forms:
Retaliation
De Jure or De Facto Discrimination
Any deliberate act of discrimination—whether or not it is company policy—is illegal and must be stopped.
Examples of workplace discrimination could include a policy that discriminates against you, a manager who has expressed a derogatory opinion of you, a salary discrepancy between you and a co-worker doing the same job, or your employer's unwillingness to accommodate any special needs you may have.
Harassment
Harassment in any form—sexual, verbal, email harassment, or cyberbullying—is considered a type of discrimination­ and is prohibited in the workplace.
Even if a single person is responsible for the harassment, recent discrimination lawsuits have confirmed that a company can be held responsible for the actions of its supervisors and managers.
Retaliation
Your employer is guilty of discrimination if they retaliate against you after you have complained about discrimination.
Involving the EEOC is a major step as your company will be informed as soon as you file a complaint.
Before you lodge your charge of discrimination, you should make sure you have tried everything to resolve the matter with your employer by doing the following:
If all this is to no avail, you should lodge your case with the EEOC.
What Does an EEOC Charge Form Look Like?
The EEOC charge of discrimination form is straightforward and detailed, and it includes:
Information Required
Explanation
Your details
You need to include your:

Full name
Date of birth
Address
Contact details

Your employer's details
You should list your employer's details, including:

Company name
Registered address
Number of employees
Contact details

Type of discrimination
You have to state which type of discrimination you are alleging—you can list multiple types in one charge of discrimination
Details of incidents
You need to list every incident of discrimination you have experienced, including:

What occurred
Who perpetrated the discrimination
When it happened
Who witnessed it

The more detail you can supply, the stronger your case will be
Once you have all the information to hand, you can contact the nearest EEOC field office.
Issues With Filing Your Charge of Discrimination the Standard Way
Filing your charge of discrimination with the EEOC can be a complex and time-consuming process.
The EEOC may ask you to attend an in-person intake interview to discuss your case, meaning that you will have to travel to the nearest EEOC field office, wait for your appointment, and remember to take any documentation with you.
If you try and file your charge online through the EEOC's public portal, you are directed through a series of questions that determine the following:
What criteria the alleged discrimination is based on
Whether the company is large enough to fall under EEOC jurisdiction
Whether your charge is within the 180-day time limit for filing
Once you have answered these questions, you will be asked whether you want to submit an inquiry or schedule an appointment—this does not mean your charge has been filed.
Luckily, DoNotPay has a solution—with our service, you can avoid all the hassle and get your charge of discrimination filed in a few clicks!
File Your Charge of Discrimination Easily Using DoNotPay
DoNotPay knows how serious workplace discrimination is, and we are committed to helping you fight it as easily as possible.
To use DoNotPay's help with filing your EEOC charge of discrimination, all you have to do is:
in your web browser
Search for our Fight Workplace Discrimination product
Fill in the details of your complaint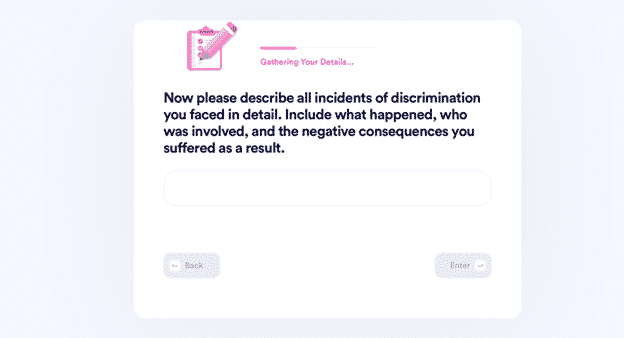 We will handle the rest—your charge will be filed with the nearest EEOC office. They will contact you to walk you through the next steps.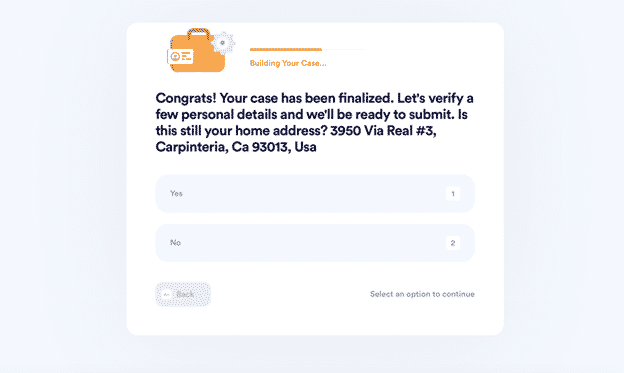 DoNotPay's Other Resources for the Victims of Discrimination
Fighting discriminatory bosses and colleagues is not the only item on DoNotPay's agenda. If your EEOC report doesn't work out, explore the option of suing the perpetrator in small claims court with our help.
Those who experience full-blown hate crimes can use our platform to file for crime victims compensation or deal with insurance claims. Lost a job because of discrimination? Use DoNotPay to get help with bills, reduce your property taxes, or find any unclaimed assets in your name.
We can also help you create numerous legal documents for personal, business, or real estate matters. You'll have a chance to fax your paperwork or find an online notary in the same app!
Use Our App To Right Other Wrongs
Injustice lurks around every corner, and DoNotPay won't have any of it. That's why we keep creating tools and services to help you fight back against all kinds of unfair treatment.
With our help, you'll be able to:
There's more where this came from because the good fight doesn't stop here.