Do You Need an Ecuador Tourist Visa? DoNotPay Answers!
Are you thinking about visiting the Land of Eternal Spring, but you're not sure whether you're required to have an Ecuador tourist visa for your trip? This country sure has a lot to offer, but its visa requirements might be confusing for most people.
DoNotPay is here to provide all the info! Sign up for our service for more info about the Ecuador visa—learn more about the visa requirements, application process, COVID-19 measures, and more.
Do You Need To Obtain a Tourist Visa for Ecuador?
If you have a valid U.S. passport, you do not need a tourist visa for Ecuador, but your stay is limited to 90 days at a time. If you wish to stay longer, you have to apply for one of the following:
A special tourist visa (also called a visa extension, Visitante Temporal, or VT visa) that lasts for 180 days. This visa can be obtained once every five years
A temporary residence visa, which lets you stay in Ecuador for two years
Learn Everything About the Ecuador Tourist Visa Requirements
Three months are not enough to see all the wonders of Ecuador, so you may want to obtain a VT visa to stay longer than that. To be eligible for the extended visa, you need to have:
Passport that will remain valid for at least six months after departure and its notarized copy
Completed and signed visa application form
Notarized copy of a police certificate indicating a clean record
Bank statement showing financial stability
Return or onward plane ticket/itinerary
Proof of travel insurance and hotel reservation
Minors or parents traveling with minors also need to provide a:
Child's valid passport
Notarized birth certificate of the child
Document showing migratory movements of the parents
Parent's or guardian's consent document for a trip in their absence (if the child is going alone)
Note that the visa fees are currently $50.
Tourist Visa Ecuador—Online Application Process Explained
Follow the steps below to apply for a prolonged Ecuador tourist visa online:
Register at the Ecuadorian Ministry of Foreign Affairs website
Select the desired visa option, fill in the PDF form, and submit it
Pay the visa fee
Choose the date for your visa
Provide your email address
Verify the email from the ministry that confirms the issuing of your visa
COVID-19 Requirements for Entering Ecuador
Each country has different COVID-19 measures and policies for tourists. Here's what Ecuador requires from anyone entering the country at the time of writing this article:
Mandatory health screening at airports and other entry points
Ten-day quarantine for travelers that show COVID-19 signs at the entry screening
One of the following:

Negative RT-PCR COVID-19 test taken 72 hours before arriving in Ecuador
Vaccination card showing the completion of the COVID-19 vaccine administration 14 days or more before entering Ecuador
Proof of recovering from the coronavirus at least one month before the trip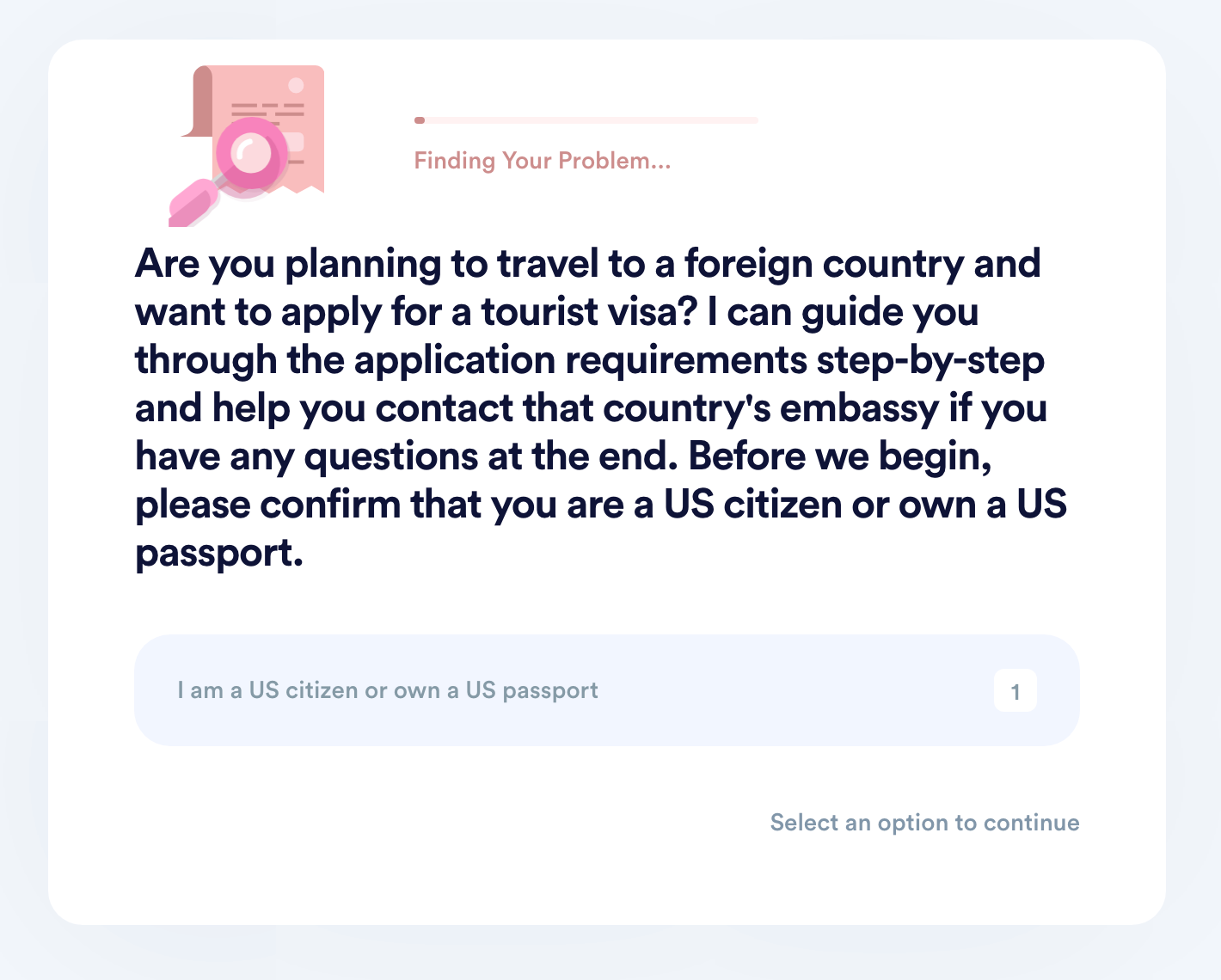 DoNotPay Provides Speedy Visa Assistance
Getting info on a visa on your own is difficult, especially since every country has different requirements.
DoNotPay's Tourist Visa Guide feature is there to help your specific needs for any visa, whether you're traveling to Ecuador or any other country. To use our handy feature, you should:
Sign up for DoNotPay and choose the Tourist Visa Guide product
Confirm that you are a U.S. passport holder
Select the destination country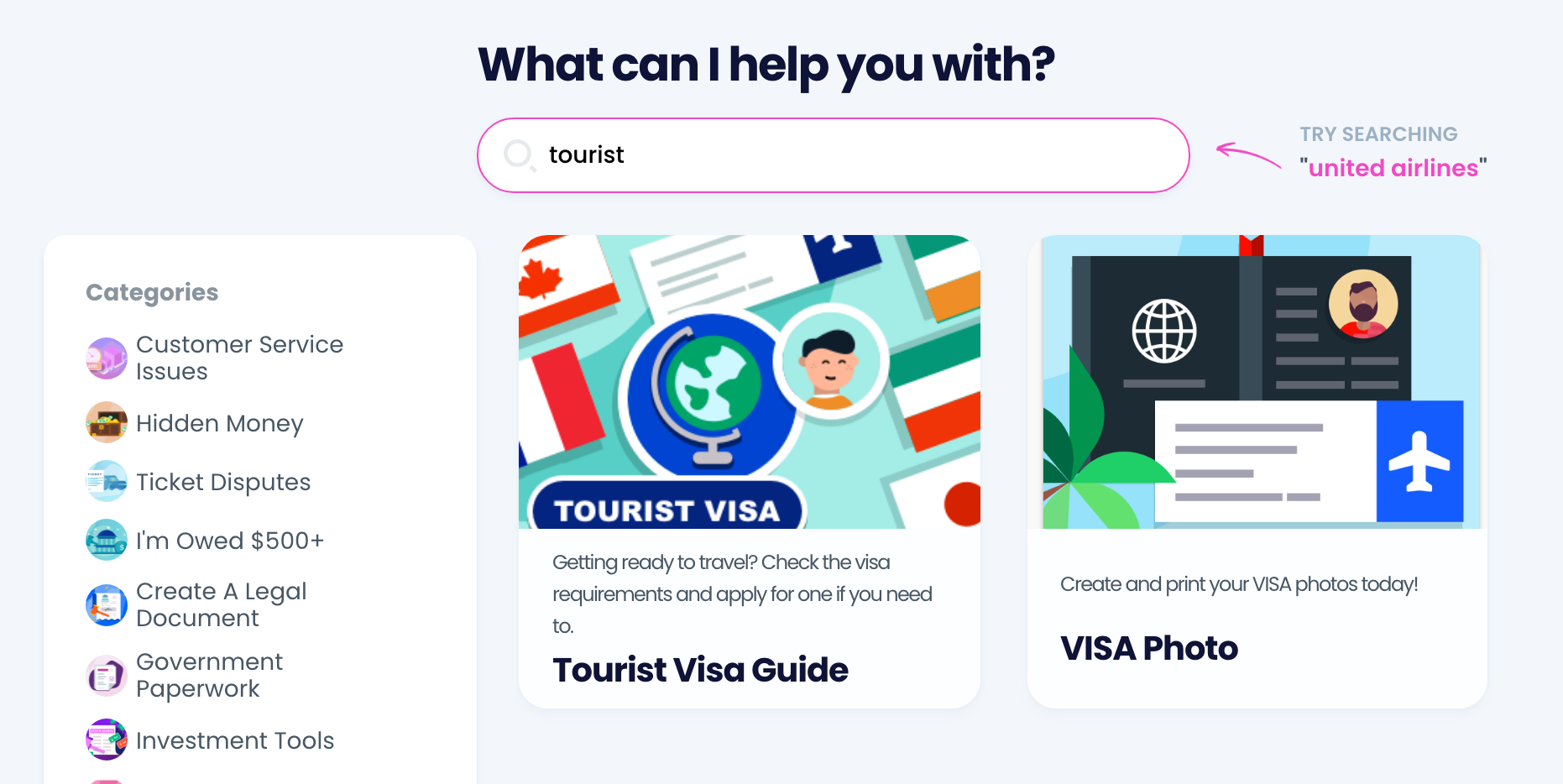 After we have your info, we will:
Inform you whether you need a visa
Send you a link to an online application webpage (if available)
Provide a PDF guide for additional visa-related info
DoNotPay Has Visa Guides for the Rest of Latin America
Your travels don't have to end with Ecuador! There's a lot more to explore if you wish to seek thrills at low prices. We have tourist visa guides for many South American countries in the table below:
Tips and Recommendations for Traveling to Ecuador
The Land of Eternal Spring has a lot to offer, but first-time visitors might have anxiety and worries about the unknown. Reading our travel tips from the table below should reduce your stress levels significantly!
Advice Regarding
Explanation
Country's background

The country is one of the biggest exporters of cacao, and it's considered to have the best chocolate in the world
The capital, Quito, is protected by UNESCO due to its magnificently preserved old town
The famous Galapagos Islands are part of Ecuador
Its climate, nature, and imagery are divine

Safety

Ecuador is safer than its neighboring countries. It has low violent crime rates, but caution is still advised, especially during nighttime

Finances

Ecuador's currency is the U.S. dollar. Make sure to have $20 or lower denominations with you because credit cards and higher value dollar bills are not accepted everywhere

Health

Immunization against yellow fever, hepatitis A, tetanus, and typhoid is advised when visiting South America. No vaccines are mandatory

Travel timing

Ecuador has optimal weather for vacations all year long, so you can pick any date for your trip. Note that the country is crowded during the summer and winter months
DoNotPay Is Committed to Solving All Kinds of Problems for You
Are you lost in the sea of administrative tasks? By subscribing to DoNotPay, you gain access to many products and features that can assist you in:
Check Out What Our Robot Lawyer Can Do for You
Not too skilled at drafting contracts and agreements? Keep calm and let DoNotPay, your virtual assistant, do it for you! Our app can generate various legal documents, including divorce settlement agreements, child travel consent forms, and powers of attorney. All it takes is to click a few times or answer several quick questions—we do all the rest!
Besides providing personalized documents, DoNotPay takes over other tiresome legal tasks. These include having your documents notarized, filing lawsuits in small claims court, requesting crime victims' compensation, or submitting HR complaints.