All the Essential Details About Easy Scholarships
Do you wish to graduate with minimal or no debt? It's no secret that education is expensive in the United States. To get your degree with no debt, you will need to utilize every kind of non-refundable financial aid that is available.
Scholarships and grants are the main sources of such type of funding—but the search and application process can be overwhelming. If you want to take a break from applying for demanding scholarships with too many requirements for a short while, you can consider easy scholarships.
This guide will explain what easy scholarships are and how you can apply successfully in five minutes only.
What Makes a Scholarship Easy?
Unlike most programs—like college scholarships that have numerous requirements and lengthy application procedures—easy scholarships are straightforward.
Here's how to recognize easy scholarships:
Few eligibility requirements—In most cases, you won't need a minimum GPA, personal statement, or recommendation letter to apply
Short essay or none at all—Most easy scholarships are no-essay scholarships, and if required, the essay needs to be short
Straightforward application process—You'll only need to fill out a web form with your personal details
Application available on a monthly basis—Most of the easy-to-apply-for scholarships are open and awarded every month, which also means they have short notification timelines
General education expenses coverage—They cover any education-related expenses, such as books or tuition, unlike many graduate scholarships, which are tailored for specific academic expenses only
Contest-like applications—The procedure for applying for easy scholarships sometimes involves a competition for prospective recipients to demonstrate relevant skills and talents
Why Apply for Easy Scholarships?
These are some of the reasons why you should apply for easy scholarships:
You may apply to multiple scholarships in a short amount of time
You can reapply every month
Your grades have no impact in most cases
What You Should Know Before You Start Applying for Quick and Easy Scholarships
Because easy scholarships are open to diverse groups and have few requirements, many students can apply. If a particular scholarship doesn't involve the submission of anything that can help you stand out, your chances of winning are unpredictable.
You also have no way of improving your chances of securing the award. When applying for scholarships for college freshmen, for example, you may improve your chances by learning how to write better scholarship essays.
Although there are many legit easy scholarships, some are scams. Certain easy scholarships are promoted by scammers who want to collect your personal information. Some may sell your information, and others can fill your inbox with spam emails.
Be extremely cautious if any of this information is requested:
Social Security number
Bank details
Credit card
Driver's license number
If you come across easy guaranteed scholarships, avoid them since authentic providers do not make such promises.
The Best Easy Scholarships You Should Take Advantage Of
These are some of the easiest scholarships to apply for:
| Scholarship Program | Scholarship Type | Details and Requirements |
| --- | --- | --- |
| AFSA High School Scholarship | Easy scholarships for high school seniors | You don't need a minimum GPA, financial need proof, or essays, but you may have to complete some simple tasks, like answering a short quiz |
| Because College Is Expensive Scholarship | Small scholarships for college students | Cedar Lending offers a $500 easy scholarship to current and prospective college/university students. Finalists are required to present their FAFSA information |
| Courage To Grow Scholarship | Short essay scholarships | You need a GPA of 2.5 or higher and an essay of up to 250 words on the provided topic |
| DoSomething.org Scholarships | Scholarships that are easy to win | You should be 25 years old or younger, and the only requirement is to take part in community service |
How To Find Easy Scholarships To Apply For
There are numerous easy scholarships that you can take advantage of. You just need to know where to look. You may have to combine different approaches, such as:
Asking past recipients
Searching the financial aid section of your current or prospective school's website
Visiting your guidance counselor
Searching various scholarship websites
Looking in nonprofit and for-profit organizations
Combining the different approaches can be time-consuming and overwhelming. Save yourself the headache and get a list of all the easy-to-win scholarships customized for you in a few minutes. Sign up for DoNotPay and never miss out on any scholarship opportunities.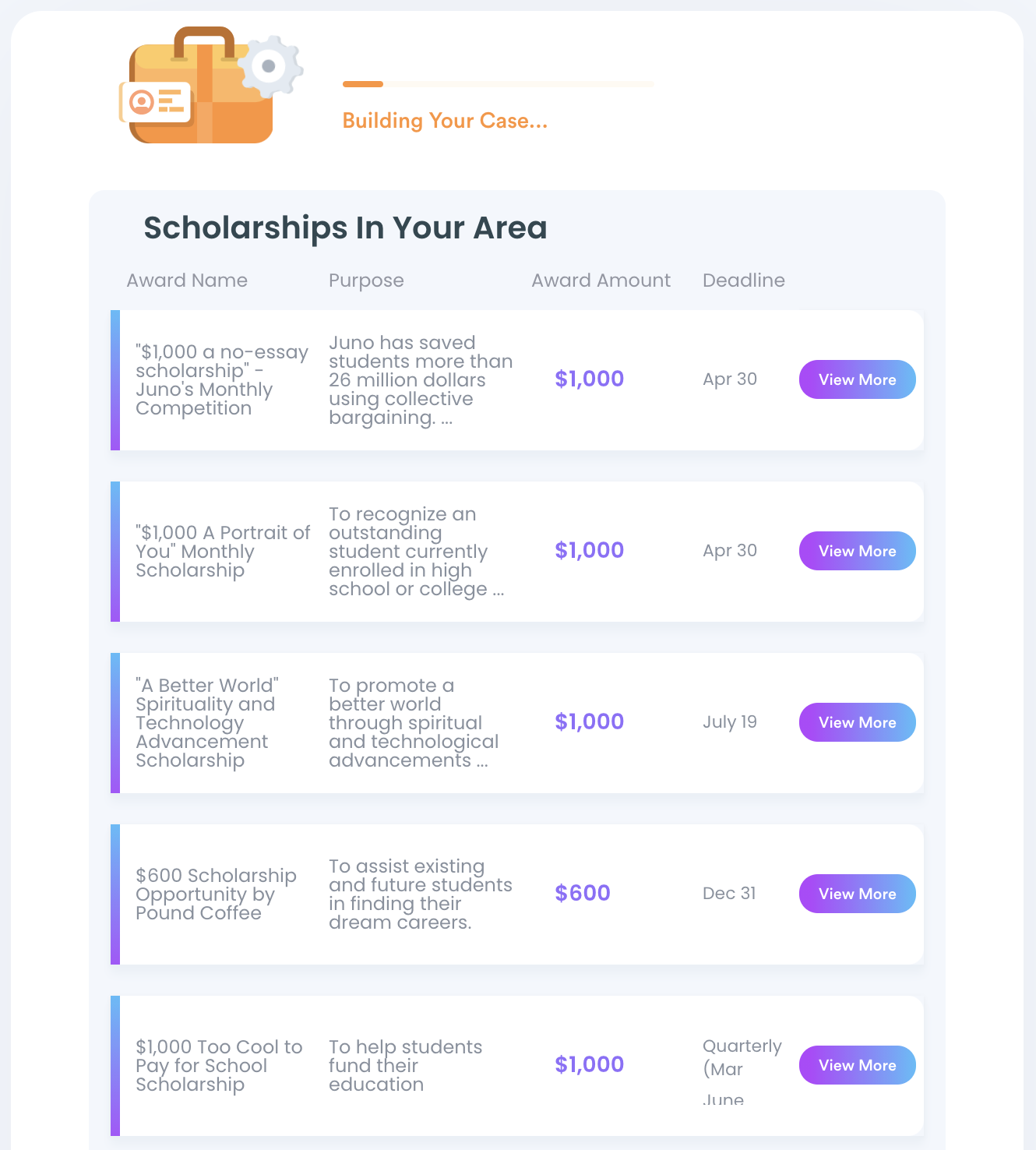 How To Get Easy Scholarships
With easy scholarships, it's important to cast a wide net. Applying for numerous scholarships that you tick the boxes for is the sure way of winning the perfect one. Remember, the competition can be tough.
You should use easy scholarships to supplement other funding opportunities. Don't forget to apply for scholarships that have more specific requirements, too. Do not underestimate your chances of winning an award that appears more difficult. You may be the best candidate since many scholarships target specific demographic groups, for example:
Search and Apply for Easy Scholarships With DoNotPay
Instead of visiting one website after another, DoNotPay has simplified the scholarship search process for you. All you have to do is sign up for DoNotPay and proceed as follows:
Open DoNotPay
Find the Apply for Scholarships tool
Provide some information to help the app curate the best list for you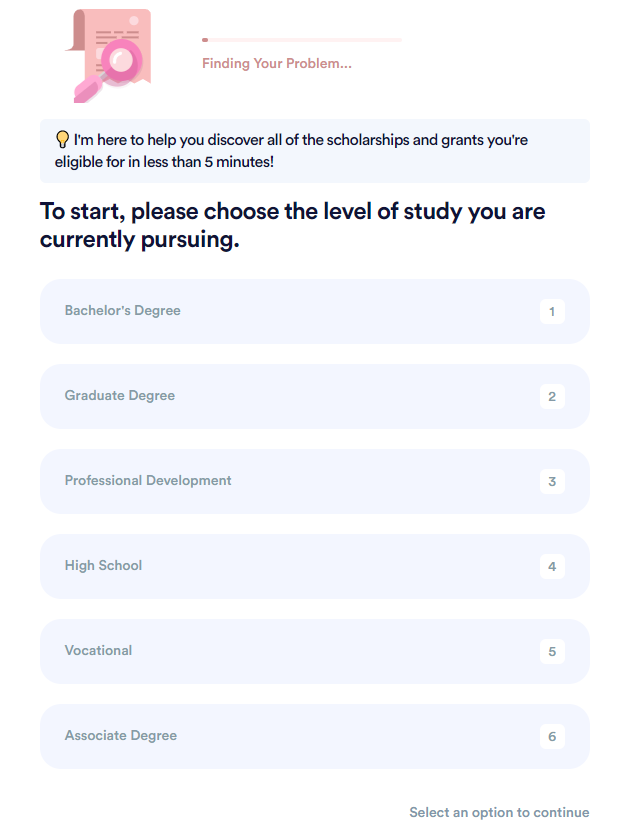 In a few minutes, you will have your personalized list of easy scholarships that you didn't know about. In the case of no-essay scholarships, the app can submit applications on your behalf instantly.
Is Bureaucracy Getting on Your Nerves? We Have a Solution!
We all know that dealing with bureaucracy isn't pleasant, and it often leads to overwhelming frustration. The good news is that DoNotPay has found a workaround! You can now do the following by using our app:
Let DoNotPay Make Your Legal Troubles Disappear!
Drafting contracts and other legal documents isn't a task you should handle on your own. Don't want to spend a fortune on lawyers? That is why DoNotPay—the world's first robot lawyer—is here to take the lead and help you out! Check out the list below to see some of the legal documents that our app can draft for you:
We don't stop there! Cut through the red tape and let DoNotPay assist you in taking anyone to small claims court, getting your documents notarized, submitting anonymous HR complaints, or requesting crime victims' compensation.