The Easiest State To Get a Divorce—Speed Up the Process
Getting a divorce doesn't have to take a lot of time, complicated paperwork, or a drawn-out filing procedure. If you get the right info and negotiate a friendly divorce with your spouse, you may be able to finalize everything in a few weeks.
Want to check whether the easiest state to get a divorce in is yours? We provide relevant information and offer assistance with the required divorce documentation.
What Is the Easiest State To Get Divorced In?
Most reports list the following eight U.S. states among the easiest ones to get divorced:
Idaho
Alaska
Maine
Nevada
Wyoming
Tennessee
South Dakota
New Hampshire
It's difficult to name a single state as the easiest one to get divorced in since different factors influence how easy or fast you can finalize a divorce, including the:
The Fastest Divorce State
The fastest divorce states are the ones where state laws don't require an obligatory period to pass between filing for divorce and the first hearing.
The following table provides more information about the fastest states to get a divorce in:
While waiting periods might suggest the length of your divorce, they're not the only criterion you should consider.
Online court forms also speed up and reduce the cost of the process as they can help you handle the process:
Independently or through mediation
What About Other States?
To learn about specific divorce procedures, necessary forms, filing fees, and waiting periods in other U.S. states, you should check out the following table:
How To Get a Quickie Divorce—Go for an Uncontested Divorce
The easiest, fastest, and most affordable type of divorce is an uncontested divorce. You can file for this divorce if you and your spouse have reached an out-of-court agreement on all divorce matters, such as:
A no-fault, uncontested, and amicable divorce can save you time, money, and nerves as you can easily skip:
Going to trial—Some states might still require you to go to court for at least one hearing
Asking for help with complicated paperwork—Many U.S. state courts offer online divorce forms you could complete and file on your own
Spending a lot of money on services—You don't need to hire a lawyer if you and your spouse agree on everything
Instead of visiting a law office, you can state all the agreed matters in a divorce settlement agreement and present it to the court for review.
Different Ways To Prepare a Divorce Settlement Agreement
As you need to file your divorce settlement agreement with the court for approval, you must ensure the document complies with state and county regulations. Once the judge signs the agreement, it becomes legally binding.
You can opt for the following options to draw up a divorce settlement agreement:
How To Create a Divorce Settlement Agreement
Brief Explanation
Write it yourself
Make sure you're familiar with state and local laws to prevent the court from rejecting the document
Use online material
While online templates can be helpful, keep in mind that some:

Are too generic
Don't include your state regulations
Might not be suitable for your specific situation

Visit a lawyer
Experienced lawyers can prepare all divorce documentation for you, but you should consider their fees. As most attorneys charge per hour, you might end up paying more than what you had in mind
Our AI-powered app:

Ensures your needs and wishes meet all relevant laws
Generates a divorce settlement agreement in a flash
Helps you get the document notarized
You Won't Lose Your Way With DoNotPay
DoNotPay is a reliable yet affordable service you can use 24/7 and get a rock-solid divorce settlement agreement.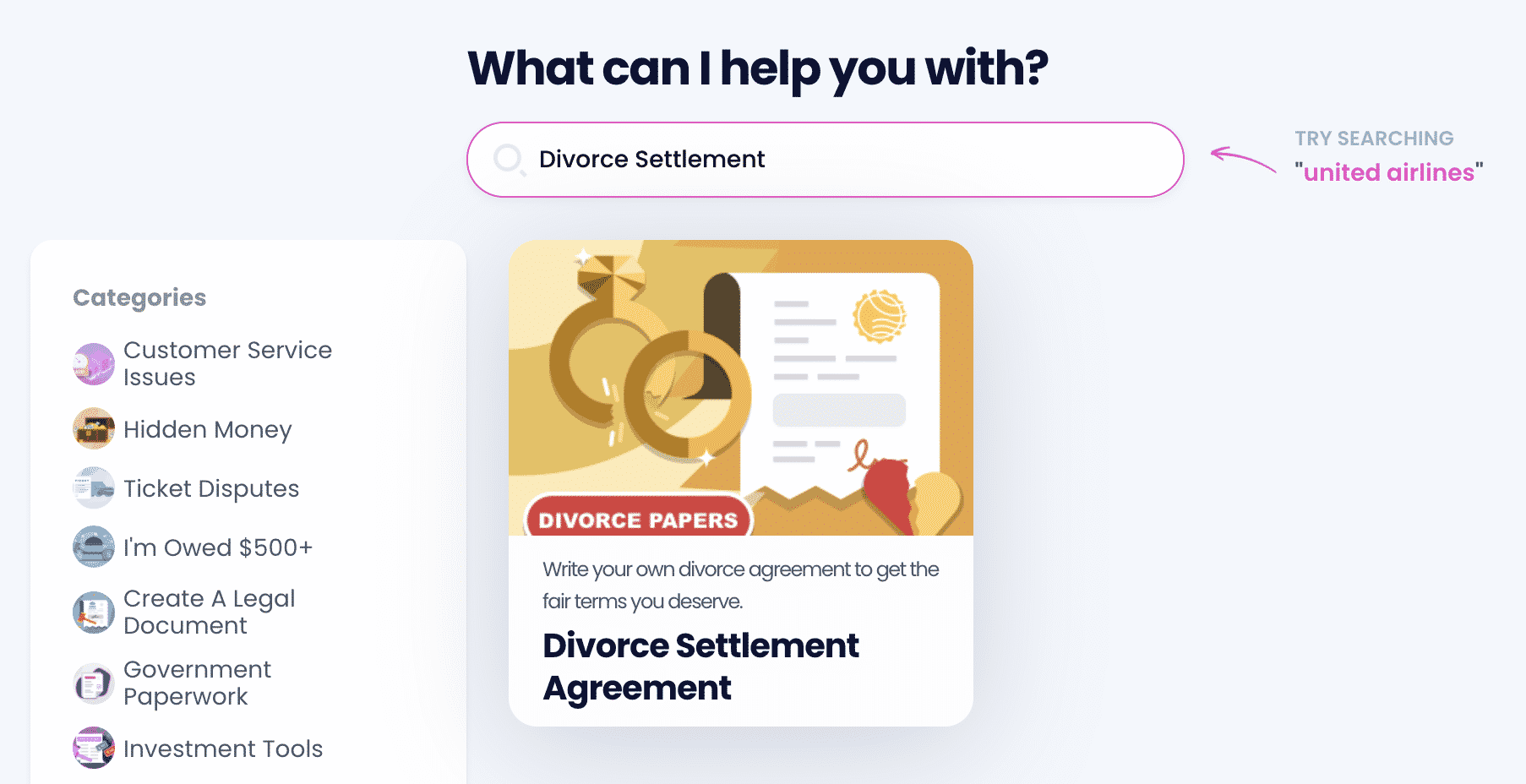 and take these steps:
Search for the Divorce Settlement Agreement product
Answer our chatbot's questions to provide information about your income, property, and debts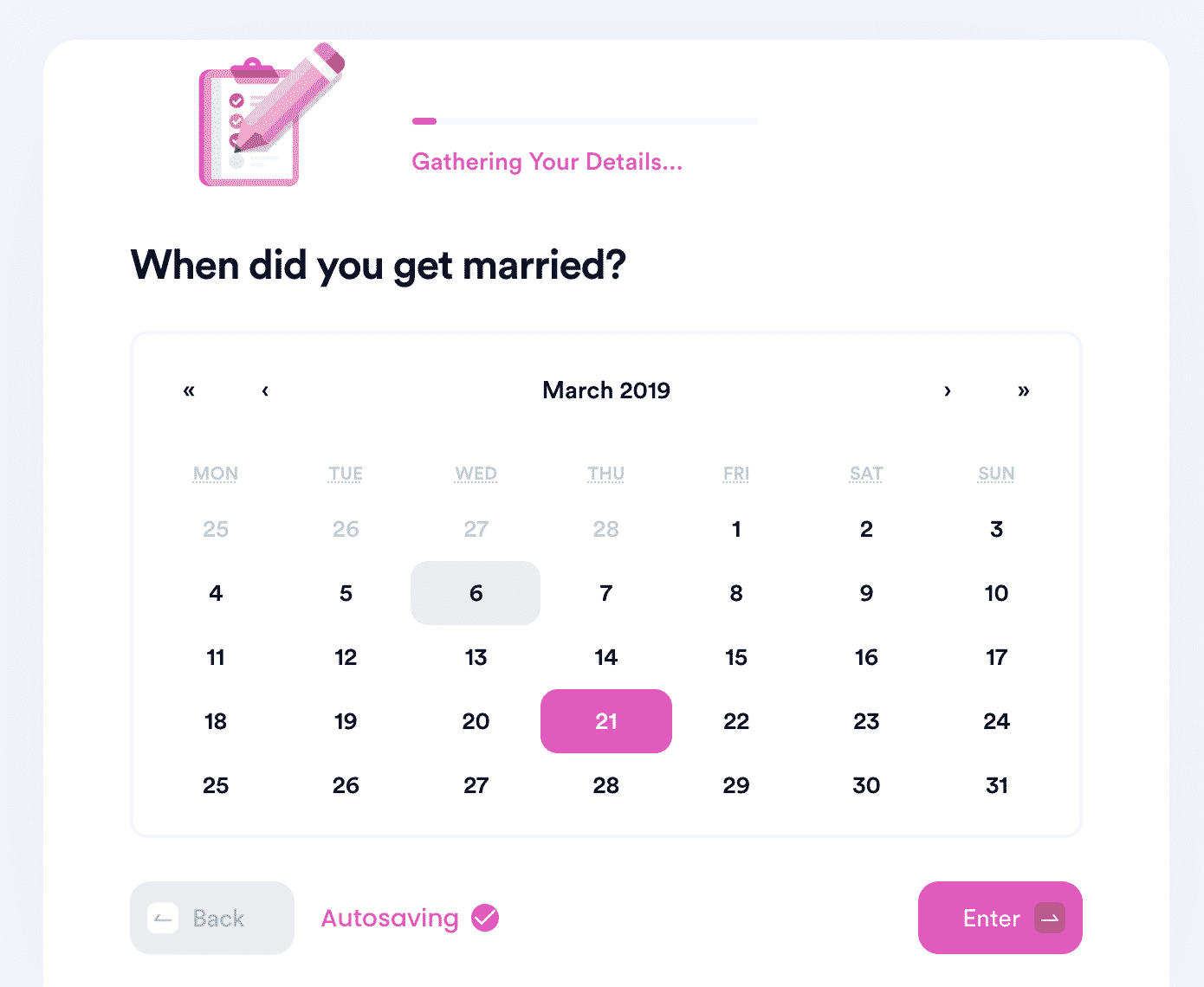 We use the provided data to generate a document tailored to your specific circumstances.
If you'd like to get more information about divorce-related issues, you should browse through our website. We publish lots of useful guides, including the following:
DoNotPay Helps You Tackle All Kinds of Problems From the Comfort of Your Home
Are you too busy to go to Target, Walmart, or photo studios to get your passport photos taken? DoNotPay offers you the possibility of taking them yourself and having them edited without going anywhere!
Thanks to our app, you don't need to visit the post office if you want to initiate a return. You can also skip going to a notary office because we'll help you get your documents notarized.
Here are some other tasks you can complete with ease using DoNotPay:
We Help You Get Fuss-Free Subscriptions to Any Service
Interested in a specific service or platform? Make sure to get the best out of your free trial without getting charged and ending up with an unwanted paid membership. Even if you make a mistake, DoNotPay can end your subscription in a few simple steps!
Our system allows you to generate virtual credit card numbers to prevent platforms from getting your real bank details and using them for unauthorized transactions. We also offer burner phone numbers that will help you go through any subscription or verification procedure without disclosing personal details.