How to Create an Easement Agreement Instantly
An easement agreement is a contract that lets somebody use your property for a specific purpose and for a limited time without you giving them ownership.
If you need an easement agreement, you are in the right place. DoNotPay is an expert at creating legal documents and providing contract templates. Our app can help you create an easement agreement that covers your needs.
What Is an Easement Agreement?
An easement agreement is a contract between you—the owner—and another party that allows them to use your property for a defined purpose.
There are several different types of easement agreements:
Agreement Type
Explanation

Private easement

This allows a private individual to use your property or a part of it for something they need. The needs could include:

Permission to lay drainage pipes under your property

Access to a well on your property to draw water

Utility easement

If a utility company has to run cables or pipes across your land to service other properties, you may need to agree to an easement to give them permission

Prescriptive easement

If your land has been used for access over a long period, you may be subject to a prescriptive easement, meaning that you must continue to grant access for a set period, normally ten or twenty years in most states

Easement by necessity

This is a type of access easement that allows people to cross your property to access another piece of land for a legitimate purpose. Federal law insists that everyone have access to their homes, so your state will recognize this type of easement
An easement agreement may involve payment in exchange for the right of access—particularly in the case of private easements.
What Needs To Be in an Easement Agreement?
An easement agreement does not need to be a complicated document, but it must contain the following:
Names and details of the parties

Description of the property parcels

Definition of the easement area

Explanation of the easement

Fee(s) payable

Summary of the rights granted

Term of the easement

Right of transfer

Definition of exclusivity

Maintenance responsibilities
Names and Details of the Parties
You should note the full names of both parties, together with their addresses and contact details.
Description of the Property Parcels
The parcels of land concerned are defined as:
The dominant parcel

—the parcel that benefits from the easement

The servient parcel

—the parcel granting the easement
Each parcel should be described fully to make its boundaries clear and exact. In each case, you can use the description of the parcel on the title deed.
Definition of the Easement Area
You must describe the piece of the servient property as exactly as possible to make it clear which area is subject to the easement.
Explanation of the Easement
The easement should be described clearly, with any limitations or stipulations included. This limits the purposes for which the easement can be used and makes sure the servient property is not abused.
Fee Payable
You can negotiate a fee payable for the granting of the easement. The fee can be a one-off payment or a monthly or annual amount, but this must be set out.
Summary of the Rights Granted
The agreement must say exactly what easement is being granted so that it is clear and unambiguous.
Term of the Easement
An easement can be granted:
In perpetuity

For a defined period (weeks, months, or years)

Until a certain event happens (the death of the grantee or grantor, as an example)
Right of Transfer
This defines whether the easement can be transferred to another party or must be renegotiated if the grantee changes (due to selling their property, transferring it to someone else, or passing away).
Definition of Exclusivity
The agreement should make it clear whether the grantee is the only person allowed to benefit from the easement or other parties may also be included.
Maintenance Responsibilities
The grantor and grantee should agree on who is responsible for maintaining the easement area.
Can You Write an Easement Agreement Yourself?
Many utility companies have easement agreement templates that you can use for utility easements.
Private easement agreements are simple documents that you can write on your own without having to use an expensive lawyer. If you follow our guidelines, your document should cover your needs.
Remember that both parties need to sign the agreement and have it notarized to make it legally binding.
How Can DoNotPay Help You With Legal Documents?
We know that not everybody knows how to write a contract, so we have developed a series of legal documents that you can customize to your requirements.
You can get the document you need by following these steps:
Search for the legal document you need

Fill in the details you need

Wait while we create your document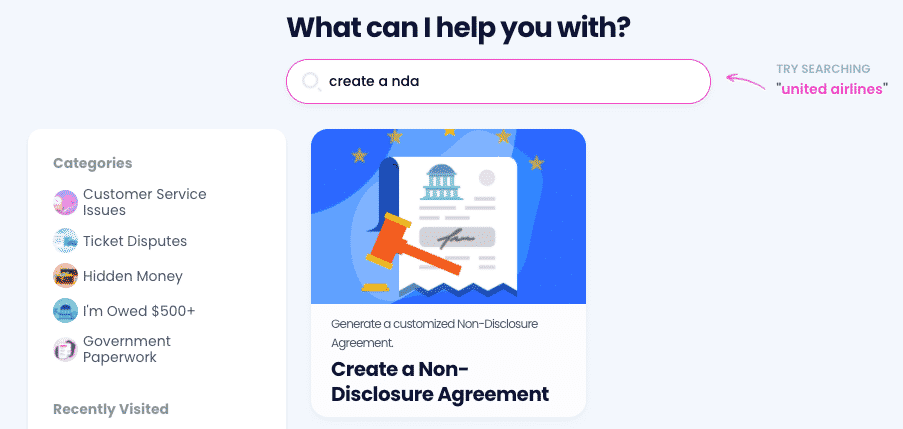 What Legal Documents Can DoNotPay Offer?
We are growing our range of legal documents all the time. Here are a few examples of what we can offer:
Property:
Estoppel certificate

Quitclaim deed

Intent to purchase real estate
Personal:
General affidavit

Promissory note
Business:
General business contract
Falling for Scams Is Less Likely With DoNotPay
Thanks to AI technology, DoNotPay is a great resource for protecting your privacy and finances from potential scammers. Our bots can help you report robocalls, keep your inbox clean from spam email and shady text messages, or even deal with stalking and harassment, if it comes to that. 
In case the issues escalate, skip the expensive lawyers and sue the offenders in small claims court with ease. 
Another great way to increase your online security is to use our virtual credit cards and sign up for any free trial without risking unwanted charges. You can even avoid sharing your contact info with our Burner Phone feature. 
The Solution to Your Driving Woes
DoNotPay provides invaluable help to future and current drivers. By helping you ace that driver's license test, scheduling a DMV appointment the easy way, or contesting parking tickets, our app saves you money and time. 
If you need to file a car warranty or an insurance claim, we will help you deal with the necessary paperwork within minutes. Trying to get out of a car wash membership? DoNotPay can cancel it in an instant. 
Our platform works above ground as well. You can use DoNotPay to secure refunds from airline companies or compensation for delayed and canceled flights.