Start Your Dyper Free Trial With a Virtual Credit Card

Whether you're a first-time parent or you already have a house full of children, you want to make sure that any child in diapers has a comfortable option that keeps them dry. While you wait for that magical day when they use the big-person potty, you know that you need to continue buying diapers. This can mean running out to the store at all times of the night or day or signing up for one of the popular diaper services and having them delivered on a schedule.
If you're considering one of the diaper services for the convenience, you might be thinking about signing up for Dyper free trial, which is a sample pack of diapers in your child's size, but you're worried that you might forget to cancel the subscription if you don't like them and receive charges on your credit card.
As a busy parent, it's easy to forget the cancellation date and find yourself with a bill for diapers that you don't want anymore. There has to be an easier way to try the service and protect your information. DoNotPay has the solution.
Does Dyper Offer a Free Trial?
While Dyper doesn't offer a traditional type of free trial, the company will send you a sample pack of their product for you to try, and if you like the diapers, the sample turns into a subscription. There is some information that you'll need to provide to get your free samples, including:
Your name and address
The age, gender, and diaper size of the child
Your credit card information
How Can I Get a Dyper Free Trial?
In order to get your Dyper free sample, you'll need to follow a few steps. These include:
Go to the Dyper sample web page.
Click the Order Now button.
Register by creating an account with your email address and a password.
Provide your baby's name and select diaper size from the drop-down menu.
Provide your name and mailing address.
Provide payment information for the subscription.
Process the order.
You'll need to pay the $6 shipping fee for your free samples. 
Does the Dyper Free Trial Automatically Renew Into a Paid Subscription?
Yes, the Dyper free sample does automatically become a paid subscription unless you cancel by the correct date. 
If you don't want your credit card charged for a diaper service that you forgot to cancel, you need to take steps to protect your information. DoNotPay can help you avoid future charges.
Avoid Automatic Renewal With DoNotPay Virtual Credit Card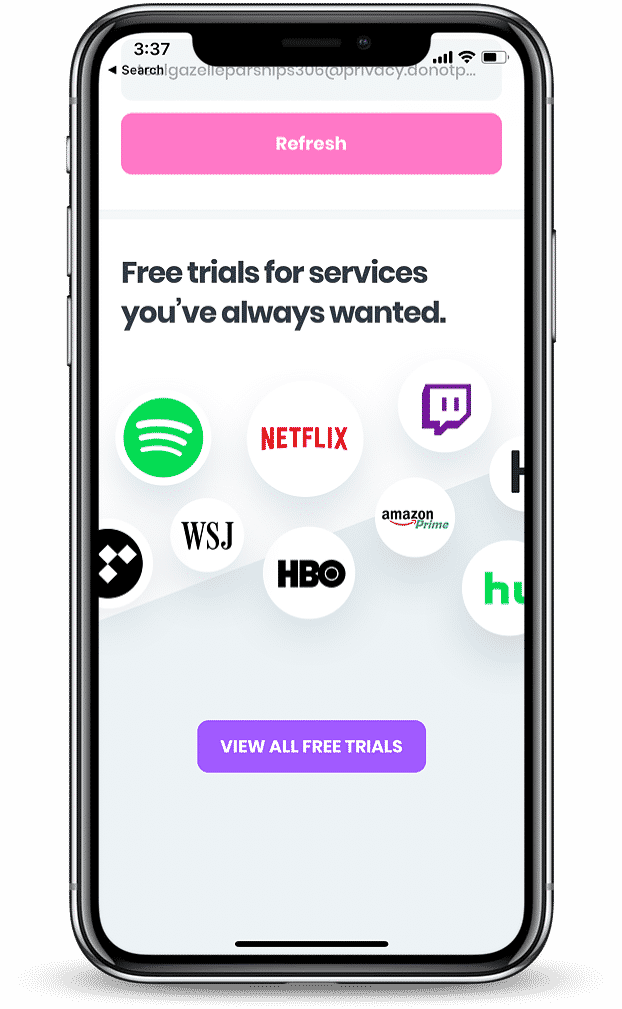 When you decide to use a virtual credit card as your form of payment for the Dyper samples, you ensure that you won't see future charges if you forget to cancel the subscription by the correct date. DoNotPay can help you create a virtual credit card and enjoy the three main benefits of using it:
The app makes it easy for you to choose the business that can use the virtual credit card, creating more protection
No one can see your real credit card information, so it's protected against hackers
As you create the virtual credit card, you control the amount of money available for charges
How Much Does Dyper Cost After the Trial?
When you decide to continue your Dyper subscription after receiving and using your samples, you'll get a shipment of diapers on the schedule you choose, and you'll $89 for a box of diapers designed to last around four weeks. If you have multiple children in diapers, you might need more than a single subscription.
You also need to keep up with the changes in your child's diaper size to ensure that Dyper is sending you the right one. The number of diapers included in each box will vary by the size of diapers you requested.
Monthly Subscription Fee
$89 for a box of diapers

(A box usually good for 4 weeks)

Options for Frequency of Delivery

Every 2 Weeks
Every 4 weeks
Every 6 Weeks
Every 8 Weeks

Available Sizes

Size N / Newborn (< 10 lb): 204 diapers/delivery
Size 1 / X Small (8-14 lb): 216 diapers/delivery
Size 2 / Small (12-18 lb): 192 diapers/delivery
Size 3 / Medium (16-28 lb): 168 diapers/delivery
Size 4 / Large (22-37 lb): 144 diapers/delivery
Size 5 / XLarge (> 27 lb): 120 diapers/delivery
Size 6 / XXLarge (> 35 lb): 108 diapers/delivery
What Will Dyper's Charges Look Like on My Statement?
If you decide to continue with your Dyper subscription after the free sample, you'll see a charge in the name of Dyper for $89 each time you receive a shipment of diapers from them. Of course, how often you see this charge on your credit card statement depends on the period of time that you choose between shipments of diapers. This time period can be as little as two weeks or as long as eight weeks.
What Are the Most Popular Alternatives to Dyper?
While you do need diapers for your child, you might decide that Dyper isn't the right option for you. There are many companies that offer subscription services for diapers, and the most popular alternatives to Dyper include:
The Honest Company
Hello Bello
Parasol
Abby & Finn
Happy Little Camper
What Else Can DoNotPay Do?

DoNotPay can help you with almost anything! Here are some services:
Create a virtual credit card to sign up for the Dyper free sample with the help of DoNotPay today!