More Power To Whom? Durable Power of Attorney Explained
In these uncertain times, especially amidst the COVID-19 pandemic, you can't be sure you'll always be mentally and physically capable of making the best decisions for yourself. That's why creating a power of attorney is crucial. It ensures your health, finances, and many other aspects of your life will be taken care of according to your wishes.
Are you interested in drawing up a durable power of attorney? You need to know all the specifics of this legal document first. DoNotPay will provide all necessary information and help you by creating the power of attorney letter in your stead!
A Power of Attorney Definition
A power of attorney (POA) is a legal document that authorizes an individual to perform different actions on another person's behalf, including:
Do financial transactions
Sign legal documents
Make health care decisions
The person granting a power of attorney is called a principal, and the person authorized to make the decisions is called an agent or attorney-in-fact.
Powers of attorney are not created only for situations when a person is incapable of making decisions for themselves. A principal can designate an agent to handle, for example, a legal transaction on their behalf if they have more experience or the principal isn't physically present.
Depending on the contract duration and scope, you can choose between these main types of power of attorney:
Durable
Special or limited
What Is a Durable Power of Attorney?
If you are afraid of becoming incapacitated in any way, finding a person who will take care of your affairs and protect your interests is crucial.
That's where a durable power of attorney can help. It serves to give an appointed third party permission to make decisions for you if you're unable to do it for yourself.
A durable power of attorney can prevent many potentially unpleasant situations from happening—including having a judge declare you incompetent in court and handing the control over your affairs to a social worker or an attorney.
The most important aspect of creating a durable power of attorney are:
Choosing a trusted and reliable individual to appoint as an agent—They don't need legal experience or any particular credentials. It can be a friend, relative, or even your adult child
Making a list of a few potential agents—You need to have a backup plan in case your first choice refuses to take on the responsibility
A durable power of attorney can be broad or limit the agent's powers to specific acts. If you suspect a person is abusing their authority as your agent, you can revoke the power of attorney at any time—as long as you're mentally competent.
What Is the Difference Between a General Power of Attorney and a Durable Power of Attorney?
The main difference between a general and a durable power of attorney is the duration.
While a general power of attorney can authorize the agent to make decisions in a broad range of areas, those privileges expire once the principal becomes incapacitated. A durable power of attorney will either become effective or continue to be in effect after the principal becomes incompetent. It doesn't have a set duration and typically expires only after the principal:
Dies
Takes measures to revoke the power they've granted to their agent
In some cases, the court can terminate a durable power of attorney. That can happen when, for example, the principal and agent get divorced and fail to update their documents.
Also, some states consider any power of attorney durable unless the contract specifies otherwise.
Durable Power of Attorney Example
To create a valid durable power of attorney, you have to satisfy your state's legal requirements.
Take a look at the table below to learn which steps are typically required to create a lawful durable power of attorney:
Steps
Details
Identify the signing parties
This section must define the signers as the principal and the agent and include their:

Names
Addresses
Phone numbers
Email addresses
Mutual relationship

Delegate the powers
The principal must clearly state which powers they are giving to the agent
Determine the duration
The contract needs to contain legal language indicating that the power of attorney extends to when the principal becomes incapacitated
Get the document notarized
In most states, any power of attorney needs to be notarized to be considered legally valid. Even if your state doesn't require notarization, you should still do it for extra protection
Record the signing
While recording the POA is not a legal requirement in all states, it's standard practice among real estate planners
File the document
Some states require the signers to file specific durable powers of attorney with the court or government office to make them legally valid
Let DoNotPay Create Your Durable POA in Minutes
A durable power of attorney is one of the most important legal documents you'll ever have to create. You don't want to risk omitting a crucial section—any mistake can have considerable consequences for your future health, finances, or property management. Since lawyers are too expensive, DoNotpay has created a practical and affordable solution to your problems.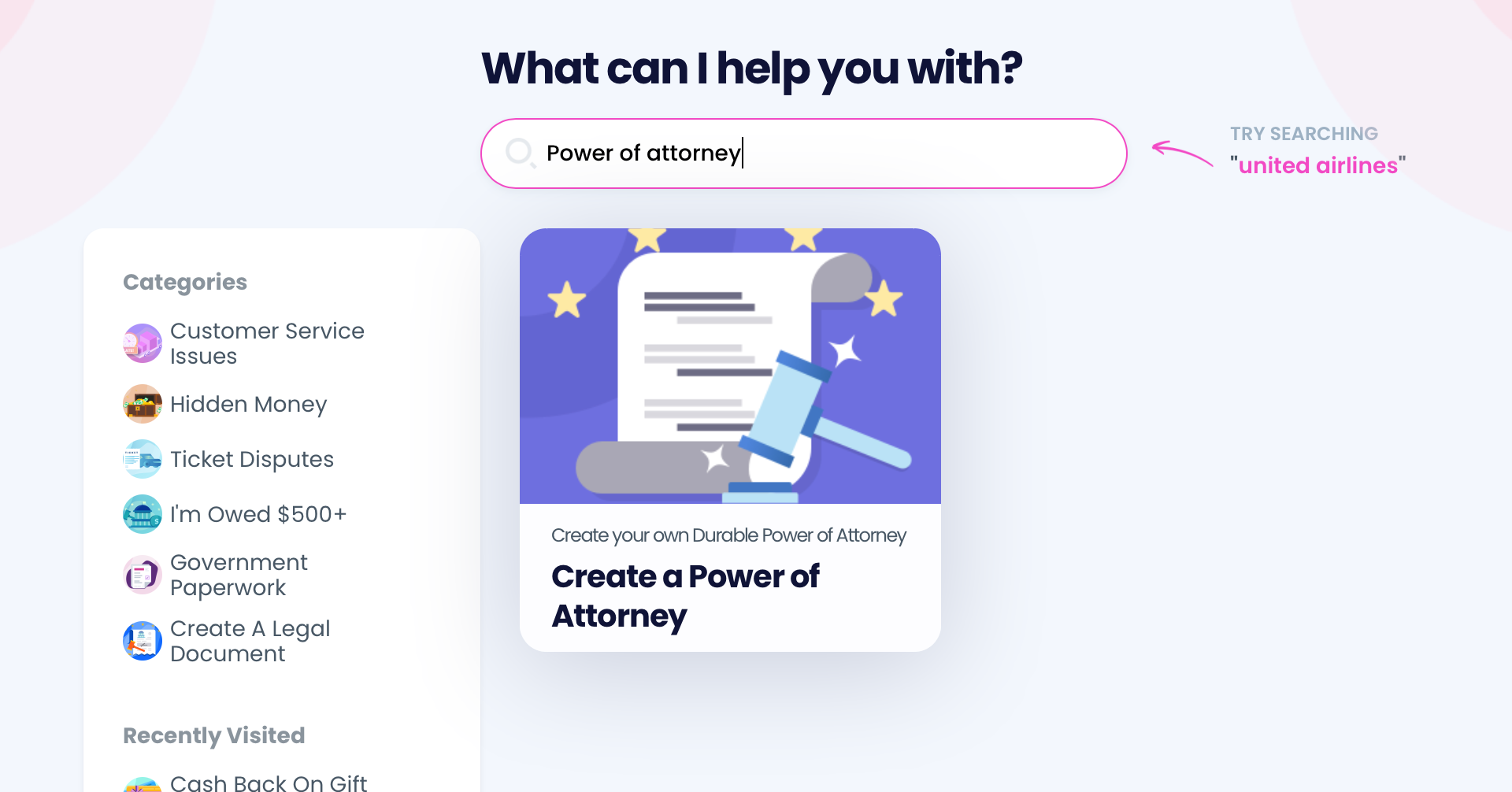 Our Create a Power of Attorney product enables you to tailor a document according to your state laws and personal requirements. All you have to do after you sign up for DoNotPay is:
Find the Power of Attorney product
Answer specific questions regarding your agent, the powers you're granting them, and your state of residence
We will instantly generate your personalized POA, along with two notices you and your agent should read before signing. Since the notarization of POA is always welcome—if not necessary—you can choose to have the document notarized with our help. Once you select the appropriate option, we will connect you to an online notary, so you can complete the process without leaving your house!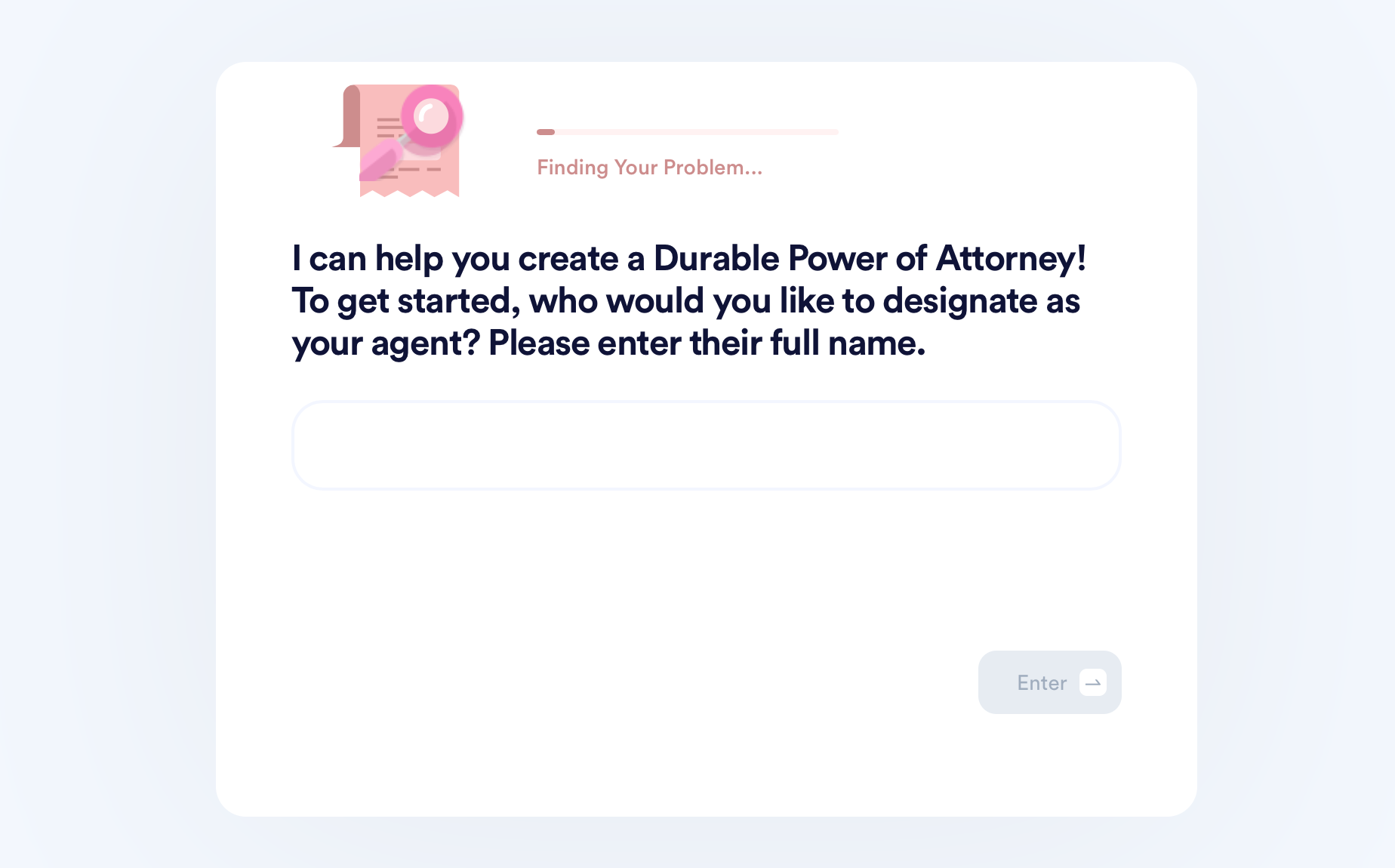 DoNotPay Covers All the Bases
From getting you ready for various government tests to helping you reduce your property taxes, DoNotPay offers valuable assistance with the tasks that make most people at least roll their eyes. Dealing with bureaucracy isn't fun, but it also doesn't have to be as difficult as it is.
Every product in DoNotPay's portfolio is designed to efficiently deal with a specific issue within a few minutes and without sacrificing your comfort. Take a look at the tasks our app can make much more simple:
A Little More Money Never Hurt Anybody
Hardly anyone would turn down a chance to earn some more cash. That's why DoNotPay not only protects your rights and interests but also offers great opportunities to improve your financial situation.
With our help, you can find paid clinical trials, locate your missing money in any state, get your cash back from used gift cards, or enter various raffles and win great prizes.