Getting a Durable Power of Attorney in WV is a Piece of Cake With DoNotPay
Getting a durable power of attorney (POA) document in West Virginia can be a tedious and expensive process as it requires you to find a template or hire a lawyer. DoNotPay is here to make it easy for you and turn the process into a breeze!
Our article will help you understand the durable power of attorney in WV better and show you how to get one in a jiffy.
What Is a West Virginia Power of Attorney?
A power of attorney is an agreement between two people:
The principal—this party designates another person (the agent) to make decisions in their stead when they're unable to do so themselves
The agent—this party, also called the attorney-in-fact, receives specific powers to act in the principal's name
POA documents in West Virginia can be:
Durable
Springing
Durable Power of Attorney
A durable power of attorney is triggered upon the execution of the document and remains in effect even after the principal is incapacitated.
Springing Power of Attorney
A springing power of attorney comes into effect when one or more physicians determine and certify that the principal is mentally or physically incapable of making financial decisions.
When Is a West Virginia Power of Attorney Terminated?
A power of attorney agreement in West Virginia is terminated when:
The principal dies or becomes incapacitated (in case the POA is not durable)
The principal cancels the power of attorney
The purpose of the POA is accomplished
The agent dies, becomes incapacitated, or resigns, and there's no substitute agent
What Duties Does a West Virginia Attorney-in-Fact Have?
Once the agent signs the power of attorney agreement, they have to:
Act in accordance with the principal's expectations and in their best interest
Act in good faith and within the scope of the granted authority
Keep a record of the principal's receipts, disbursements, and transactions
Cooperate with the party that has the power to make health care decisions regarding the principal
Preserve the principal's estate plan
Act with care, competence, and diligence that's usually exercised by agents in similar circumstances
How To Get a Durable Power of Attorney in WV
You have four options for getting a durable POA in West Virginia:
Draw up a POA on your own
Download an online template
Hire a lawyer
Draw up a POA on Your Own
If you want to write a power of attorney letter yourself, you will have to include the following sections:
| | |
| --- | --- |
| Section | Details |
| Agent name | You need to choose someone that's reliable and trustworthy to act as your agent |
| Powers transferred | Specify the powers and duties your attorney-in-fact will have |
| Important dates | Add the dates so it's clear when the document was executed, when it will come into effect, and when it will be terminated |
| Signatures and notary stamp | Sign the document along with the agent in the presence of a notary. State laws of West Virginia require a POA to be notarized to be valid |
Download an Online Template
In case you don't want to write a POA on your own, you can also download a template from one of the various websites that offer them. Keep in mind that not every template will suit your needs and that some of them have grammatical errors, so you need to be extra careful when looking for one.
Hire a Lawyer
You can hire a lawyer to create a power of attorney document for you as they know the ins and outs of the West Virginia state laws. Keep in mind that although the attorney services are reliable, they also come with a price as the fees are sky-high.
Use DoNotPay and Get a Personalized Durable Power of Attorney in WV Fast and Easily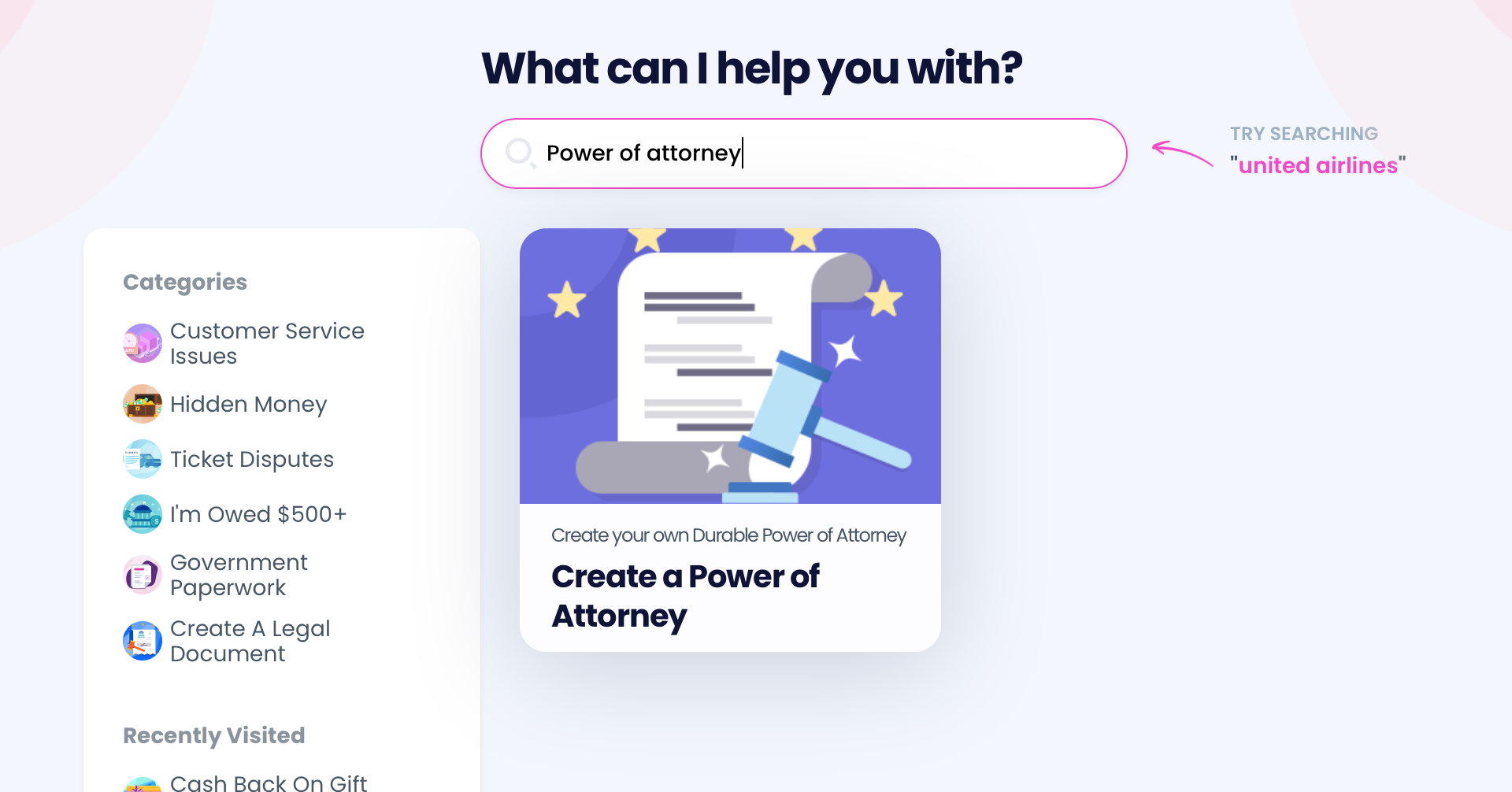 Want a professional POA that's customized according to your needs? DoNotPay will draft one for you in a snap! Using our Create a Power of Attorney product is the simplest and most reliable way of getting a POA. Here's how it works:
Select our Create a Power of Attorney product
Enter the necessary details
Select the powers you want to be incorporated in the document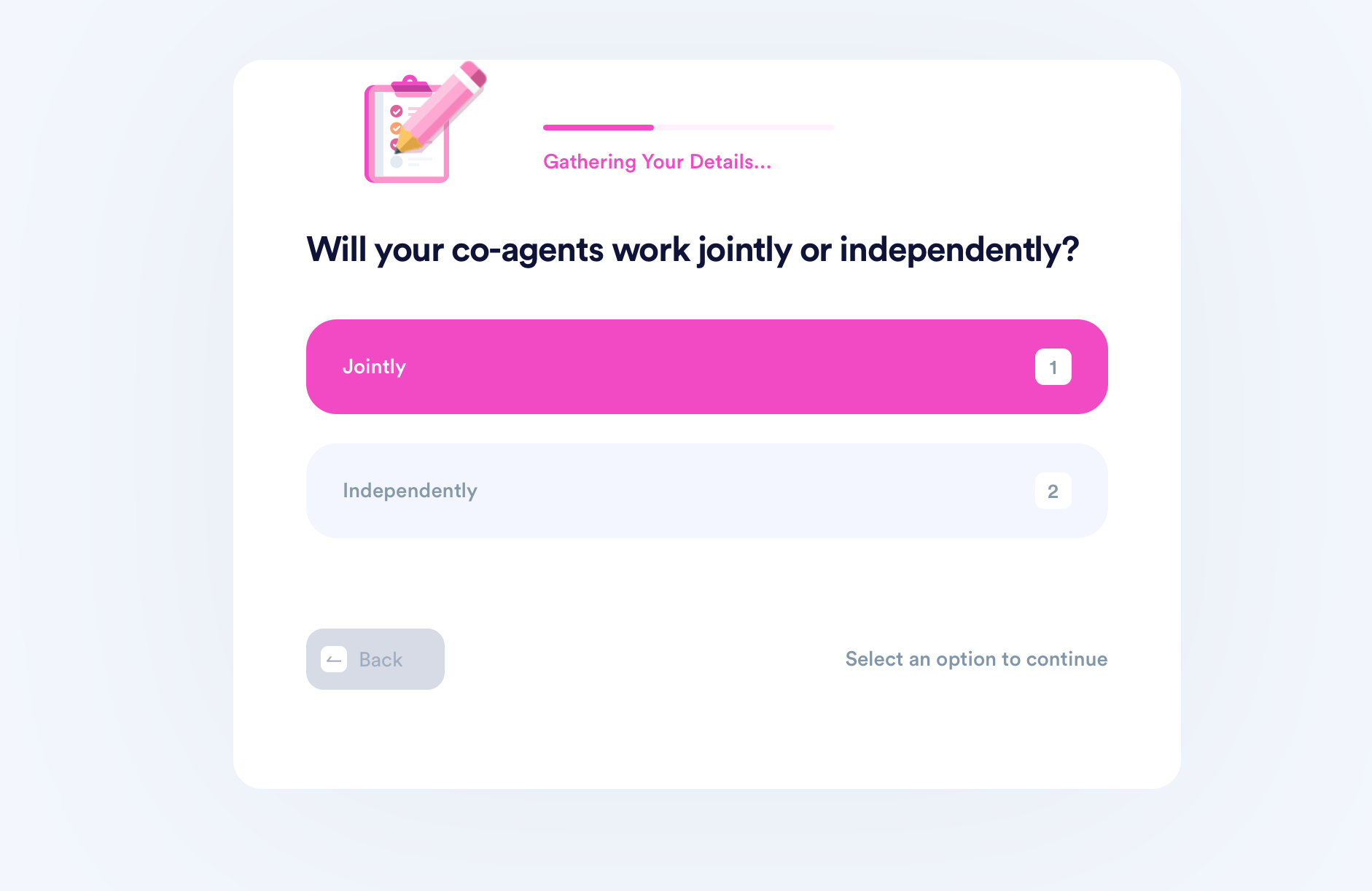 Once we process your request, DoNotPay will automatically generate a POA for you, including two notices which all signing parties need to carefully go through.
DoNotPay can also help you with handy articles on other types of power of attorney documents, such as:
Notarizing Your POA Doesn't Have To Be a Hassle When You Use DoNotPay
Although you have to get your power of attorney notarized for it to be valid in West Virginia, that doesn't mean that you'll have to do it the old-fashioned way—scheduling appointments, visiting notary offices, and wasting your time. DoNotPay is here to make things easy for you and help you get your power of attorney letter notarized from the comfort of your home. We'll set up an appointment with an online notary, and you'll be able to have your POA notarized via an audio-video call.
DoNotPay—Quality and Quantity
Our platform provides a multitude of useful tools, products, and services that anyone can benefit from. DoNotPay is a proper virtual assistant that can minimize your paperwork, protect your consumer rights, increase your productivity, or keep you safe online.
The best part is that we keep adding more awesome features all the time—all available for a small subscription price. Take a peek at a small part of our portfolio in the table below:
| | | |
| --- | --- | --- |
| Online Safety | Customer Protection | Administration Shortcuts |
| | | |
It Gets Even Better!
With your DoNotPay subscription, not only do you get a powerful weapon to fight boring and annoying daily tasks, but you also get a great resource for earning more money.
You can use our platform to enter free raffles, secure compensation for fighting robocalls, get your cash back from used gift cards, or find unclaimed money under your name, no matter the state.