The Ins and Outs of a Durable Power of Attorney in Texas
If you plan to create a power of attorney (POA), you need to be aware of all the important rules and requirements that accompany this document. Handling this task on your own can be a complex and time-consuming ordeal, but DoNotPay can help! Our app will generate a durable power of attorney in Texas or any other state for you!
What Constitutes a Durable Power of Attorney in Texas?
A durable power of attorney is a legal document that provides an individual with the legal power to act on someone else's behalf even when they are incapacitated. The person chosen to receive the powers is called the agent or attorney-in-fact, and the individual who makes someone else their agent is called the principal.
Who Can Act as a POA Agent in Texas?
Before creating a POA, the principal must decide who their agent will be. This is the hardest part of the process because the attorney-in-fact will be responsible for some crucial decisions once the document is signed. The agent should be a loyal, reliable, and trustworthy individual.
People usually pick a spouse, close friend, or adult child for this role.
What Are the Legal Requirements for a Power of Attorney in Texas?
If you want to create a power of attorney that is valid in the Lone Star state, make sure the document meets the following list of requirements:
The POA needs to be signed before a notary public
Parties involved need to be 18 years of age or older
Parties must be of sound mind during the signing of the power of attorney
The POA must be filed with the clerk of each county where the property is located. This part is crucial if the POA allows your agent to conduct real estate transactions in your stead
The document must be in writing
The POA should clearly name the person who is going to be the agent
The document needs to specify how the power of attorney is to be used
In What Instances Does a Durable Power of Attorney in Texas End?
The POA you create in Texas can end for several reasons. The document will no longer be valid if:
The principal decides to revoke the document
The agent is the principal's spouse and they get divorced
The principal proposes an end date in their POA
One of the parties passes away
If it's not a durable power of attorney, the document can also get terminated once the principal becomes incapacitated.
Create a Texas Durable Power of Attorney With DoNotPay's Help
The easiest way to make a durable POA in Texas is with DoNotPay's assistance! Our app will make sure the document contains all the crucial information and will tailor it to your specific needs! You only need to heed these instructions:
Sign up for DoNotPay in your favorite web browser
Enter Power of Attorney in the search bar
Inform us what powers you want to include in your POA
DoNotPay will also provide you with two additional notices with information that you and your agent will find useful! Before signing your POA, make sure you read them carefully.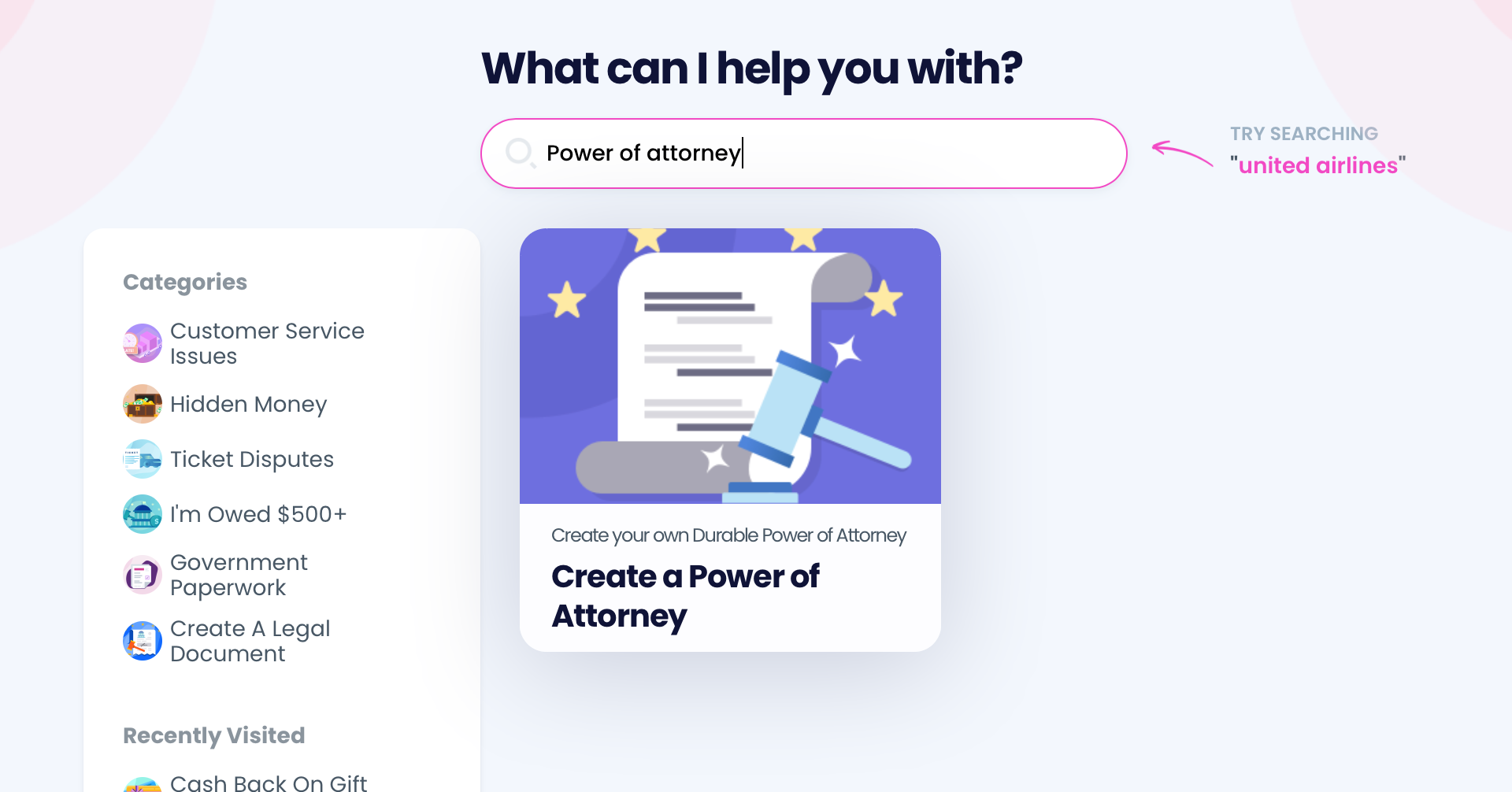 Need To Notarize a Durable POA in Texas? DoNotPay Can Help!
DoNotPay offers you the option to get your power of attorney notarized after you create it with our help! You only need to tell us that you want to schedule an appointment with an online notary when filling out the short POA questionnaire! We will find a notary who is up for the task in no time!
DoNotPay Has Info About Other POA Types
You can draw up several power of attorney types, and DoNotPay can help you with the process as soon as you sign up! Take a look at the table below to see more details:
| | |
| --- | --- |
| Power of Attorney Type | Brief Explanation |
| Springing POA | The agent gets legal authority only once the principal becomes incapacitated, not before that |
| General POA | People use this POA type when they can't handle some business matters on their own because they are out of state. The agent can only act on the principal's behalf if they are not disabled in any way |
| Financial POA | The agent needs to take care of the principal's financial matters (e.g., taxes or paychecks) |
| Limited POA | The agent can only act in the principal's stead during a limited period. This POA also provides limited authority to the agent |
Additional POA Questions DoNotPay Has Answers To
You can find out a lot more about the power of attorney documents with our help. DoNotPay can answer the following questions:
DoNotPay—Easy Fixes for Your Daily Struggles
Calling customer support takes hours. Dealing with refunds and chargebacks takes weeks or sometimes months. And don't even get us started on DMV appointments. The good news is that, with DoNotPay, you don't have to stress out about these tasks any longer.
Our platform can help you turn exhausting administrative troubles into two-minute tasks. Thanks to AI technology, you can easily create legal documents, request compensation for canceled flights, send a complaint letter to your neighbor, or book appointments with online notaries.
Diversity of services is one of the biggest advantages DoNotPay offers, and the best part is that our subscription won't cost you an arm and a leg.
Do You Need Help With Anything Else?
All you need to do is ask, or in this case, sign up for DoNotPay, and the world of practical, user-friendly products awaits. Finishing boring or annoying tasks with the help of our AI bots is fun, easy, and super intuitive—you won't need any special knowledge of legalities or administrative terminology.
With our help, you will be able to: