Learn How To Create a Durable Power of Attorney in New York in the Blink of an Eye
Drafting a durable power of attorney in New York does not have to be a complicated process! Subscribe to DoNotPay and learn everything you need to know about how a power of attorney works in New York state.
What Is a Durable Power of Attorney in NY?
A power of attorney (POA) is a document that allows an agent to make decisions on behalf of the principal. A durable power of attorney stays in effect even if the principal is physically or mentally ill or until either the principal dies or they end the agreement.
Depending on the situation and type of POA, the agent can make decisions on matters related to:
Business
Real estate
Finances
Legal issues
Healthcare
Who To Appoint as an Agent
Usually, people tend to appoint agents they trust, such as a spouse, close friend, or family member. In case you're skeptical about handing over all decision-making powers to one person, consider appointing multiple agents. Bear in mind that if you select multiple agents, you need to decide whether they'll act together or separately.
What Are the Key Elements of a New York State Durable Power of Attorney?
It is essential to create a POA document keeping in mind the state laws that regulate it. A New York power of attorney must have the following key elements:
| | |
| --- | --- |
| Key Elements | Brief Explanation |
| Font | According to New York Consolidated Laws, a POA must be legible and use at least a size 12 font |
| Eligibility | Anyone above the age of 18 with the capacity to understand the nature of power of attorney can create and sign the document |
| Wording | A durable power of attorney form must have the title Durable Power of Attorney, New York Statutory Short Form |
| Notarization | NY law states that all POAs must be acknowledged and signed by a notary public |
What Other Types of Powers of Attorney Work in NY?
In New York, you can create a power of attorney document based on your specific situation. Check out the list below for the different types of powers of attorney:
Does a Medical Power of Attorney Work in NY?
The short answer is yes. In NY, you can use a power of attorney to delegate health care decisions. The difference is that the document is legally called a Health Care Proxy, which is a statutory short form approved by the State Legislature. It must be signed by the principal and agent, along with two adult witnesses.
How Can You Create a Durable Power of Attorney in NY?
To create a durable power of attorney, you can choose one of the following options:
| | |
| --- | --- |
| Option | Details |
| Do it yourself | Look up the templates online, consult the state laws, and create the document yourself. It might seem easy, but if you make a mistake, the agreement might not be considered valid |
| Consult a lawyer | Discuss your situation with a lawyer and request them to make one for you. This might seem like your best bet, but it can also be quite expensive |
| Use DoNotPay | Keeping in mind your requirements and state laws, DoNotPay will create a customized document in a snap! |
Create a Durable Power of Attorney in New York Using DoNotPay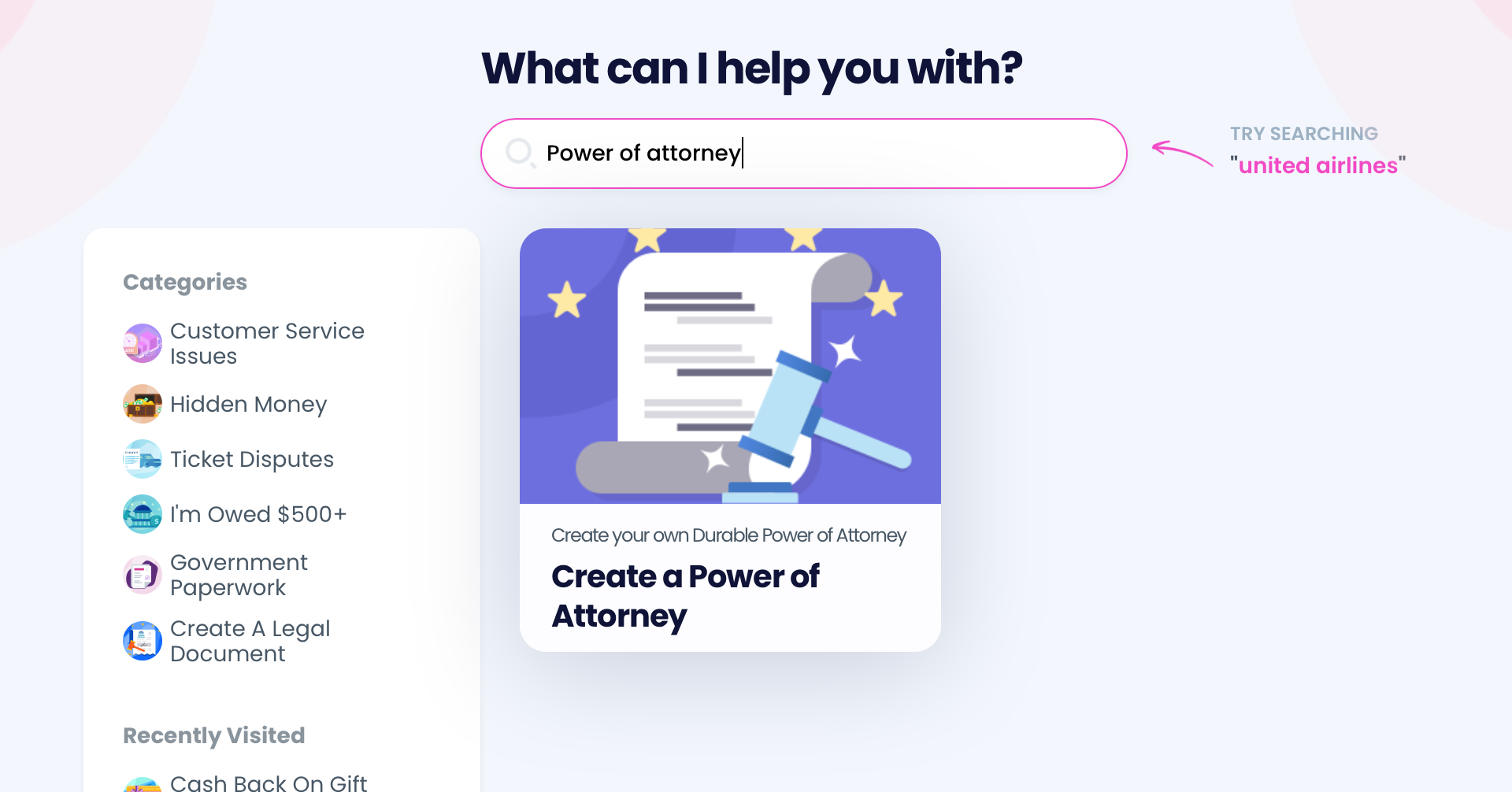 Do you want to create a durable power of attorney but don't know how state laws work? Don't worry because we will sort it out. DoNotPay can create a durable power of attorney letter in New York in an instant. Here's what you need to do:
Open DoNotPay in your web browser
Type Power of Attorney in the search bar
Answer our chatbot's questions to customize the document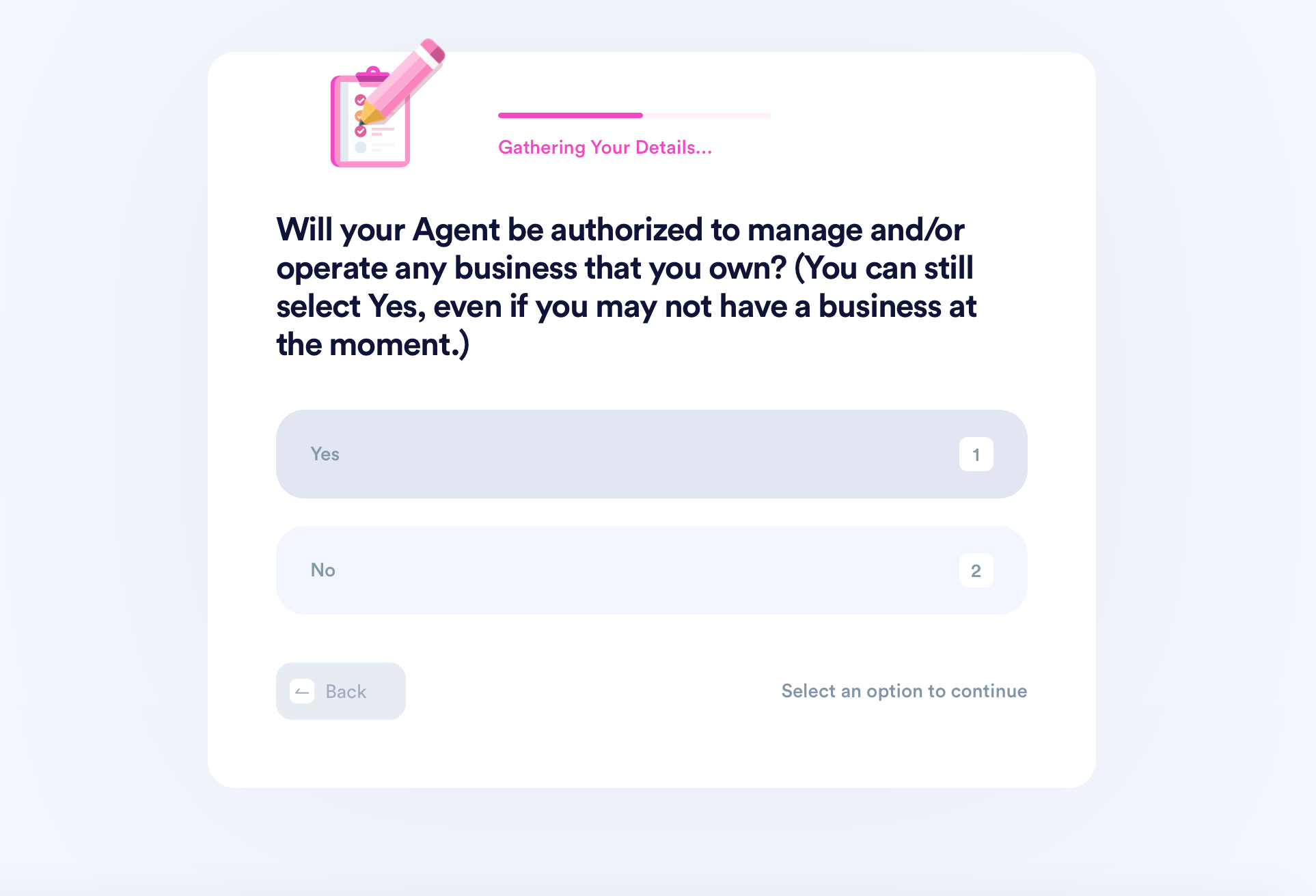 DoNotPay will generate the document and send it to you with two important notices that both the principal and agent need to read before signing.
New York law requires a power of attorney document to be notarized in front of a notary public. Why go through the hassle of searching for a notary and going to their office when you can get your document notarized from home? All you need to do is indicate that you want to get your POA notarized in the questionnaire, and we will connect you with an online notary at the time that works for you.
DoNotPay Provides Essential POA-Related Info
Helping you create a POA document isn't all we can do! Our learning center provides answers to a variety of POA-related questions, including:
Manage Your Tasks Easily With Our Help
DoNotPay is the perfect solution whenever you need to resolve legal or bureaucratic matters. Here's a fraction of what our AI-driven app can help you out with:
No Matter What You Need, DoNotPay Is by Your Side
Do you have a bunch of subscriptions that you waste money on but don't even use? We can help you cancel them effortlessly! After that, our app can initiate a refund request and make sure you get your money back.
Facing financial difficulties? DoNotPay can help you lower your bills, get free raffle tickets, get gift card cash back, find your missing assets, and so much more!
For a low monthly fee, you'll get access to our impressive range of products, so sign up now!