Durable Power of Attorney in Kansas—Deciphered
Looking for a simple and efficient way to draft a durable power of attorney in Kansas? We got you covered! Not only can we provide you with all the relevant info about the Kansas POA, but we also show you how to create one in less than five minutes!
Subscribe to DoNotPay and use it to deal with administrative tasks like a pro!
Understanding the Kansas Power of Attorney
The Kansas power of attorney is a legal document that allows one party (a principal) to transfer certain powers to another individual (an agent). The agent gets appointed by the principal to make financial, health, and other decisions in his or her stead.
Kansas Durable Power of Attorney—What Powers Can the Principal Transfer?
The durable power of attorney in Kansas allows the principal to transfer the powers to:
Disburse money and open/close the principal's accounts
Contract employees and attorneys in the principal's stead
Buy, sell, lease, maintain, alter, and manage the principal's properties
Have access to the principal's personal information or physical and mental health details, such as their legal, medical, and hospital records
Deal with the principal's policies and insurance—including the life, disability, hospitalization, accident, and other policies
Provide for the principal's spouse's or minor children's support (food, lodging, medical services, etc.)
Do, sign, and perform any act or deed on the principal's behalf in the same manner that he or she would
Be a representative payee for all payments the principal is entitled to
Engage in any lawful business in the principal's name
Take any legal action
Is the Kansas Durable Power of Attorney Effective Immediately?
Whether the power of attorney will be effective immediately or after the principal's incapacitation depends on how the POA document is drafted. There are several POA types, including:
POA Type
Description
General power of attorney
The general POA gives the agent the power to represent the principal only while he or she is mentally competent. If the principal becomes incapacitated, the POA gets terminated
Durable power of attorney
The durable POA can remain effective even after the principal's incapacitation. With the durable POA, the principal allows the agent to deal with legal, financial, and property matters
Limited power of attorney
The limited POA allows the principal to transfer specific powers to the agent and to make it last for as long as he or she wants
Financial power of attorney
The financial POA lets the principal transfer the power to deal with finances, bills, and real estate matters to the agent. It can be either:

Effective immediately
Sprung (effective once the principal becomes incapacitated)
Can I Draft the Durable Power of Attorney in Kansas by Myself?
You can draft the durable power of attorney on your own, but the process requires you to pay close attention and know what sections must be included. You also need to draft it in accordance with the Kansas laws, so hiring a lawyer to help you write it or review it afterward is the best course of action.
Since lawyers can be quite expensive, we present you with a more affordable and less demanding option—DoNotPay.
Let DoNotPay Draft Your Durable Power of Attorney in Kansas in Minutes!
Drafting a POA document doesn't have to be a struggle! With DoNotPay, you can forget about wasting hours trying to compose a valid power of attorney—our app will do most of the work and generate one for you in a few minutes! All you need to do is complete a quick three-step guide to get started:
Choose the powers you want to incorporate in your agreement
Provide the required info
After you finish the above-listed steps, we'll create your Kansas durable power of attorney! Both the principal and the agent should read the notices and sign the document.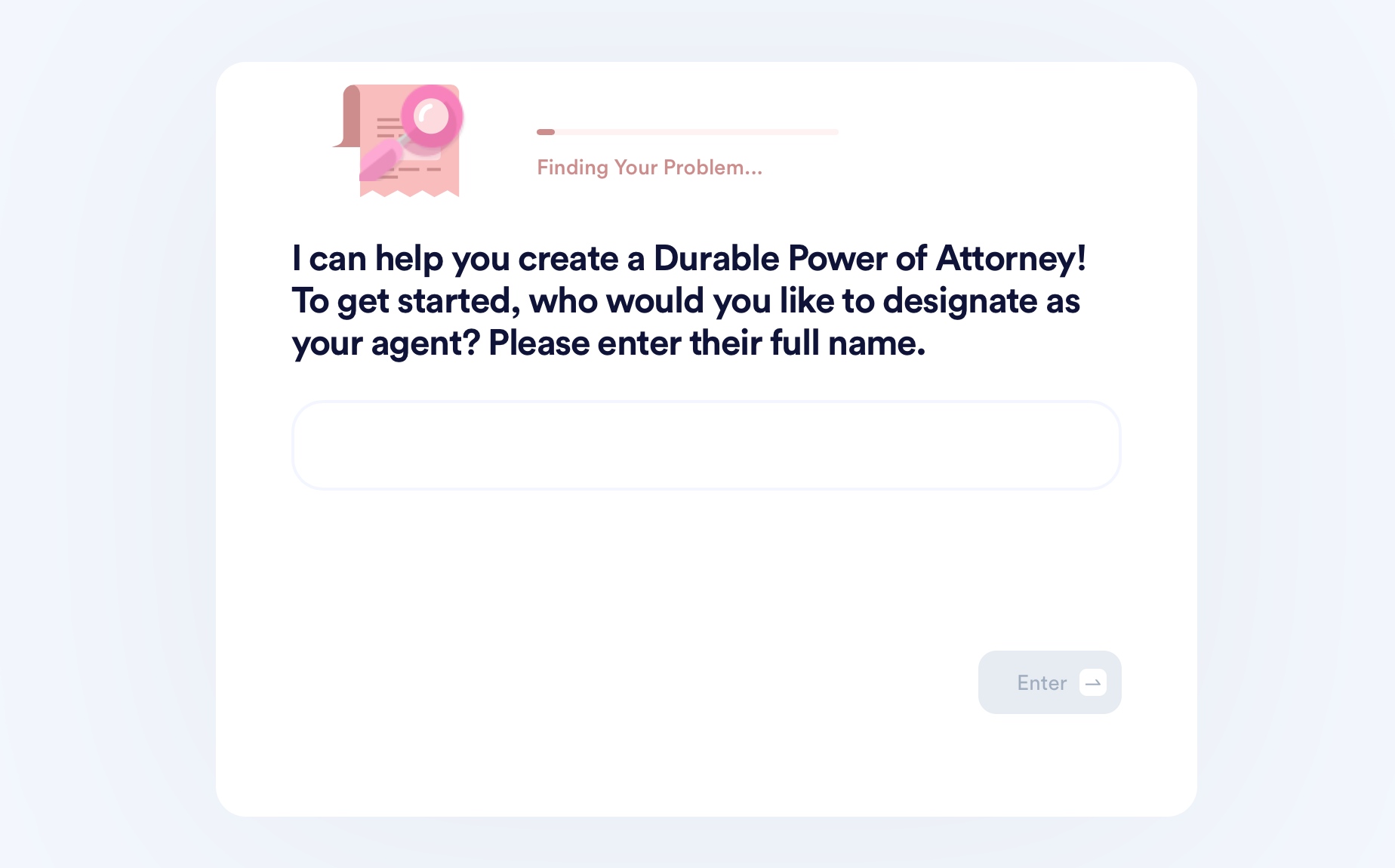 Should I Get the Durable Power of Attorney in Kansas Notarized?
By Kansas law, the durable power of attorney has to be signed either in front of two adult witnesses or a notary. If you decide to get your POA notarized, you won't have to visit a notary in person! DoNotPay allows you to get your POA document notarized online after our app draws it up. Forget about wasting time traveling to a notary, and handle both tasks using one app!
DoNotPay Provides Additional POA Assistance
Besides helping you draft your POA documents, we can also provide you with useful POA-related info and answer the following questions for you:
Communication Troubles? Say No More!
Yes, communication is the key, and DoNotPay vows to provide you with the best, most convenient methods to relay or protect your message—whether it's correspondence with your business partner or a loved one who's serving time.
Check out what you get by using our platform:
Use DoNotPay for a Better Shopping Experience
If you have a tendency to shop till you drop, some issues with purchases are bound to happen. Customer rights and satisfaction is what DoNotPay is passionate about.
With your subscription, you will be able to: