File a
DuPage County Property Tax Appeal
in Three Easy Steps!
The property tax in DuPage County is extremely high, which means that your property tax bill can cost you a lot of money. Illinois is not among the states with low property taxes. In fact, the average property tax rate of 2.16% makes Illinois one of the states with the highest property taxes, along with New Jersey.
The good news is that you don't have to pay the full amount of your property tax bill! Sign up for DoNotPay to learn how to file a DuPage County property tax appeal and lower your taxes hassle-free!
When To Appeal Property Taxes in DuPage County
A property tax assessment appeal is one of the ways to lower your property tax bill. People usually file a tax appeal when they:
Find inaccuracies:

The property they have sold was included in the assessment report

The estate was estimated at a higher value by mistake

The figure on the tax bill is drastically different from the one last year

Think that the property tax assessment wasn't conducted properly

The assessor included parts of the property belonging to a different person

The evaluation was done twice
DuPage County Property Tax Appeal
—Should You Do It Yourself?
Filing a property tax appeal is super-complicated. To begin with, you should provide as much evidence as possible. The evidence is reviewed by the DuPage County Board of Review, and this is what they usually look for:
The appraisal of your property

Photos of your property and similar ones in the neighborhood

Copies of the property record card and a deed or a purchase contract

A list of sales for comparable properties
The list goes on! There is no need for you to go through this process on your own—our app can do it all for you!
File a
DuPage County Property Tax Appeal
With DoNotPay Effortlessly
DoNotPay offers a neat guide that shows you how to file a property tax appeal with minimum effort and in record time! 
With this option, you can avoid searching for instructions and figuring out what documents you should gather. We provide you with all the info on what forms to prepare.
This is how you can file an appeal with our app:
Locate and fire up the

Property Tax

feature

Type in a few short answers about your property
After completing the steps, we'll provide you with a personalized guide on filing a property tax appeal.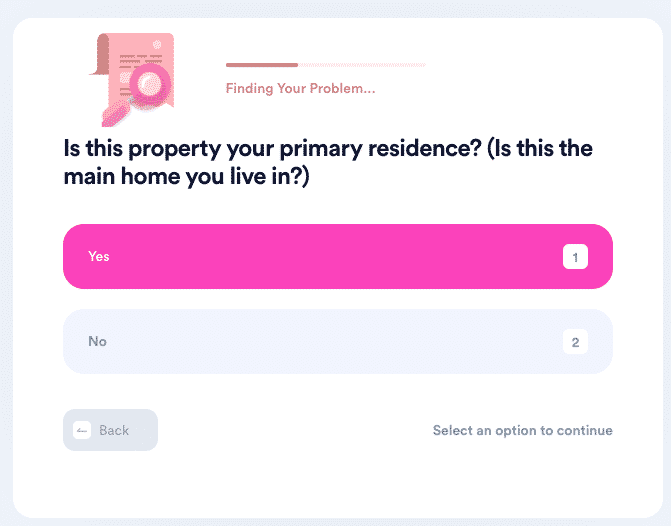 Our guide doesn't stop there! We also provide you with an efficient way to reduce your property taxes by applying for property tax exemptions.
Once you complete the steps above, our app will find all the exemptions you are eligible for and guide you through the process of submitting your application. 
Common Property Tax Exemptions in Illinois
Finding and applying for property tax relief and exemptions is almost as complex as filing a property tax appeal. Luckily, DoNotPay has got you covered! 
Before applying, check out the most common property tax exemptions in Illinois:
Exemptions
Requirements

Homestead Exemption

Owners of the property are qualified for the homestead exemption if they:

Occupy the property as a principal place of residence

Meet the income limitation guidelines

The equalized assessed value of the property gets reduced with this exemption

Senior Citizen Exemption

/

Tax Freeze

People who are over the age of 65 in the year they apply and who meet the criteria for the homestead exemption are eligible for senior citizen exemption and tax freeze as well

Veteran Exemption

Veterans with a service-connected disability certified by the U.S. Department of Veteran Affairs can apply for the veteran exemption

Disability Exemption

Citizens who are disabled and own a property meet the requirements for this exemption. They have to provide proof of their disability and meet the Illinois income limitations
Additional Ways To Lower Your Taxes in DuPage County, Illinois
If you're looking for additional help paying your property taxes, we'll provide you with a few more options. To have better chances of your tax bill being as low as possible, follow these tips:
Don't improve your home/property

Be present during the assessment of your home/property

Double-check your property tax bill
Skipping on Home Improvements
The value of your property will increase if you decide to do any home improvement projects before the evaluation of your property. The higher the value, the higher the bill—it's that simple.
It would be best to hold off with such projects until after the assessment, and in that way, ensure that you won't pay more money in taxes than you intended.
Participating in the Property Assessment
The assessment of your property is when the assessor decides on the amount you'll pay for your property taxes, so being present during the evaluation would be a good call. You'll see everything that the assessor is doing and make sure there is no funny business.
Checking Your Tax Bill
The property tax bills often contain errors, so making sure yours is mistake-free is a must. If that is not the case and you end up finding any inaccuracies, you can opt for filing an appeal.
Can't Afford a Lawyer? DoNotPay Will Jump In!
Did you know that you don't have to waste money on expensive legal help just to get rid of some minor bureaucratic issues? DoNotPay is here to save you hundreds of dollars with ready-to-use solutions that require mere minutes.
Our AI-powered bots gather the most important information via short questionnaires, draft required legal documents, and provide you with online fax services. If you need specific public records to support your case, we'll point you in the right direction.
With our virtual lawyer's help, you will be able to:
Spend Your Time on More Enjoyable Activities
With DoNotPay's help, you're bound to have more free time. If you're considering a new streaming platform subscription, make use of its free trial without worrying about unwanted charges. Need to get rid of other subscriptions? Use DoNotPay to cancel them without contacting customer support centers.
Don't worry about phone number identification at the signup. With our Burner Phone feature, spam text messages won't be bothering you ever again!