DuPage County Divorce—Everything You Need To Know
A divorce is a draining process by default, but even more so when you're not aware of the relevant state and county regulations. If you're looking for more details on the DuPage County divorce process, you have come to the right place. DoNotPay can provide information on how to file for divorce in DuPage County and answer any questions that you might have.
If you fear the paperwork, subscribe to our app and get a divorce settlement agreement instantly. We can also show you how to get:
Grounds for Divorce in DuPage County
Illinois residents don't have to provide a reason for ending their marriage other than irreconcilable differences. All you need to do is confirm that you and your spouse don't get along well enough any longer.
As of 2016, couples can seek no-fault divorces in Illinois—spouses are not allowed to cite fault grounds as the reason for their divorce. Fault can still matter, though, when deciding on child custody and visitation matters in court.
Types of Divorce in DuPage County, Illinois
In DuPage County, you have two options to get a divorce, as explained in the table below:
| | |
| --- | --- |
| Types of Divorce | Explanation |
| Joint simplified dissolution | Joint simplified dissolution, also known as an uncontested or friendly divorce, is the quickest and easiest way. The spouses mutually file for divorce and settle all key issues in a document called a divorce settlement agreement |
| Regular dissolution | A regular dissolution, more commonly known as a contested divorce, requires lawyers and court intervention because spouses do not see eye to eye in crucial divorce-related matters |
Requirements for Getting a Joint Simplified Resolution
You and your spouse have to meet the following requirements to get a joint simplified resolution:
Be Illinois residents for at least 90 days before the divorce
Live separately for at least six months before filing for divorce
Be married for less than eight years
Earn less than $20,000 individually
Have a combined income of less than $35,000
Have less than $10,000 in joint assets and property
Don't own a house
Don't have children
Agree to forgo spousal support permanently
Fill out the forms and agree on divorce terms and conditions
How To File for Divorce in DuPage County
To file for an uncontested divorce, you need to follow these instructions:
Collect and fill out the necessary forms—Fill out the Petition for Divorce and other legal paperwork
File the divorce papers—File for divorce officially by submitting your paperwork at the Circuit Court in DuPage County
Serve the papers to your spouse—Ask a friend, family member, or a process server to serve your spouse with the divorce papers
Create and finalize the divorce settlement agreement—Make a legal document that includes all essential divorce-related matters that you and your spouse have agreed on. If there are some matters you disagree on, you can hire a mediator to help during negotiations
How Much Does a Divorce Cost in DuPage County?
Although divorce costs differ on a case-to-case basis, the basic divorce filing fee in DuPage County is $289. This fee is mandatory for all types of divorces, but if you can't afford the fee, follow these steps to get it waived:
Fill out the Application for Waiver of Court Fee
Submit evidence that proves your inability to pay
If the judge accepts your evidence, your divorce fee will be waived.
In case you hire an attorney or go for a contested divorce, you may have to pay the following fees:
Professional server fee
Attorney fees
Mediator or litigation fees
Financial advisor fees
Child custody evaluation
Guardian ad litem fees
Property inspector fees
While you don't need to hire expensive lawyers or go to court all the time for an uncontested divorce, we can help you lower the expenses even more—use DoNotPay and create a divorce settlement agreement for just a few bucks!
DoNotPay Generates a Divorce Settlement Agreement in the Blink of an Eye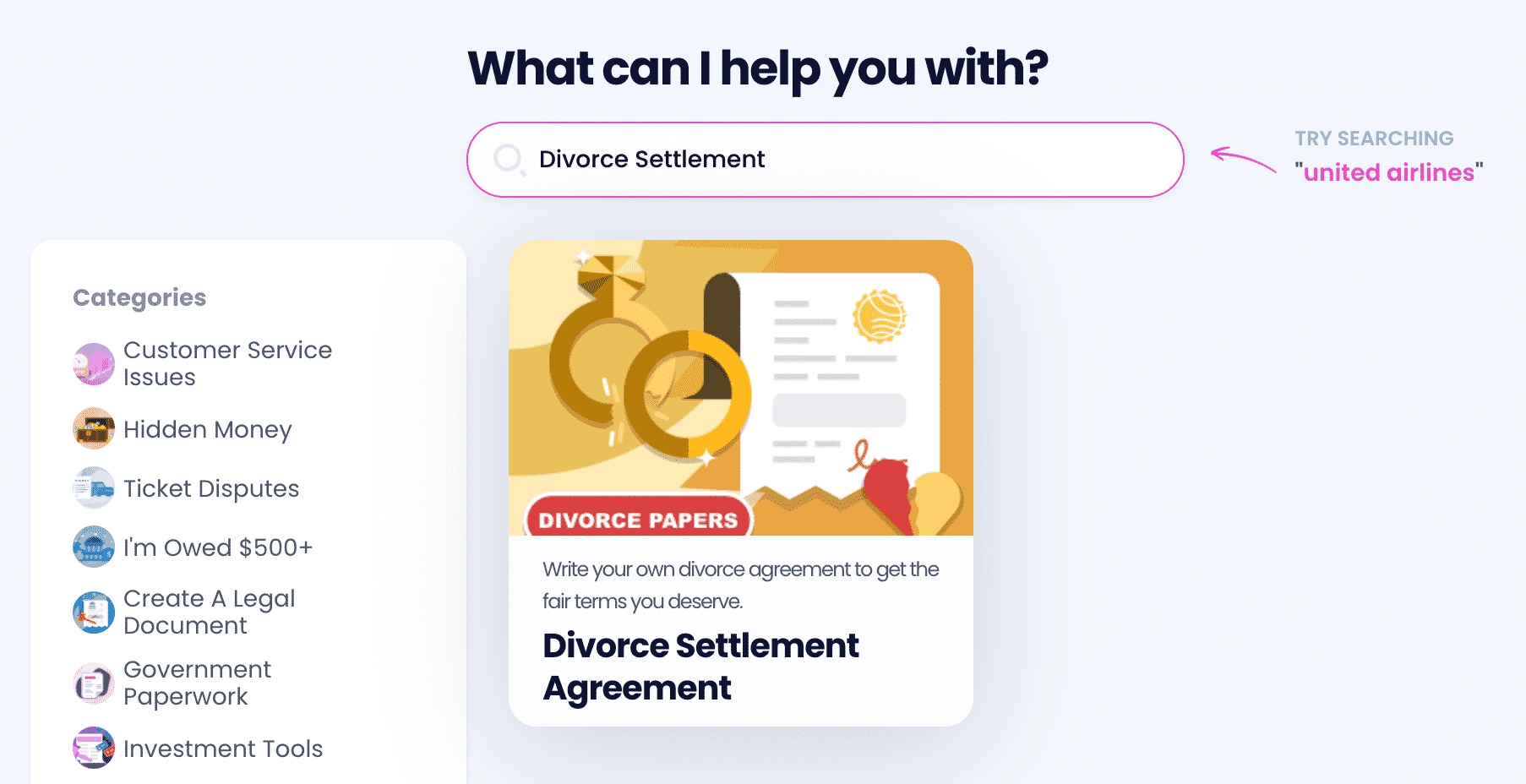 Want to get divorce papers without paying a hefty amount? DoNotPay has got your back! We can create a killer divorce settlement agreement, and you only need to follow these straightforward instructions:
Access DoNotPay from your web browser
Type Divorce Settlement Agreement in the search box
Provide information about your spouse, children, income, and assets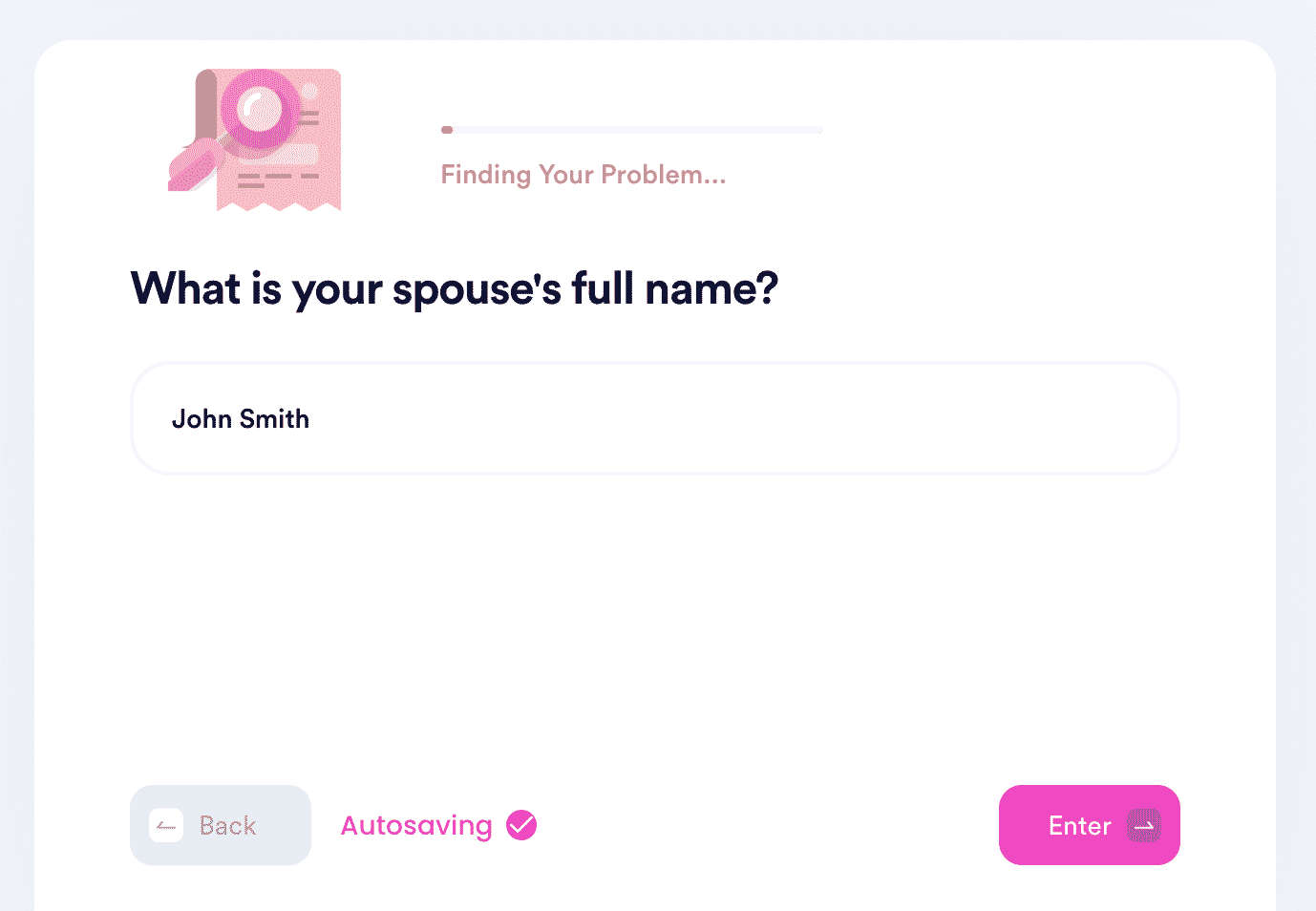 After you enter the required info, we will create a personalized document that you and your spouse should sign. If you need help with getting your document notarized, we will find an online notary and help you schedule an appointment within minutes! You can get your agreement notarized during a video call.
DoNotPay can also provide helpful Illinois-specific guides on the following issues:
Tackle Any Legal Task With Our Lawyer App Like a Pro!
Why bother with tedious legal tasks on your own when you can let DoNotPay cut your work in half? No more worrying about how to draft legal documents or sue a company in small claims court—we'll guide you through it effortlessly!
There is no shortage of tasks our Al-powered app can help you with. Once you sign up, you'll learn how to:
Fight Scammers in a Few Clicks!
Is your phone buzzing incessantly, and you can't take it any longer? Use DoNotPay to stop annoying robocalls and fight scammers with ease!
Having a company spam you with unwanted emails about their products isn't uncommon, but that doesn't mean you have to put up with it. DoNotPay helps you create a burner phone number, fight email spam, and stop spam text messages in a snap!
You can also find our features super useful when requesting a refund, filing insurance claims, and locating your missing USPS, UPS, or other parcels.