A Guide to Dunkin' Donuts Startup Costs
If you want to open a Dunkin' Donuts franchise, you need to familiarize yourself with Dunkin' Donuts startup costs so you can create a solid financial plan. This article will break down all the expenses and tell you which small business loan options you have.
You are going to need a watertight loan request letter to get a loan, though—let DoNotPay help you draft an error-free letter with ease!
One-Time Costs of Opening a Dunkin' Donuts Franchise
Business assistance, brand recognition, and buying power are three reasons why franchising can be more lucrative than establishing independent businesses. However, you still need to have a clear financial plan for your business to work. You must calculate how much money you need for the initial launch.
Below are the expenses you should take into account:
| Costs | Price Estimation |
| --- | --- |
| Initial franchise fee | $40,000–$90,000 |
| Licenses and deposits | $500–$5,500 |
| Building costs | $19,500–$600,000 |
| Site development costs | $0–$350,000 |
| Additional development costs | $4,700–$90,000 |
| Restaurant technology system | $9,700–$95,000 |
| Equipment, signs, and fixtures | $57,000–$300,000 |
| Opening inventory | $4,000–$20,000 |
| Marketing startup fee | $0–$10,000 |
| Uniforms | $0–$1,200 |
| Additional funding for the first three months of operation | $0–$105,000 |
| Other opening costs | $9,500–$70,000 |
| Estimated total | $1,700,000+ |
You might need to invest more money depending on where you open your franchise. These are a few factors that may have a significant effect on your startup cost:
Location of businesses
Land's square footage
Number of restaurants you want to run
Real estate development
The franchise cost will also vary depending on the types of the establishment:
Freestanding
Storefront
Convenience store/gas station restaurant
Cart or kiosk
You can get a discount for the initial franchise fee if you commit to operating multiple restaurants.
Military veterans get a 20% discount for purchasing a right to five or fewer locations.
Recurring Costs of Running a Dunkin' Donuts Franchise
Dunkin' Donuts franchisees need to pay a recurring percentage of the restaurants' gross sales. These payments go to:
Royalty fee (2–6%)
Advertising fee (5%)
The money will be used as a budget for branding, market research, and the development of your Dunkin' Donuts franchise. You need to pay these fees weekly.
Dunkin' Donuts also requires the remodeling of restaurants every ten years.
Other ongoing expenses you should take into account are:
Staff salary ($11–$15 hourly)
Training expenses ($2,000–$35,000 regularly)
Inventory restock ($3,000–$4,500 monthly)
Utilities ($680–$28,365 monthly)
Insurance ($4,500–$16,000 annually)
Cash reserves ($20,000–$35,000 monthly)
How To Start a Dunkin' Donuts Franchise
Before applying for a Dunkin' Donuts franchise ownership, you need to have at least:
$500,000 of net worth and $250,000 in liquid assets
Experience in retail or food service management
Once you've met the criteria, you need to apply by following these steps:
Find and research an available market
Gather your financial statements
Dunkin' Donuts will review your online application and evaluate your background. You can expect a response within 60 to 90 days of registration. If you pass, it will take additional 8–15 months for Dunkin' Donuts to find a suitable site, get it inspected and approved, construct your restaurant, and open it.
How To Finance a Dunkin' Donuts Franchise
If you would like to take out a startup loan for your Dunkin' Donuts franchise, you have a few options to choose from:
Types of Loans
Description
Dunkin' Donuts' preferred lenders
Dunkin' Donuts does not offer direct funding for franchisees, but you can borrow money from their partner lenders
Small Business Administration (SBA) Loan
You can get a $5,5 million loan from the Small Business Administration. The requirements vary based on programs, but most of them require you to:

Operate the business as a for-profit entity
Have a business plan
Intend to use the money for sound business practice
Put up collateral
Clear off previous debts owed to the U.S. government

Bank loans
Franchisees might be able to secure funding by taking out a bank loan if they have:

A down payment
Collateral
Want To Increase Your Chances of Getting a Loan? DoNotPay Can Help With the Task!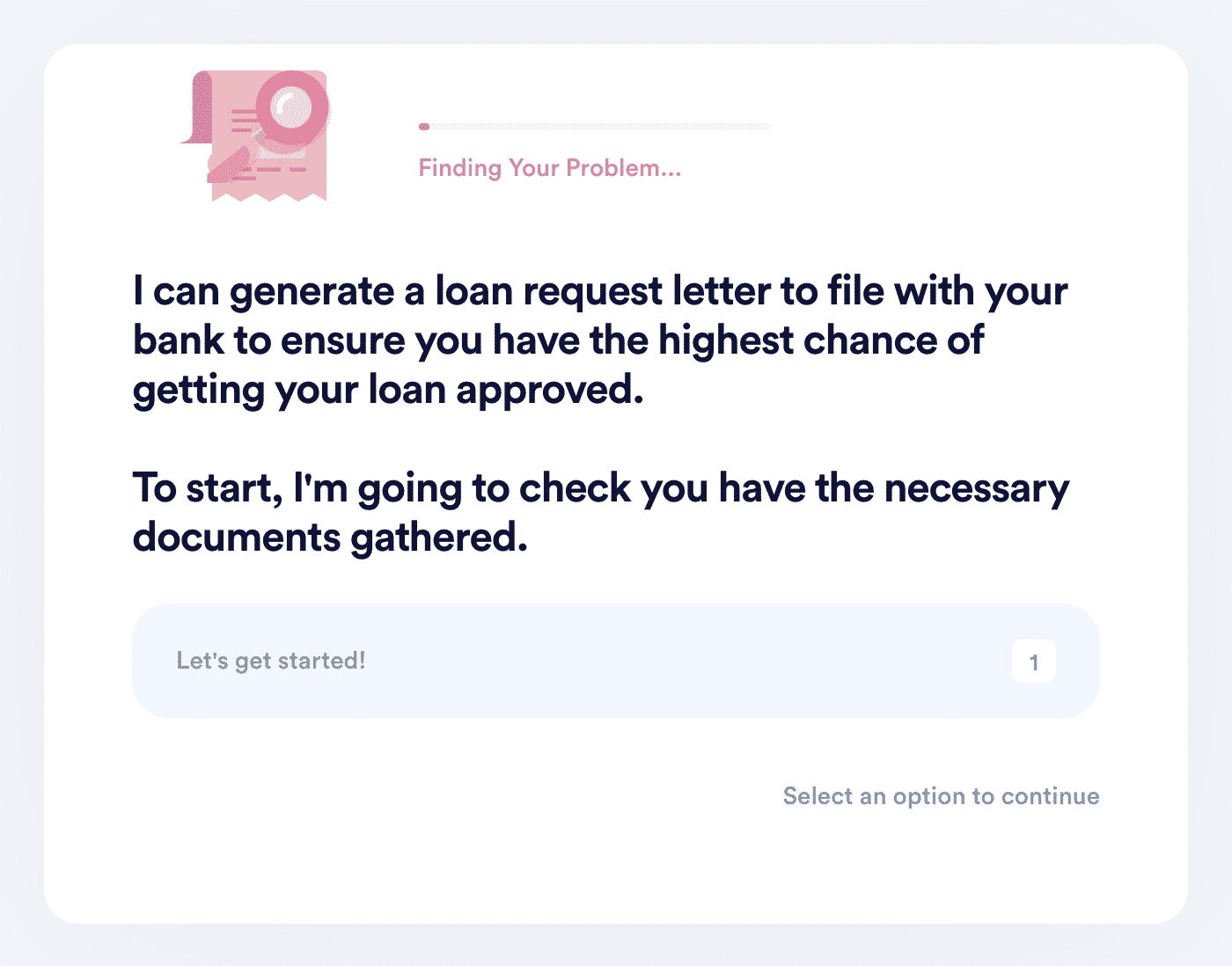 Your loan approval depends on whether a lender can trust you. A well-written loan request letter can influence their decision in your favor.
Don't want to spend a lot of money on an attorney? No problem. Our app can help you draft a compelling loan request letter with ease:
Log in to DoNotPay from any browser
Search the Business Loan Request Letter feature
Gather various financial statements and provide the required info, such as:

Personal and business credit
Profit and loss
Cash flow
Balance

Set how much money you want to borrow, its purpose, and your company's background
DoNotPay will use the relevant data to create a compelling loan request letter to increase your chances of getting a loan.
Find a Lender With DoNotPay's Assistance
If you are not sure how to find a lender, do not give up just yet! Our app's Find Online Business Loan Lender can get you up to speed. Here's what you need to do to use it:
Locate the Find Online Business Loan Lender product
Answer a few questions about your business
Select business type and industry
You will receive a comprehensive list of top online lenders to choose from. They are ranked based on terms, rates, possible loan amounts, and processing speed.
DoNotPay Can Also Help You Secure Funding for Other Types of Businesses
Whether you want to open another franchise or launch a small business, you need financing. DoNotPay can help you create and send loan request letters to fund all kinds of enterprises, including:
Get the Upper Hand With DoNotPay
The business world is extremely competitive—that is why it is always good to have some extra capital set aside when you need to invest in your company. You can leave the bureaucratic task to us—DoNotPay will draw up business loan request letters in your stead.
If your finances are taking a hit, rely on our app. With our assistance, you will be able to:
Fight fraudulent chargebacks
Remove fake negative reviews online
Register and protect your trademark
Send mail and faxes at no additional cost
Handle clients breaching contracts and get what you are owed
Whatever the task at hand, our AI-powered app will see it through successfully.
DoNotPay—The Assistant Every Business Needs
You cannot escape bureaucracy in business. What you can do is let DoNotPay deal with it. Whether you need to register a DMCA agent or complete an Employer Identification Number (EIN) registration, our app will lead the way.
Using DoNotPay, you will also not have to worry about 83(b) election forms or Privacy Shield self-certification. From generating to filing important documents and from dealing with employees to handling clients on your behalf, our AI-driven app is your go-to solution.
Grow and protect your business with the world's first robot lawyer!