How To Pursue A Duke Energy Lawsuit

Duke Energy is an electric power and natural gas company based in Charlotte, North Carolina. In the US alone, Duke Energy operates 58,200 megawatts of base-load and peak generation and is responsible for the power and gas of 7.2 million consumers.
The large holding company has been prone to criticism and has been sued several times over the past decade. In 2015, the company settled a $146 million class-action lawsuit against shareholders who claimed that they lost millions of dollars after the termination of then Duke Energy CEO. In 2021, Duke agreed to pay $1.1 billion for coal ash clean-up costs until 2030.
This article will look into the obligations of public utility providers and how they need to serve their customers, community, and the environment. We'll also go over how you can sue Duke Energy using !
The Duties of Public Utilities
Public utilities are extensively controlled by local, state, and federal governmental bodies to ensure that the essential services are distributed to the public. Such companies are responsible to the clients they serve and the government. These responsibilities include:
A utility cannot discriminate based on race or other kinds of factors while delivering its service. Power, gas, water, etc must be served equally to those who can pay for it.
Public utilities must meet maintenance and inspection standards. They must also keep plants clean and adhere to EPA laws.
Customers must only be charged in accordance with the rates that were agreed upon with regulatory authorities. Public utilities are required by the law to produce a statement outlining their services and prices that can be accessed by the public.
Public utilities must be available for repairs at any time. For example, if there is a power outage, the company must dispatch technicians to fix the issue immediately.
Valid Grounds to Sue Duke Energy
If you're looking to sue Duke Energy, you need to be able to prove that they violated your rights and caused significant damage. The table below outlines some instances that can serve as legal grounds for a lawsuit against Duke Energy:
| | |
| --- | --- |
| Discriminatory Practices | Duke Energy denies service to an individual or family based on color, race, ethnicity, gender, or any other discriminatory factor. |
| Safety Breach | Duke Energy exhibits negligence while providing services, resulting in personal, property, or environmental damage. |
| Refusal to Solve Issues | Duke Energy refuses to fix your problem with your electricity or gas when they are your supplier. |
| Overcharging | Duke Energy charges customers high, discriminatory prices. Costs must adhere to the limit regulatory authorities set. |
Sue Duke Energy in Small Claims Court
Reach out to Duke Energy representatives and try to get your demands met before suing in court. If your claims are denied by the company and cannot be settled, here are the steps to sue Duke Energy in small claims court by yourself:
Make Sure Your Claim Does Not Exceed Maximum Amount: Each state has its own maximum amount allowed in small claims court, which can range from $5,000 to $25,000.
Send A Demand Letter to Duke Energy: Before you file your claim, you'll probably be required to have sent Duke Energy a demand letter. If not, send the company a demand letter to give them a chance to settle the case outside of court. The letter should include your personal information, a description of your issue, and your proposed solution.
Fill Out Court Forms: Each state has its own set of forms. Contact your state/county clerk or go online to obtain court filing forms. Make sure they are properly filled out and you provide the correct number of copies to the clerk.
Serve Your Forms to Duke Energy: Each state/county clerk has its own process of service procedure, so make sure that you follow the instructions available to you.
Court Date: You aren't required to hire a lawyer in small claims court, so if you're thinking of representing yourself, be prepared to defend your claim!
Sue Duke Energy With DoNotPay!
If you want to save time and energy and get rid of all the tiredness of filling out paperwork and pursuing legal procedures, let DoNotPay help you! You just follow these simple steps and let us take care of the rest:
Sign-up for DoNotPay through the app or website
Select the Sue Now product
Enter the amount you are owed
Choose whether you need a demand letter, court forms, or a script
Describe your issue with Duke Energy, and provide us with any additional evidence that will support your claim!
That's it! After you've completed these four simple steps, DoNotPay will generate a demand letter for you and send it on your behalf, fill out your court papers, and even provide a customized script that you can use in court! Suing for small claims has never been so easy.
Let DoNotPay Help - You Won't Regret It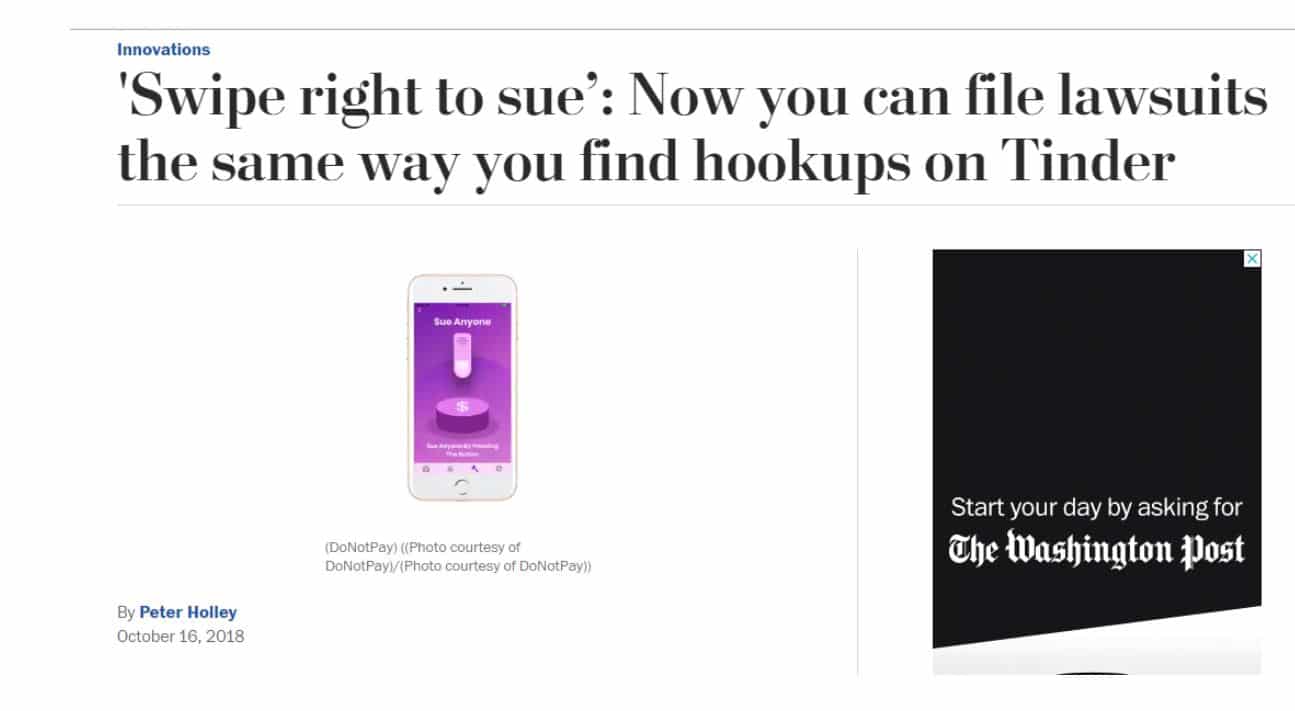 DoNotPay helps people sue any company without a lawyer in small claims court. Check out these other companies that DoNotPay has helped sue: