Ace Your
Driving Signs Test
With DoNotPay
If you want to pass your written driving test in any state, you'll need to show good knowledge of driving-signs rules and regulations. These signs are an essential part of traffic and make the system work without any glitches. We have the tips and tricks you need to ace the test, and DoNotPay is the key.
What Is the
Driving License Signs Test
and Why Is It Important?
Every knowledge driving test consists of around 30 multiple-choice questions that cover all the necessary categories one driver ought to know. You will need to have 80% of the correct answers to pass. A huge portion of those questions are road signs.
You will have to learn how each traffic sign works and what its purpose is to become a proper driver. This might sound overwhelming at first, but there are ways to ensure you remember all the rules with ease, and we will guide you through it. If you use DoNotPay to get ready for the test, you will learn what each sign signifies without trouble.
Why Should You Prepare for the
Driving Signs Test
?
If you want to get the scores that are good enough to pass, you'll need to prepare for the driving test. When you study long and hard enough, you ought to get results in any field, and getting a driver's license is no different.
Bear in mind that the written driver's test is no joke—as much as 44% of people fail the first time they take the test. The reason is probably not taking the whole procedure seriously.
Each time you fail, you'll need to retake the test. This means going through the entire dull procedure multiple times and paying the fee more than once. If you wish to save some time and money, you should get ready properly.
How Can One Prepare for the
Driving License Signs Test
?
You can choose between a few study tactics to get ready for the written driving test. If you want the best result, you should leave yourself enough time for preparation and not try to cram the day before. If you can organize well enough, you'll manage to cover everything, repeat, and check your knowledge.
The best three ways of getting ready for a driver's test are these:
Study guides

Tutors

Practice tests
You should start by reading the study guide made for the state you are taking the driver's license test in. All these tests cover the same categories, but there are slight differences, so make sure to get the proper one. Take notes while reading the study guide and highlight the parts you find difficult to follow.
Some people opt to have a tutor who can help them get ready for the test. This approach can bring you solid results, but you should know it is expensive. The most important part is that there isn't really a need for tutors when practice tests exist.
Practice tests will ensure you get the best scores on your test.
What Is the
Road Signs Practice Test
?
Driving license practice tests are crucial for grasping everything important for understanding driving signs. Practice tests are especially useful for managing to remember everything about driving signs. 
You'll be able to check what you've learned from the study guide and see the form of questions you can expect on the real test. Practice tests cover the most important parts, so you won't have to trouble yourself with finding out the key info on your own, as you would with the study guide.
Not all practice tests are good—most free options available on the internet provide only a couple of question combinations, which is not enough for someone who wishes to pass.
You also never know how often those tests are updated. If you choose DoNotPay's practice test, you'll be able to choose between endless question combinations and know all of them are up to date with the state's rules and regulations!
Count on DoNotPay To Get the Best Results on Your Driving Test
DoNotPay has all the possible questions and combinations of road signs in any state, so you can be certain you'll cover everything with our app. If you want to know what each road sign stands for, follow these steps to start practicing on our app:
Access the DoNotPay from your

web browser

Enter the name of the test

Choose the test you wish to get ready for

Let us know if you want to check your knowledge on 10, 20, or 30 question tests

Initiate the test completion
Depending on your preference, you can retake the questions you answered incorrectly right away or redo them once you see your score in the end.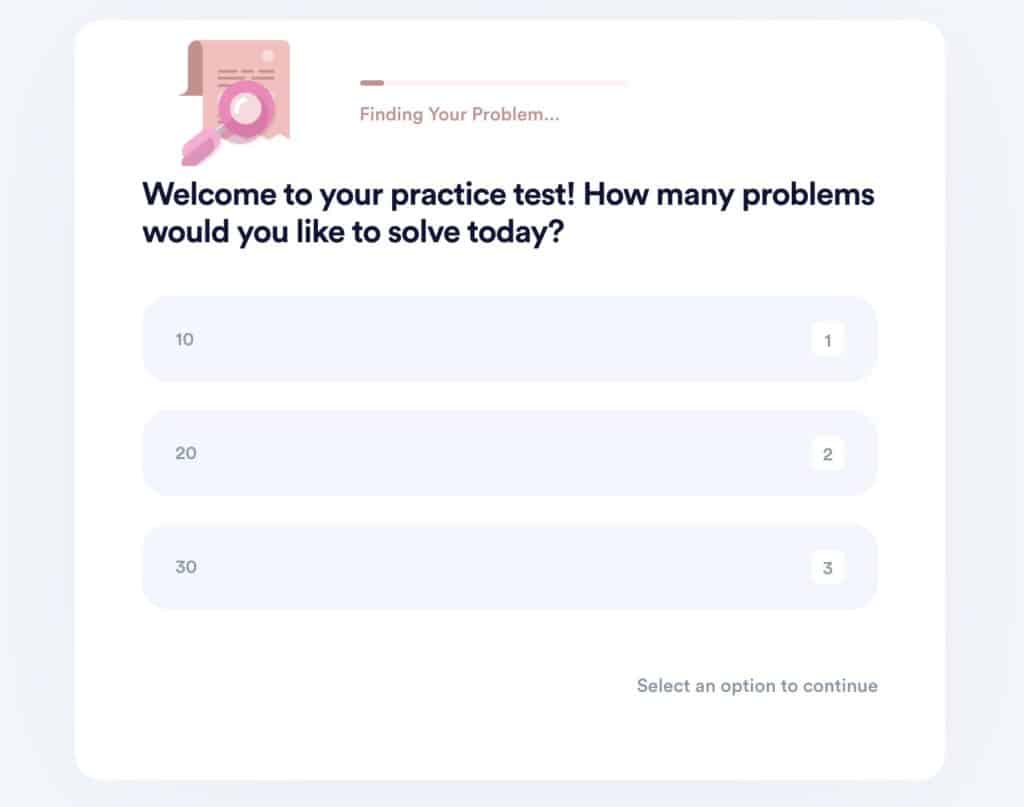 Check Out Other Tests DoNotPay Can Help You Practice for
DoNotPay has made sure you can get ready for numerous other government-issued tests. See if we can help you with the ones related to driving or maybe some completely different field:
| | |
| --- | --- |
| Driving-Related Tests | Other Categories |
| | |
We also know how you can check your ASVAB test scores the easiest way.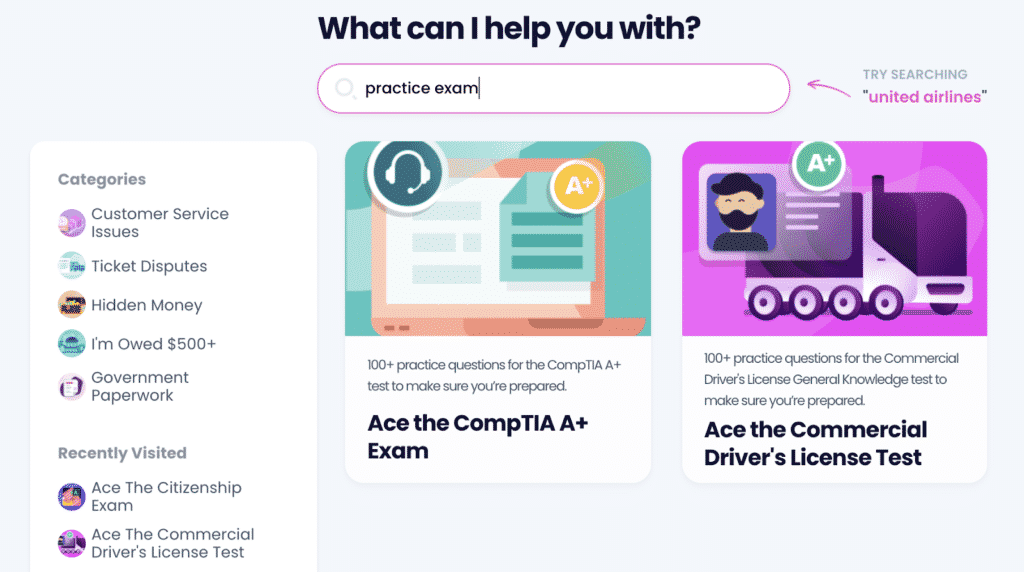 How Can You Schedule Your Driving Tests?
You cannot schedule your driving test in the same way everywhere. This procedure differs across the states, so you'll need to check with your local DMV on the steps required.
You should be able to make an appointment for your driving test online or over the phone (most states prefer these scheduling methods).
Sometimes you can get the date of your test via email, and other times there is no need to schedule anything. If a state allows it, you may be able to show up at the DMV and take the test.
Whatever the method available, the most important part is to show up properly prepared and have everything on your driving test checklist!
The DoNotPay Way of Fighting Bureaucracy
DoNotPay can help you schedule appointments with the DMV in the blink of an eye in states like Arizona, Nevada, California, or North Carolina. We can also aid you with contesting annoying parking tickets across the country in cities such as Houston, Pittsburgh, Cleveland, Minneapolis, or Los Angeles.
DoNotPay has many more tricks up its sleeve that can make your life much easier. If you wish to see what else is in our extensive offer, open DoNotPay in a web browser and let us help you with:
Fighting traffic tickets

Disputing speeding tickets