What To Expect From a Driving License Test Practice
Driving a car seems like a fun activity and practical skill, but you need to obtain a driver's license first. To get a learner's permit or driver's license, you have to pass the DMV exam.
Studying the manual and memorizing the rules and regulations by heart may look like an easy task, but many fail the driver's exam due to insufficient preparation. To prepare the best you can and ace your driver's test, you should try taking the DMV practice tests, and DoNotPay has the best one.
What Does the Driver's License Test Look Like?
Every driving test consists of three different parts that you have to pass in the following order:
Vision test

Knowledge (written) test

Skills (driving) test
Check out the following table to see what each of these tests include in most states:
Driver's License Test Part
What Does It Involve?

Vision test

Watching a screen that tests vision

Reading aloud letters and numbers from a board, from largest to smallest

Identifying the side and timing of a flashing light

Knowledge test

15 general knowledge questions

30 road safety questions

Skills test

Driving through an intersection

Changing lanes

Backing up

Passing other vehicles

Three-point turns

Left-hand and right-hand turns

Parallel parking

Other practical driving skills
How Much Does Taking the Driver's License Exam Cost?
If you want to get a driver's license or learner's permit, you should keep in mind that they can cost a decent amount of money. These costs don't include driving lessons. Take a look at the following table to see some of the potential expenses:
| | |
| --- | --- |
| Provided Service | How Much Does It Cost? |
| Knowledge test | $10 |
| Road test | $10 |
| Road test cancellation | $30 |
| Driver license | $47 |
| Learner permit | $20 |
| Provisional driver license | $20 |
| Non-driver ID card | $20 |
| Motorcycle endorsement | $20 |
Expenses can vary from state to state, and it is best to check with your local DMV beforehand.
Why You Need To Prepare for the Driver's License Test
The more eager you are to get behind the wheel, the more nervous you will get the first time you're taking the test. Statistics are not on your side—a study has shown that 44% of people failed the written test the first time they took it.
There is no limit on how many times you can retake the driver's license test, but it can take a heavy toll on your wallet if you keep failing, as costs can start to stack up. The best way to save yourself some trouble is to prepare for the test.
How To Prepare for the Driving License Exam
Getting a driver's license can be crucial for a lot of people. Whether you want to drive in your pastime, need it to get around, or your job depends on it, you probably want to obtain the license as soon as possible. As with any other test, the key is organization. You will need to study, test your knowledge, and then repeat.
To study for the driving test, you will need a DMV study guide, which you can get from your local DMV. You can also check out different collections of driving knowledge test questions online. If you have the means, you can hire a tutor to help you with studying.
Once you go through the study guide and questions, you can take an online practice test to check your knowledge. Seeing the results will give you a clear picture of your knowledge, and you will know if you are ready or need to repeat the process.
Why You Should Take the DMV Practice Test
Practice tests should be an essential part when preparing for the driver's license exam. Study guides and handbooks are necessary since they give you information about rules and regulations, but practicing makes everything perfect.
You can learn facts and rules by heart, but when you see the actual questions, you will know how much progress you made.
Another benefit of practice tests is that you can see the structure of the test, which helps you prepare better and shows what you should focus on.
Take the Best Driving License Practice Test With DoNotPay
DoNotPay has all the information you need on how to pass the written driving test. We offer an immense database of questions coming from real driving exams. Taking the DoNotPay's practice test will ensure you are fully prepared when you take the real one. You can even choose whether you want to retake the questions you answer wrong or retake the whole quiz once you finish it.
To take the practice test, you should follow these steps:
Access DoNotPay from any

Enter the name of the test

Select the test you want to prepare for

Specify whether you want to take 10, 20, or 30 questions

Start answering the questions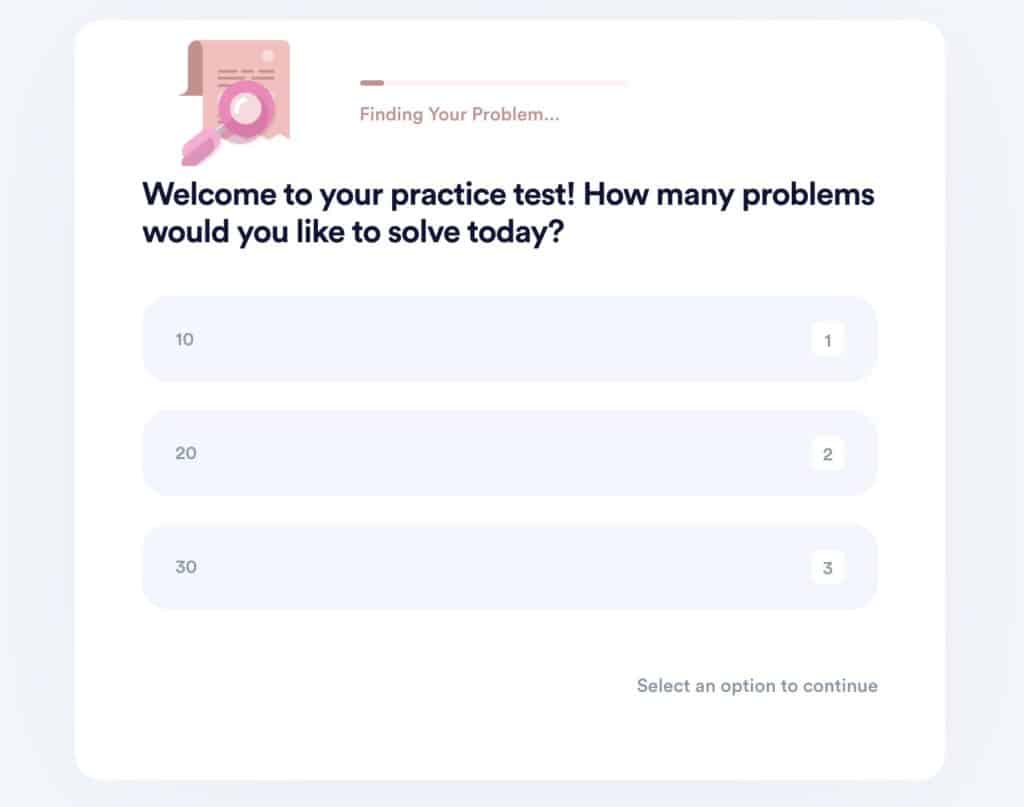 Practice for Various Government-Issued Tests With DoNotPay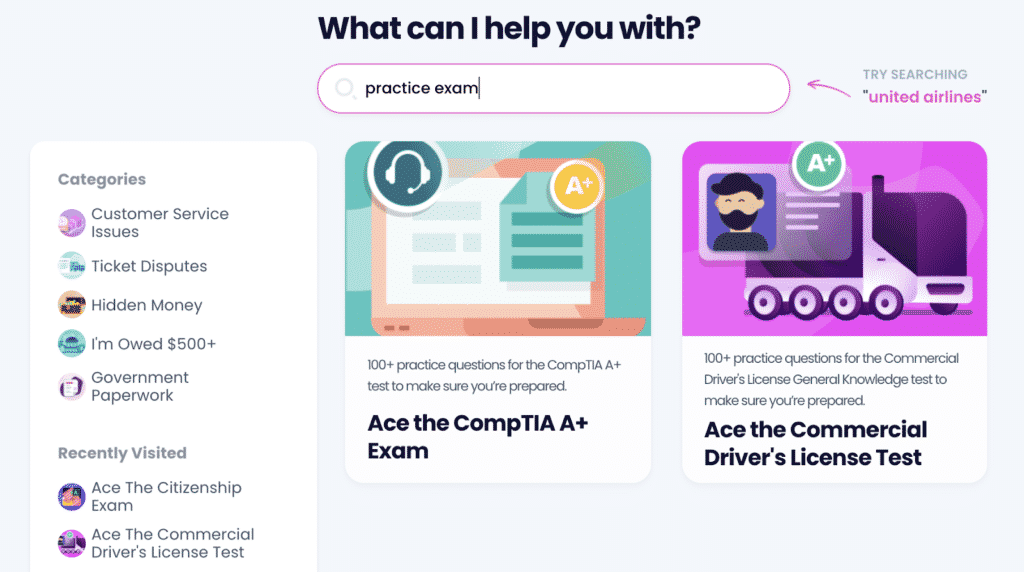 DoNotPay offers a variety of practice tests to help you ace other government exams, including:
Besides offering practice tests, we can show you how to check your ASVAB test scores.
How Can I Schedule My Driving Test?
Once you prepare for the test and practice it enough times, it's time for the real one. Making a DMV appointment can be a nuisance, especially considering that the rules are not the same in every state. So if you want to make a driving test appointment, you should check with your local DMV. Depending on the state, you can use one of the following ways:
The process can drag out, but fortunately, DoNotPay can help you schedule driving test appointments fast and without hassle. On the day of your driving test, make sure that you are prepared, have everything from your driving test checklist, and get on location at least 15 minutes before your appointment.
DoNotPay Can Help You Deal With Everyday Tasks
DoNotPay helps you avoid stress at every turn! When it comes to driving tests, we offer you practice tests for Kansas, Nevada, Colorado, New York, West Virginia, Missouri, Oklahoma, or anywhere else in the U.S.
You can rely on us to help you prepare for commercial license driving tests in Illinois, Indiana, New Jersey, or California.
We can do so much more than that! Access DoNotPay from your preferred to get assistance with:
Disputing speeding penalties

Fighting stressful traffic tickets