Understanding What the Driveway Easement Agreement Is All About
Whether you want to use your neighbor's driveway or the other way around, you need a driveway easement agreement. We'll show you why it's essential to have a driveway easement contract in writing and what to include in it so that you can write the contract with ease.
An Easement Agreement Explained
An easement agreement is a legal document that gives legal rights to a person wanting to use or access a property—in this case, a driveway—they do not own. Typically, the agreement is between two neighbors. Both parties should negotiate the terms and agree on them before finalizing the document.
What To Keep in Mind Before Drafting a Driveway Easement Agreement
Before you download a contract template, hire a lawyer, or draft the driveway easement agreement yourself, there are a few steps and details you should be aware of:
What To Do

Brief Explanation

Research the property

You need to be sure about the boundary line between your neighbor's and your property so that it's clear how much of the driveway requires a right of way or use. Your city or county office should have the legal description of the property

Consult a real estate agent

A realtor can advise you on the amount of money for the driveway easement as they understand the area and the prices better. You can also ask around your neighborhood and check whether anyone else has agreed to an easement, so you can make an informed decision about the price

Start negotiations

Whether you are allowing or asking for an easement, negotiations are crucial. The talks should cover the way of use, persons permitted to use the driveway, as well as the fees.

Make an offer and be respectful toward the other party

Agree on drafting a driveway easement contract

Decide how you will create a written agreement—whether you'll hire a lawyer to draft the document or check it once you write it.

As a driveway easement agreement should follow your state's regulations for transferring an interest in land, a consultation with a land use attorney is a good idea
What Should a Standard Driveway Easement Agreement Cover?
A driveway easement agreement is typically named a Grant of Easement in writing. The property owner is the grantor, while the other party is the grantee. These terms should be used throughout the document.
Here's what else a simple driveway easement agreement should include:
Full names of the parties

Description of the driveway

Consideration—the money the grantor receives in exchange for the easement

Definition of the easement area

Purpose of the easement—e.g., access, passage, parking, etc.

Details of the granted rights

Terms of the easement

Duration of the easement

Right of transfer—state whether the rights will be transferred to the next owner in case the property is sold

Exclusivity—specify whether the easement can apply to any other person

Maintenance responsibilities—who needs to take care of the driveway

Dispute resolution

Signatures

Dates
Does a Driveway Easement Agreement Need To Be Notarized?
In most states, a driveway easement agreement needs to be notarized. DoNotPay can help you book an appointment with an online notary so that you finalize your document without much hassle. All you need to do once you sign up for our service is:
Select the

Notarize Any Document

feature

Upload your agreement

Type in your email address

Follow the link we send you via email
When you complete the steps, you can choose the date and time of your notary appointment.
After you get it notarized, you may also need to have the easement recorded on the deeds for both parties' properties. You can contact the recorder of deeds in your county office to find out whether this is necessary.
DoNotPay Creates All Kinds of Documents
If you need other documents besides the driveway easement agreement, our AI-powered app can help you out! Our app offers a fast and affordable method of drafting various legal documents. Create a DoNotPay account and let us do the work for you. Here are the steps to follow:
Enter the name of the contract you need

Answer our chatbot's questions to customize it

Download your document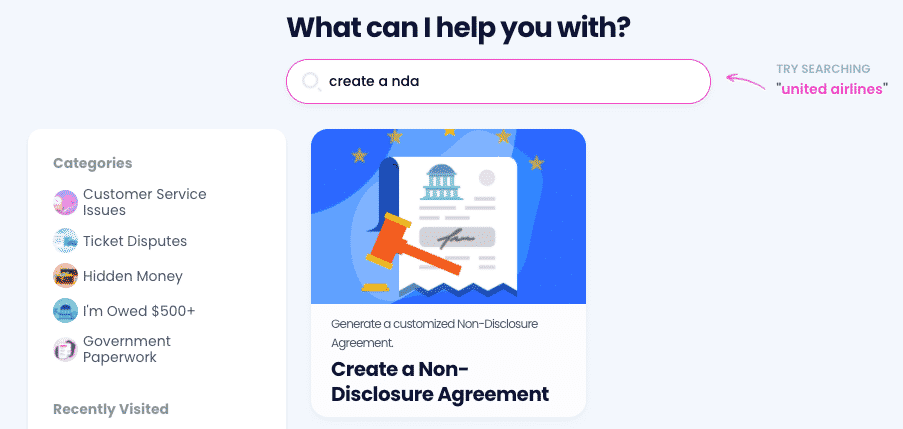 Besides drawing up documents, DoNotPay can help you understand them better, thanks to our numerous guides. Check out a fraction of what we can assist you with:
Drafting Documents
Learning About Documents

Intent To Purchase Real Estate

Estoppel Certificate

Prenuptial Agreement

General Affidavit

Promissory Note

Residential

Lease Agreement

Quitclaim Deed

General Business Contract

Child Care Authorization Form
Save Some Coins With DoNotPay
Are various subscriptions and memberships burning a hole in your pocket? DoNotPay can help you cancel all of your memberships in a matter of minutes without having to contact customer service reps. 
Next time you want to register for a free trial, prevent unexpected costs with our virtual credit card. Once the trial is over, you'll be unsubscribed right away because our virtual credit card doesn't contain any money. We will also generate a random email address you can use if you want to protect your privacy and avoid spam marketing emails. 
Do you need help claiming warranties and insurance policies? DoNotPay can help with that too. 
Should you need assistance returning an item or requesting refunds for purchased products, canceled flights, or late deliveries, we've got your back!
Avoid wasting money on lawyers—DoNotPay is here to help you sue anyone in small claims court and create numerous legal documents in the blink of an eye!
DoNotPay Can Help You Earn Money Too
DoNotPay users can save hundreds of dollars thanks to our app, but did you know that we can help you earn a few bucks as well? Our app enables you to claim missing money under your name or file your application for paid clinical trials in less than five minutes.
You can even get compensation for reporting robocalls or apply for a crime victims compensation program in your state by signing up for our app and following a few simple steps.