What You Need to Know About Dooly State Prison
The Dooly State Prison serves the state of Georgia as a medium-security prison that houses male inmates who are not able to be held at traditional county prisons. The reasons why these prisoners cannot be held in a county prison vary, but it typically boils down to these offenders having committed a sexual offense of some kind that has landed them behind bars in the first place.
Certain sexual offenses in the state of Georgia require the offender to be kept a certain distance from schools, parks, and other public areas, and that is why they may end up in the Dooly State Prison instead. If you need to reach one of these highly isolated individuals, you will probably need the help of DoNotPay to do so.
How to Reach The Dooly State Prison
If you are writing a letter to an inmate, becoming a pen pal with an inmate, or looking up the visitation rules for seeing inmates, you should be aware of the location and general contact information for the Dooly State Prison. If you have this information, then you have the ability to get in touch with people there to check on visitation rules and other important information that you need to know about before making your way out there. Here are some of the basics of the Dooly State Prison system:
| | |
| --- | --- |
| Physical Address | 1412 Plunket Rd. Unadilla, GA 31091 |
| Phone Number | (478) 627-2000 |
| Website | http://www.dcor.state.ga.us/Facilities/dooly-state-prison |
| Fax | (478) 627-2140 |
| General Email | N/A |
| Security Level | Medium |
You can use this information to reach out to the facility and make sure you know the specific rules for how to address a letter to an inmate and even what kind of things are allowed or not allowed to be sent there. Remember, this facility houses people who have committed offenses that are sexual in nature and that means extra layers of security are necessary for some instances to keep everyone safe.
Visiting Hours and What to Know
You don't get to go to the Dooly State Prison and demand that you get the chance to visit your loved one on your own schedule. You probably already know that this is the case but you should pay close attention to the visitation rules for this prison so that you don't violate them. First, you should know the visitation hours:
Saturday: 9am-3pm
Sunday: 9am-3pm
Occasionally on state-recognized holidays
You need to be at the prison ahead of time before visitation starts so that you can be checked in and screened. There are specific procedures that the guards will have to put you through in order to determine that you are not bringing in contraband. It is annoying to have to go through these steps each time but you need to understand that these rules are only in place to help keep everything safe.
How to Use DoNotPay to Locate Your Loved One in Jail
If you want to track down your loved one in jail, you may need the help of DoNotPay to make sure you can find them no matter where they are and successfully write them letters. It could be the only way to locate them at all, and at the very least, it might save you a considerable amount of time compared to how long it would take to do it on your own. Here are the steps to take:
1. Locate the Connect With an Inmate service on DoNotPay.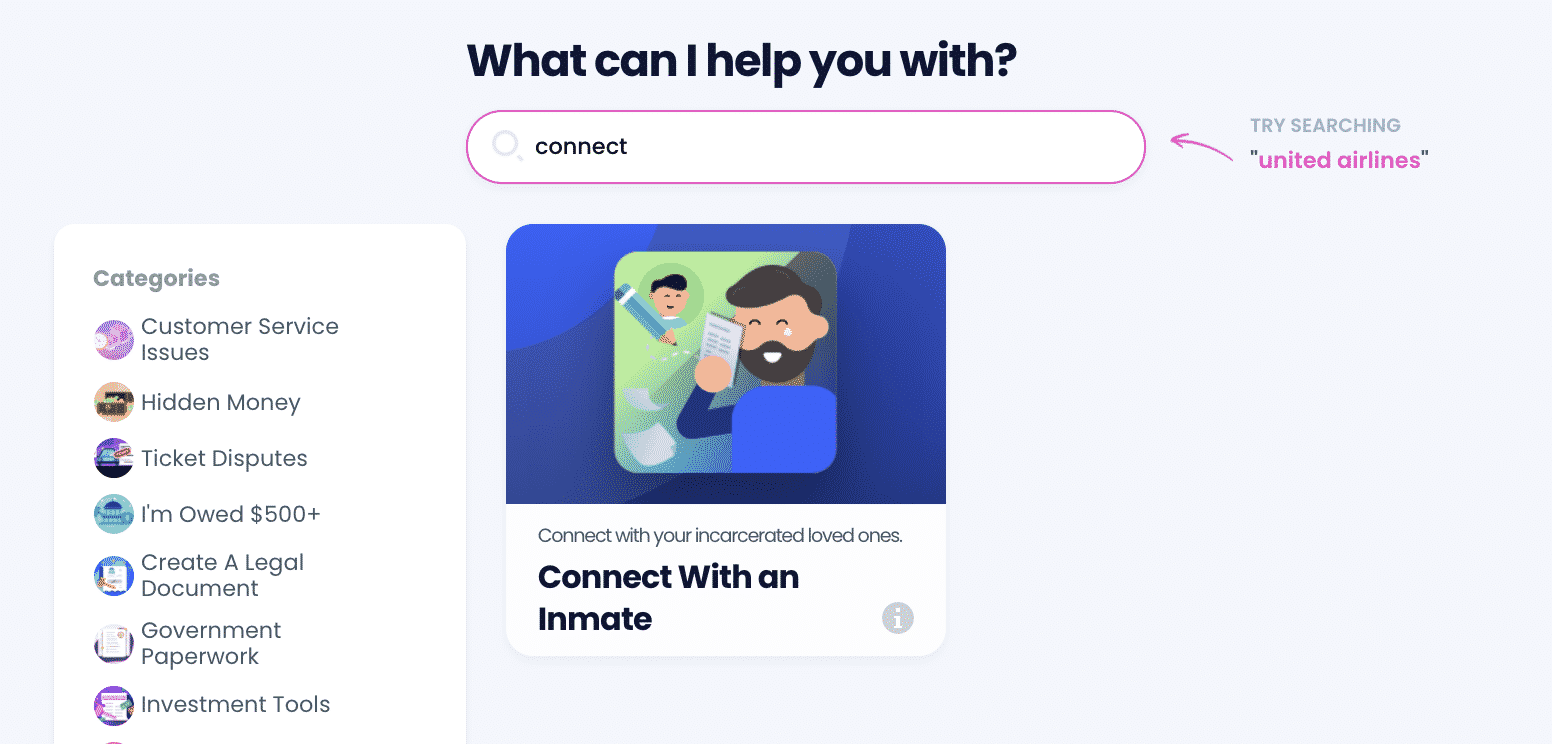 2. Choose whether you want to locate a loved one, create a virtual mailbox, or send a personalized letter.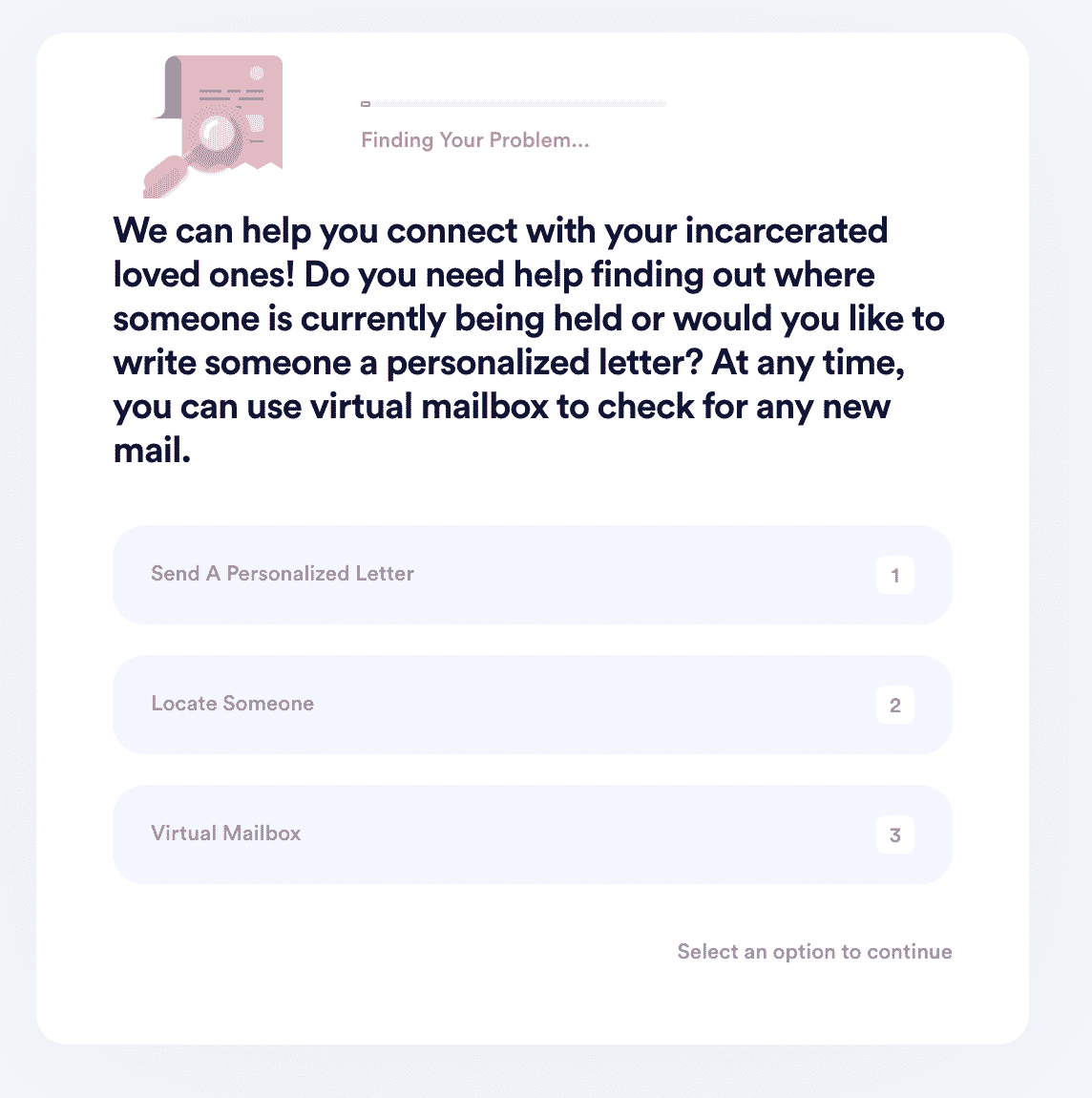 3. If you want us to find your loved one, provide his or her personal details and the state they are located in. We'll then conduct a search on the appropriate state database.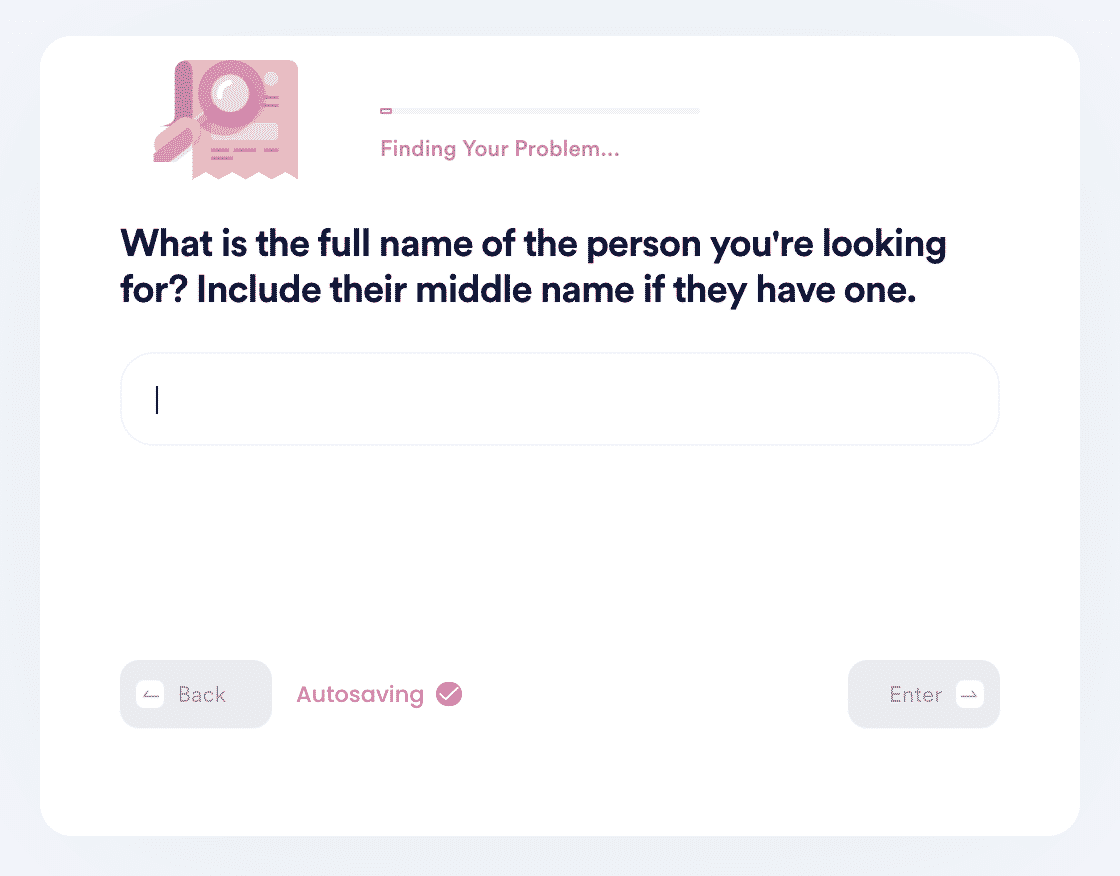 4. If you want to create a virtual mailbox, just provide your full name! We'll set one up for you so you can easily receive incoming mail from your loved one.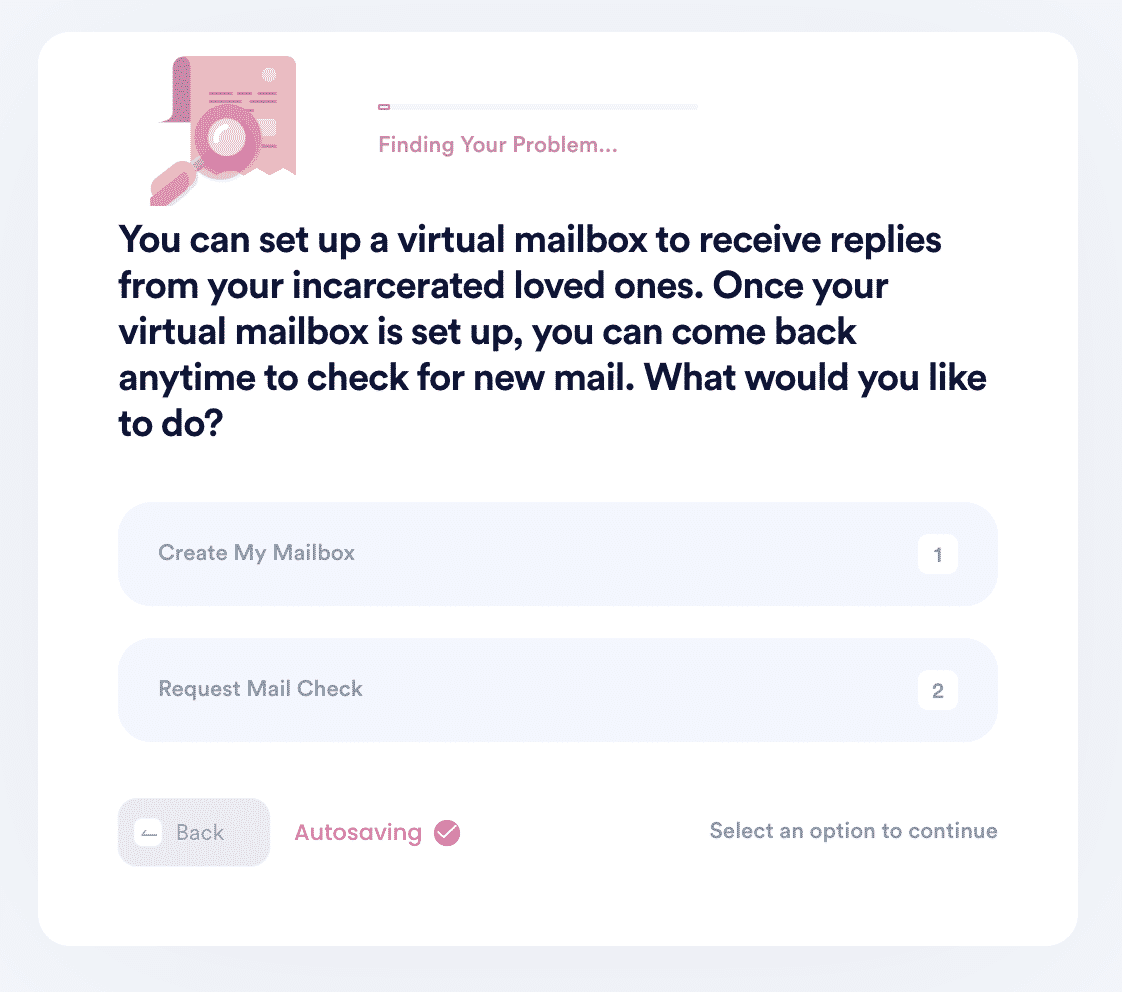 5. If sending a personalized letter, tell us which facility your loved one is located in and what you would like to say to them. You can even include a photo! Your letter will be delivered automatically - just wait 10 days for it to arrive to your loved one!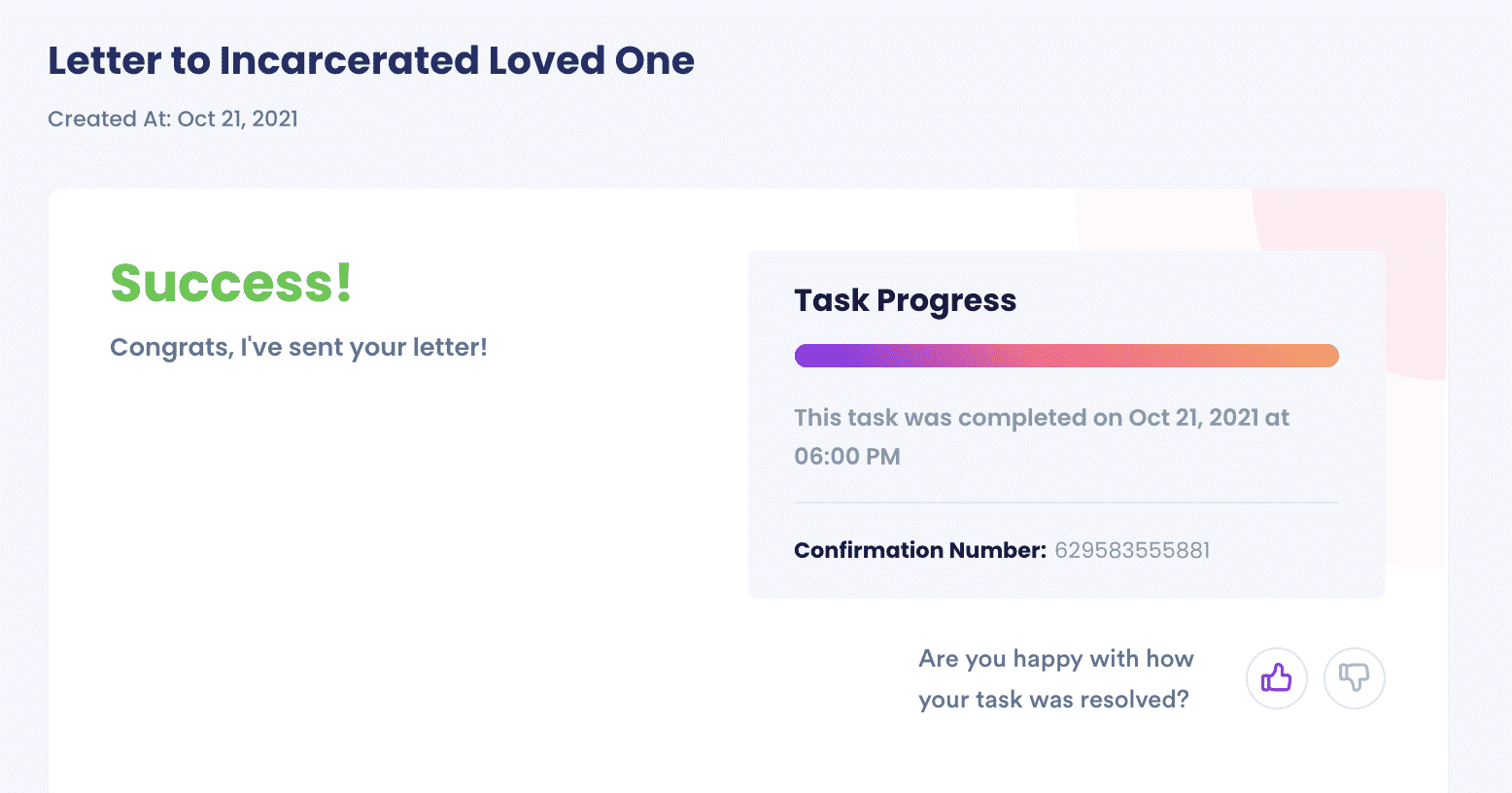 What Else Can DoNotPay Do?
DoNotPay can also help you with the following:
Disputing traffic tickets
Fighting speeding tickets
DoNotPay Brings You Closer To Your Loved Ones In Jail
You get to bring joy to your loved ones in jail when you write to them or when you take the time to go and visit them. It is important that they are offered that chance to be reminded that there are people who care about them in the outside world. DoNotPay is so helpful at making this happen because they focus on the things that really matter for bringing people closer together. This includes:
The ability to communicate either in written form or in-person.
The chance to get through all of the prison rules safely so you can visit.
A faster route to seeing your loved one than trying to do all of this by yourself.
There is no doubt that DoNotPay has made the process of connecting the outside world with those behind bars, and perhaps that has helped to make the world a somewhat better place.