Does a Power of Attorney Override the Spouse's Rights? Get the Scoop With DoNotPay
Married couples usually choose their life partners as the power of attorney (POA) agents, but that's not always the case. When a person gives the authority to act on their behalf to someone other than their spouse, it can create conflicts and lead to more serious disputes later. That is why you should learn all about the powers granted by a POA document and the effect they have on spousal rights.
In this article, we'll answer the "does a power of attorney override the spouse's rights" and other related questions.
Power of Attorney and Spouse's Rights in a Nutshell
To learn if power of attorney overrides the spousal rights, we have to answer the following questions:
What is a power of attorney?
What spousal rights are there?
What Is a Power of Attorney?
A power of attorney is a legal document one person—the principal—draws up to delegate their powers to another individual—the agent—and authorize them to act in their stead once the principal can no longer act independently. Depending on the powers you are transferring and other specifics, you can choose among several types of POA:
Once the principal becomes incapacitated, the agent gets the powers to:
Access the principal's bank accounts to pay for the principal's:

Health care
Housing needs
Utility bills
Other bills

Makes decisions regarding the principal's:

Investments
Medical issues
Housing situation

File taxes in the principal's name
Pay off the principal's debts
Take care of the principal's property
What Spousal Rights Are There?
Once you become married, you get entitled to certain rights and responsibilities. Spousal rights can vary from one state to another, but in most states, married couples have the right to:
Open joint bank accounts
File joint federal and state tax returns
Get the family or marriage rate on car, health, and liability insurance
Receive inheritance after the spouse's death
Obtain the spouse's pension, Social Security, disability benefits, and worker's compensation
Sue for your spouse's wrongful death
These are the most common marital rights, but there are many more. While some of them are pretty straightforward and easy to execute, others may overlap with the rights of an agent.
Power of Attorney vs. Spouse's Rights
If a person doesn't appoint their spouse as an attorney-in-fact, here's what you should keep in mind:
The agent cannot make decisions and act on the principal spouse's behalf
The spouse doesn't have the power to modify or terminate their spouse's power of attorney
In general, a power of attorney overrides the spousal rights, but not every time. Consult the following table to see who has more power regarding the principal's health and finances:
| | |
| --- | --- |
| Medical Matters | Financial Matters |
| If a person becomes incapacitated or mentally incapable, a person (or more than one individual) in charge of their healthcare is the power of attorney agent | The principal's attorney-in-fact is in charge of managing their property if it is personal. If it's marital—jointly owned by spouses—the agent doesn't have the authority over it. This means that the capable spouse has the right to use and manage the property on their own |
Does a Spouse Need a Power of Attorney To Act on Your Behalf?
For the majority of matters, yes. While spouses do gain some rights in a marriage, they don't supersede the power of attorney. You should appoint your spouse and have them choose you as a power of attorney agent to take care of each other's assets and affairs.
Does a Spouse Automatically Have Power of Attorney?
Contrary to popular opinion, a spouse doesn't automatically have power of attorney. If you become incapacitated and don't have a power of attorney document, the court has to decide who gets to act on your behalf. Unless you choose them as your agent, your spouse will have little to no say in the decision-making process about your health and finances.
How Do I Get Power of Attorney for My Husband?
You should contact a lawyer if you want to appoint your husband as a power of attorney agent. Hiring a lawyer guarantees you a professionally written power of attorney letter, but you have to be ready to set aside a large sum.
Writing a POA letter on your own is another possibility. All you have to do is download a POA template and fill it out. While you can save a lot of money this way, you should keep in mind that legal document templates are too general and can be unreliable.
You can ditch expensive lawyers and imprecise templates—register for DoNotPay to get a personalized power of attorney document in a breeze!
Get the Power of Attorney Document With the Help of DoNotPay
Don't waste your money on lawyers and your time searching for a suitable power of attorney letter template—access DoNotPay and follow these steps:
Choose the Power of Attorney product
Specify the type of POA you need
Provide the required information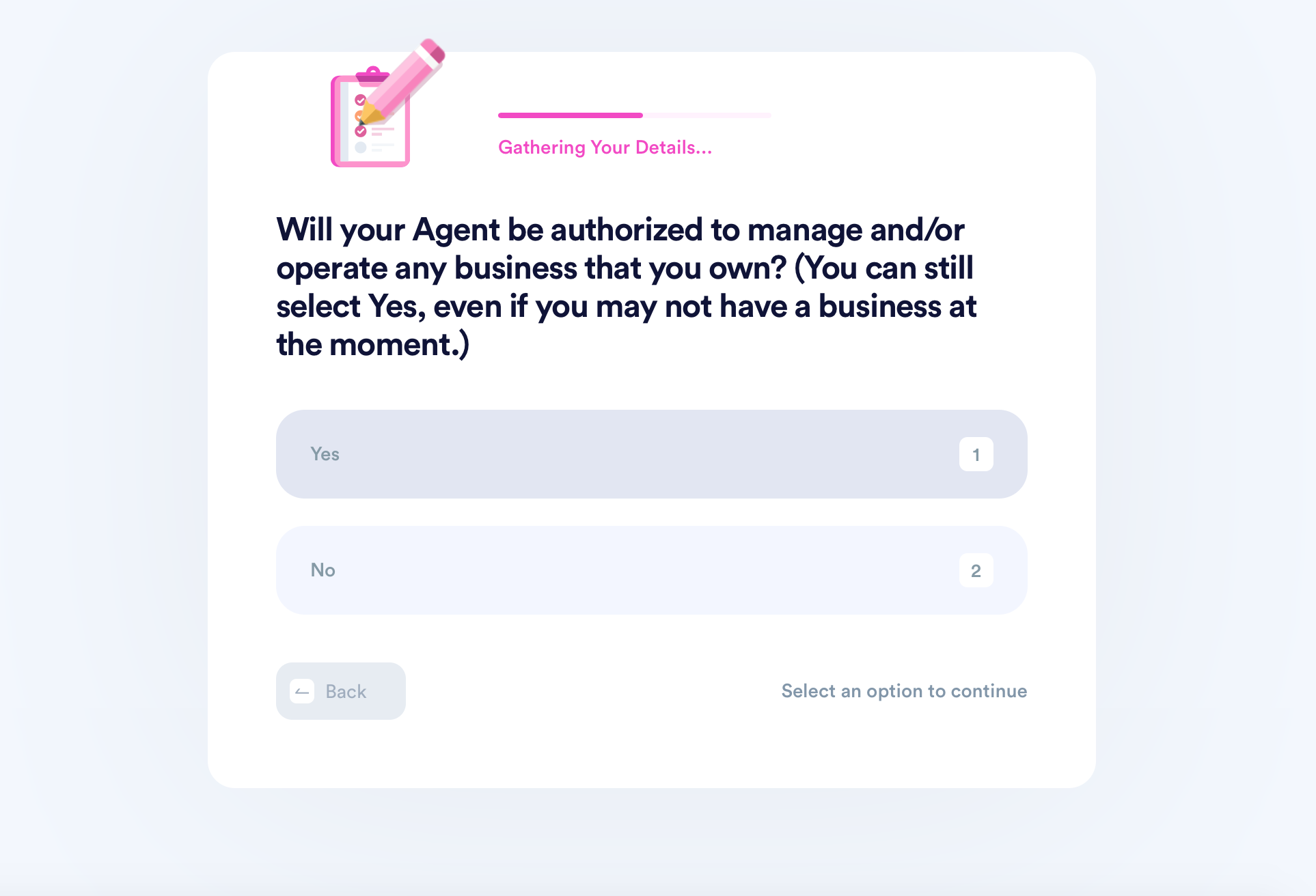 We will customize a power of attorney for you. Besides your POA document, you will receive two notices—one for you and the other one for your agent(s).
If your state requires POA documents to be notarized, we will find an online notary to witness your signature within minutes.
DoNotPay Can Answer Other Questions Regarding Powers of Attorney
If you have other doubts about powers of attorney, we are more than happy to answer them. Here are some of the questions we already have the answers to:
Outsmart Big Corporations by Using DoNotPay
Our platform is always on the side of regular people, and the number one item on our agenda is fighting for your rights.
If you need help requesting refunds for faulty products, late parcels, or canceled flights, you can turn to DoNotPay for help. Protect your privacy and stay one step ahead with our spam email collector, burner phone numbers, and virtual credit cards.
We will provide you with everything else you need in your fight—online fax, mailing service, and products for drafting legal documents and having them notarized online.
Improve Your Leisure Time Too!
You can win some serious battles with the help of DoNotPay—after all, our app can even get you ready for small claims court—but we offer numerous useful features that will improve the quality of your entertainment.
Signing up for free trials doesn't come with the risk of losing money anymore, and if you get bored with that new streaming service, you can easily cancel it using our app.
If entering raffles is your idea of fun, you'll be glad to know we can help you participate in all kinds of these games of chance. You can also review your knowledge using our government tests prep quizzes or retrieve any unclaimed money under your name and spend it on something fun!