When Does a Power of Attorney Expire? The Ultimate Answer
A power of attorney is a handy document that serves to ensure your finances, health, and personal matters will be taken care of by a trusted individual in case you're unable to manage them yourself. When does a power of attorney expire, and how long can each type of this important document remain in effect?
DoNotPay is here to answer this question and help you create a power of attorney document without overpaying for legal assistance!
What Do You Need To Know About a Power of Attorney?
A power of attorney (POA) is a legal document authorizing an individual (agent) to legally manage affairs on behalf of another person (principal). Depending on the duration of the agreement and the scope of authority given to the agent, there are five types of power of attorney:
General—The agent has full authority to handle everyday legal and financial matters in the principal's name
Limited (special)—This document gives the agent powers to act on behalf of the principal for a specific period or on particular matters
Durable—It continues to be in effect or becomes effective once the principal is no longer capable of making decisions for themselves
Medical—This document grants the agent power to make medical decisions on behalf of the principal
Springing—It has to be triggered by a specific event to become effective, for example, when the principal becomes incapacitated
Does a Power of Attorney Expire?
All powers of attorney have an expiration date, depending on the type. Take a look at the table below for further clarification:
Power of Attorney Type
When Does It Expire?
General
General powers of attorney can last as long as the person is alive or mentally or otherwise capable. Once the principal dies or becomes incapacitated, the contract becomes void
Limited
A limited power of attorney expires according to the timeframe specified by the contract or after the tasks specified in it have been completed
Durable
Since the agent's authority starts or continues once the principal is no longer capable of making decisions for themselves, a durable power of attorney expires only after the principal's death
Medical
This document can authorize an individual to make all medical decisions for the principal, including those involving life-or-death scenarios. Depending on the specifics, the POA can expire once the principal:

Dies
Is no longer in need of medical care

Springing
Since the springing power of attorney typically doesn't take effect until the principal becomes incapacitated, it expires once the principal dies
How Long Does the Power of Attorney Last, and When Can I Terminate It?
Besides running its course, a POA document can be revoked and otherwise terminated under specific circumstances. Check out additional reasons that can make a power of attorney invalid in the table below:
Reasons a Power of Attorney Becomes Void
Explanation
Termination by the principal
A principal can revoke a power of attorney at any time without giving a particular reason. The only condition is that the principal is mentally capable of making that decision. The termination of a POA can happen because:

Agent is not fit for the role
Principal has changed their mind and decided to appoint someone else
Agent is no longer available (for example, if they move to another city or state)

Resignation of the agent
If an agent doesn't want to continue performing their duty, they can resign by giving the principal a written notice. Typically, the agent's resignation doesn't have to end a power of attorney if a successor agent takes their place
Do You Need To Create a Durable Power of Attorney? DoNotPay Makes It Simple!
A durable power of attorney is difficult to create without legal experience since the document has to protect your interests and comply with particular state laws at the same time.
Luckily, you don't have to hire expensive lawyers to draw up the durable power of attorney letter for you. If you subscribe to DoNotPay, we can create a POA that levels with those written by legal experts!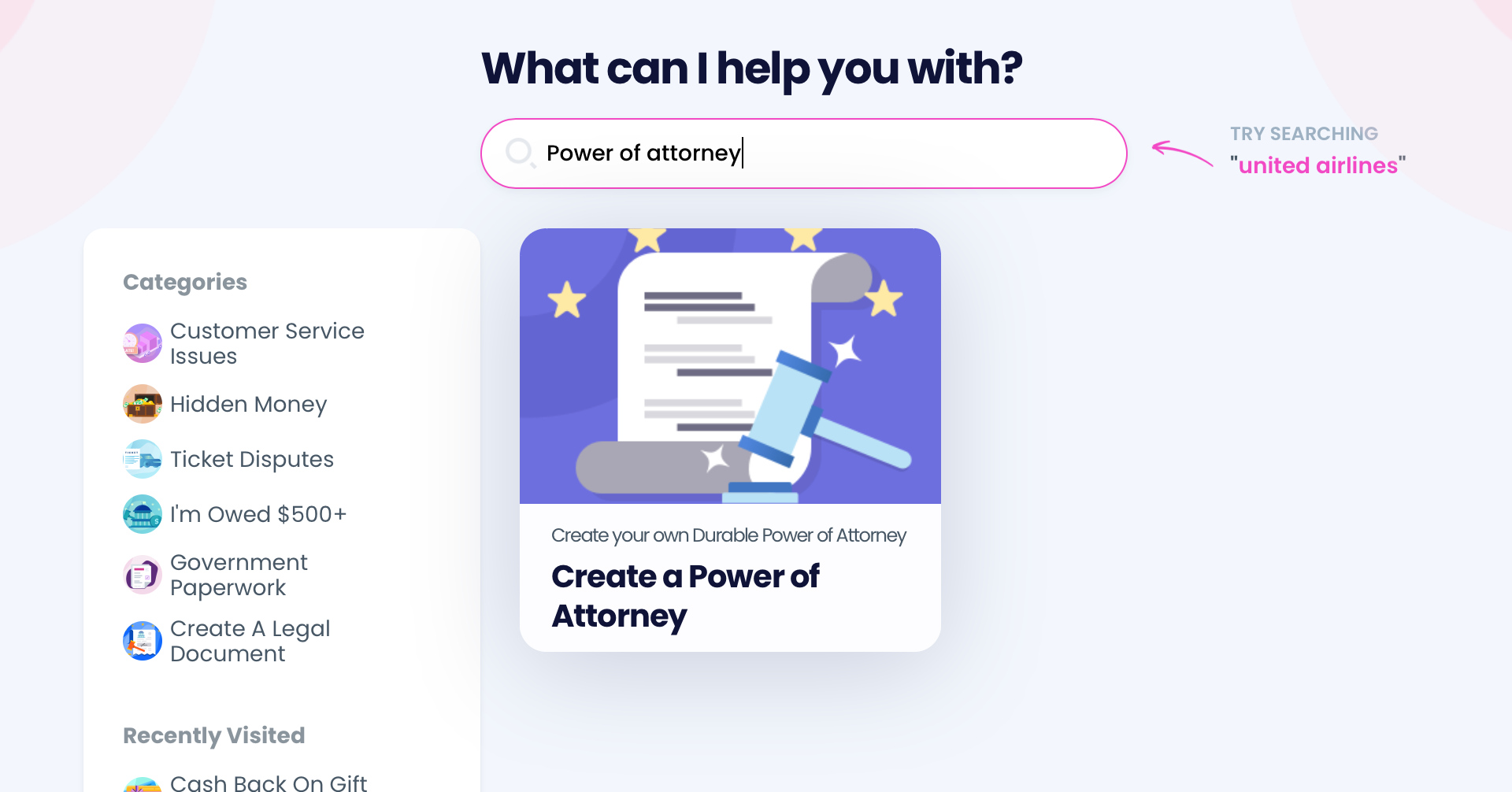 You can get a professional power of attorney in record time, as long as you sign up for DoNotPay in any web browser and:
Find our Power of Attorney product
Provide essential information related to your state of residence, your agent, and the scope of authority granted to them
Our app will instantly incorporate the provided details into a comprehensive document that corresponds to your needs and state-specific laws. Since a power of attorney typically needs to be notarized to be considered legally valid, we can help you with that as well. DoNotPay provides an option to connect you to an online notary who can notarize your power of attorney in a completely virtual environment. You can both create and have your POA notarized without leaving your house!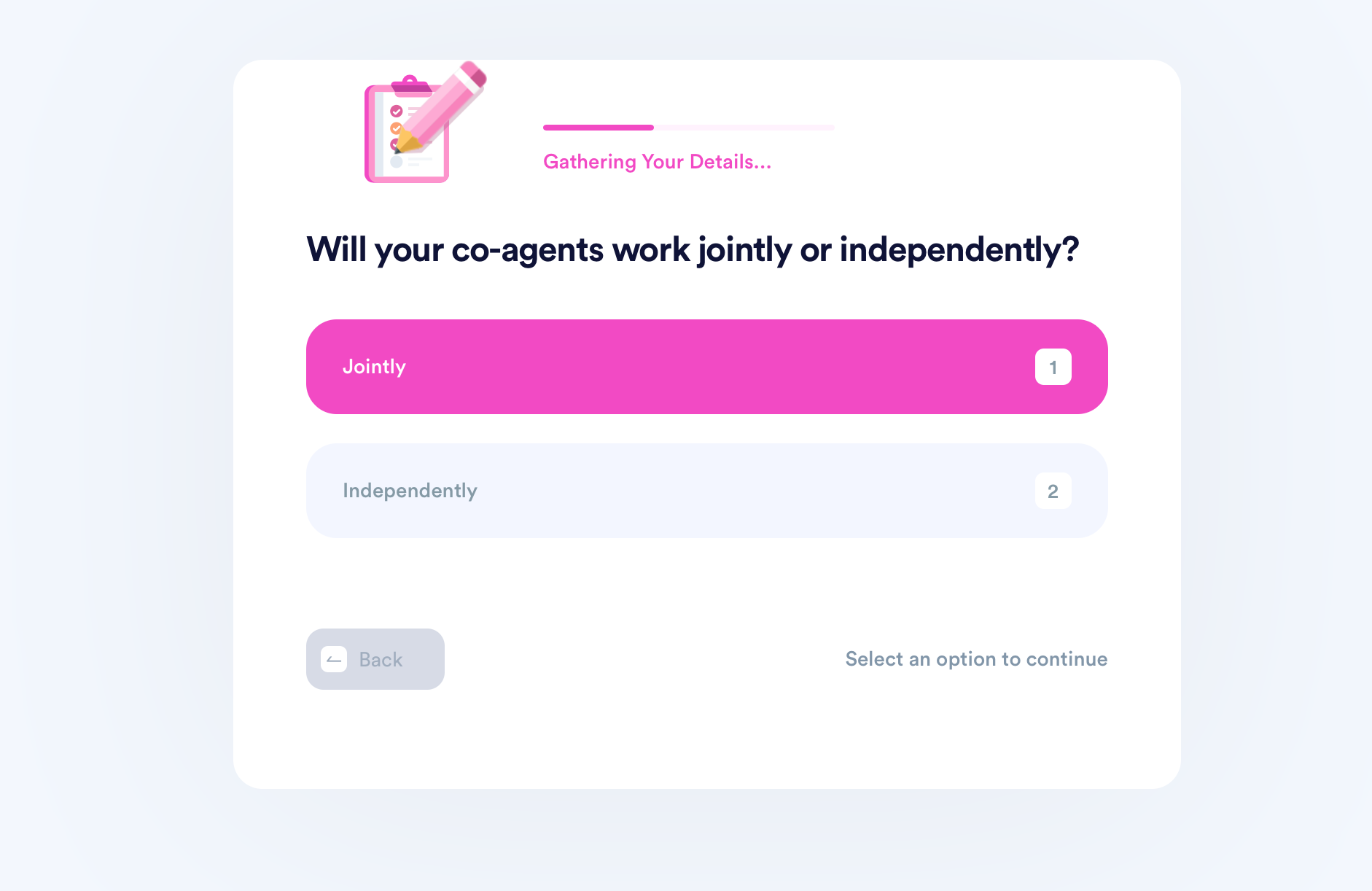 Are there any other power of attorney-related questions we can clarify? Check out our knowledge base and discover:
Good Things Come in Small Packages
Siri and Google Assistant are great in their own right, but their skills leave a lot to be desired when it comes to the practicalities of our daily lives. DoNotPay is an app, a true pocket-sized assistant that has the power and the know-how to help you deal with navigating bureaucracy and fighting for your rights efficiently.
Our platform, accessible from your phone or computer, is brimming with products that will help you:
From Government Tests Preparation to Copyright Protection
Whether you are getting ready for your driving test or wish to protect your creative work, DoNotPay has something in store for you.
We can help you handle some serious tasks—like suing someone in small claims court or reporting workplace discrimination—or deal with more mundane activities, such as getting that leftover money from your used gift cards.
The best part is that your DoNotPay subscription gives you access to all our services, be it online fax or virtual credit cards!