Instigator or Victim—Does It Matter Who Files for Divorce First?
If you and your spouse are contemplating filing for divorce, there may be many emotions in play.
If you feel wronged enough to want a divorce, you may also feel it is the right thing to do to get your divorce papers in first to gain control of the process.
Does it matter who files for divorce first? DoNotPay looks at the pros and cons and shows you the easiest route to divorce!
How Do You File for Divorce?
The process of filing for divorce depends on the state you live in but generally consists of the following steps:
Steps in the Divorce Process
Explanation
Filing divorce papers
Your first step is to lodge a petition for divorce and all the accompanying paperwork with your local family or county court. The additional documents you will probably need include:

Statements of assets and liabilities
Breakdown of your and your spouse's income and expenses
Details of any children or dependents

Serving the papers
Once you have filed, you must have the papers delivered to your spouse, and they need to sign confirming receipt
Drawing up a settlement agreement
If you can draw up a settlement agreement either before you file or before your case comes to court, your divorce will be considered uncontested, in which case your route to divorce is considerably easier—you may even get away without needing to appear in court or engage a lawyer to fight your case
What Are the Advantages of Filing for Divorce First?
If you file for divorce first, you can gain a slight advantage over your spouse, as follows:
Preparation time
Date planning
Case presentation
Immediate relief
Preparation Time
As the spouse filing for divorce, you can take as much time as you need to prepare your case before filing.
Date Planning
As the plaintiff, you will know the timelines of the divorce before your spouse, meaning you can potentially plan the process better.
Case Presentation
Your papers will be the first the court sees, so you have the opportunity to present your case the way you want to, rather than having to respond.
Immediate Relief
By filing first, you can apply for immediate relief funding to cover any expenses you may incur as a result of the divorce process, such as:
Costs related to relocating
Funds to cover everyday expenses
Childcare or support payments
Does Filing First Have Any Disadvantages?
If you file for divorce without first agreeing on the process with your spouse, you may run into several roadblocks—you will:
Be liable for the filing fees—depending on where you live, these can be anything from $75 to $435
Set yourself up for a contested divorce—springing a petition for divorce on your spouse will almost always result in them reacting negatively. A contested divorce can become seriously expensive
Show your hand too early—if you file for divorce and expect it to be contested, you may lose an advantage by divulging your demands too early. Good negotiators always let their opponent bid first
The disadvantages of filing for divorce first may well outweigh the advantages.
How Can You Keep Your Divorce Fast, Cheap, and Painless?
Your best course in filing for divorce is to aim for as little conflict as possible.
Any divorce that lands in court will result in:
Higher costs
Dirty linen being aired in public
Negative fallout for any children in the marriage
Longer time until the divorce is granted
If you want to keep costs down, timelines short, and trauma to a minimum, the only route to go is an uncontested divorce.
The way to approach this is to work together with your spouse to agree on:
The need for a divorce
The process you should both buy into
The settlement you are both happy with
If you can reach a point of consensus on these questions, it becomes irrelevant who files for divorce first.
Depending on the state you live in, you may be able to file in the following ways:
| Filing Method | Explanation |
| --- | --- |
| No contest response | You file the divorce petition, and your spouse responds with no contest, in which case the settlement proposed will be accepted and the divorce granted |
| Default judgment | You file for divorce, and your spouse fails to respond within the specified timeframe. The judge will normally award a default judgment in your favor |
| Joint filing | You and your spouse file a joint petition including a settlement agreement signed by you both—conflict is eradicated, and the divorce is as friendly as it can be |
Filing a joint petition for divorce will ensure that your case is dealt with quickly, cheaply, and without lengthy court proceedings.
Whether you can file jointly depends on:
Your state's legislation
Your divorce settlement agreement being in place before you file
How Can You Draw Up a Divorce Settlement Agreement?
Your divorce settlement agreement is the make-or-break document to keep your divorce simple, cheap, and quick.
The settlement agreement needs to cover the following points:
Your options for drafting your settlement agreement are:
| Settlement Agreement Options | Explanation |
| --- | --- |
| Lawyer | A lawyer can negotiate and draft your settlement agreement, but this will be a costly exercise. If you have reached a consensus on the settlement with your spouse, you shouldn't need attorneys. Even if there are still bones of contention, a cheaper option is to submit to mediation to resolve the issues at a fraction of a lawyer's cost |
| Online | Several websites offer online settlement agreements, but these can be too generic to cover your needs and may even be invalid in your state |
DoNotPay offers the best of both worlds—a watertight and comprehensive settlement agreement with no lawyer's fees to pay!
DoNotPay Helps Resolve Divorce Conflict!

DoNotPay is committed to helping you get through your divorce with the minimum of pain and trauma! We created the Divorce Settlement Agreement product to help you and your spouse draw up a settlement that covers all the bases and allows you to move on as quickly as possible.
To set up your settlement agreement, here's what you have to do:
Pick the Divorce Settlement Agreement feature
Fill in the details you want to be included in your agreement
Once we have everything, your agreement will be created in an instant. You and your spouse can sign it and have it notarized online with our help.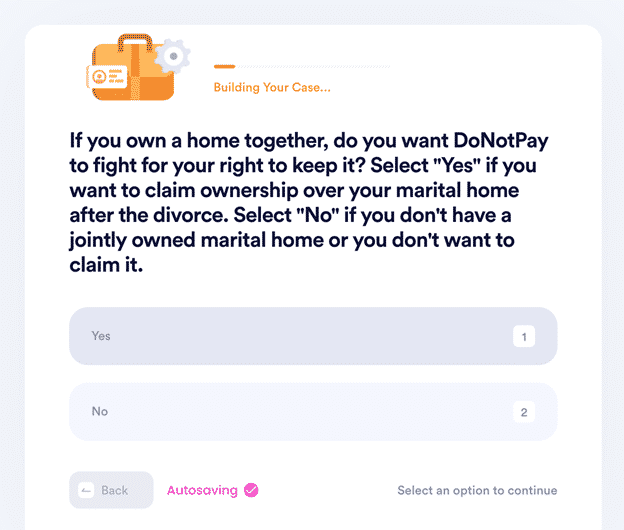 Our App Solves Your Legal Issues!
Do you really have to set aside astronomical amounts to pay lawyers for drafting legal documents or taking a person or business to small claims court?
The answer is no—all the cash remains in your pocket, thanks to DoNotPay! From now on, you can perform many legal tasks from home with the help of our app. It enables you to create flawless powers of attorney, divorce settlement agreements, and child travel consent forms in a snap.
That's not all—once we generate these documents for you, we also help you have them notarized via a video meeting. No need to waste your time and fuel visiting notary offices.
Check Out Other Perks DoNotPay Offers!
DoNotPay provides a wide selection of services, from creating virtual credit cards and burner phone numbers to getting refunds from companies and canceling subscriptions. Have you received an unfair parking ticket? Appeal it with our app before you know it! Are email spam and robocalls making your life a living hell? No scammer stands a chance against our efficient AI-powered tools and features!
We also work in your favor when it comes to safety. Our app offers perfect ways to prevent copyright infringement, stalking and harassment, work discrimination, sex offenses, and disputes with annoying neighbors.