Myths About Homeschooling Busted—Does Homeschooling Disadvantage Students?
When you are taking an important step, such as transferring your child from public school to homeschool, you're probably considering the possible benefits and drawbacks of your decision. You might talk to parents with homeschooling experience or read articles about the subject and get lost in a maze of contradictory information. Avoid that by relying on DoNotPay!
In this article, we will answer the question "Does homeschooling disadvantage students?" by presenting the effects of homeschooling on a child's development, as well as the advantages and disadvantages of home education.
Effects of Homeschooling on a Child's Development
It is a widespread opinion that homeschooled students have a higher rate of academic success, but is that the case? To answer that question, here are some of the ways homeschooling affects children:
Developing independent thinking and self-esteem—Since your child will not be exposed to the influence of groups of students, they'll be able to have their own opinions
Outperforming public school students on standardized tests—This is a result of the individualized approach and attention homeschooled kids get
Being more involved with their community—If your homeschooling plan includes public places like art galleries, parks, libraries, and museums, your child will get to know the community better and be more likely to join community service projects and be actively involved
The most common argument against homeschooling—the lack of socialization—isn't a correct assumption. Homeschooled children can still join various groups and classes, such as chess, sports, or dancing, and meet friends and develop social skills.
The Benefits of Homeschooling Your Child
Once you decide to homeschool your child, you may take the role of a teacher, which comes with different benefits. To get a clear picture, you should consider the advantages and disadvantages of homeschooling your kid. Check them out in the following table:
Advantages
Disadvantages

Homeschooling your child as a working parent or a single parent can get overbearing
Teaching is a full-time job
Educating your child at home may have a negative effect on your finances as you need to be more present
Pros and Cons of Homeschooling in High School
While homeschooling is a good solution for primary and middle school students, you will have to take a different approach when it comes to high schoolers. You should take into consideration the following pros and cons of homeschooling in high school:
Pros
Cons

Homeschooled high schoolers are less exposed to drugs and alcohol
Homeschoolers have the opportunity to specialize in their area of interest
Before Switching to Homeschooling, Write a Letter of Intent
According to the homeschooling law in certain states, the requirement you have to meet to start homeschooling your child is to write a letter of intent to homeschool. This is a document that officially notifies the school district of your intent to start homeschooling.
Don't worry about drawing up this letter because you can sign up for DoNotPay and get the help you need!
Start Homeschooling With DoNotPay's Assistance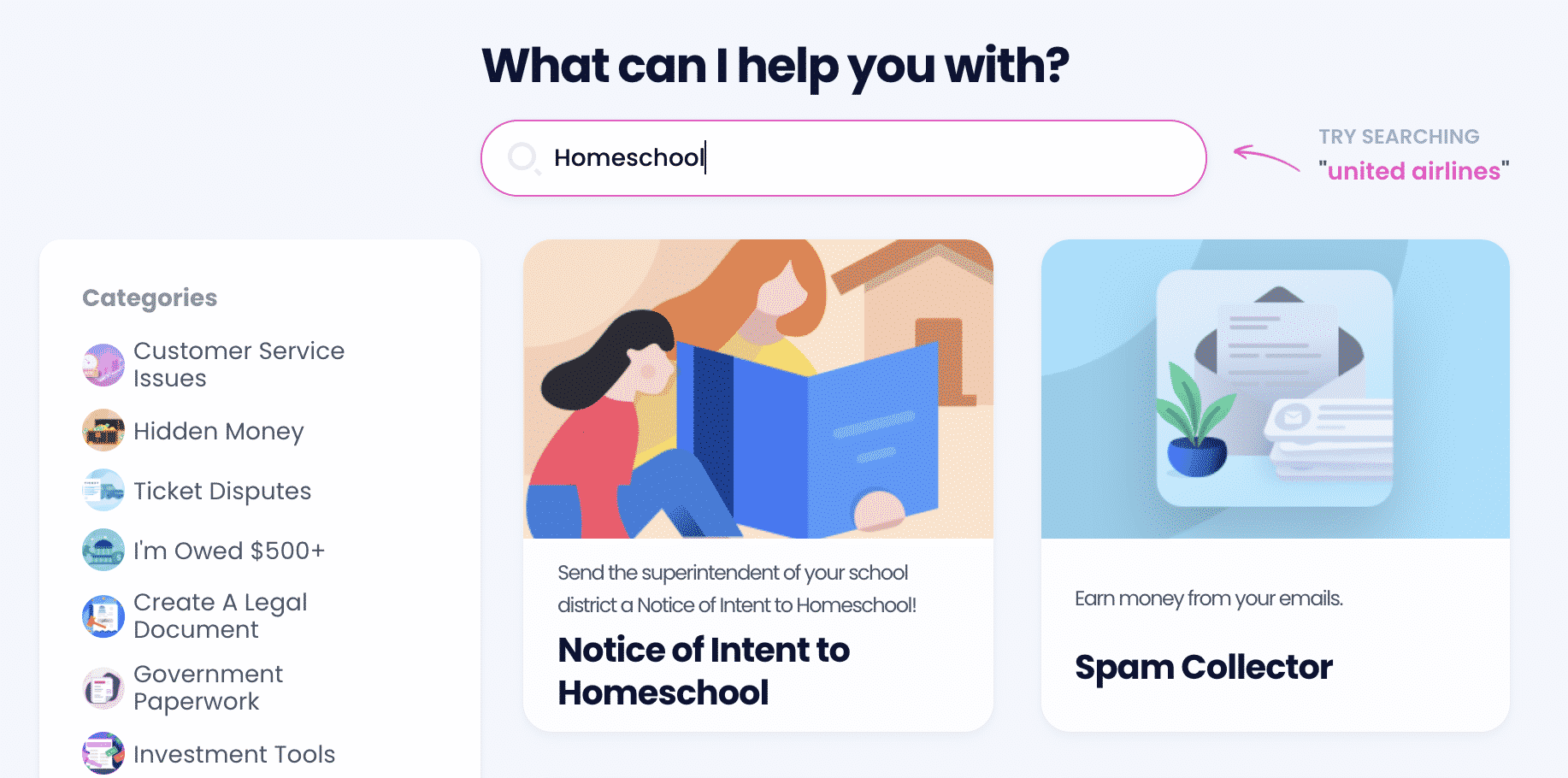 If you decide that homeschooling is the right choice for your child, then you should take the first step towards it. To do that, you will have to inform your child's school of your intention to start homeschooling.
We will draft the letter of intent to homeschool within minutes and include all the required and important info about your homeschooling plan, regardless of what part of the school year it is.
All you have to do is complete these steps:
Choose the Notice of Intent to Homeschool feature
Provide us with details about your child and school district
Click on the Sign and Submit button
Once you submit your request, DoNotPay will generate a customized letter and send it to the school district instead of you. If you wish, we can create a PDF version of the letter and send it to you.
In case your state's homeschooling law requires your letter to be notarized, you can do that with DoNotPay's help as well. We will find you an online notary fast, and your letter will be notarized hassle-free.
In case you want to learn more about homeschooling, visit our knowledge base. There, you'll find the answers to the following questions and more:
Explore DoNotPay's Product Range
Are you looking for additional assistance from our app? We're happy to inform you that DoNotPay provides you with a number of useful tools that you can use to complete mundane tasks in the blink of an eye! Sign up for our app and let us help you get:
DoNotPay Resolves Your Financial Issues in a Few Taps
You don't have to struggle to figure out how to resolve financial problems yourself when you have our app at your disposal. In only a few clicks, you'll be able to discover any unclaimed money under your name, submit insurance and warranty claims, or request compensation for delayed flights.
But that is not all! Lowering your utility bills, appealing parking tickets, or canceling memberships and subscriptions is also something you can do in no time and with minimum effort if you use DoNotPay! Work smarter, not harder!