Will Breaking My Lease Damage My Rental History?
Renting a place to live can be a perfect fit for different life scenarios. Yet, no matter how wonderful or downright awful a rented dwelling may be, there are times when we may consider breaking the lease and moving out before the rental agreement has been completed.
? Will this put a black mark on your rental history?
Unfortunately, this will hurt your chances of renting in the future if you do not legally break the lease.
Working on your own to discover lease termination options and make a decision is a complicated and lengthy process – DoNotPay offers a quick, simple way to handle the details for you.
Why Do Landlords Care About Places I've Previously Rented?
When landlords consider renting to potential tenants, they naturally want to know whether or not the renter might be a risk. Landlords attempt to screen out those who have broken leases before, perhaps have criminal backgrounds, or who have often been late paying rent.
How Would a Landlord Know About My Past?
There are several methods landlords use to look into your history.
Most will:
Run a criminal background check
Perform a credit check
Ask for a copy of your rental history report
What Is a Rental History Report?
This written report contains information that has been collected about your previous rentals. They include a fair amount of detailed information, including:
A list of addresses indicating places you have rented
Date of each rental
How much you paid in rent
Contact information for the property manager or landlord during the time you rented
Problems such as broken leases, evictions, late rental payments
A general positive or negative recommendation from previous landlords
Who Gathers This Information and Reports It?
Today many private consumer reporting companies provide the service of generating rental history reports. They use available information such as credit reports, background checks, address histories, and eviction records.
Some landlords prefer to do the checking on their own. They will ask you to list previous rental addresses with landlord contact information.
Can I Get Negative Report Information Changed?
You have the right to dispute information that has been incorrectly reported. If you have supporting documentation to help prove it, the reporting agency showing the error will likely change it.
However, accurate negative information is not likely to be removed or modified.
My Rental History Won't Matter if I Buy a Home, Right?
Unfortunately, this is not true. Should you decide to apply for a mortgage, the chances are high that your rental history will be verified to help assess what kind of risk you might be in terms of making your payments. Breaking your lease could be seen as a sign of financial instability.
Is There an Easier Way to Consider Breaking My Lease?
can be tricky and time-consuming. Different laws apply depending on where you're residing.
If you have more questions about breaking your lease in your specific state, check the appropriate link in the table below.
A handy alternative is DoNotPay. Our product can simplify the entire process, and we are confident you will find it:
Quick - You will not need to spend hours attempting to get out of your lease early.
Successful - You may rest assured we will make the best case for you so you can break your lease legally.
Easy - No struggling to fill out long, tedious forms or keep track of multiple steps. With DoNotPay, we will guide you through three easy steps to break your lease.
Use DoNotPay to Help You Break Your Rental Lease
Here's how you can get started in 3 easy steps:
1. Search Break My Lease on DoNotPay.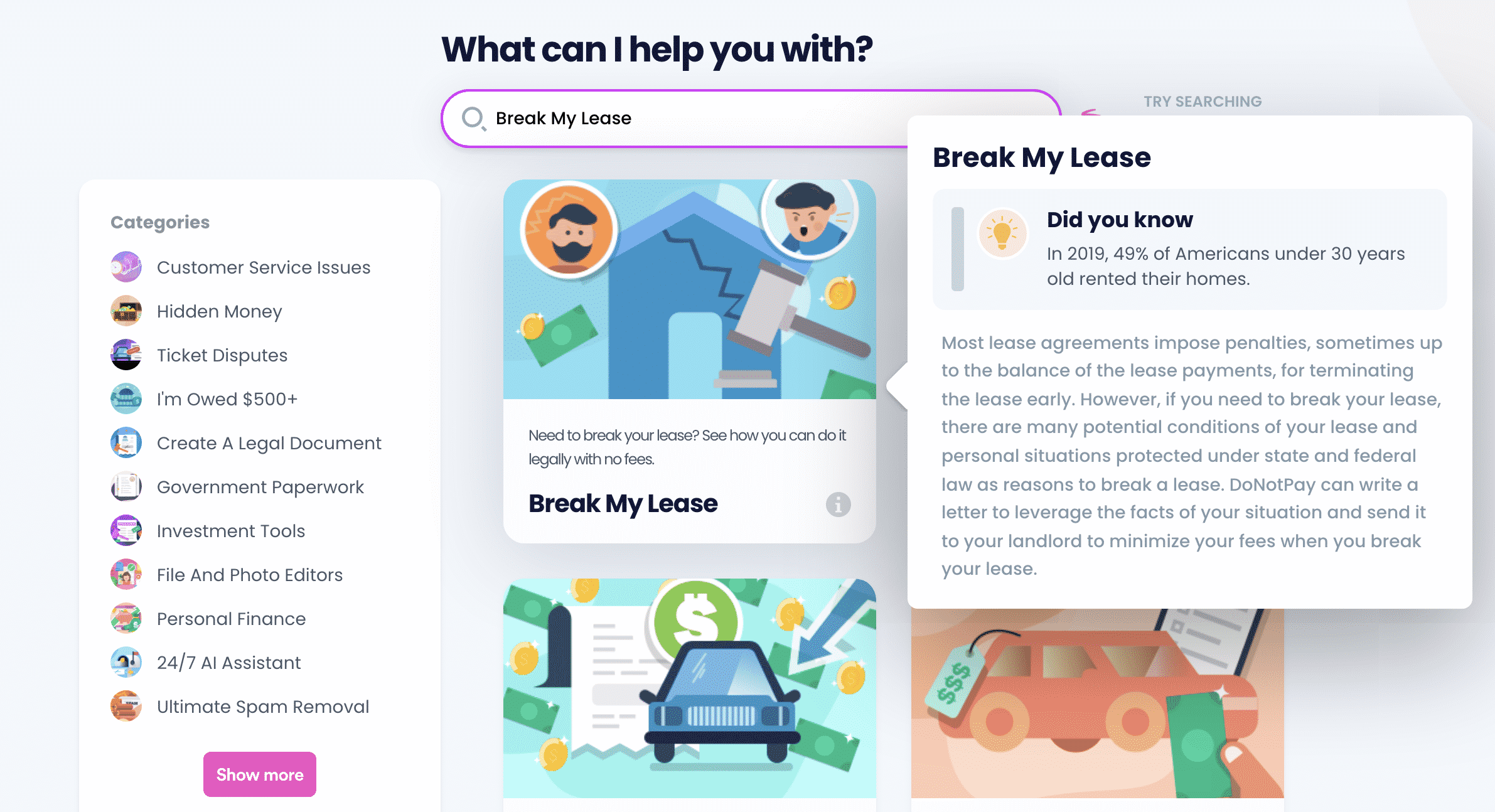 2. Prepare a signed copy of your lease that you can use as a reference and enter the state the lease was signed in.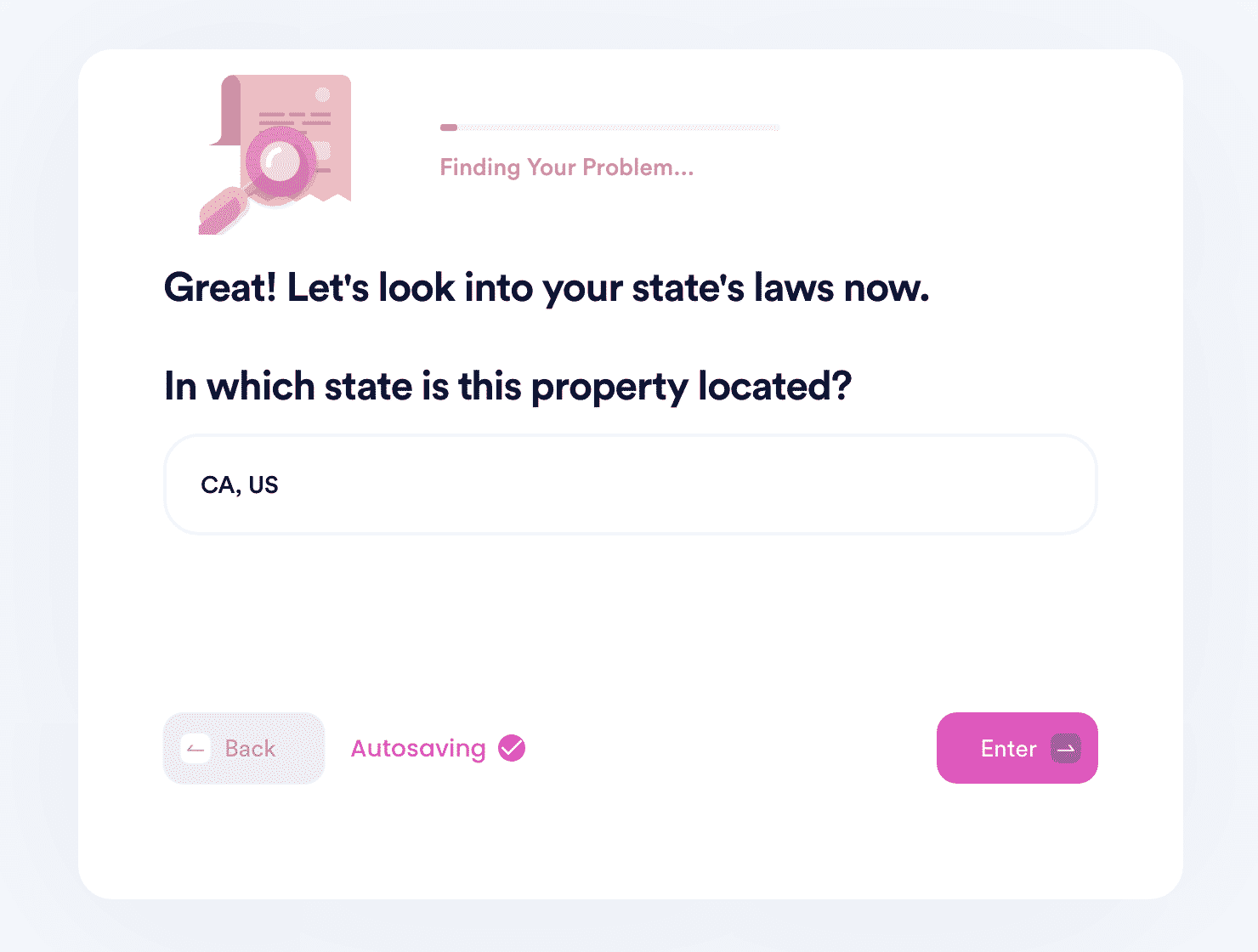 3. Let us guide you through the 4 potential options.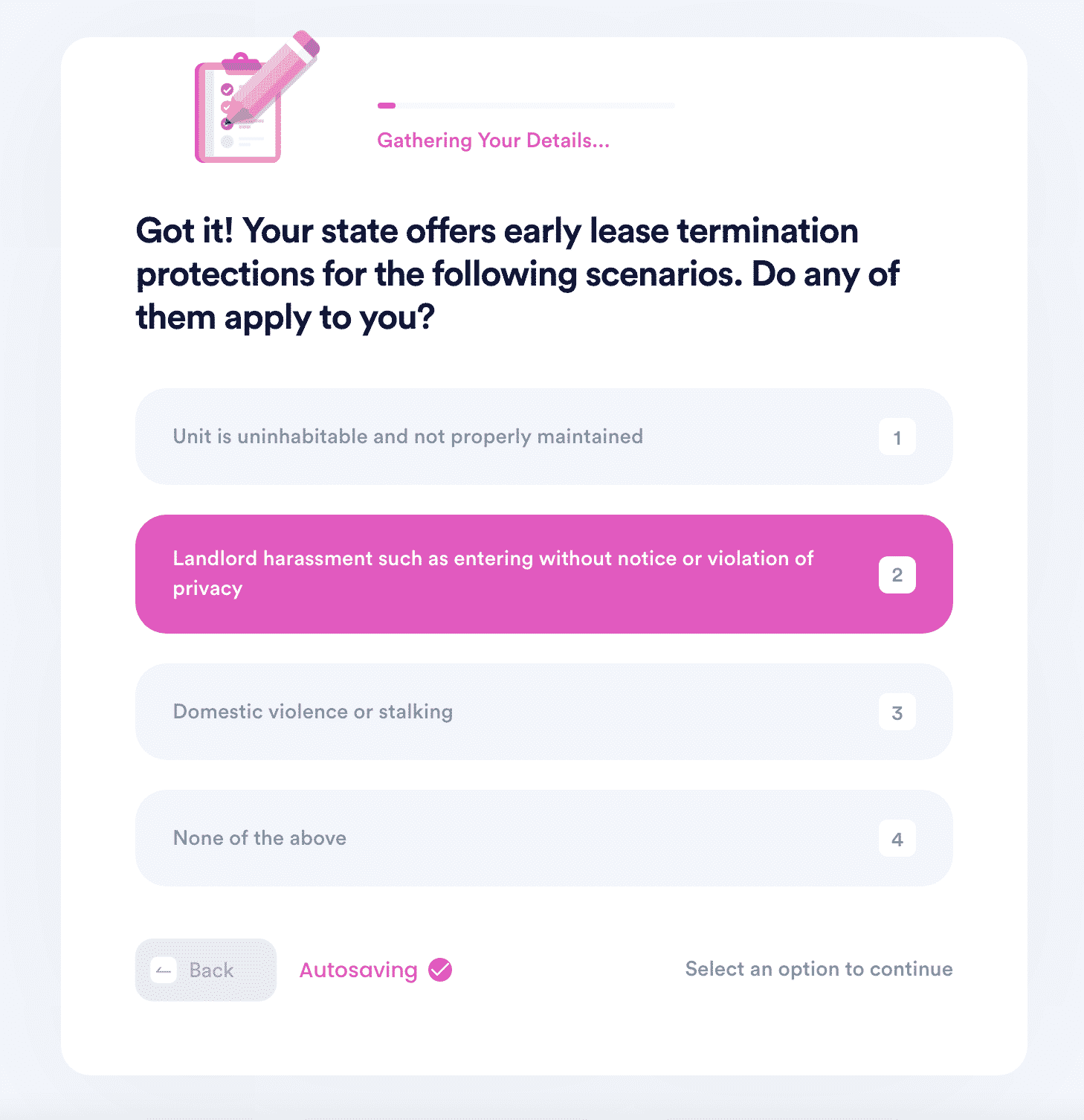 If you're a uniformed service member breaking a lease to fulfill your service obligations, we'll send your landlord an SCRA Protection Letter.
If you're breaking your lease for a reason protected by your state's tenant laws, we'll write your landlord a letter detailing your protections for breaking the lease under the relevant law.
If your reasons for breaking your lease aren't protected by federal or state law, but you'd like to try to convince your landlord to let you break the lease through mutual agreement, we'll draft a hardship letter making your case to your landlord.
If there are no remaining options for breaking the lease with protection, but your state requires landlords to mitigate damages to tenants who break their leases, we'll notify your landlord of that obligation and minimize the remaining rent you have to pay.
Consult these related sources regarding problems for which we can provide help:
DoNotPay can hand you an easy, automated way to help with a comprehensive list of problems. We offer many additional products to help simplify your life, including, but not limited to:
Power of attorney

Reducing property taxes
Our products can help you with straightforward, automated ways to deal with the challenges of breaking a lease, and they can certainly help with other tedious and annoying tasks we encounter in life. Let us help!